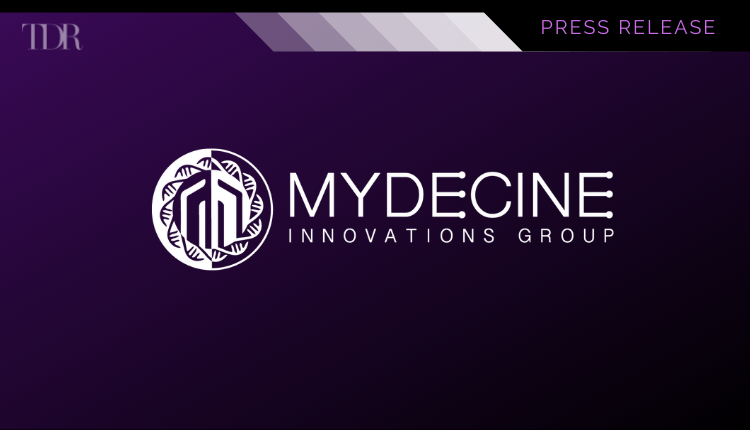 Mydecine to Launch Special Access Support and Supply Program in Canada Expanding Access to Psychedelic-Assisted Psychotherapy For Patients
 Mydecine Innovations Group(NEO: MYCO)(OTCMKTS: MYCOF), a biotechnology and digital technology company aiming to transform the treatment of mental health and addiction disorders, announced today they would be launching The Special Access Support and Supply Program (SASSP) to provide products and services to physicians, clinics, and hospitals in Canada who are looking to treat patients through psychedelic-assisted psychotherapy. With the new addition of psilocybin and MDMA to the approved list of substances under Health Canada's Special Access Program (SAP), the company aims to fill a critical gap in the market by allowing thousands of healthcare professionals and clinics the resources needed to bring these treatments to patients in need.
Last week, Health Canada announced an amendment to federal regulations, granting practitioners and pharmacists the ability to request and prescribe psilocybin and MDMA for treatment-resistant patients. This means patients who have not seen success from other treatments can now access additional treatment options. To re-enforce safe and effective integrations of these treatments, Mydecine's SASSP will offer A-Z support to medical practices across Canada.
Through the Company's SASSP, healthcare practitioners can purchase a package including cGMP psilocybin and MDMA, investigative brochures, therapy manuals, protocol training, advisory services, and post-therapy support for patients through Mydecine's wholly-owned subsidiary Mindleap Health. Mindleap is a digital health platform that combines therapeutic and educational content with virtual 1-on-1 professional support for psychedelic integration.
Mydecine is currently producing cGMP certified pharmaceutical grade psilocybin and MDMA with coverage under a Health Canada Schedule 1 Drugs and Substances Dealer's License in Alberta. With multiple clinical trials launching this year utilizing psychedelic compounds, as well as their partnership with Johns Hopkins University, the Company is well-positioned to help physicians, clinics, and hospitals use Canada's new regulations.
While we are committed to demonstrating the safety and efficacy of these medicines for specific indications through our clinical trials, we do recognize that in the meantime, there are people that are suffering from mental illnesses that haven't responded to the evidence-based treatments that are currently accessible to them. I believe through our program, we can help treat a significant patient population who are in need of alternative options. Our global team of scientists, doctors, and advisors have extensive experience in administering these types of treatments, and we look forward to sharing that knowledge and expertise to promote responsible and successful use of psilocybin and MDMA.

Mydecine's Chief Medical Officer, Dr. Rakesh Jetly
CEO Josh Bartch added, "The goal of our Special Access Support and Supply Program, is to help physicians who want to prescribe these treatments to their patients but might not have access to the drug product in Canada or experience implementing psychedelic-assisted psychotherapy. It's extremely encouraging to see these much-needed treatments gaining government acceptance, and now we need to enable successful therapy outcomes. Outside of safe drug products, practitioners need access to the resources and the proper training to provide these treatments to their patients. By launching this program, we are providing the resources the thousands of non-psychedelic clinics and hospitals will need in order to safely and effectively integrate these therapies into existing medical practices."
If you are interested in more information on Mydecine's program, please complete this form or send an email to [email protected].
Sign up for Mydecine's newsletter by scrolling to the bottom of this page.
To view the original press release in its entirety click here