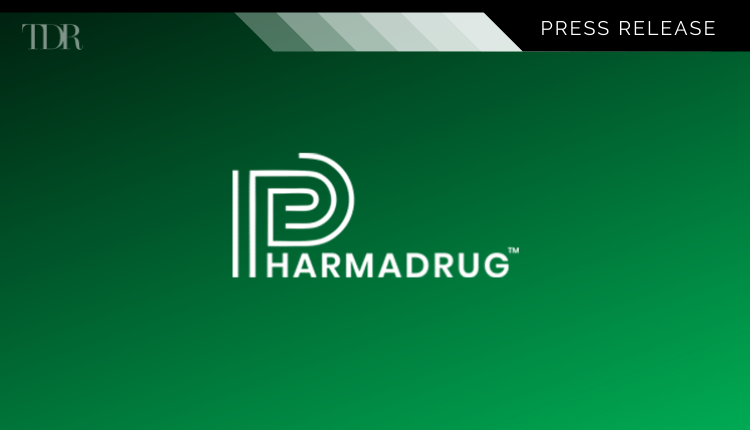 PharmaDrug Announces First FDA Orphan Drug Designation of DMT for the Prevention of IRI
PharmaDrug Inc.(CSNX: BUZZ) (OTCMKTS: LMLLF), a specialty pharmaceutical company focused on the research, development and commercialization of controlled-substances and natural medicines such as psychedelics, cannabis and naturally-derived approved drugs, is pleased to announce that the U.S. Food and Drug Administration ("FDA") has granted Orphan Drug Designation ("ODD") to dimethyltryptamine ("DMT") for prevention of ischemia-reperfusion injury ("IRI") in patients undergoing solid organ transplantation, which includes the liver, kidney, heart and lung, to the Company's wholly-owned subsidiary Sairiyo Therapeutics Inc. The FDA ODD granted is broader than the Company's original application for kidney transplantation, recognizing the pernicious consequences of IRI in all solid organ transplantation.
Before filing an Investigational New Drug ("IND") application with the FDA to evaluate DMT in human clinical trials, the Company will advance its overall DMT strategy on three separate initiatives. Firstly, PharmaDrug is already at work evaluating specific DMT formulations aimed at superior delivery and improved efficacy. Secondly, management will contemplate additional pre-clinical research in inflammatory and oxidative stress-induced complications, including organ transplants, to better understand the role DMT plays in the field. Lastly, the Company will broaden its scope to evaluate other rare indications that potentially could benefit from DMT.
We are the first and only company in the world to receive FDA orphan drug designation for DMT. We are incredibly pleased to have reached this significant milestone as it validates our strategy in discovering novel uses, formulations and delivery methods for DMT while also securing market exclusivity and patent protection of DMT for rare diseases. We are building on this achievement by positioning our research initiatives to evaluate DMT in potential human clinical studies for these types of serious and life-threatening indications.

Daniel Cohen, CEO of PharmaDrug
Organ Transplants and DMT
According to the U.S. Organ Procurement and Transplantation Network, there are approximately 107,000 patients waiting for solid organ transplants in the United States, with the four most common organs transplanted being liver, kidney, heart, and lung (Accessed on April 27, 2021. Available online: https://optn.transplant.hrsa.gov/data/)
IRI in organ transplantation can result in a higher incidence of acute and chronic rejection, as well as long-term morbidity and mortality. Quickly restoring blood supply of ischemic organs as soon as possible is crucial for avoiding or reducing injury from ischemia, while strategies used to attenuate the damage induced by reperfusion, include ischemic preconditioning, ischemic postconditioning, and machine perfusion. These strategies are expensive, sometimes technically challenging, and only partially effective at preventing or treating acute organ dysfunction. With a shortage of quality organs and the need for expensive medical strategies, it is clear that novel approaches to improve graft function and patient outcome are desperately needed.
Research studies have shown that DMT activates the sigma-1 receptor ("Sig-1R"), an intracellular chaperone fulfilling an interface role between the endoplasmic reticulum ("ER") and mitochondria in cells. Sig-IR ensures the correct transmission of ER stress into the nucleus resulting in the enhanced production of anti-stress and antioxidant proteins. Consistent with these functions, DMT was found to mitigate ischemia-reperfusion injury (IRI) caused by hypoxia, oxidative stress and inflammation in preclinical models of renal transplantation.[1] The anti-inflammatory protective effects of DMT may provide a novel, more beneficial strategy to attenuate the damage induced by IRI during organ transplantation.
The Orphan Drug Act grants special status to a drug or biological product to treat a rare disease or condition upon request of a sponsor. This status is referred to as orphan designation (or sometimes "orphan status"). The FDA grants ODD status to products that treat and/or prevent rare diseases, providing incentives to sponsors developing drugs or biologics. The FDA defines rare diseases as those affecting fewer than 200,000 people in the United States at any given time. ODD would qualify DMT for certain benefits and incentives, including seven years of marketing exclusivity if regulatory approval is ultimately received for the designated indication, potential tax credits for certain clinical drug testing costs, activities, eligibility for orphan drug grants, and the waiver of the FDA New Drug Application filing fee of approximately USD $2,400,000.
To view the original press release in its entirety click here