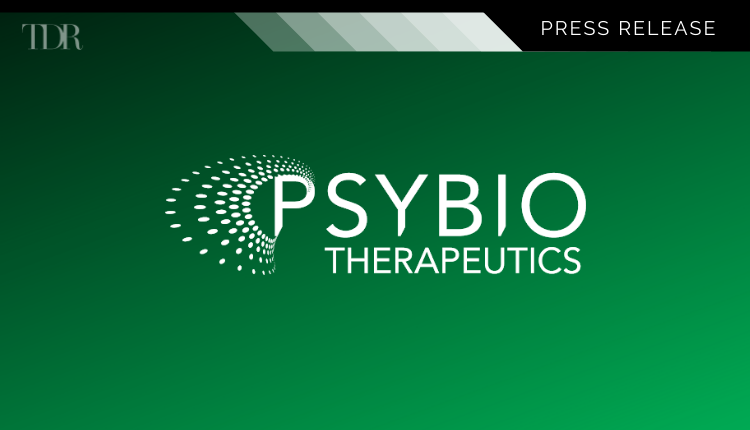 PsyBio Therapeutics Adds NMDA Receptor Antagonists and Associated Analogues into its Intellectual Property Portfolio
PsyBio has filed a new provisional patent and is initiating preclinical studies aimed at treating neurologic and psychologic conditions
PsyBio Therapeutics Corp. (CVE: PSYB)(OTCMKTS: PSYBF), an intellectual property driven biotechnology company developing novel formulations of psychoactive medications produced by genetically modified bacteria and other innovative mediums for the potential treatment of mental health challenges and other neurological disorders, has initiated a new program to study N-methyl-D-aspartate ("NMDA") receptor antagonists and associated analogs for potential activity against a variety of human health conditions.
The Company has filed a new provisional patent application with the United States Patent and Trademark Office entitled NMDA Receptor Antagonist-Containing Compositions and Methods of Treatment. The addition of NMDA receptor antagonists with pending patent protection is highly focused on the potential improvement of neurological conditions including traumatic brain injury, other neurological deficits, addiction as well as other psychological conditions.
NMDA receptor antagonists play an important role in the health and function of neurons and have been implicated by a number of studies to be strongly involved with exitotoxicity and also associated with promoting synaptic plasticity. Research also indicates that some NMDA receptor antagonists also interact with nicotinic acetylcholine receptors leading to the release of neurotransmitters. Many compounds in this class have been approved by the United States Food and Drug Administration ("FDA") as anesthetics and are under evaluation for other indications within the brain.
The scientific discovery, clinical pharmacology and drug development team at PsyBio has identified NMDA receptor antagonists and their analogues for their role in promoting neuroplasticity as potential therapeutic targets for a wide variety of disease indications. PsyBio continues utilizing its resources to rapidly develop and test new drug candidates in anticipation of launching future clinical trials.
PsyBio is distinctively positioned as one of the leading biotechnology companies sponsoring commercial development of new therapeutic targets for myriad human health conditions. The Company is actively screening drug candidates across a variety of medical indications and will utilize its regulatory experience to submit proposals for human clinical trials based upon those preclinical studies to the FDA and other regulatory bodies. The Company retains expertise across a wide range of pharmaceutical discovery and development including synthetic biology, molecular engineering, neurobiopsychology, translational medicine and clinical pharmacology and is leveraging this ability to work towards shepperding new therapeutics to treat unmet medical needs.

Evan Levine, PsyBio's Chief Executive Officer
"PsyBio has unique expertise in clinical pharmacology and is actively expanding its portfolio of drug candidates and remains particularly interested in advancing therapeutic understanding and potential treatment of neurologic and psychologic conditions," stated Dr. Michael Spigarelli, PsyBio's Chief Medical Officer. "The advantages of utilizing compounds, exhibiting previously known neurological or psychological effect, to harness the opportunity to develop potential therapeutics more rapidly than previously conceived."
PsyBio's intellectual property portfolio now includes six pending provisionals and one pending non-provisional patent application.
To view the original press release in its entirety click here