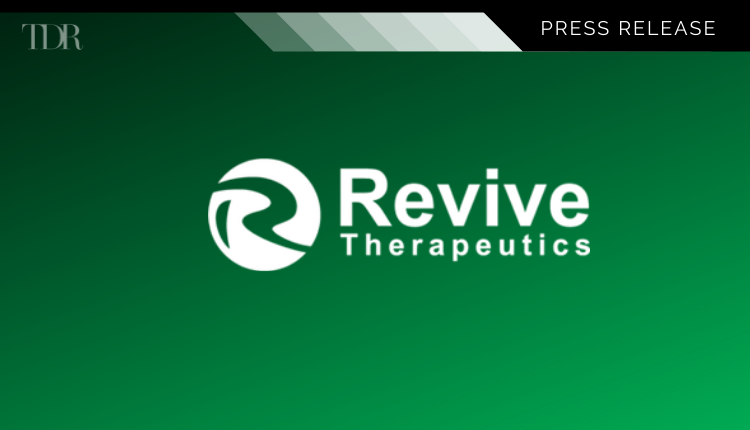 Revive Therapeutics Announces Successful Research Results for Psilocybin to Treat Traumatic Brain Injury and Filing of International Patent Application
Revive Therapeutics Ltd.(CSE: RVV, USA: RVVTF), a specialty life sciences company focused on the research and development of therapeutics for medical needs and rare disorders, is pleased to announce positive results of a pre-clinical study evaluating the efficacy of psilocybin in the treatment of mild traumatic brain injury ("TBI") in a rodent model of TBI. The study was conducted at the National Health Research Institutes ("NHRI"), which was part of the psilocybin program acquired from PharmaTher Inc., a subsidiary of Newscope Capital Corporation (CSE: PHRM, OTCQB: PHRRF).
The study characterized the potential neuroreparative effect of psilocybin compared to being treated with a vehicle (saline) using a TBI mouse model. Adult mice were randomly assigned to 4 groups: (1) control, (2) TBI+vehicle, (3) TBI+low dose psilocybin, and (4) high dose psilocybin. Cognitive function was examined by the Morris water maze test after the injury. It was found that psilocybin, given after injury, improved cognitive function in TBI mice. Also, there were no adverse effects observed with psilocybin.
With the its recent acquisition of the provisional patent application from PharmaTher Inc., titled, "Psilocybin in the Treatment of Neurological Brain Injury", and the positive research results with psilocybin in a TBI model, Revive has filed an international Patent Cooperation Treaty ("PCT") application (PCT/CA2021/050360) allowing it to seek protection of this invention in 153 countries, including the U.S., Europe, Canada, Japan and China.
We are pleased with the results from our psilocybin research study in TBI as it strengthens our intellectual property portfolio for novel uses of psilocybin and it complements our robust psilocybin-based portfolio that includes the development of an oral thin film product in collaboration with the University of Wisconsin-Madison, a novel biosynthetic version of psilocybin based on a natural biosynthesis enzymatic platform developed by Dr. Gavin Williams, Professor and Researcher at North Carolina State University, and a clinical study with the University of Wisconsin evaluating psilocybin in the treatment of methamphetamine use disorder. We are focused on advancing psilocybin to treat mild TBI, also commonly known as concussions.

Michael Frank, CEO of Revive
According to the CDC, there were about 2.87 million TBI-related emergency department visits and hospitalizations annually in the U.S. A TBI is mostly caused by a bump, blow, or jolt to the head that disrupts the normal function of the brain. Most TBIs that occur each year are mild, also referred to as concussions. According to Stanford Children's Health, over 3.5 million sports-related injuries are reported annually among children in the U.S. and around 21% of all are traumatic brain injuries. Significant new treatment solutions for TBI are needed.
To view their original press release, in it's entirety click here