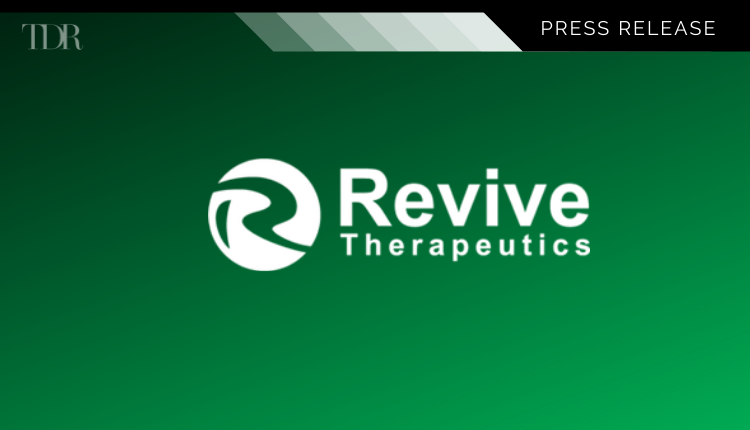 Revive Therapeutics Partners with Supriya to Pursue EUA for Bucillamine to Treat COVID in India
Revive Therapeutics Ltd.(CNSX: RVV, OTCMKTS: RVVTF), a specialty life sciences company focused on the research and development of therapeutics for medical needs and rare disorders, is pleased to announce it has entered into a memorandum of understanding dated June 7, 2021 with Supriya Lifescience Ltd. ("Supriya"), a specialty pharmaceutical company based in India, to pursue manufacturing of the API, conducting clinical registration and commercialization for Bucillamine to treat COVID-19 through Emergency Use Authorization ("EUA") in India. The relationship also sets the foundation for Revive to expand commercialization efforts globally by leveraging Supriya's extensive manufacturing and commercial network and Revive's ongoing US FDA Phase 3 clinical study results of Bucillamine to treat mild-to-moderate COVID-19.
While our Phase 3 clinical study for COVID-19 is ongoing in the USA, we are laying the ground work by partnering with Supriya to execute on our global manufacturing and commercialization plans and leveraging their regulatory expertise and commercial reach with 78 countries they currently supply pharmaceutical products to. We are focused on completing our current Phase 3 study in the USA and also obtaining EUA. These results will support drug approval registrations globally, including India, Europe, and Canada.

Michael Frank, CEO of Revive
Dr. Satish Wagh, CMD, Supriya Lifescience Ltd. said, "Through this collaboration, we aim to join our forces with Revive to accelerate access to Bucillamine in India at a time when it is most needed. This is a step towards making more treatment options available to patients in India in dealing with the pandemic. With this partnership, Supriya aims to enter into a niche area of chemistry and products thereby bolstering its CMO and research capabilities."
The Company is not making any express or implied claims that its product has the ability to eliminate or cure COVID-19 (SARS-2 Coronavirus) at this time.
About Supriya Lifescience Ltd.
Based in Mumbai, India, Supriya Lifescience Ltd. is EUGMP and USFDA approved manufacturer and supplier of active pharmaceuticals ingredients and pharmaceutical products. Supriya exports to 78 countries (in Fiscal 2021) and has niche product offerings of 39 APIs focused on diverse therapeutic segments such as antihistamine, analgesic, anesthetic, vitamin, anti-asthmatic and anti-allergic. Supriya's manufacturing facility is approved by various international regulatory authorities such as USFDA, EUGMP, EDQM, SFDA NMPA, ANVISA, KFDA, PMDA, TGA and Taiwan FDA. For more information, visit www.supriyalifescience.com.
To view the original press release in its entirety click here