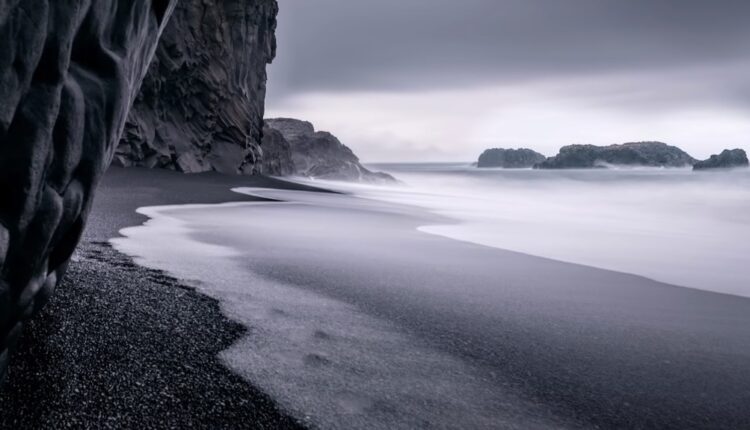 Study Shows Psilocybin Assisted-Therapy 4-Times More Effective Than Typical Antidepressants
A new study, released in May, shows the potential therapeutic power of psilocybin assisted-therapy for major depressive disorder (MDD). The powerful conclusion adds to the growing body of evidence that there's a better way to treat MDD than the standard SSRI (Selective Serotonin Reuptake Inhibitor), SNRI (Serotonin and Noradrenalin Reuptake Inhibitors), atypical and tricyclic antidepressants currently being foisted on the masses.
A randomized, waiting list-controlled clinical trial was conducted at the Center for Psychedelic and Consciousness Research at Johns Hopkins Bayview Medical Center in Baltimore, Maryland. The enrollees included adults diagnosed with MDD between the ages of 21-75 who were not already taking antidepressant medicines and had no history of psychotic condition, major suicide attempt, or hospitalization. A total of 27 participants were randomized to an immediate treatment condition group (n = 15) or delayed treatment condition group (n = 12). Data analysis was conducted from July 1, 2019, to July 31, 2020, and included participants who completed the intervention, consisting of two psilocybin sessions in the context of supportive psychotherapy.
The treatments and evaluations were completed by 24 of the 27 participants that were initially enrolled. After eight weeks, individuals on the waitlist received the same therapy as those in the treatment group. The waiting condition was utilized to control for symptom improvement unrelated to the psilocybin administration.
The main outcome measure was the GRID Hamilton Rating Scale for Depression (GRID-HAMD)—an improved version of Hamilton Depression Rating Scale that was developed through a broad-based international consensus process. It assessed different aspects of depression, such as depressed mood, anxiety, guilt, sleep, appetite disturbances, and suicidal tendencies. A template of the assessment scoring and parameters can be found here.
The treatment lasted eight weeks and included two daylong psilocybin administrations, spaced approximate 10-days apart. The doses of psilocybin used were 20 mg/70 kg and 30 mg/70 kg.
Substantial Study Results
At week 1 and 4, GRID-HAMD scores in the immediate treatment group were significantly lower than the scores at the comparable time points of weeks 5 and 8 in the delayed treatment group. The average GRID-HAMD scores dropped from 22.8 (suggesting of high-moderate depression) all the way to between 8.0 and 8.5, which is indicative of very mild depression.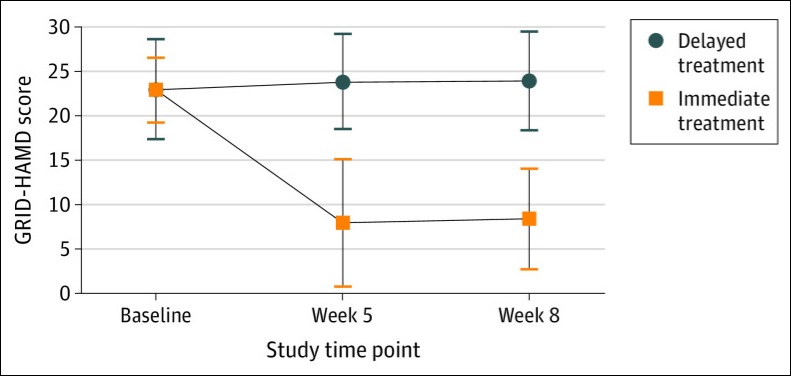 Furthermore, a large number of participants in the treatment group experienced a clinically meaningful response: 71% one week after the psilocybin session and 71% four weeks later. The rates for remission of depressive symptoms were 58 percent and 54 percent, respectively.
Secondary outcomes—such as anxiety levels—yielded similar results, with statistically significant differences between the treatment and waiting groups.
Although the study was small, it was nonetheless eye-opening confirmation of the potential of psilocybin assisted-therapy. As Psychology Today points out, despite the small investigation, the effect sizes were large—more than four times the effect sizes of typical antidepressants—suggesting that psilocybin-assisted therapy for depression is an area worthy of greater research attention.
The study also indirectly confirms New England Journal of Medicine randomized and double-blind study results published in April comparing psilocybin to escitalopram, a popular SSRI medication. Although results were deemed not statistically significant due to the under-powered nature of the study, psilocybin's favorable QIDS-SR-16 in comparison to its pharmaceutical rival were noted.
A larger and more comprehensive study of psilocybin assisted-therapy is currently being conducted by COMPASS Pathways, with endpoint results due at the end of 2021. The Phase IIb study is assessing 216 patients with treatment-resistant depression in 22 sites across Europe and North America.
Positive results would be the biggest validation of the science to date, and affirm the promise that psilocybin assisted-therapy is demonstrating in smaller control group studies.