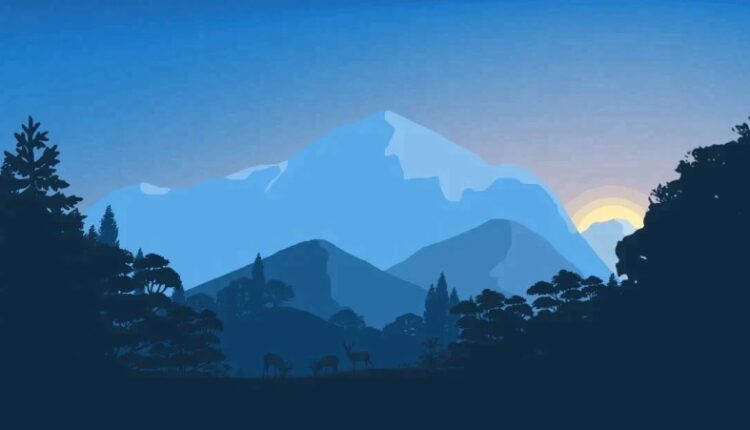 TDR's Psychedelic Developments For The Week Of July 4
Welcome to TDR's review of the Top 5 Psychedelic Developments for the week of July 4. Aside from presenting a synopsis of events, we provide market commentary to summarize the week that was for publicly-listed companies.
5. DEA Announces Hearing On Proposed Ban Of Five Psychedelic Compounds Following Significant Pushback
The Drug Enforcement Administration (DEA) is taking the rare step of holding a hearing on its hotly contest proposal to place five psychedelic compounds in Schedule I—an action that scientists say would significantly hamper emerging research into their therapeutic potential.
The agency first proposed scheduling the tryptamines—4-OH-DiPT, 5-MeO-AMT, 5-MeO-MiPT, 5-MeO-DET and DiPT—in January. And it faced significant pushback from the research and advocacy communities, receiving nearly 600 messages during a public comment period, with most opposing the rule change and requesting a hearing.
4. Awakn Life Sciences Receives UK State Funding to Identify Optimal Pathway to Market in UK & US for Its Lead Clinical Development Program
Awakn Life Sciences (NEO: AWKN)(OTCMKTS: AWKNF) has secured funding from Innovate UK to identify the quickest and most cost-effective route to market in both the UK and the US for Awakn's lead program – proprietary ketamine-assisted therapy for treating AUD. Innovate UK is the UK's national innovation agency which provided the funding in an initiative delivered jointly by CPI and ABHI.
Awakn's activities will be delivered in collaboration with Veristat, a global Clinical Research Organization (CRO) that specializes in accelerating client therapies through the clinical development process into regulatory approval and commercialization. Veristat supported marketing applications for 12% of all US Food and Drug Administration (FDA) Novel Drug Approvals in 2021.
__________
Cathie Wood's ARK Genomic Revolution ETF Increases Stake In Atai Life Sciences To Record Aggregate Share Levels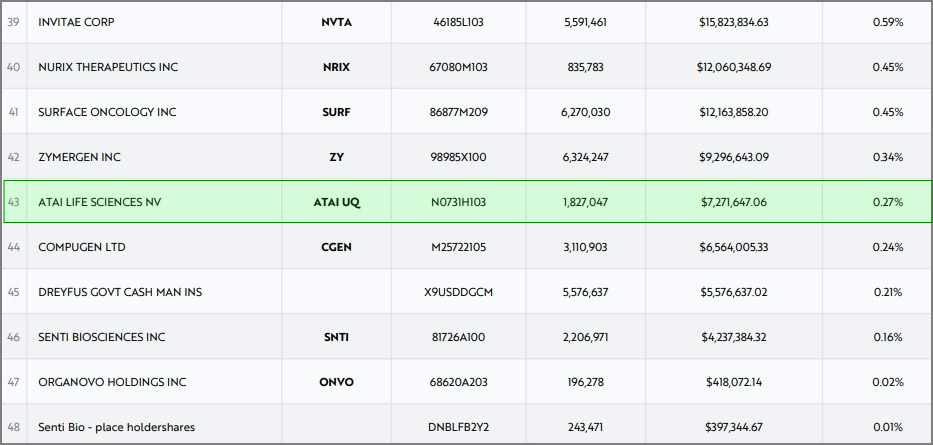 Update: ARKG reports additional shares purchases on 07/08/2022—total 1,924,879.
__________
3. Stellar Week For Psychedelic Stocks As Broad Biotech Indexes Soar
The biggest psychedelic stocks were very strong, as biopharma stocks soared in the holiday-shortened week. The Horizon Psychedelic Stock Index ETF (PSYK) rose ↑16.09% and outperformed direct peer Nasdaq Junior Biotechnology Index (↑9.78%) and the Nasdaq Biotechnology Ishares ETF (↑5.40%). The NASDAQ 100 ↑4.75% and S&P 500 ↑2.03% also gained as easing fears of an economic hard landing and tempering inflation signals helped calm market sentiment.
Here's how the Health Care (Biotechnology) sector performed:
Weekly gainers:
In the news…
atai Life Sciences: After a pause in the purchase of ATAI shares, Cathy Wood's ARK Genomic Revolution ETF is back on the bid. The actively managed Fund that invests in early-stage emerging technology companies has increased its stake in atai to record amounts, presumably seeing value in the psychedelic biotech leader that's been hit during the ongoing selloff in risk assets.
BetterLife Pharma announced that a joint application to the Mitacs Accelerate program, in collaboration with Dr. Argel Aguilar-Valles at Carleton University (Carleton) Department of Neuroscience, was successfully funded for research into the anti-depressant effects and mechanism of action of BETR-001 in preclinical models of depression.
CaaMTech, Inc. and the Alexander Shulgin Research Institute, Inc. jointly announced an agreement today to carry out structural and chemical analyses of previously unreported compounds designed and synthesized by the late Dr. Alexander Shulgin.
Federal health agencies admit that classification of psychedelics is impeding research.
Filament Health announced that it has been issued a sixth patent for the extraction and standardization of natural psilocybin and associated psychedelic compounds.
Filament Health announced the beginning of dosing in the first United States Food and Drug Administration (FDA)-approved clinical trial studying the effects of naturally derived psychedelic drug candidates. The phase one clinical trial, conducted at the University of California, San Francisco's Translational Psychedelic Research Program, is the first to directly administer psilocin and psilocybin derived from mushrooms, as opposed to lab-created synthetic substances.
Lobe Sciences has developed its initial Phase 1 study plan intended to demonstrate the safety and appropriate dosing range for its proprietary new chemical entity; L-130. It is also announcing the acquisition of a second new chemical entity, L-131, which is expected to enter preclinical toxicity trials later this year or early in 2023.
Luke Rockhold explains why he takes mushrooms almost 'everyday' for UFC 278 camp.
Mindset Pharma announced that the United States Patent and Trademark Office has granted allowance for Mindset's patent application number 17/387,864, titled "3-Pyrrolidine-Indole Derivatives as Serotonergic Psychedelic Agents for the Treatment of CNS Disorders."
NeonMind Biosciences announced that it voluntarily delisted its common shares from trading on the OTCQB. The delisting was effective prior to the opening of the markets on July 5, 2022.
Nirvana Life Sciences has acquired an exclusive license for the psychedelics sector for a novel delivery system for its psychedelic based therapies currently in development.
Origin Therapeutics, an actively managed, psychedelics industry-focused investment issuer, announced that it has added Clairvoyant Therapeutics to its portfolio.
Psylo has signed an agreement with Australia's national science agency CSIRO to collaboratively investigate the therapeutic potential of the company's lead drug candidates.
PSYC Corporation provided an update on the progress and status of its joint venture partnership with Digital Acorn Ltd. and ongoing co-development between the companies of the "PsycheDev" digital mental health platform.
U.S. Drug Enforcement Agency announces hearing on proposed ban of five psychedelic compounds following significant pushback.
Vancouver: A downtown beach became an open-air market for magic mushrooms and strong cannabis products on Canada Day… there were no major issues. Const. Visintin said no fines were issued by police because "there wasn't anything criminal that happened."
2. AOC Amendment Would Direct Military To Study Psychedelics As PTSD Treatment For Service Members
Rep. Alexandria Ocasio-Cortez (D-NY) is pushing to add an amendment to a must-pass military bill that would require the Department of Defense to study the therapeutic potential of psilocybin and MDMA for military service members.
I care about the veterans, not the credit. I just hope the Rules committee allows a vote on one of the amendments in the full House.
The congresswoman recently filed the amendment to the National Defense Authorization Act (NDAA), which would build on a separate provision already attached to the bill in committee that only gives a DOD mandate to research marijuana as an opioid alternative for military members with certain health conditions.
This new amendment is substantively identical to one recently filed by a controversial GOP congressman, Rep. Matt Gaetz (R-FL). There are some technical differences between the two, but the intent appears to be the same. Marijuana Moment reached out to Ocasio-Cortez's office for comment on the reasoning behind filing the virtually identical amendment, but a representative was not immediately available.
1. Bipartisan Lawmakers File Even More Marijuana And Psychedelics Reform Amendments To Defense Bill
Bipartisan congressional lawmakers have filed a slew of drug policy reform amendments to a large-scale defense bill, including proposals to prohibit federal employment discrimination against veterans who use marijuana, provide funding for studies into psychedelics as therapeutics and allow U.S. Department of Veterans Affairs (VA) doctors to recommend medical cannabis to veterans.
Each of the amendments are being filed for House Rules Committee consideration ahead of floor action on the National Defense Authorization Act (NDAA). Some of the measures are similar to past proposals, but lawmakers seem especially bullish about enacting drug policy reforms through the must-pass bill this session.