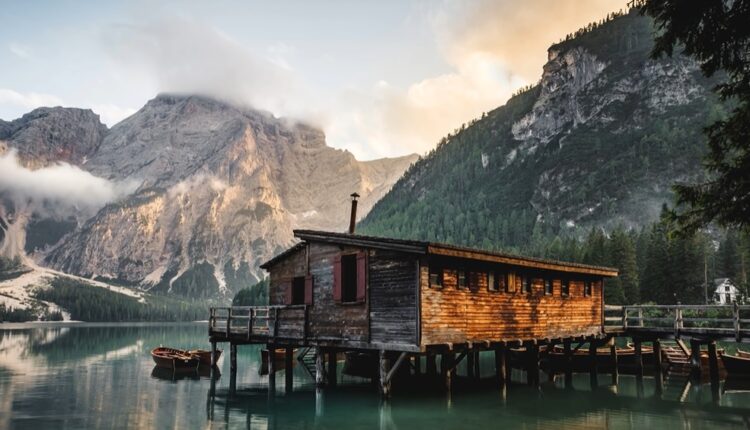 TDR's Top 5 Psychedelic Developments For The Week Of August 15
Welcome to TDR's review of the Top 5 Psychedelic Developments for the week of August 15. Aside from presenting a synopsis of events, we provide market commentary to summarize the week that was for publicly-listed companies.
5. Thai Government Takes To Psilocybin Mushrooms To Help Country's Depressed
The Thai Narcotics Control Board announced it will develop medicine from hallucinogenic magic mushrooms to help cure the nation's depressed citizens. The Justice Minister, Somsak Thepsuthin, informed the media that the Narcotics Control Board joined hands with Khon Kaen University in the Isaan province of Khon Kaen to study the benefits of the magic mushroom.
Magic mushrooms, or psilocybin mushrooms, have been popular among the younger generations for decades. But apparently, the Category 5 narcotic is not just good for enjoying a trip into the unknown but it is also effective in combating cluster headaches, anxiety, anorexia, obsessive-compulsive disorder, and various forms of substance abuse
4. Cybin and Clinilabs Granted Schedule I DEA License For CYB003 Phase 1/2a First-In-Human Clinical Trial
Cybin Inc. (NEO:CYBN) (NYSE: CYBN) and its partner Clinilabs Drug Development Corporation, a global, full-service contract research organization with deep expertise in central nervous system drug development, announced that the U.S. Drug Enforcement Agency has granted a Schedule I license to support the first-in-human Phase 1/2a clinical trial of CYB003, a proprietary deuterated psilocybin analog that is being developed for the treatment of major depressive disorder.
Obtaining a DEA license for our Phase 1/2a trial is the final step clearing the way to begin dosing participants in our first-in-human study of CYB003. Our rigorous recruitment and enrollment process is well under way, and we are excited to commence dosing of our first cohort of participants," said Doug Drysdale, Chief Executive Officer of Cybin.
The DEA license is a federal requirement for any investigators who intend to study, produce, analyze, or otherwise work with Schedule I controlled substances.
__________
New Psychedelic Industry Update By New York Investment Bank H.C. Wainwright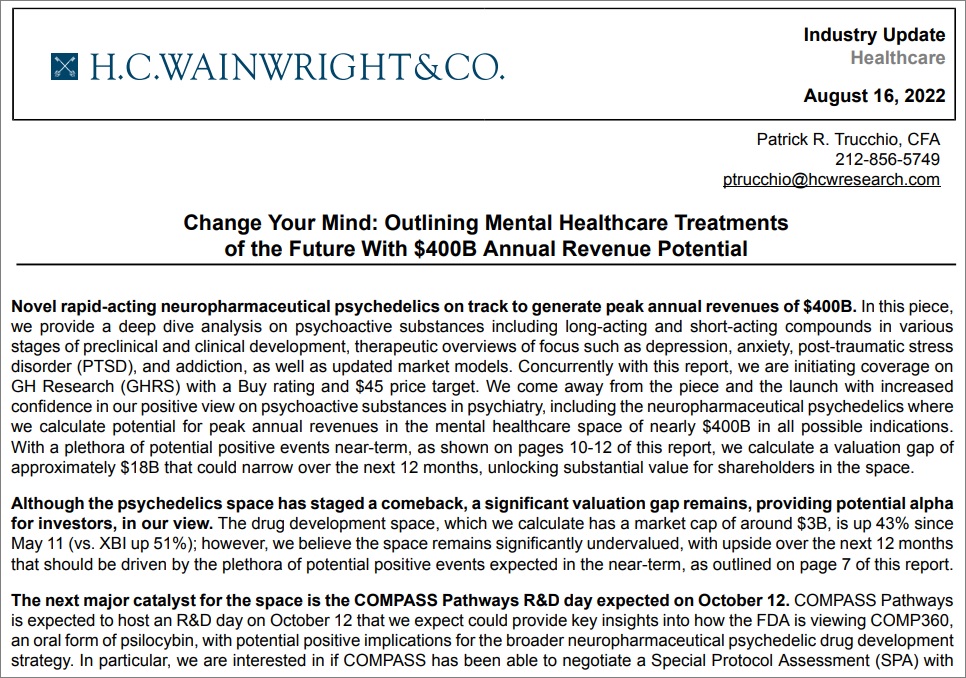 __________
New: Red Hot Chili Peppers Share Psychedelic Video Tippa My Tongue Off Second Album Of 2022
__________
3. Psychedelic Stocks Rise And Outperform BioPharma Stocks In Moderately Weak Broad Market Conditions
The psychedelic sector finished higher this past week. The Horizon Psychedelic Stock Index ETF (PSYK) rose ↑1.90% with the security reaching a 17-week volume high. This performance bested direct peer Nasdaq Junior Biotechnology Index (↓5.39%) and the Nasdaq Biotechnology Ishares ETF (↓3.67%). The NASDAQ 100 ↓2.41% and S&P 500 ↓1.23% also declined, as the bull market impulse took a pause after the Federal Reserve minutes indicated that rate hikes may continue.
Here's how the Health Care (Biotechnology) sector performed:
Notable gainers:
In the news…
Andrew Forrest will use a new $250 million venture capital business to further back a Perth-based company looking at using variations of MDMA – known on the street as Molly or ecstasy – to treat psychological disorders.
atai Life Sciences announces Q2 2022 financial results and secures term loan facility for up to $175 million from Hercules Capital.
Biden administration prepares for legalization of MDMA and psilocybin within two years.
Bright Minds Biosciences issued a news release in response to a request by the Investment Industry Regulatory Organization of Canada to comment on recent trading activity of its stock. The company is not aware of any material, undisclosed corporate developments and has no material change in its business or affairs that has not been publicly disclosed that would account for the recent increase in volume or price.
California bill to legalize psychedelics possession is not passing this year, despite the Senate sponsor's last-minute efforts to reach a grand compromise that would allow it to be enacted this session.
Columbia County Commissioners rejected a motion to send an opt-out of the Oregon Psilocybin Services program to voters in November.
Cybin Inc. announced the voting results for each of the matters presented at the company's annual meeting of shareholders held on August 15, 2022. There were 71 shareholders represented in person or by proxy at the Meeting holding 47,019,721 common shares, representing 28.3% of Cybin's total issued and outstanding common shares as at the record date for the Meeting.
Hallucinogen use has increased since 2015, overall and particularly among adults 26 and older, while use decreased in adolescents aged 12–17 years according to a new study by Columbia University Mailman School of Public Health and Columbia University Irving Medical Center.
Mydecine Innovations Group has burned through its cash and is closing its research operations in Denver Colorado. 
Optimi Health has received permission from Health Canada to manufacture and distribute additional psychedelic substances, most notably MDMA, under the amended terms outlined in its June 20, 2022 application to Health Canada.
Psycheceutical Bioscience is signing an exclusive purchase option with end-to-end pharma R&D company Vici Health Sciences' for majority equity stake.
Reunion Neuroscience announced that its common shares will commence trading on the Toronto Stock Exchange under the ticker symbol "REUN" at the opening of the market on August 17, 2022.
Small Pharma announced that the TSX Venture Exchange has accepted the company's application for its normal course issuer bid for up to five million common shares in the capital of the company, representing 1.55% of the issued and outstanding shares, over a 12-month period.    
Wellbeing Digital Sciences provided a corporate update in a letter from the CEO, Najla Guthrie, to its shareholders.
2. California Legislature Strips Psychedelics Decriminalization from Senate Bill
Provisions of a California bill that would have decriminalized psychedelic drugs including magic mushrooms, LSD, and MDMA were stripped from the measure by a legislative committee last week, with lawmakers instead amending the bill to only study the issue.
The measure, Senate Bill 519 from Senator Scott Wiener, would have allowed for the personal possession and use of psychedelic drugs including mescaline, ibogaine, MDMA, and psilocybin. Wiener, a Democrat from San Francisco, has said that the legislation would have helped address the disproportionate enforcement of the state's drug laws while allowing for the therapeutic use of psychedelics, which have been shown to have potential as treatments for serious mental health issues including addiction, PTSD, anxiety, and depression.
1. MindMed Soars After Disclosure That BBBY Investor Jake Freeman Owns Company Stock
In an unexpected turn of events today, investors in Mind Medicine Inc. (NASDAQ: MNMD) (NEO: MMED) have something to cheer about. Today, MindMed is soaring on peripheral news that has nothing to do with the company's own biopharma operations. After a prolonged period of persistent downward price action, investors will take it.
The boost in MindMed shares is mainly attributed to the company's potential association with Jake Freeman, the 20-year old applied mathematics and economics major who recently made windfall profits on Bed Bath & Beyond stock. Mr. Freeman acquired his shares when the price of the stock was trading below $5.50 a share, with $25 million raised from friends and family.
As reported by the Financial Times reported that Jake Freeman along with uncle Dr. Scott Freeman have "recently built an activist stake in a publicly traded pharmaceutical company called Mind Medicine."