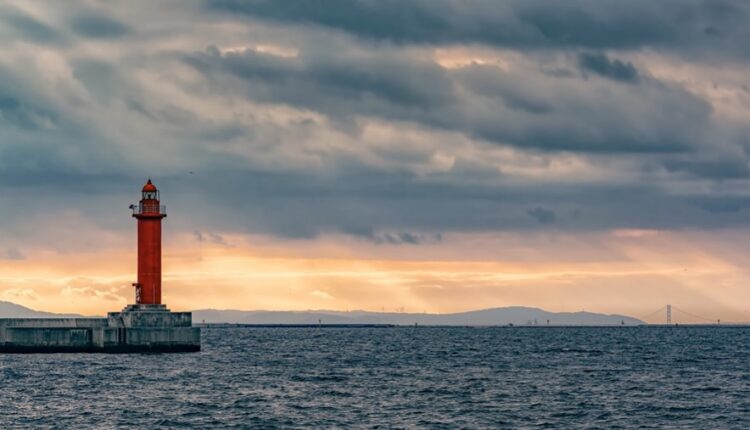 TDR's Top 5 Psychedelic Developments For The Week Of August 29
Welcome to TDR's review of the Top 5 Psychedelic Developments for the week of August 29. Aside from presenting a synopsis of events, we provide market commentary to summarize the week that was for publicly-listed companies.
5. Cybin Inc. Announces First Participants Dosed in its Phase 1/2a Trial of CYB003 for the Treatment of Major Depressive Disorder
Cybin Inc. (NEO:CYBN) (OTCMKTS:CLXPF) announced that the first two participants have been dosed in its Phase 1/2a trial evaluating CYB003 for the treatment of major depressive disorder. Based on preclinical data, CYB003 achieved less variability in plasma levels, faster onset of action, and shorter duration of effect. These preclinical data demonstrated that CYB003 has the potential to reduce time and resource burden on patients, providers, and payers, and possibly improve scalability and accessibility of treatment.
Specifically, in multi-species preclinical studies comparing CYB003 with oral psilocybin, data demonstrated:
a well-tolerated profile following several doses in multiple species that supports repeat dosing;
a similar in vitro and in vivo pharmacology profile when compared to psilocin, the active naturally occurring psychedelic agent in psilocybin;
a 50% reduction in variability;
a 50% dose reduction;
a 50% shorter time to onset; and,
nearly double the brain penetration indicating the potential for a less variable treatment response.
4. Top Canadian Official Talks Drug Decriminalization And Psychedelics Reform On U.S. Tour That Involved Oregon Governor Meeting
A top Canadian health official who heads up the country's efforts to combat addiction visited Colorado, Oregon and Washington State last week to learn about their experiences implementing drug policy reform like broad decriminalization and harm reduction—meeting with the governor of Oregon and psychedelics activists, among others, on a week-long tour.
Liberal MP Carolyn Bennett, who serves as Canada's minister of mental health and addictions, met with top state officials, activists, harm reduction professionals and law enforcement to discuss how jurisdictions on the other side of the border are addressing drug policy and working to mitigate the overdose crisis.
__________
ARK Invest Psilocybin Drug Sales Projection, Rising 10-Year Estimate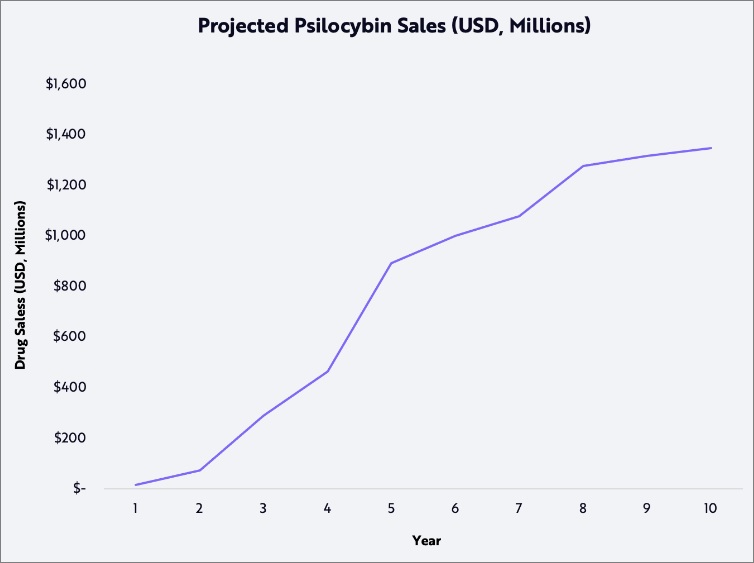 __________
Trade To Black Podcast: Psychedelic Biotech Experiencing Positive Sentiment Change
__________
3. Psychedelic Stocks Flat In Weak Broad Market Conditions
The psychedelic sector finished lower on aggregate this past week. The Horizon Psychedelic Stock Index ETF (PSYK) fell ↓0.49% on weekly volume that was the 3rd highest-ever in PSIL ETF. This performance slightly underperformed peer Nasdaq Junior Biotechnology Index (↓0.08%) but topped the Nasdaq Biotechnology Ishares ETF (↓1.43%). The NASDAQ 100 ↓3.88% and S&P 500 ↓3.11% declined moderately.
Here's how the Health Care (Biotechnology) sector performed:

Notable Gainers:
In the news…
Adastra Holdings has received its Controlled Drug and Substances Dealer's License on August 24, 2022. This license allows Adastra to process psilocybin and psilocin, the active compounds derived from psychedelic mushrooms.
Aion Therapeutic announced that further to its press release on August 18, 2022, the British Columbia Securities Commission has granted a management cease trade order, pursuant to the company's application made under National Policy 12-203 – Management Cease Trade Orders.
Braxia Scientific announced the filing of its financial statements and management discussion and analysis for the first quarter ended June 30, 2022
Bright Minds Biosciences has closed its previously announced overnight marketed offering of 2,858,000 units of the Company at a price of $1.40 per Unit for gross proceeds of approximately $4 million. Eight Capital acted as lead agent and sole bookrunner in connection with the offering and H.C. Wainwright & Co. acted as U.S. capital markets advisor.
Bright Minds Biosciences has dosed the first patient in a Phase I trial ( NCT 05397041 ) for its lead product, BMB-101, for the treatment of Dravet Syndrome and other medical indications. The Phase I trial is being conducted in Adelaide, Australia, by CMAX Clinical Research, a clinical trial center specializing in a range of early-phase trials and first-time in-human studies.
COMPASS Pathways will participate in three upcoming investor events.
COMPASS Pathways: Jim Cramer provides recommendation on August 30 episode of Mad Money.
Core One Labs announced that scientists at its wholly-owned subsidiary Awakened Biosciences Inc. have successfully completed the breakthrough first step in producing API N, N-dimethyltryptamine (DMT), with the synthesis of a DMT precursor.
Cybin Inc. announced that Adelia Therapeutics Inc., a wholly-controlled subsidiary of Cybin, has achieved the milestone identified as Y2, Q4(ii) as contemplated by the terms of a contribution agreement dated December 4, 2020.
Field Trip Health & Wellness reported fiscal first quarter 2023 results for the three-month period ended June 30, 2022, and provided a business update.
Filament Health announced the recent dosing of 14 healthy subjects with Filament's natural psilocybin drug candidate in a Health Canada-approved clinical trial as part of ATMA's psychedelic-assisted therapist training program.
House Committees in both Missouri and Georgia heard testimony from varied sources on the potential therapeutic effect of these substances for one of the subgroups of people commonly suffering a mental health condition: military veterans.
Lobe Sciences has entered into a term sheet contemplating convertible note financing bearing interest at 15% per annum with a term of 12 months with Cantheon Capital for aggregate proceeds of up to USD$1,500,000 to conduct three clinical trials in Australia with newly announced partner iNGENū Pty Ltd. The Convertible Notes will help fund the design and conduct of three clinical trials evaluating Lobe's proprietary psilocin analogues L-130 or L-131.
Mindset Pharma has identified three additional families of highly novel, non-tryptamine, next-generation psychedelic compounds.
Mydecine Innovations Group has signed an LOI for the sale of its digital technology subsidiary, Mindleap Health Inc. to PanGenomic Health Inc.
Optimi Health has entered into its first international psilocybin supply agreement with Promises Innovative Recovery.
Optimi Health provided an operational update on the progress of its planned year of commercialization.
PharmAla Biotech is proud to have been selected as the MDMA manufacturing partner for the University of Sydney's upcoming Phase 2 Clinical Trial. Founded in 1850, The University of Sydney is one of the top universities in Australia.
Pharmaceutical industry takes a serious economic hit after states legalize marijuana—with an average market loss of nearly $10 billion for drug makers per each legalization event—according to a first-of-its-kind study.
Red Light Holland reported its financial results for the first fiscal quarter of 2022 ended June 30, 2022. Cash balance: $23.0 million as at June 30, 2022.
Reunion Neuroscience has scheduled its 2022 Annual General Meeting of Shareholders for September 29, 2022 at 10:00 AM ET.
TMZ Fluff: Here Comes The Shroom!!! Booze Traded For Psychedelics At Weddings
Wesana Health Holdings announced its second quarter 2022 financial results.
Wesana Health Holdings has successfully completed a transaction to sell the Management Services Organization assets as part of the company's Care Delivery segment for a total consideration of USD$2,100,000.
2. Georgia House Committee Considers The Benefits Of 'Magic Mushrooms' For Veterans With PTSD
Georgians suffering from post-traumatic stress disorder (PTSD) already qualify for the state's medical cannabis oil program, but state lawmakers are now considering the potential benefits of psilocybin, commonly known as "magic mushrooms," for military veterans.
I had an overnight change when I experienced the psychedelic assisted therapy… That neuroplasticity from the medicine allowed me to experience my entire life from a different perspective and acceptance of it all. And really give me since then a love of life, a love of myself and just improvement in everything.

Ethan Whitfield, a retired U.S. Army veteran
The House Defense and Veterans Affairs Committee heard testimony from medical experts and patients for nearly two hours Tuesday.
Dr. Boadie Dunlop is the medical director for the Emory Healthcare Veterans Program and told lawmakers he would like their help to complete a study of psilocybin for veterans. He said veterans were disqualified from many of the previous and current studies of the drug.
1. How "Far Out" Are Psychedelic Therapeutics?—ARK Invest Research Report Published
In the coming years, ARK expects that scientists will continue to find new compounds that cause beneficial psychoplastogenic effects, improving the granularity with which neuroscientists understand the brain's many networks and their associated crosstalk. Forthcoming breakthroughs should reveal more about the nature of psychedelic experience and allow clinicians to diagnose mood disorders more effectively while developing more effective and safe therapeutic agents.
Through this lens, the psychedelic movement might be less a triumph against cultural stigma than a revolution in neuropharmacology. We believe psychedelics could usher in a new era of neuroscience in which the insights gleaned through functional neuroimaging over the last twenty years will be leveraged to solve some of the long-standing public health issues associated with mental illness.