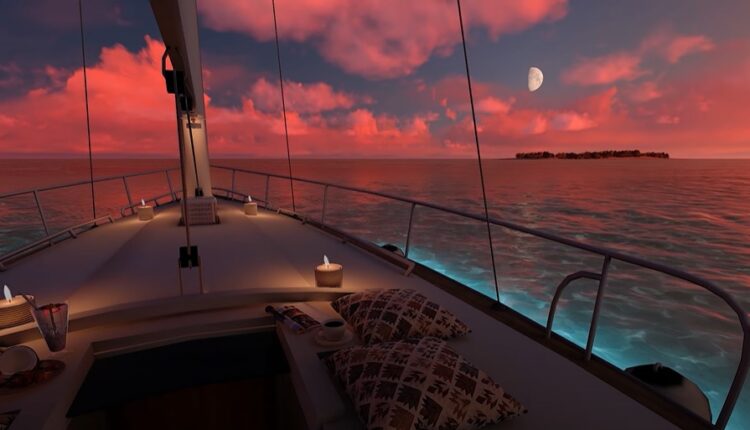 TDR's Top 5 Psychedelic Developments For The Week Of August 8
Welcome to TDR's review of the Top 5 Psychedelic Developments for the week of August 8. Aside from presenting a synopsis of events, we provide market commentary to summarize the week that was for publicly-listed companies.
5. COMPASS Pathways Sued For Purported Theft Of Psilocybin Trade Secrets
Terran Biosciences Inc. is suing COMPASS Pathways plc (NASDAQ: CMPS) for the appropriation of trade secrets. Terran, a private biotech platform company, filed a complaint against COMPASS last Friday. On Monday, August 8, the case was assigned to District Judge Ellen Lipton Hollander, reported by Psychedelic Alpha.
The trade secrets involve the treatment of depression and other mental health conditions with a combination of psilocybin and a 5-HT2A antagonist that has been patented by COMPASS Pathways, yet was allegedly stolen from Scott Thompson, a researcher at the University of Maryland, Baltimore.
4. Fox's Colin Cowherd Mocks Aaron Rodgers Use Of Psychedelics
Although mainstream validation of psychedelic medicine is quickly taking shape, not all people are taking these substances—and their purported healing attributes—all that seriously. Recently, Colin Cowherd, host of Fox's The Herd broadcast, appeared to minimize Aaron Rodger's recent ayahuasca experience. The Herd with Colin Cowherd is a three-hour daily sports television and radio show on FS1 and iHeartRadio.
Mr. Cowherd's comments appear to show profound ignorance towards the mechanisms of action of psychedelics by comparing the after-effect experience with alcohol. The active chemical in ayahuasca is DMT (dimethyltryptamine) which primarily acts on 5-HT2A receptors, and other serotonergic and glutaminergic receptors in the brain.
Update: Stephen Colbert piles-on as well:
__________
Psychedelics As Prospective Therapeutics For Neurodegenerative Disorders—Potential Mechanisms Of Action Inside The Brain
___________
3. Psychedelic Stocks Lag BioPharma Peers
Momentum in the biggest psychedelic stocks took a breather this past week, after a scorching opening week of August took the sector up well into double-digit percentage gain territory. The Horizon Psychedelic Stock Index ETF (PSYK) declined ↓2.53% on lower WoW volume. This performance lagged direct peer Nasdaq Junior Biotechnology Index (↑4.08%) and trailed the Nasdaq Biotechnology Ishares ETF (↑0.82%). The NASDAQ 100 ↑2.66% and S&P 500 ↑3.23% also rose, supported by a lower-than-expected midweek CPI number.
Here's how the Health Care (Biotechnology) sector performed:
Notable gainers:
In the news…
atai Life Sciences CEO Florian Brand sent a letter to Miriam E. Delphin-Rittmon, Ph.D, Assistant Secretary for Mental Health and Substance Use, to express support of her vision of a public-private federal task force to help guide the rollout of therapeutic psychedelics.
Awakn Life Science's Ben Sessa tells all about MDMA and Netflix docuseries.
California senator announced on Friday that he will no longer pursue plans to enact his psychedelics reform bill this year after a key committee removed major provisions this week that would have legalized possession of substances like psilocybin, LSD, DMT and MDMA for people over the age of 21.
Cantor Fitzgerald launched coverage of MindMed with an "overweight" rating and price target of $3. The stock closed at $0.58c on Aug. 9.
Colorado activists say it's 'very unlikely' a second psychedelics legalization initiative will make the ballot as an alternative to state-certified measure.
Core One Labs announced that scientists at its wholly-owned subsidiary Awakened Biosciences Inc. have successfully produced a precursor that can be efficiently converted into psilocin, the psychoactive ingredient of psilocybin, with further conversion into commercially viable psilocybin by Core One's wholly owned Vocan Biotechnologies Inc. 
Cybin Inc. has established an at-the-market equity program that allows Cybin to issue and sell up to USD$35,000,0000 of common shares in the capital of the Company from treasury to the public, from time to time, through the agents.
Cybin Inc. reported unaudited financial results for its first quarter ended June 30, 2022 and recent business highlights. Cash and cash equivalents totaled to C$42.5 million as of June 30, 2022.
Evidence is growing that lysergic acid diethylamide — the psychedelic drug better known as LSD or by various street names like "acid" — has significant cognitive benefits.
GOP Congressman is 'hopeful' his psychedelic research amendment can pass the senate.
LFTD Partners, the corporate parent of leading cannabis and psychedelics manufacturer Lifted Made, announced that it will release its financial results for the second quarter ended June 30, 2022 after the U.S. stock market closes on August 11, 2022.
Lobe Sciences has entered into an exclusive agreement with iNGENū Pty Ltd., an Australian based Contract Research Organization (CRO), to design and conduct three or more clinical trials evaluating Lobe's proprietary psilocin analogues L-130 or L-131.
Mindmed reported its financial results for the quarter ended June 30, 2022. The company had cash and cash equivalents totaling $105.7 million compared to $133.5 million as of December 31, 2021.
MindMed announced the appointment of Dr. Suzanne Bruhn and Dr. Roger Crystal , effective August 11, 2022 as independent members of its Board of Directors.
Mydecine Innovations Group announces Damon Michaels , Josephine Wu , Dr. Saeid Babaei and Dr. Victoria Hale have recently resigned as directors of the company.
Optimi Health is celebrating the launch of Blue Serenity, Canada's first natural therapeutic psilocybin product, in collaboration with psilocybin patient advocate Thomas Hartle.
Reunion Neuroscience (formerly Field Trip Health Ltd.) and Field Trip Health & Wellness Ltd. announced the closing of the plan of arrangement spinout transaction and $19.9 million private placement financing.
Revitalist Lifestyle & Wellness reported continued expansion of service lines offering an online vitamin supplement line, an online global curriculum, and an onsite and virtual training program for providers and therapists creating a quality ecosystem for everyone entering the psychedelic wellness space.
2. MindMed Co-Founder Dr. Scott Freeman Proposes Value Enhancement Plan
FCM MM HOLDINGS, LLC has sent a letter to the Board of Directors of Mind Medicine Inc. calling on the Board to adopt a new strategic plan proposed by FCM including: refocusing on its core drugs, cutting cash burn, and terminating MindMed's at-the-money equity offering. FCM is directed and managed Dr. Scott Freeman , co-founder and former Chief Medical Officer of MindMed, who has offered to provide MindMed his expertise as a director on MindMed's board.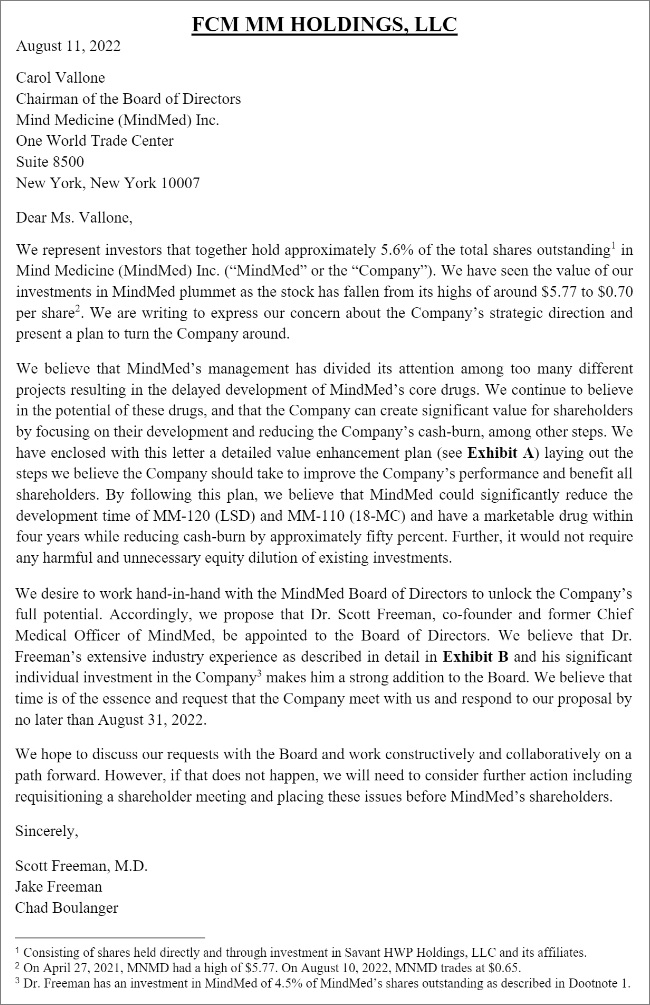 As detailed in the letter, FCM believes MindMed has underperformed—operationally, financially, and strategically—as a direct result of management's lack of focus on its core drugs: MM-110 (18-MC) and MM-120 (LSD). FCM contends that MindMed can bring MM-120 to market in four years rather than seven to eight years, by re-classifying MindMed's Phase IIb study on MM-120 to a Phase III study. FCM also proposes that the company reduce costs from forty-five million dollars per year to under twenty-five million dollars and that the unnecessary and dilutive at-the-money offering should be eliminated.
By executing these proposals, FCM believes that MindMed can unlock significant long-term value for MindMed's shareholders.
1. San Francisco Will Consider Ending All Prosecution of Psychedelic Drug Use
City lawmakers of San Francisco have introduced legislation that would significantly move forward the decriminalization of psychedelic substances. The bill will hopefully reduce non-violent drug prosecution, and make it easier for health practitioners to utilize the powerful therapeutic benefits which substances like psilocybin, ketamine, and DMT have been proven to have.
It's not a total legalization of use and possession, nor even a total decriminalization of use and possession. The exact text of the bill is as follows:
City resources not be used for any investigation, detention, arrest, or prosecution" related to use of "Entheogenic Plants listed on the Federally Controlled Substances Schedule 1 list.
Supervisors Dean Preston (District 5) and cosponsor Supervisor Hillary Ronen (District 9) introduced the resolution on July 26, but with the state senate in recesses until September 1st, they will have plenty of time to consider the benefits amid an epidemic of mental health problems in America.