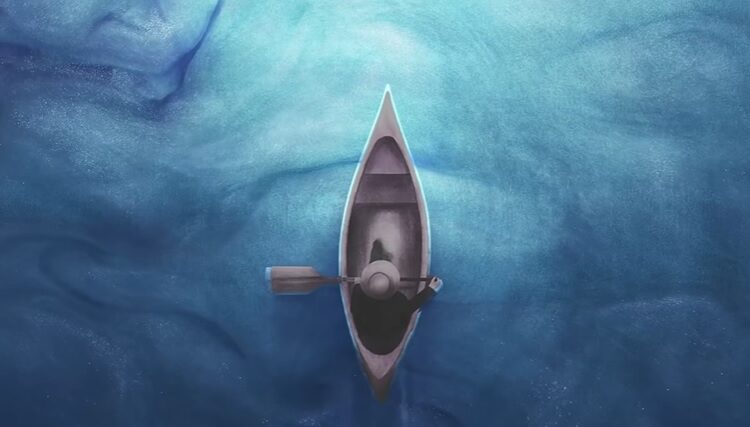 TDR's Top 5 Psychedelic Developments For The Week Of February 14
Welcome to TDR's review of the Top 5 Psychedelic developments for the week of February 14. Aside from presenting a synopsis of events, we provide market commentary to summarize the week that was for publicly-listed companies.
5. Awakn Life Sciences Drug Discovery Program Files Patent Application for a New Class of Entactogen-Like Molecules
Awakn Life Sciences Corp. (NEO: AWKN)(OTCMKTS: AWKNF) strengthened its intellectual property portfolio and pipeline for the treatment of addictions with the filing of a patent application for a new chemical series of entactogen-like molecules. Entactogen-like molecules are a class of psychoactive substances that produce distinctive emotional and social effects that Awakn believes has great potential to treat both substance and behavioural addictions.
Awakn's latest patent application, which covers the new chemical series, fulfils another significant step forward in the development of next generation entactogens and provides a key milestone in Awakn's drug discovery program. The application further strengthens Awakn's pipeline and position as a global leader in the psychedelic-biotechnology industry.
4. DEA Faces Challenge To Proposed Psychedelics Ban In Its Own Administrative Court
Researchers and advocates scored a procedural victory this week in their fight against the Drug Enforcement Administration's (DEA) proposal to ban five psychedelic compounds, with the agency's own administrative court agreeing to hold hearings on the matter before the prohibition can be enacted.
DEA faced significant pushback from the research community after posting a scheduling notice for five tryptamines: 4-OH-DiPT, 5-MeO-AMT, 5-MeO-MiPT, 5-MeO-DET and DiPT. Nearly 600 people wrote public comments on the proposed rule, virtually all of them in opposition.
__________
Mean Variance of the Internal Synchrony of 9 Brain Networks of 15 Healthy Volunteers, as a Percentage Change Post vs. Pre-Infusion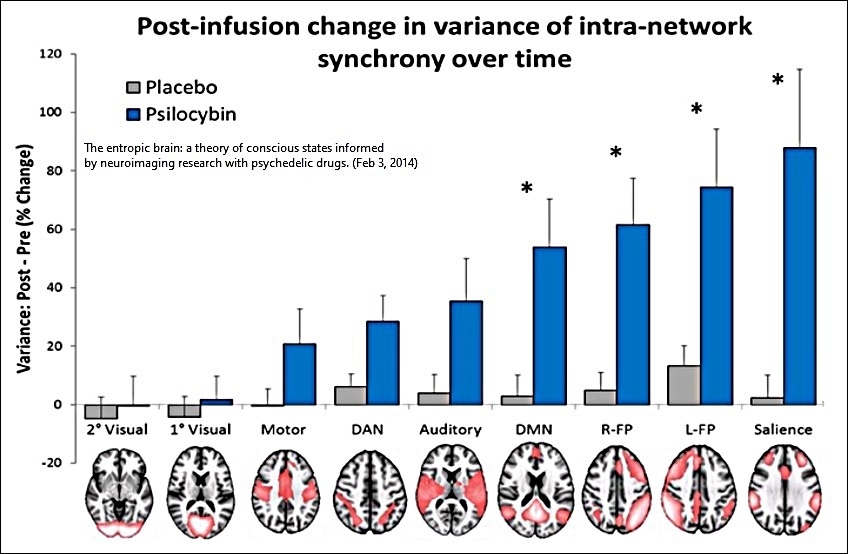 __________
3. Psychedelic Stocks Fall Inline With Broad Sector Biopharma Competitors
The biggest psychedelic stocks mostly lost ground this past week, while volumes remained light on the Horizon Psychedelic Stock Index ETF (PSYK). The ETF declined ↓3.73%, breaking a mini-streak on 2rd consecutive weekly gains. The decline was inline with the biotech market in general, which saw the Nasdaq Junior Biotechnology Index (↓3.26%) and Nasdaq Biotechnology Ishares ETF (↓3.86%) both recede. Volatility remained elevated on the broad markets, where the NASDAQ retreated ↓1.73% while the S&P 500 fell ↓1.48%. Here's how the Health Care (biotechnology) sector performed:
Technical snapshot, PSYK ETF:
| | | | |
| --- | --- | --- | --- |
| OSCILLATORS | | MOVING AVERAGES | |
| Name | Value | Name | Value |
| Relative Strength Index (14) | 24.08 | Exponential Moving Average (10) | 4.41 |
| Stochastic %K (14, 3, 3) | 10.02 | Simple Moving Average (10) | 4.31 |
| Commodity Channel Index (20) | −93.16 | Exponential Moving Average (20) | 5.21 |
| Average Directional Index (14) | 40.66 | Simple Moving Average (20) | 5.39 |
| Awesome Oscillator | −2.48 | Exponential Moving Average (30) | 5.85 |
| Momentum (10) | −1.49 | Simple Moving Average (30) | 6.16 |
| MACD Level (12, 26) | −1.03 | Exponential Moving Average (50) | 7.02 |
| Stochastic RSI Fast (3, 3, 14, 14) | 16.93 | Simple Moving Average (50) | 7.11 |
This was a week of muted sector catalysts, although it did see a sprinkling of positive state legislative events which have become commonplace in recent times. Unlike the seven triple-digit gainers seen last week—and four the week prior—the sector could only muster one: Psyched Wellness, which announced key results from the 90-day oral toxicity preclinical study on its proprietary extract of the Amanita Muscaria mushroom. In the absence of defining news, it appeared that sector price action defaulted to the ebb & flows of larger biotech index performance. Overall, our stance remains defensive in this period of broad-based and distinctly "risk-off" sentiment.
Weekly Gainers: PSYCF +15.4%, LVTTF +6.8%, DMT +3.5%, ATAI 4.5%, LOBEF +3.4%, MCURF +2.2%, MSET +2.9%, IGXT +1.4%
| | | | | | |
| --- | --- | --- | --- | --- | --- |
| Company | Ticker | Price ($) | Weekly Change (%) | WoW Volume Trend | Market Cap (s/o) |
| GH Research | GHRS | 18.06 | -1.84 | ↑ | US$939.4M |
| ATAI Life Sciences | ATAI | 5.79 | 4.51 | ↔ | US$928.1M |
| COMPASS Pathways | CMPS | 13.36 | -10.93 | ↓ | US$557.5M |
| Mind Medicine | MNMD | 1.22 | -2.40 | ↓ | US$514.7M |
| Cybin Inc. | CYBN | 1.04 | -1.88 | ↓ | US$169.7M |
| Field Trip Health | FTRP | 1.54 | -10.98 | ↑ | US$89.3M |
| Numinus Wellness | NUMI | 0.58 | -9.37 | ↔ | C$118.1M |
| Revive Therapeutics | RVVTF | 0.210 | -3.66 | ↑ | US$66.8M |
| Small Pharma | DMT | 0.295 | 3.50 | ↓ | C$94.2M |
| Mindset Pharma | MSET | 0.70 | 2.94 | ↓ | C$63.6M |
| Awakn Life Sciences | AWKN | 1.80 | -7.69 | ↑ | C$47.7M |
| Mydecine Innovations | MYCOF | 0.125 | -6.01 | ↔ | US$32.7M |
In the news…
atai Impact, the philanthropic program of atai Life Sciences N.V. and the Multidisciplinary Association for Psychedelic Studies (MAPS) announced a $500,000 donation from atai Impact to MAPS.
Clearmind Medicine announced that as part of its highly attended "Psychedelics for Alcoholism" event series it will host market analyst Marissa Wright at a virtual event for investors.
Cybin Inc. announced that it has formed a partnership with The Chopra Foundation, a not-for-profit founded by alternative medicine and new age author Deepak Chopra.
Entheon Biomedical is launching the upcoming EBIQ-101 Observational Trial in partnership with Wavepaths LLC. The study is taking place at Heading Health LLC with Dr. Steve Levine, MD, as principal investigator. Recruitment for EBIQ-101 has been completed and the first patient dose is scheduled to occur shortly.
Enveric Biosciences announced the closing of its previously announced underwritten public offering of 20,000,000 shares of its common stock and warrants to purchase up to 20,000,000 shares of its common stock for gross proceeds of approximately $10 million , before deducting underwriting discounts and commissions and other offering expenses.
Enveric Biosciences is also working with the University of Calgary's Hotchkiss Brain Institute , a leading neurosciences center of excellence, at the Cumming School of Medicine in Calgary, to establish a clinical trial of EVM-101 for the treatment of Cancer Related Distress.
Field Trip Health reported third fiscal quarter 2022 results for the three months ended December 31, 2021 and provided a business update. For the nine-month period revenue was $3,136,027 an increase of $2,701,567 or 622% over the same period of the prior fiscal year.
Mindset Pharma announced that, under its Co-operative Psychedelics Evaluation Platform program with InterVivo Solutions, it has identified new pharmacological insights related to the mechanisms of action and bioavailability of 5-MeO-DMT and other 1st generation psychedelics. Specifically, Mindset has further developed standard pharmacokinetics and drug discrimination data and protocols across LSD, psilocybin, 5-MeO-DMT, and now psilocin.
Mydecine Innovations announced the inclusion of a novel molecule with potentially heart-safe microdose enabling properties in their family of psilocin analogs. The Company has named this group of patent pending molecules MYCO-005.
NeonMind Biosciences has signed an agreement with SRx Health Solutions to open the company's inaugural NeonMind specialty mental health clinic, located at the Queensway Professional Medical Centre in Mississauga, Ontario.
Nova Mentis Life Science successfully completed an oral microdose psilocybin preclinical study, in the laboratory of Dr. Viviana Trezza, Rome Tre University, Rome, Italy. The results exceeded all expectations with the findings that a very low dose of the company's proprietary psilocybin significantly modulated behavioural and cognitive defects.
Novamind updated shareholders on a clinical pilot investigating the efficacy of group ketamine-assisted psychotherapy for frontline healthcare workers. With the final cohort of participants expected to begin treatment in March 2022, data analysis is currently underway and will be published following completion of the clinical pilot.
Oklahoma lawmakers on Wednesday approved a bill in committee to decriminalize low-level possession of psilocybin and promote research into the therapeutic potential of the psychedelic.
Optimi Health reports that Health Canada has added the company's wholly-owned subsidiary Optimi Labs Inc. to a list of approved suppliers under the Special Access Program.
As Oregon prepares for a first-of-its-kind legal psychedelic mushroom program to be launched in 2023, the state's newly created Oregon Psilocybin Services section of the Oregon Health Authority has released draft rules for that program.
Zollaris Laboratories receives authorization from the Health Canada, Office of Controlled Substances for analytical investigation of several psilocybin powders currently permitted under license and available in Canada.
2. Hawaii Senators Approve Psilocybin Task Force Bill In Committee, With Decriminalization Measures Still Pending
A Hawaii Senate committee on Friday approved a bill to set up a state working group to study the therapeutic benefits of psilocybin mushrooms and develop a "long-term" plan to ensure that the psychedelic is accessible for medical use for adults 21 and older.
It's one of several psilocybin measures—including one that's broader in scope by decriminalizing the substance and requiring the establishment of therapeutic psilocybin treatment centers—that have been introduced and could be taken up in the legislature this session.
The Senate Health Committee unanimously passed the more modest proposal in a 5-0 vote, though one member formally noted his reservations. The panel also adopted an amendment that was recommended by the state Department of Health to protect department employees from facing ethics code violations if they participate in the proposed workgroup.
1. Psychedelic Treatment With Psilocybin for Major Depression Effective for Up to a Year
In a report on a new study published on February 15, 2022, in the Journal of Psychopharmacology, researchers report that the substantial antidepressant effects of psilocybin-assisted therapy, given with supportive psychotherapy, may last at least a year for some patients.
Our findings add to evidence that, under carefully controlled conditions, this is a promising therapeutic approach that can lead to significant and durable improvements in depression.

Natalie Gukasyan, M.D., assistant professor of psychiatry and behavioral sciences at the Johns Hopkins University School of Medicine
For this study, the researchers recruited 27 participants with a long-term history of depression, most of whom had been experiencing depressive symptoms for approximately two years before recruitment. The average age of participants was 40, 19 were women, and 25 identified as white, one as African American and one as Asian. Eighty-eight percent of the participants had previously been treated with standard antidepressant medications, and 58% reported using antidepressants in their current depressive episodes.
The researchers reported that psilocybin treatment in both groups produced large decreases in depression, and that depression severity remained low one, three, six, and 12 months after treatment. Depressive symptoms were measured before and after treatment using the GRID-Hamilton Depression Rating Scale, a standard depression assessment tool, in which a score of 24 or more indicates severe depression, 17–23 moderate depression, 8–16 mild depression, and 7 or less no depression. For most participants, scores for the overall treatment decreased from 22.8 at pretreatment to 8.7 at one week, 8.9 at four weeks, 9.3 at three months, 7 at six months, and 7.7 at 12 months after treatment. Participants had stable rates of response to the treatment and remission of symptoms throughout the follow-up period, with 75% response and 58% remission at 12 months.