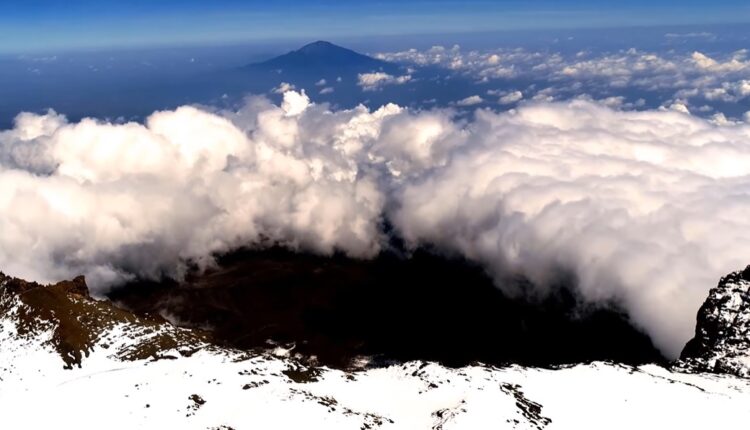 TDR's Top 5 Psychedelic Developments For The Week Of January 2
Welcome to TDR's review of the Top 5 Psychedelic Developments for the week of January 2. Aside from presenting a synopsis of events, we provide market commentary to summarize the week that was for publicly-listed companies.
5. Tryp Therapeutics Announces Interim Results For Its Phase II Clinical Trial For The Treatment Of Binge Eating Disorder With Psilocybin-Assisted Psychotherapy
Tryp Therapeutics, Inc. (CSE:TRYP) (OTCQB:TRYPF) announced interim results for the first five patients dosed in its Phase II STOP (Study of the Treatment of Overeating utilizing Psilocybin) trial. In collaboration with the University of Florida, the STOP trial is evaluating TRP-8802 (oral psilocybin) in patients with binge eating disorder (BED) and represents the first use of psilocybin in conjunction with psychotherapy as a therapeutic intervention in patients with BED. Highlights include:
Across all patients, daily binge eating episodes were reduced by an average of 80.4% from baseline during the four-week post-dosing measurement period, with all patients reporting a daily reduction in binge eating episodes of at least 60% from baseline
4 of 5 patients reported at least a 75% reduction in daily binge eating episodes from baseline during the four-week post-dosing measurement period
The number of daily instances of patients feeling that they had lost control over their eating were reduced by an average of 81.6% during the four-week post-dosing measurement period, with 4 of 5 patients reporting a reduction of greater than 70%
4. New York Senate Health Committee Prefiles Bill To Legalize Psychedelics
Decriminalizing psychedelics is one thing, but fully legalizing them is quite another, which is what a measure before New York's Senate Health Committee seeks to do. By prefiling the bill, its sponsors Linda Rosenthal (D), Jo Anne Simon (D) and Karines Reyes (D) seek to gain more time to draft legislation and review bills prior to committee referral.
As presented, the proposal seeks to amend current legislation towards legalizing the possession, use, cultivation, production, analysis, gifting and sharing of "a natural plant or fungus-based hallucinogen" among adults 21 and older.
Assuming the proposal is approved, Kappel says the impact could be significant. "The rest of the country would know that adults in New York have more options for human optimization and to treat mental illness. Many states, especially on the east coast, might follow suit quicker."
__________
COMPASS Pathways Shows Statistically Significant Results From COMP 360 On MADRS Depression Scale In Phase 2b Clinical Trial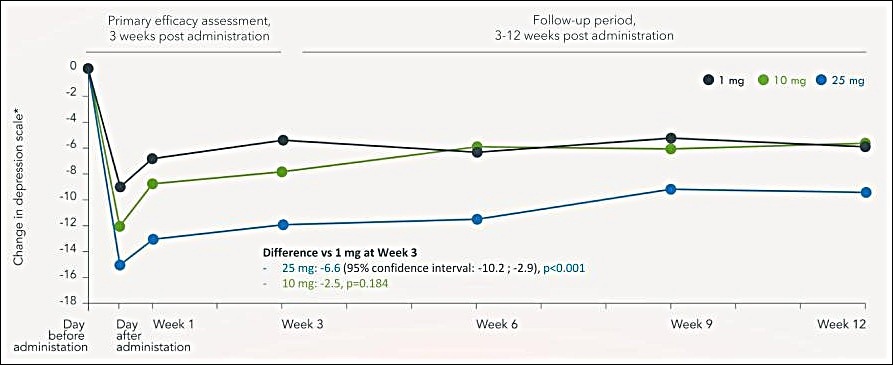 __________
3. Psychedelics Stocks Rise In First Post-Tax Loss Selling Week
The psychedelic sector rose moderately in the first week of 2023 past week, as reflected by the Horizon Psychedelic Stock Index (PSYK) ETF ↑4.70%. Despite a negative readout for atai Life Sciences compound PCN-101, the market ended higher and sharply outperformed both the Nasdaq Junior Biotechnology Index ↑1.05% and Nasdaq Biotechnology Ishares ETF ↑1.41%. The NASDAQ 100 ↑0.76%and S&P 500 ↑1.37% also started the new year on a positive note.
Here's how the Health Care (Biotechnology) sector performed:
Notable gainers
In the news…
Algernon Pharmaceuticals has established Algernon NeuroScience, a new wholly-owned private subsidiary of AGN Pharma, to advance the Company's psychedelic DMT stroke program.
ATMA Journey Centers announced their affiliate partnership with Neuma Centre, Kingston's first legal psychedelic community health facility.
Blackhawk Growth has announced that its shareholders approved a proposed plan of arrangement regarding wholly-owned subsidiary companies 1286409 B.C. Ltd, MindBio Therapeutics Pty Ltd., and Digital Media Technology Pty Ltd., by which SpinCo will become an independent psychedelics and mental health technologies company
Colorado officials are looking for people to join a first-of-its-kind advisory board tasked with informing the implementation of psychedelics legalization following voter approval of a reform initiative on the November ballot.
Eureka City Council convened for its first meeting of the year on Tuesday evening. Although it was a relatively light agenda with few action items, the council had the chance to explore some interesting topics, including the possibility of decriminalizing "natural" psychedelics.
January 1, 2023: Oregon became the first state to allow adult use of psilocybin "magic" mushrooms. Licensed guides will likely determine whether the program is a success.
Meme Of The Week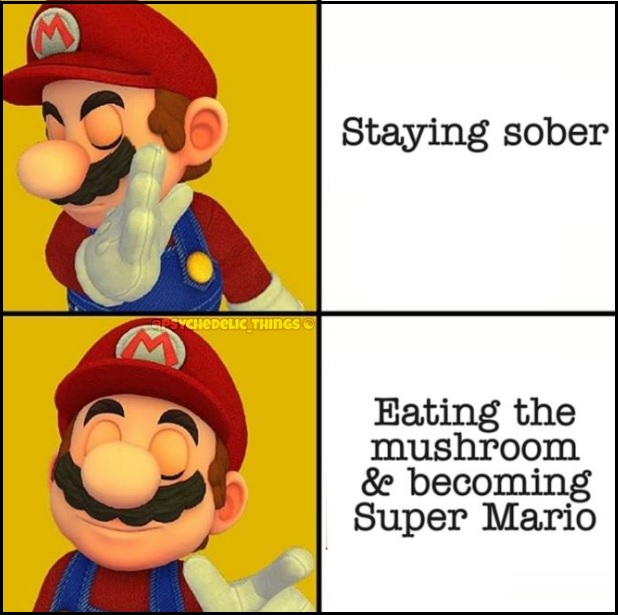 Missouri lawmaker says he plans to file a revised psychedelics bill to provide therapeutic access to psilocybin for people with serious mental health conditions in the coming days.
Numinus Wellness will release its financial results for the quarter ended November 30, 2022, after market close on Monday, January 16, 2023.
Prince Harry: According to the Spanish-language version of his new autobiography, "Spare," the Duke of Sussex describes how he got high on magic mushrooms, cocaine and weed.
PsyBio Therapeutics announced that the company has completed the first tranche of its previously announced non-brokered private placement offering.
Researchers in Australia are studying how psilocybin, the primary psychoactive compound in magic mushrooms, affects healthy subjects undergoing an MRI.
Reunion Neuroscience provided a corporate update for 2023 as it continues to advance its lead asset, RE104, through clinical development. As a proprietary, novel serotonergic psychedelic compound designed uniquely as a 4-OH-DiPT prodrug, RE104 is in development as a potential fast-acting, durable treatment for patients suffering from postpartum depression.
Revive Therapeutics announced that the U.S. Food & Drug Administration has granted the company's Type C meeting request to obtain agreement on the revised protocol endpoints for the Company's Phase 3 clinical trial (NCT04504734) to evaluate the safety and efficacy of Bucillamine.
Saskatoon man mounts Charter challenge to open access for psychedelic therapy. Thomas Hartle has end-of-life anxiety stemming from a terminal cancer diagnosis, and in 2020, the 54-year-old became the first person in Canada to legally gain access to psilocybin-assisted therapy to deal with it.
SciSparc Ltd. announced initial positive pre-clinical results for treatment for obesity and the potential treatment of metabolic syndromes using MEAI, a novel psychedelic molecule of Clearmind Medicine Inc.
The Veterans Administration is now participating in at least five trials of the drugs in New York, California and Oregon. This reverses a decadeslong abandonment of government research on psychedelics.
Tryp Therapeutics announced the signing of a letter of intent with Massachusetts General Hospital, the largest teaching hospital of Harvard Medical School, to fund and conduct a Phase 2a clinical trial investigating the effects of psilocybin-assisted psychotherapy in the treatment of patients aged 21+ suffering from Irritable Bowel Syndrome.
University of Sydney researchers are embarking on an Australian first research trial into the use of psychedelics in combination with psychotherapy for the treatment of alcohol use disorder.
Utah Mushroom Therapy, a new non-profit, is working to garner public support through this online petition. It calls on Utah legislators to pass a bill that permits psilocybin use for clinical and academic purposes. It also provides protection for those practicing under the Religious Freedom Restoration Act.
2. atai Life Sciences Announces Results from Phase 2a Trial Of PCN-101 (R-ketamine) For Treatment-Resistant Depression
atai Life Sciences N.V. (NASDAQ: ATAI) announced that, while PCN-101 (R-ketamine) demonstrated signals of efficacy across all timepoints out to two weeks, Perception Neuroscience's Phase 2a clinical trial did not meet its primary endpoint of a statistically significant change from baseline in participants' MADRS (Montgomery-Åsberg Depression Rating Scale) score at 24 hours compared to placebo.
The Phase 2a proof-of-concept trial was a two-week, randomized, double-blind, placebo-controlled multi-center study assessing the safety, tolerability and efficacy of a single IV administration of PCN-101. 102 TRD patients were enrolled across three arms – 30mg, 60mg and placebo.
PCN-101 demonstrated an encouraging safety profile and signals of efficacy across all timepoints despite not achieving statistical significance on the primary endpoint. atai will further evaluate the PCN-101 data in more detail over the next weeks and will work with its subsidiary Perception Neuroscience to explore next steps, including but not limited to seeking strategic partnership options.
1. MAPS PBC Announces Positive Results from Confirmatory Phase 3 "MAPP2" Trial of MDMA-Assisted Therapy for Treatment of PTSD
MAPS Public Benefit Corporation, a private biopharmaceutical company dedicated to the development and commercialization of psychedelic medicines, announced positive results from MAPP2, a multi-site Phase 3 study of MDMA-assisted therapy for post-traumatic stress disorder (PTSD).
The study met both the primary endpoint as measured by the change from baseline in Clinician-Administered PTSD Scale for DSM-5 (CAPS-5) and the key secondary endpoint of improvement in functional impairment associated with PTSD as measured by the change from baseline in the Sheehan Disability Scale (SDS). No serious adverse events were observed in either the MDMA group or the control group.
MAPP2 was a randomized, double-blind, multi-site Phase 3 study of the efficacy and safety of MDMA-assisted therapy for the treatment of PTSD. The study enrolled 121 participants and of those enrolled 104 were randomized to either a group that received 80 to 120 mg MDMA hydrochloride followed by a supplemental half-dose of 40 or 60 mg during three extended sessions of therapy, or a group that received placebo plus extended sessions of therapy.