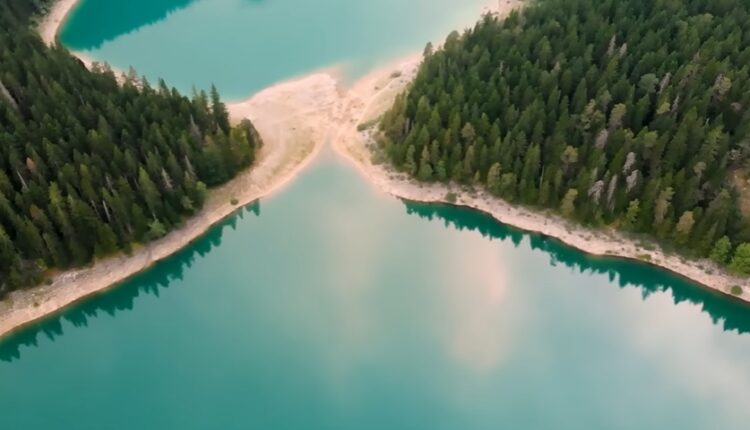 TDR's Top 5 Psychedelic Developments For The Week Of July 24
Welcome to TDR's review of the Top 5 Psychedelic Developments for the week of July 24. Aside from presenting a synopsis of events, we provide market commentary to summarize the week that was for publicly-listed companies.
5. Couples Are Doing MDMA and Ketamine Therapy To Save Their Relationships
Psychedelics are having a renaissance, with substances like ketamine, psilocybin (the active ingredient in magic mushrooms), and MDMA being studied and used to treat issues like depression, post-traumatic stress disorder, drug addiction, and end-of-life anxiety.
In the meantime, MAPS and other groups already offer training in psychedelic-assisted therapy, while some therapists are already adding ketamine to their services because it's legal. Others are offering discreet therapy sessions using illegal drugs. And both underground and above ground practitioners told VICE News demand is growing among couples who think psychedelics could help them take on their issues. 
4. Headspace And Dialogue Health Technologies Strike Major Deals In The Mental Health Care Space
Headspace, a digital healthcare company that offers innovative mental health solutions, has secured a $105 million senior debt facility from Oxford Finance, a leading specialty finance firm that serves healthcare and life sciences companies worldwide. The investment from this transaction will play a crucial role in supporting the expansion of the company's innovative mental health platform. Furthermore, the deal will empower the company to seize opportunities in areas where there is a demonstrated market need.
Also announced today: Sun Life Canada is acquiring Dialogue Health Technologies (TSX: CARE) valued at $5.15 in cash per common share.
The total equity value of Dialogue is $365 million CAD on a fully diluted basis (or $277 million for equity not currently owned by Sun Life or rolled by certain members of Dialogue's executive management). Dialogue's executive management will maintain a minority interest in Dialogue following closing.
___________
Psychedelic Exclusive Podcast: What To Anticipate From Awakn's Phase 3 Trial 
___________
3. Psychedelic Stock Edge Lower Inline With Biopharma Peers
The psychedelic sector notched a third consecutive losing week, as reflected by the Advisorshares Psychedelics ETF (PSIL) ↓1.50%. Unlike the previous two weeks, performance was inline with biopharma peers indices such as the Nasdaq Junior Biotechnology Index ↓0.46% and Nasdaq Biotechnology Ishares ETF↓1.22%. The NASDAQ 100 ↑1.97% and S&P 500 ↑0.93%finished higher on the back of another quarter of solid earnings from Big Tech, although the Fed did raise its key benchmark interest rate once again.
Here's how the Health Care (Biotechnology) sector performed: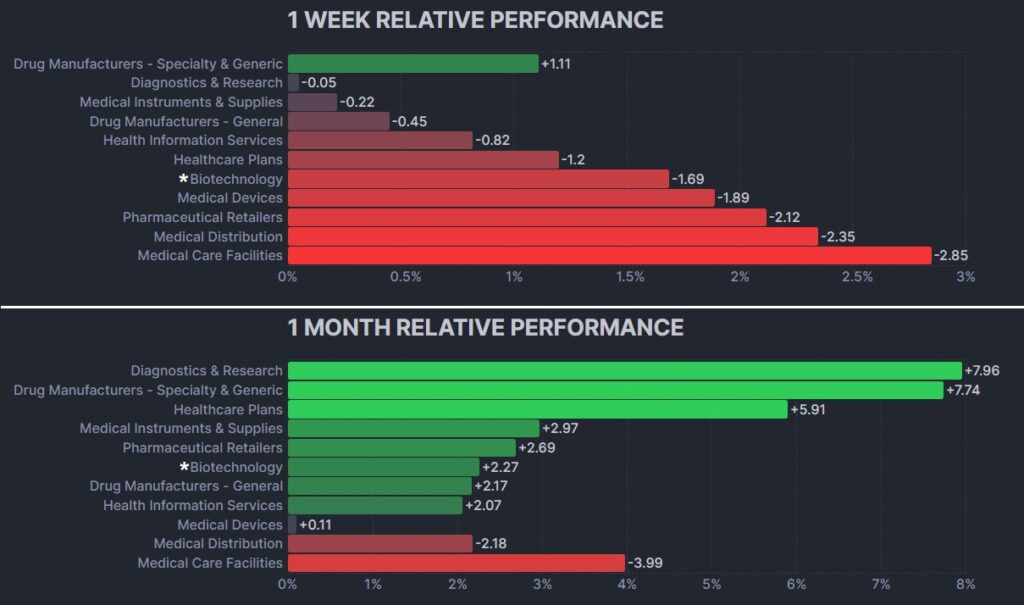 In the news…
American Medical Association has adopted a series of new drug policy positions, including advocating for psychedelics research, opposing the criminalization of kratom
ANU prepares to launch world-first registry to monitor impacts of psychedelics prescriptions.
Bionomics Limited announced its intention to de-list from the Australian Securities Exchange.
Cybin Inc. announced that Doug Drysdale, Cybin's Chief Executive Officer, will participate in a fireside chat at the Canaccord Genuity 43rd Annual Growth Conference, taking place August 7-10, 2023 in Boston, MA.
Cybin Inc. has partnered with Worldwide Clinical Trials, a global, full-service contract research organization (CRO) with deep expertise managing clinical trials for mental health conditions, including major depressive disorder.
Cybin Inc. announced that its Phase 2 trial evaluating CYB003, an investigational proprietary deuterated analog of psilocybin for the potential treatment of major depressive disorder, has completed dosing in Cohort 5 with no serious adverse events or other adverse events that may preclude continued dosing.
German company Acid Berlin is selling a reportedly legal LSD prodrug and shipping it through DHL Group to clients based in Berlin.
Happy Birthday Aldous Huxley!
Incannex Healthcare provided its quarterly activities report and appendix 4C for the period ended 30 June 2023.
JAMA Psychiatry: Psychedelics as Therapeutics—Potential and Challenges
Lawmakers are promoting their amendment to a spending bill that would encourage research into the therapeutic potential of certain psychedelics
Meme Of The Week
MindBio Therapeutics has started selection of participants for its Phase 2 randomized double-blind and placebo controlled clinical trial in advanced stage cancer patients using microdoses of Lysergic Acid Diethylamide (LSD) and Meaning Centred Psychotherapy in a world's first LSD take-home 6-week trial involving a total of 40 participants.
Optimi Health has received a termination notice and demand for payment pursuant to a definitive supply agreement with a private entity focused on developing mushroom-based therapeutics.
Psychedelic Passage, the first-ever psychedelic concierge service, announced the official launch of its rebranded website, solidifying its mission to offer personalized referrals to a nationwide network of pre-vetted psychedelic facilitators.
Post Malone discussed his alcohol and psychedelic mushroom use in a wide-ranging Apple Music interview ahead of the release of his album, "Austin."
Prime Movers Lab has raised $245 million to back young startups working on an unconventional range of technologies. The firm specializes in making investments at the edge of what's technically possible — including brain implants, psychedelics-related therapies and space infrastructure.
QIMR Berghofer trials psychedelic-assisted treatment for prolonged grief.
Small Pharma published its financial results for the fiscal first quarter ended May 31, 2023. 
Societal CDMO, Inc. announced the expansion of its broad suite of CDMO services to address the biopharmaceutical industry's expanding activity in the area of psychedelic drug development.
University of Washington is now recruiting for a study to determine whether psilocybin can reduce anxiety related to cancer diagnosis.
U.S. House of Representatives approved amendments and added a large spending bill. Among those amendments was an addition that would permit doctors from the U.S. Department of Veterans Affairs to recommend medical cannabis for veterans, as well as allow research to be conducted for other psychedelic substances with medical benefits.
Valhalla Ventures announced its debut $66M flagship fund to invest in audacious innovators challenging the status quo across deeptech and gaming. 
Veteran used psychedelics to successfully treat his PTSD…
2. Psilocybin-Assisted Therapy Shows Promising Phase 1 Results In Anorexia Nervosa Trial
A phase 1 clinical trial was conducted to investigate the potential of a single dose of psilocybin combined with psychotherapy as a treatment for anorexia nervosa (AN), a grueling mental illness lacking approved medications. Although the study was small, these initial results show promise for psilocybin as a potential treatment. The findings of the trial were published in Nature Medicine.
Anorexia nervosa is a serious mental health disorder characterized by excessive and irrational fear of gaining weight, leading to severe restrictions on food intake and distorted body image. Individuals with condition often perceive themselves as overweight, even when underweight, and engage in extreme behaviors to control their weight, such as excessive exercise or purging. This eating disorder can lead to malnutrition, severe physical health complications, and emotional distress.
1. New California Ballot Initiative Would Create $5 Billion State Psychedelics Agency To Fund Research With Goal Of Therapeutic Access
A California campaign has officially filed a proposed initiative for the state's 2024 ballot that would create a $5 billion state agency tasked with funding and promoting psychedelics research that it hopes will accelerate federal legalization of substances like psilocybin and ibogaine.
As a separate campaign collects signatures for a psilocybin legalization ballot measure, proponents of the new "TREAT California Act" are seeking funding for their novel measure, which would not directly legalize or decriminalize psychedelics in the state.
The initiative's text says it is meant to create a funding agency to "build out all the pieces of the psychedelic ecosystem necessary for this paradigm shift in mental healthcare," with the ultimate goal of gaining Food and Drug Administration (FDA) approval and "making these valuable therapeutics accessible to all."