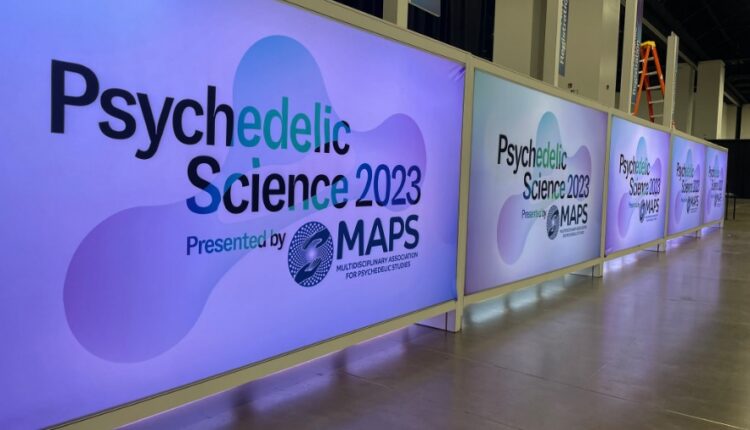 TDR's Top 5 Psychedelic Developments For The Week Of June 19
Welcome to TDR's review of the Top 5 Psychedelic Developments for the week of June 19. Aside from presenting a synopsis of events, we provide market commentary to summarize the week that was for publicly-listed companies.
5. Mindset Pharma Receives Approval for Phase II Clinical Trial Evaluating MSP-1014 for the Treatment of Major Depressive Disorder
Mindset Pharma Inc. has received approval from the U.K. Medicines and Healthcare products Regulatory Authority (MHRA) and the Research Ethics Committee to initiate a Phase II study of MSP-1014, its novel psilocin prodrug, evaluating its safety and efficacy in treating patients suffering from major depressive disorder (MDD).
The Phase II study will be conducted in two parts. In Part 1, Mindset will assess the safety and tolerability of up to three escalating doses of MSP-1014. In conjunction with MSP-1014, study participants will receive Acceptance and Commitment Therapy (ACT).
In Part 2, a randomized and placebo-controlled study, Mindset will assess the safety and efficacy of a single dose of MSP-1014, selected from Part 1. An equal number of patients will receive MSP-1014 or placebo (non-active) control and all will receive 6 sessions of ACT.
4. Founder Of Canvas-Footwear Phenomenon Toms Shoes Has Committed To Giving $100 Million To Support Psychedelic Research And Access
A nascent category of mental-health treatments is getting a major cash infusion.
Blake Mycoskie, founder of the Los Angeles–based canvas-footwear phenomenon Toms Shoes, has committed to giving $100 million to support psychedelic research and access, Mycoskie told MarketWatch in an exclusive interview. The money will help fund academic institutions investigating psychedelics' potential to treat anxiety, depression, post-traumatic stress disorder and other mental-health issues, as well as nonprofits helping to connect patients in need with psychedelic treatments.
The $100 million answer to that question amounts to about a quarter of Mycoskie's net worth and marks a major milestone in psychedelics' delicate image transformation. Shedding some of their dangerous-party-drug reputation, psychedelics are gaining attention from top pharmacologists, the scientific community, biotech companies and investors who see them as a critical part of the solution to a U.S. mental-health crisis.
__________
MDMA-AT Regulatory Approval And Commercialization Within Calendar 2024 Timeline, According To PS2023 Presentation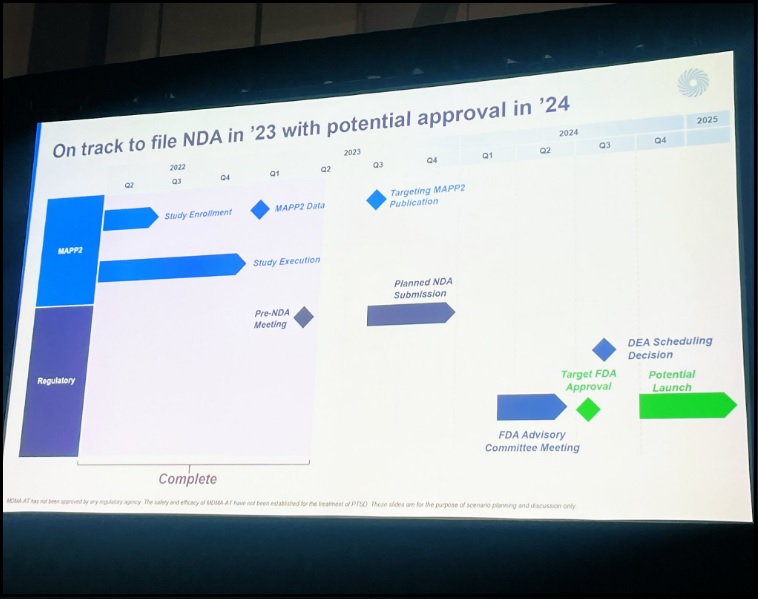 Interesting Rick Doblin And Payton Nyquvest Panel Discussion At PS2023
__________
3. Psychedelic Stocks Join Biopharm Peers Lower As Broad Market Buying Frenzy Pauses
The psychedelic sector declined lightly this past week, as reflected by the Advisorshares Psychedelics ETF (PSIL) ↓1.30%. The performance was inline with biopharma peers indices such as the Nasdaq Junior Biotechnology Index ↓1.37% and Nasdaq Biotechnology Ishares ETF↓2.13%. The NASDAQ 100 ↓1.40% and S&P 500 ↓1.48%were lower as the market took a breather following near-record overbought conditions in the market.
Here's how the Health Care (Biotechnology) sector performed:
In the news…
60 percent+ of Americans support legalizing access to regulated therapeutic psychedelics, according to a new poll. The Berkeley Psychedelics Survey, conducted by the UC Berkeley Center for the Science of Psychedelics (BCSP), polled 1,500 registered voters in the United States from June 9-15, 2023.
Aaron Rodgers: Speaking at the Psychedelic Science 2023 Conference in Colorado, Rodgers, who has credited ayahuasca to helping him with his MVP Awards in 2020 and 2021, that 'hundreds of NFL players' had asked him about his psychedelic.
BetterLife Pharma announced that its scientific collaborators, Drs. Vern Lewis and Argel Aguilar-Valles from Carleton University's Department of Neuroscience (Ottawa, Canada) will present a study titled "A non-hallucinogenic LSD analogue with therapeutic potential in mood disorders" at the upcoming IBNS Meeting on June 25-30 at Niagara Falls, Ontario, Canada.
Bright Minds Biosciences intends to consolidate its common shares on a five (5) to one (1) basis. The consolidation has been approved by the company's board of directors in accordance with the Articles of the Company.
Delix Therapeutics announced the initial cohort of its first-in-human Phase 1 trial assessing the safety and efficacy of a new non-hallucinogenic, MDMA and 5-MeO-DMT inspired psychoplastogen has successfully been dosed.
GoodMind Therapeutics has commenced registering patients nationwide for eligibility checks and intends to start treatments later this year.
Jared Polis, the Democrat who was elected to his second term as the state's governor last year, said Wednesday that he wants Colorado lawmakers to empower him with the ability to issue pardons to individuals who have been busted for crimes related to psychedelics such as psilocybin mushrooms.
Johns Hopkins Center for Psychedelic & Consciousness Research new director…
Meme Of The Week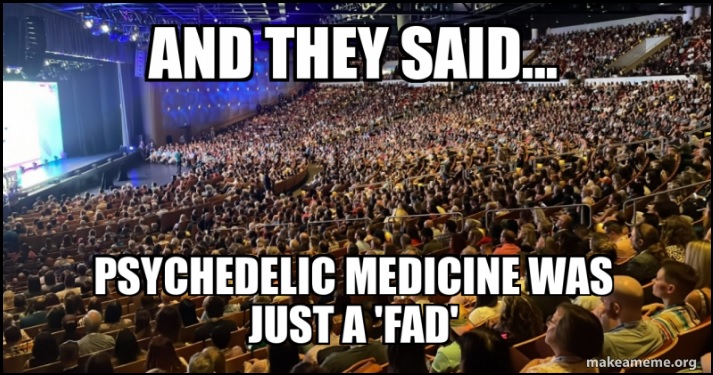 MDMA assisted-therapy: PS2023 presentation indicates approval and commercialization timeline remains within the calendar 2024 window.
MindMed shareholders have voted to elect all 6 of the company's proposed board members — rejecting the candidates from activist investors attempting to take control of the company.
Multidisciplinary Association for Psychedelic Studies announced that the Steven & Alexandra Cohen Foundation has awarded MAPS a $5 million grant. The grant provides MAPS with vital mission support as it enters the final stages of the drug development process for MDMA-assisted therapy for the treatment of PTSD.
Numinus Wellness has signed an agreement with HealingMaps to increase awareness of Numinus' wellness clinics and the Numinus Network licensing model, and to offer practitioner training information and referrals – exclusively to Numinus.
Osmind announced publication of largest real-world study on effectiveness of ketamine intravenous therapy for depression, anxiety and suicidal ideation.
PharmaTher Holdings has entered into a collaboration agreement with Vitruvias Therapeutics, Inc., a leading U.S. based specialty generic pharmaceutical company, for the commercialization of the company's KETARX (racemic ketamine) products in the U.S.
Psychedelic amendments approved in NDAA…
'Psychedelics saved our lives': Ex-Navy SEALs including the Lone Survivor credit drugs for helping them readjust to normal life.
Psylo has entered into a Sponsored Research Agreement with global Japanese pharmaceutical company, Daiichi Sankyo, to support the advancement of psychiatric medicines for patients struggling with chronic mental illness.
Red Light Holland announced updates regarding its manufacturing plans to create homogenized natural psilocybin microdosing capsules.
Roland Griffiths: Psychedelics will be necessary for the survival of our species."
Seelos Therapeutics announced the close of enrollment of its registration directed study of SLS-002 (intranasal racemic ketamine) for Acute Suicidal Ideation and Behavior in adults with Major Depressive Disorder.
Tyrell Terry shocked many when he retired from the NBA at 22 due to anxiety. He's turned to psychedelic therapy for help.
UC Berkeley Center for the Science of Psychedelics inaugural survey announced at PS2023…
2. FDA Releases Much-Anticipated Draft Guidance On Psychedelic Research For Mental Health Conditions
Guidance on psychedelic research could finally be coming from the world's top pharmaceutical regulatory body. The U.S. Food and Drug Administration (FDA) has released draft guidance aimed at researchers exploring the potential of psychedelic drugs for treating medical conditions—including psychiatric disorders and substance use disorders. This is a significant milestone as it marks the first FDA draft guidance providing recommendations to the industry regarding the design of clinical trials involving psychedelic drugs.
The document highlights key considerations throughout the drug development process, encompassing aspects like trial conduct, data collection, subject safety, and the requirements for a new drug application. The FDA's publication aims to outline the inherent challenges in developing programs for psychedelic drug research and provide guidance on addressing these challenges.
The ultimate goal: to assist researchers in designing studies that produce reliable results capable of supporting future New Drug Application (NDA).
1. MAPS PBC Announces National Institute on Drug Abuse to Share Data for New Drug Application for MDMA-Assisted Therapy for Treatment of PTSD
MAPS Public Benefit Corporation announced that the National Institute on Drug Abuse (NIDA), part of the National Institutes of Health, has agreed to provide data to supplement the company's New Drug Application (NDA) to the U.S. Food and Drug Administration (FDA) for MDMA-assisted therapy as a treatment for post-traumatic stress disorder (PTSD).
We are incredibly grateful to NIDA for this data sharing agreement and believe it is a good example of how public and private data sharing can help future development of new effective treatment options for people in need. The NIDA data is an important addition to support the evaluation of MDMA's safety and will be a critical component of the NDA we plan to submit later this year. With four decades of independent research looking at its safety, MDMA is one of the most well-studied molecules in clinical development today.

Amy Emerson, chief executive officer, MAPS PBC
Under the agreement, NIDA will share select pharmacokinetic (PK) data from a previously published early-stage MDMA study conducted in the Intramural Research Program of NIDA, for the Safety Pharmacology section of MAPS PBC's NDA. The FDA requested data on the PK of acute MDMA administration to help investigate the safety profile of MDMA and NIDA has agreed to share these data with MAPS PBC obviating the need for new safety studies to secure that PK data.