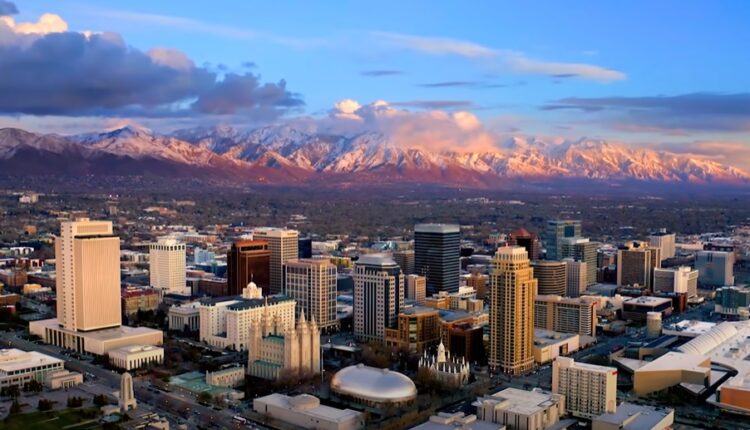 TDR's Top 5 Psychedelic Developments For The Week Of June 6
Welcome to TDR's review of the Top 5 Psychedelic developments for the week of June 6. Aside from presenting a synopsis of events, we provide market commentary to summarize the week that was for publicly-listed companies.
5. Pennsylvania Veterans Will Help Study Psychedelic Drugs To Treat Trauma, Prevent Suicide
A movement led by military veterans has embraced using psychedelic medications to treat conditions such as post-traumatic stress disorder and severe depression, citing an urgent need to make them widely available in Pennsylvania.
They further say treatments and medications prescribed for veterans by the U.S Department of Veterans Affairs commonly provide little or no relief, often worsening problems including depression and suicide. Standard treatments for severe depression haven't changed in decades, and psychedelic medications have the potential to revolutionize treatment, said veterans and others who spoke at the state Capitol on Wednesday.
4. Novamind Shareholders Approve Proposed Acquisition By Numinus
Novamind Inc. (CNSX:NM) (OTCMKTS:NVMDF) is pleased to announce that at its special meeting of its holders of common shares held today, Shareholders voted to approve the previously announced proposed acquisition of Novamind by Numinus Wellness Inc. in an all-share transaction. Numinus shareholders have also voted to approve the acquisition of Novamind in a separate meeting of Numinus shareholders held today.
The Transaction required approval by not less than two-thirds (66.66%) of the votes cast by Shareholders present in person or represented by proxy and entitled to vote at the Meeting, and by a simple majority of the votes cast by shareholders present in person or represented by proxy and entitled to vote at the meeting, other than the persons required to be excluded for the purpose of such vote pursuant to Multilateral Instrument 61-101 – Protection of Minority Security Holders in Special Transactions ("MI 61-101").
A total of 28,403,240 Novamind Shares were voted at the Meeting in-person or by proxy, representing approximately 57.0% of the issued and outstanding Novamind Shares as at May 2, 2022, with 98.5% voting in favor of the Transaction (96.5% after excluding the votes required to be excluded in determining minority approval pursuant to MI 61-101).
Related (June 10): Numinus completes acquisition of Novamind and announces executive appointments
Novamind Obtains Final Order for Plan of Arrangement from the Supreme Court of British Columbia and Completes Acquisition by Numinus Wellness Inc.
__________
Investment Bank Stifel Analyses Cybin DMT Clinical Study Acquisition From Entheon Biomedical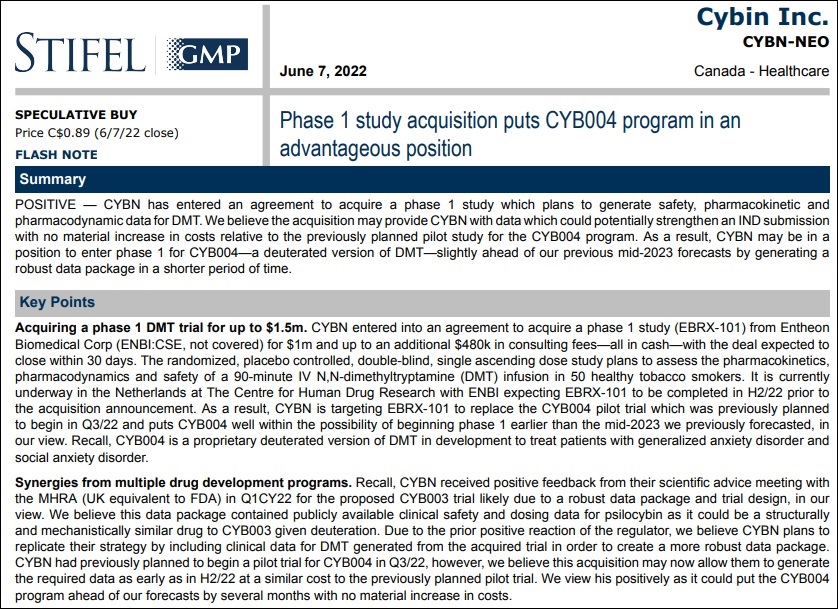 __________
3. Psychedelics Stocks Decline Inline With Biotech Peers And Broad Market
The biggest psychedelic stocks were mostly lower, as the market experienced a risk-off week after a recent bounce. The Horizon Psychedelic Stock Index ETF (PSYK) declined ↓4.56%, which was inline with biopharmaceutical peers Nasdaq Junior Biotechnology Index (↓5.46%) and the Nasdaq Biotechnology Ishares ETF (↓4.79%). Both the NASDAQ 100 ↓5.28% and S&P 500 ↓4.91% fell for a second consecutive week, punctuation by a bearish Friday session following a higher-than-expected CPI print for May (8.6%, highest since December 1981).
Here's how the Health Care (Biotechnology) sector performed:
Weekly technical snapshot, PSYK ETF:
| | | | |
| --- | --- | --- | --- |
| OSCILLATORS | PSYK: 2.72 | MOVING AVERAGES | |
| Name | Value | Name | Value |
| Relative Strength Index (14) | 28.48 | Exponential Moving Average (10) | 2.94 |
| Stochastic %K (14, 3, 3) | 41.88 | Simple Moving Average (10) | 2.92 |
| Commodity Channel Index (20) | −87.07 | Exponential Moving Average (20) | 3.44 |
| Average Directional Index (14) | 53.88 | Simple Moving Average (20) | 3.29 |
| Awesome Oscillator | −1.64 | Exponential Moving Average (30) | 4 |
| Momentum (10) | −0.78 | Simple Moving Average (30) | 3.87 |
| MACD Level (12, 26) | −0.75 | Exponential Moving Average (50) | 5.16 |
| Stochastic RSI Fast (3, 3, 14, 14) | 96 | Simple Moving Average (50) | 5.39 |
| | | | | | |
| --- | --- | --- | --- | --- | --- |
| Company | Ticker | Price ($) | Weekly Change (%) | WoW Volume Trend | Market Cap (s/o) |
| ATAI Life Sciences | ATAI | 3.29 | -10.84 | ↓ | US$528.8M |
| GH Research | GHRS | 10.45 | -2.06 | ↓ | US$543.6M |
| COMPASS Pathways | CMPS | 9.18 | -0.64 | ↓ | US$390.2M |
| Mind Medicine | MNMD | 0.8001 | -23.07 | ↑ | US$338.9M |
| Cybin Inc. | CYBN | 0.6701 | -14.63 | ↑ | US$110.9M |
| Revive Therapeutics | RVVTF | 0.340 | -2.57 | ↓ | US$109.0M |
| Numinus Wellness | NUMI | 0.365 | -1.35 | ↔ | C$76.0M |
| Field Trip Health | FTRP | 0.81 | -2.17 | ↓ | US$47.1M |
| Small Pharma | DMT | 0.175 | 24.99 | ↑ | C$55.9M |
| Awakn Life Sciences | AWKN | 0.88 | -29.59 | ↔ | C$26.0M |
| Mindset Pharma | MSET | 0.33 | -5.71 | ↑ | C$30.6M |
In the news…
Dr. Rick Doblin will be the keynote speaker at the 2022 Sun Valley Wellness Festival and Conference.
Elon Musk, the Tesla multi-billionaire investor and owner of the largest portion of Twitter shares has been discussing psychedelics on the social platform.

Filament Health and Jaguar Health, Inc. announced that the companies have signed a letter of intent to enter a collaboration agreement to develop botanical prescription drugs for specific psychoactive target indications in the United States .
Filament Health has cultivated its 70th variety of psilocybin-containing mushrooms at its 3,500 square foot GMP-compliant facility in Metro Vancouver. Filament also announced the successful development of standardized, pharmaceutical-grade ayahuasca extract, designed for oral administration by capsule or tablet.
King's College London: A new study will explore how psilocybin affects different networks and serotonin function in the brains of autistic adult.
Mindset Pharma announced that the United States Patent and Trademark Office (USPTO) has issued a Notice of Allowance for Mindset's patent application number 17/387,845, titled, "Psilocin Derivatives as Serotonergic Psychedelic Agents for the Treatment of CNS Disorders." The patent carries a priority date of February 4, 2020.
Nirvana Life Sciences filed a new provisional patent application with the United States Patent and Trademark Office.
Oregon Psilocybin Services section at the Oregon Health Authority will begin accepting applications from psilocybin training programs for curriculum approval.
Optimi Health has entered into an exploratory supply agreement with ATMA Journey Centers, a privately held facilitator of psilocybin-assisted therapy and practitioner training services for palliative care and mental health conditions based in Calgary, Alberta.
PharmaTher Holdings announced positive results from an investigator-led observational study evaluating the impact of KETABET™, a patented drug combination of FDA-approved ketamine and betaine anhydrous, on the unwanted ketamine side effects seen post ketamine treatment for subjects with depression.
Roth Capital has reiterated its Buy rating and bullish price target for Cybin. Based on this acquisition and strengthening of its DMT program, Roth has kept its $10 target.
SciSparc Ltd. announced that initial positive pre-clinical results for treatment for cocaine addiction using MEAI, a novel psychedelic molecule of Clearmind Medicine Inc.
SciSparc Ltd. announced that the company's board of directors resolved to initiate a process to review potential strategic transactions with the goal of maximizing shareholder value.
Tryp Therapeutics announced the initial data readout for the first patient dosed in its Phase II S.T.O.P. ( Study of the Treatment of O ereating utilizing Psilocybin) trial.
2. Cybin Acquires DMT Clinical Study From Entheon Biomedical
Cybin Inc. (NEO:CYBN) (OTCMKTS:CLXPF) has entered into an agreement to acquire a Phase 1 N,N-dimethyltryptamine (DMT) study from Entheon Biomedical Corp. (CSE: ENBI) (OTCQB: ENTBF) (FSE: 1XU1) to accelerate the clinical development path for CYB004, Cybin's proprietary deuterated DMT molecule for the potential treatment of anxiety disorders.
The Phase 1 EBRX-101 study, now named CYB004-E, is being conducted in the Netherlands at the Centre for Human Drug Research, a leading independent foundation specializing in innovative early-stage clinical drug research, in 50 healthy volunteers who smoke tobacco – making it the largest Phase 1 DMT clinical study conducted to date. Pending the close of the Acquisition, the CYB004-E study is expected to yield essential safety and dosing optimization data and will replace Cybin's planned pilot study for CYB004 that was expected to commence in the third quarter of 2022. Entheon will continue to support the CYB004-E study and act as external consultants to Cybin.
TDR's Take: Cybin Deal Signals That Psychedelic 'Majors' Are Eyeing Complimentary Assets From Cash-Starved Peers
1. Colorado Governor Signs Bill To Legalize MDMA Prescriptions Pending Federal Approval
The governor of Colorado has signed a bill to align state statute to legalize MDMA prescriptions if and when the federal government ultimately permits such use. Gov. Jared Polis (D), who recently endorsed the idea of decriminalizing psychedelics, gave final approval to the bipartisan and bicameral legislation on Wednesday.
The MDMA legislation, meanwhile, will legalize "prescribing, dispensing, transporting, possessing, and using" MDMA if the U.S. Food and Drug Administration (FDA) approves the substance as a prescription drug.
The bill states that that MDMA is "highly effective if paired with talk therapy and counseling" and notes that "it is widely expected that the federal Food and Drug Administration will approve MDMA-assisted therapy for prescription use for PTSD as soon as 2023."