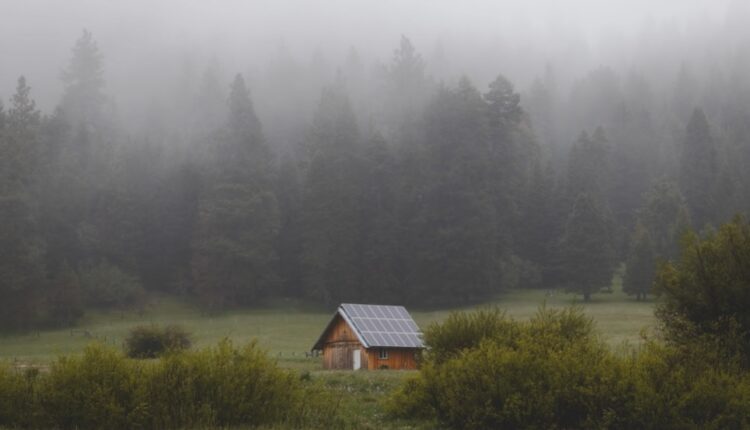 TDR's Top 5 Psychedelic Developments For The Week Of March 21
Welcome to TDR's review of the Top 5 Psychedelic developments for the week of March 21. Aside from presenting a synopsis of events, we provide market commentary to summarize the week that was for publicly-listed companies.
5. Colorado Psychedelics Activists Unite Behind November Ballot Measure
Activists in Colorado have decided to proceed with a single proposal to legalize psilocybin. This proposal, which is one of the quartet of psychedelic reform ballot measures drafted and filed for this year's ballot, will also offer a pathway for the sealing of prior conviction records and establish healing centers where individuals can use psilocybin for therapeutic purposes.
The measure, known as Initiative 58, would also allow regulators to decide whether to legalize mescaline, ibogaine and DMT. Veronica Perez and Kevin Matthews, who managed the campaign behind Denver's historic vote to locally decriminalize psilocybin in 2019, are the brains behind this measure. In an interview, Matthews explained that Initiative 58 was chosen because it was a comprehensive policy that would ensure that all the residents of Colorado have the option to access these natural medicines. He added that supporters were excited to start gathering signatures from voters, which would allow the proposal to appear on the coming ballot.
4. Psychedelic Drugs Increase Success Of PTSD Treatment: New Medical Trial
Researchers from the University of California made the claim Tuesday at a virtual symposium after conducting a phase III medical trial involving 90 participants.
For the trial, researchers gave the participants 120 milligrams of methylenedioxymethamphetamine — commonly known as MDMA, Molly or Ecstasy — before they underwent an eight-hour PTSD therapy session. That process was repeated three times over the course of two months.
In between, the participants had weekly therapy sessions without the assistance of the psychoactive drug, while a separate group of participants received a placebo drug and the same amount of therapy as a control.
___________
Global Venture Capital Funding In Psychedelic Drugs Rises 13000% From 2016 To 2021 (Through October)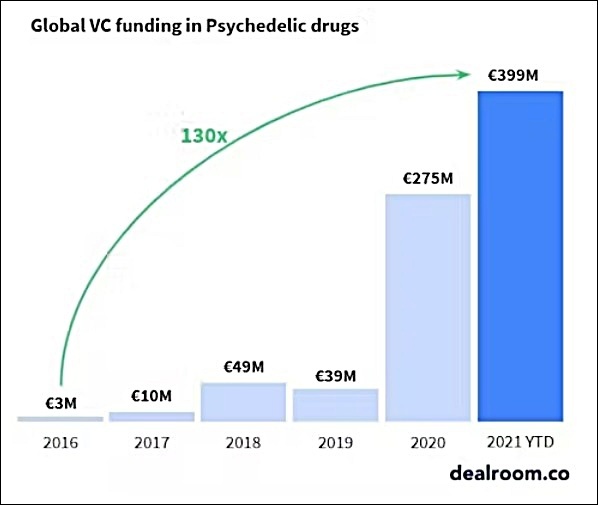 ___________
3. Psychedelic Stocks Lose Ground Inline With The Broad Biotech Sector
The biggest psychedelic stocks mostly declined this past week amid a general pickup in volume. The Horizon Psychedelic Stock Index ETF (PSYK) fell ↓2.81%, but that was inline with peer indexes such as the Nasdaq Junior Biotechnology Index (↓3.08%) and Nasdaq Biotechnology Ishares ETF (↓2.16%). The broad markets continued their strong bullish impulse, with NASDAQ 100 ↑2.35% and S&P 500 ↑1.85%. Here's how the Health Care (Biotechnology) sector performed:
Weekly period technical snapshot, PSYK ETF:
| | | | |
| --- | --- | --- | --- |
| OSCILLATORS | PSYK: 3.45 | MOVING AVERAGES | |
| Name | Value | Name | Value |
| Relative Strength Index (14) | 23.8 | Exponential Moving Average (10) | 3.82 |
| Stochastic %K (14, 3, 3) | 17.17 | Simple Moving Average (10) | 3.71 |
| Commodity Channel Index (20) | −82.36 | Exponential Moving Average (20) | 4.53 |
| Average Directional Index (14) | 48.07 | Simple Moving Average (20) | 4.51 |
| Awesome Oscillator | −2.29 | Exponential Moving Average (30) | 5.18 |
| Momentum (10) | −0.91 | Simple Moving Average (30) | 5.4 |
| MACD Level (12, 26) | −0.97 | Exponential Moving Average (50) | 6.38 |
| Stochastic RSI Fast (3, 3, 14, 14) | 30 | Simple Moving Average (50) | 6.57 |
Weekly gainers: HAVN +91.67%, PULL +33.33%, AION +25%, LOBE +20%, NOVA +18.75%, BRAX +10%, MCUR +7.69%, EHVVF +5.56%, SILO +5.44%, DRUG +5.41%, RVV +4.55%, PSYC +3.33%, WESA +3.13%, BETR +3.03%
| | | | | | |
| --- | --- | --- | --- | --- | --- |
| Company | Ticker | Price ($) | Weekly Change (%) | WoW Volume Trend | Market Cap (s/o) |
| ATAI Life Sciences | ATAI | 5.07 | -10.26 | ↔ | US$812.7M |
| GH Research | GHRS | 17.75 | 6.16 | ↑ | US$928.0M |
| COMPASS Pathways | CMPS | 12.52 | -7.60 | ↑ | US$526.1M |
| Mind Medicine | MNMD | 1.18 | -1.66 | ↓ | US$497.8M |
| Cybin Inc. | CYBN | 0.735 | -10.36 | ↑ | US$121.0M |
| Field Trip Health | FTRP | 1.47 | 3.52 | ↑ | US$85.3M |
| Numinus Wellness | NUMI | 0.50 | 11.11 | ↔ | C$101.8M |
| Revive Therapeutics | RVVTF | 0.184 | 2.22 | ↔ | US$58.9M |
| Small Pharma | DMT | 0.21 | -12.50 | ↑ | C$67.1M |
| Mindset Pharma | MSET | 0.61 | -3.17 | ↑ | C$55.4M |
| Awakn Life Sciences | AWKN | 1.55 | -8.82 | ↑ | C$43.6M |
| Mydecine Innovations | MYCOF | 0.080 | -4.76 | ↓ | US$20.9M |
In the news…
Awakn Life Sciences has closed a non-brokered private placement through the issuance of 2,031,250 units at a price of $1.60 per Unit for gross proceeds of $3,250,000. Gross proceeds raised from the Offering will be used for working capital and general corporate purposes. New interview with CSO Dr. David Nutt and CEO Anthony Tennyson below:
COMPASS Pathways has formed a long-term strategic partnership to launch The Centre for Mental Health Research and Innovation to accelerate psychedelic research and develop new models of care for mental health in the UK.
Cybin Inc. reports that its company-sponsored feasibility study using Kernel's quantitative neuroimaging technology, Kernel Flow, is actively recruiting participants. The study is evaluating the participants experience wearing Kernel Flow while in an altered state of consciousness following the administration of ketamine.
And Adelia Therapeutics Inc., a wholly-controlled subsidiary of Cybin, has achieved the milestones identified as Year 1 Q4 (vi); Year 2 Q2 (ii); Year 2 Q2 (v) and Year 2, Q3 (iii) as contemplated by the terms of a contribution agreement dated December 4, 2020.
Filament Health has been issued a second patent by the Canadian Intellectual Property Office (CIPO) for the extraction and standardization of natural psilocybin and associated psychedelic compounds. The patent describes essential technology for transforming variable psychedelic raw materials into pharmaceutical-grade, standardized drug candidates.
HAVN Life Sciences has expanded its supply partnership with Mycotopia Therapies Inc., adding a second supply agreement that covers functional mushrooms.
Hawaii senators approved two identical resolutions to request the formation of a psilocybin working group that would explore the therapeutic potential of the psychedelic, though the measures were amended to make provisions on developing a plan for patient access contingent on federal approval of the substance.
Hazel Park has moved to decriminalize psychedelics like psilocybin and ibogaine. The decision comes at a time when activists continue to pursue a broader statewide policy change to legalize psychedelic substances through votes.
Incannex Healthcare has announced it will acquire APIRx Pharmaceutical USA in an all scrip (share consideration) deal to affirm its position as a global leader in the fields of cannabinoid, psychedelic and combination pharmaceuticals.
Mydecine Innovations has received conditional approval from the Institutional Review Board for its multi-site Phase 2b smoking cessation trial. Johns Hopkins University will serve as the lead investigational site.
NeonMind Biosciences announced it is setting up to offer low dose intravenous ketamine therapy for mood and anxiety disorders (IV-Ket) as an initial treatment at its recently announced, inaugural specialty mental health clinic location in Mississauga, Ontario, pending clinic licensing.
NeonMind Biosciences also filed a new patent application with the United States Patent and Trademark Office related to a novel mechanism of weight loss targeted to specific fat subtypes.
New study to look at what is happening in your brain under influence of psychedelic drugs.
Ninnion, a clinical-stage pharmaceutical company focused on developing next-generation psychedelic therapeutics, announced the formation of its Scientific Advisory Board.
Novamind is launching Groups by Novamind, an expansion of the company's clinical care model focused on increasing patient access to the company's evidence-based mental health treatments.
PharmaTher Holdings announced positive topline results from the dose-finding and tolerability clinical study of ketamine for the treatment of levodopa-induced dyskinesia in patients with Parkinson's disease.
Psyched Wellness announced preliminary data from the National Research Council of Canada , from studies on the neuroprotective properties of AME-1, Psyched's proprietary extract from the Amanita Muscaria mushroom.
Real Brands is initiating expansion to become a premier provider of medical psychedelics. As Phase 1 of laying the groundwork for entry into the medical psychedelics market, Real Brands has entered a partnership with consulting firm Marcu & Arora to apply for U.S. Drug Enforcement Agency (DEA) licensure for psychedelics.
Red Light Holland announced that their Portfolio Company, Happy Caps Mushroom Farm's Mushroom Home Grow Kits are now available for purchase in 30 Retail Stores Across Canada.
Red Light Holland also announced that the Government of Saint Vincent and the Grenadines, which had granted authorization for the Company's iMicrodose packs to be legally imported to SVG by Red Light Holland's licensed subsidiary Scarlett
Tryp Therapeutics announced the first patient enrolled to evaluate its clinical candidate, TRP-8802, in a clinical trial. The study will investigate the safety and preliminary effectiveness of psilocybin-assisted therapy among patients with binge eating disorders in collaboration with the University of Florida.
Universal Ibogaine announced the key strategic addition of Julie Dumouchel as Director of Clinical Trials. Universal Ibogaine is working towards a planned clinical trial with Health Canada to prove the safety and efficacy of ibogaine for the disruption of opioid addiction.
2. Missouri Lawmakers Discuss GOP-Led Psychedelics Therapy And Decriminalization Bill In Committee
A Missouri House committee on Monday held a hearing on a GOP-led bill to legalize a wide range of psychedelics for therapeutic use at designated care facilities while further decriminalizing low-level possession in general.
Members of the House Health and Mental Health Policy Committee took testimony from researchers who spoke to the therapeutic potential of psychedelics like psilocybin, DMT, mescaline and ibogaine. The panel also heard from military veterans and law enforcement professionals who back the reform, while the Missouri State Medical Association testified in opposition.
Rep. Tony Lovasco (R) is sponsoring the legislation, which was filed earlier this month and would provide patients with certain serious conditions like treatment-resistant depression, PTSD and terminal illnesses access to various psychedelics substances.
1. Utah Governor Signs Bill To Study Use Of Psychedelics For Mental Health Therapy
The governor of Utah on Tuesday signed a bill to create a task force to study and make recommendations on the therapeutic potential of psychedelic drugs and possible regulations for their lawful use.
Rep. Brady Brammer (R) first introduced the measure in January, and it cleared both chambers of the legislature with nearly unanimous support, passing the House in a vote of 68-1 and clearing the Senate with a 23-1 tally.
The bill will create a Mental Illness Psychotherapy Drug Task Force that will be required to "study and make recommendations on drugs that may assist in treating mental illness." The psychotherapy drugs that the panel will consider are defined as controlled substances that are "not currently available for legal use" and "may be able to treat, manage, or alleviate symptoms from mental illness."