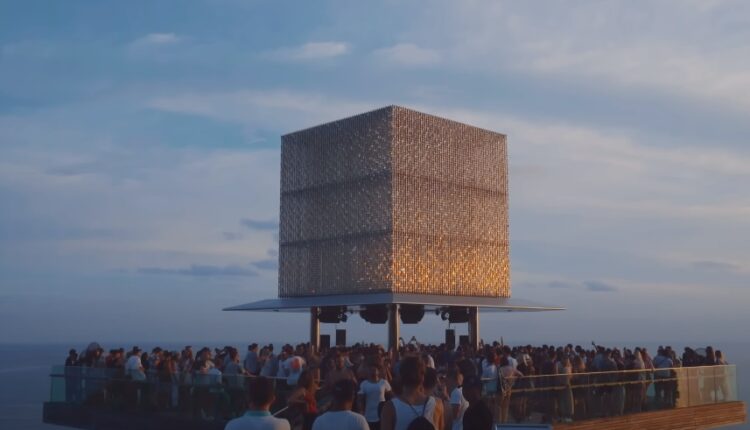 TDR's Top 5 Psychedelic Developments For The Week Of May 15
Welcome to TDR's review of the Top 5 Psychedelic Developments for the week of May 15. Aside from presenting a synopsis of events, we provide market commentary to summarize the week that was for publicly-listed companies.
5. FCM Holdings Accuse MindMed Braintrust Of 'Pursuing Misguided Clinical Path for MM-120'
Mind Medicine activist shareholders FCM MM Holdings are at it again. The special purpose vehicle set-up to represent certain early investors in MindMed threw down the gauntlet again, accusing company managers of, among other things, mismanaging its Phase II LSD trial for general anxiety disorder. Clearly, the press release was designed to put maximum pressure on MindMed's Board of Directors to enact executive and operational change.
In a press release issued this morning, FCM indicated that they have 'analyzed' the regulatory approval strategies of the 63 Central Nervous System drugs approved by the FDA in the past decade. It found that 66% of CNS drugs did not perform a Phase IIb—and 22% skipped Phase II altogether—and thus concluded that MindMed CEO Robert Barrow was incorrect in his claim that a Phase IIb of MM-120 was required by the FDA.
4. Federal Agency Announces $1.5 Million In Funding For Research On Psychedelics To Treat Drug Addiction
A top federal health agency is soliciting proposals for a series of research initiatives meant to explore how psychedelics could be used to treat drug addiction, with plans to provide $1.5 million in funding to support relevant studies.
As public interest in the therapeutic potential of psychedelics continues to grow, the National Institute on Drug Abuse (NIDA) this week published three notices of funding opportunities (NOFOs) for research projects to better understand how drugs like psilocybin and ayahuasca could help people with substance use disorders (SUDs).
__________
CEO Todd Shapiro Reveals Red Light Holland's Shroom Outlook
__________
3. Psychedelic Stocks Rise And Outperform Biopharma Peers
The psychedelic sector rose modestly this past week, as reflected by the Advisorshares Psychedelics ETF (PSIL)↑2.61%. The performance slightly bested biopharma peers in the Nasdaq Junior Biotechnology Index ↑0.49% and Nasdaq Biotechnology Ishares ETF↓0.02%. The NASDAQ 100 ↑3.36% and S&P 500 ↑1.46%also rose, despite the Dallas Fed indicating more rate hikes to come, on optimism near-term debt issues will get resolved.
Here's how the Health Care (Biotechnology) sector performed:

In The News…
Arizona governor signed into law budget legislation that includes provisions to fund research into the medical potential of psilocybin mushrooms for a variety of conditions
Arizona veteran Damon Laetzsch was arrested while making breakfast on August 11, 2021 at his home in Chandler, Arizona when police raided his house and found psilocybin mushrooms, DMT and a flask containing Naphtha, a chemical used to extract DMT. He was seeking to treat cluster headaches.
Delix Therapeutics is recruiting people for its first clinical trials of its drug candidate that harnesses properties of psychedelic compounds to treat neurological problems.
End of Life Psychedelic Care has been launched this week. EOLPC aims to transform the end-of-life experience by utilizing psychedelics responsibly and therapeutically. The organization seeks to educate and offer compassionate care and support to patients during the end-of-life process.
Enveric Biosciences has received a Notice of Allowance from the United States Patent and Trademark Office (USPTO) for a patent application involving EB-373, the company's new chemical entity (NCE) psilocin prodrug being developed for the treatment of anxiety disorder.
Filament Health announced the completion of the first-ever Nagoya Protocol-compliant import of Tabernanthe iboga root from Gabon to Filament's Metro Vancouver research and development facility.
Lobe Sciences has entered into a commercial distribution agreement for the supply and distribution of Altemia with Pentec Health, Inc., a nationwide provider of clinical nutrition and specialty care services addressing complex needs for patients.
Los Angeles dispensaries openly sell 'magic mushrooms' as state weighs decriminalization.
Magic mushroom dispensary with Ontario-based owners opens in Winnipeg's Osborne Village.
Meme Of The Week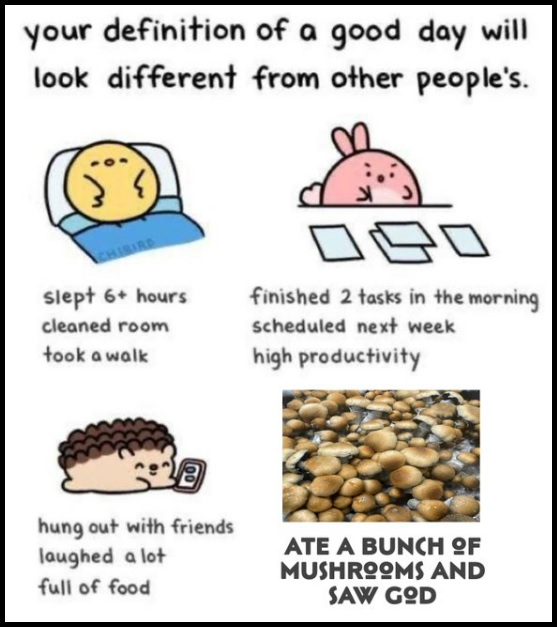 MindBio Therapeutics issued a letter to shareholders from Justin Hanka, Co-Founder and Chief Executive Officer of MindBio.
MindMed will present two abstracts at the American Psychiatric Association (APA) annual meeting
Mind Medicine Australia are now taking applications from research organizations to supply GMP medical grade psilocybin and MDMA at no cost to support new clinical trials.
Mydecine Innovations Group shared its condensed interim (unaudited) financial results for three months ended March 31, 2023.
North Carolina House committee has approved a bill to create a $5 million grant program to support research into the therapeutic potential of psilocybin and MDMA and to create a Breakthrough Therapies Research Advisory Board to oversee the effort.
Optimi Health announced the completion of its harvest of Psilocybe cubensis earmarked for export to Australia.
Psychedelic churches in Phoenix score court wins over legal status.
Recursion has signed agreements to acquire two companies in the AI-enabled drug discovery space: Cyclica and Valence. 
Salem, MA recently became the sixth Massachusetts community to move toward ending arrests involving psilocybin, the psychoactive compound found in so-called "magic mushrooms."
Terran Biosciences announced the publication of a PCT patent application covering what may be the first new salts, co-crystals, and polymorphs of psilocybin in history.
United Kingdom: An MP has called on the government to ease restrictions on a drug found in magic mushrooms to allow it to be used to treat mental health conditions.
University of Washington School of Medicine is conducting a study on the therapeutic value of psychedelic mushrooms. The study was mandated under a new Washington state law governing the medical and recreational use of psilocybin recently signed by Governor Inslee.
Utah doctor specializing in psychedelics kills 16-year-old son in Mmurder-suicide amid custody dispute.
Woven Science announced a strategic partnership with Kaizn, an experiential wellness company that sits at the intersection of human development, optimal psychology, functional holistic health, and psychedelic science. 
2. Lucy Scientific Discovery Inc. Accelerates Psilocybin Access and Product Launch through a Strategic Partnership with TheraPsil
Lucy Scientific Discovery Inc. (NASDAQ: LSDI) announced a partnership with TheraPsil to advance medical psilocybin access and research.
TheraPsil is a prominent non-profit organization that advocates for legal, compassionate access to psilocybin therapy for Canadians in medical need. TheraPsil supports patients with their applications for ministerial approval of psilocybin for medical purposes and connects approved patients with qualified practitioners to receive psilocybin-assisted therapy treatment. TheraPsil has been advocating for compassionate access since 2019.
The collaboration between Lucy and TheraPsil marks a significant milestone in expanding legal access to psilocybin for Canadian patients experiencing end-of-life distress and other serious medical conditions. Building upon TheraPsil's visionary initiative, Project Solace, the partnership aims to provide compassionate care while collecting real-world data to support the effectiveness and safety of psilocybin-assisted psychotherapy.
1. MindMed Announces Enrollment Milestone in Phase 2b Trial of MM-120 in Generalized Anxiety Disorder (GAD)
Mind Medicine Inc (NASDAQ: MNMD), (NEO: MMED) announced that the company's Phase 2b study evaluating MM-120 (lysergide D-tartrate) for GAD is over 50% enrolled and dosed. The trial plans to enroll up to 200 participants who will receive a single administration of 25 µg, 50 µg, 100 µg or 200 µg of MM-120 or placebo. Topline results are expected to be announced in late 2023.
The Phase 2b trial in patients diagnosed with GAD is a multi-center, parallel, randomized, double-blind, placebo-controlled, dose-optimization study. The trial plans to enroll up to 200 participants who will be randomized to receive a single administration of 25 µg, 50 µg, 100 µg or 200 µg of MM-120 or placebo. The primary objective is to determine the reduction in anxiety symptoms 4 weeks after a single administration of MM-120, compared across the five treatment arms.
Key secondary objectives, measured up to 12 weeks after the single administration, include assessments of anxiety symptoms, safety and tolerability as well as other measures of efficacy and quality of life. More information about the trial is available on our website (mindmed.co), the trial's website (anxietyresearchstudy.com) or on clinicaltrials.gov (identifier NCT05407064).