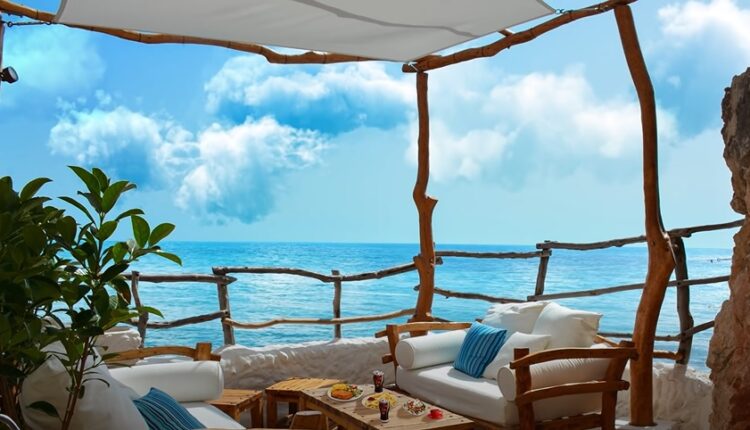 TDR's Top 5 Psychedelic Developments For The Week Of May 23
Welcome to TDR's review of the Top 5 Psychedelic developments for the week of May 23. Aside from presenting a synopsis of events, we provide market commentary to summarize the week that was for publicly-listed companies.
5. Awakn Life Sciences Files Patent Cooperation Treaty (PCT) Application For The Treatment Of Behavioral Addictions
Awakn Life Sciences Corp. (NEO: AWKN)(OTCMKTS: AWKNF) announced the filing of a Patent Cooperation Treaty (PCT) application for the treatment of behavioral addictions with ketamine and ketamine-assisted psychotherapy. The successful completion of Awakn's behavioral addictions study was announced last week and the data provided from the study was used in the patent filing. The pilot study investigated ketamine as a potential new treatment approach for Gambling Disorder, Internet Gaming Disorder, Compulsive Sexual Behavior Disorder and Binge Eating Disorder. 
The PCT covers all behavioral addictions or any recognized disorder or condition with similar compulsive symptoms to those in the study. If granted, the patent claims would give Awakn exclusive rights to use ketamine and ketamine-assisted therapy for the treatment of behavioral addictions. With no effective pharmacological treatments available globally at present for behavioral addictions, the study results and the patent filing position Awakn at the forefront of the industry at a time when rates of behavioral addictions are increasing at an alarming pace and sufferers have few treatment options which deliver poor outcomes.
4. Former Vancouver Mayor's Depression Improved After Wife Spiked His Coffee With Psilocybin Mushrooms
Canadian Senator and former Vancouver mayor Larry Campbell had no idea why the depression symptoms seemed to be easing until his wife informed him she had been microdosing him with psilocybin on the sly. The former mayor, steelworker, Mountie and coroner, inspiring the popular CBC drama Da Vinci's Inquest, knew all about the stress and sometimes more that comes with a life of service.
Campbell, who has depression and post-traumatic stress disorder (PTSD), revealed his wife's clandestine caper for the first time recently, while speaking at the Catalyst Psychedelics Summit in Kingston, Ont. The 74-year-old senator told conference attendees how his depression, PTSD and "getting old" has affected him, the  Psychedelics Spotlight News reports. The fact that he was getting even more grumpy was obvious, but despite his efforts to right things, he was unable to do so.
__________
Excellent Response Rates For People Suffering From Short-Lasting Unilateral Neuralgiform Headache Attacks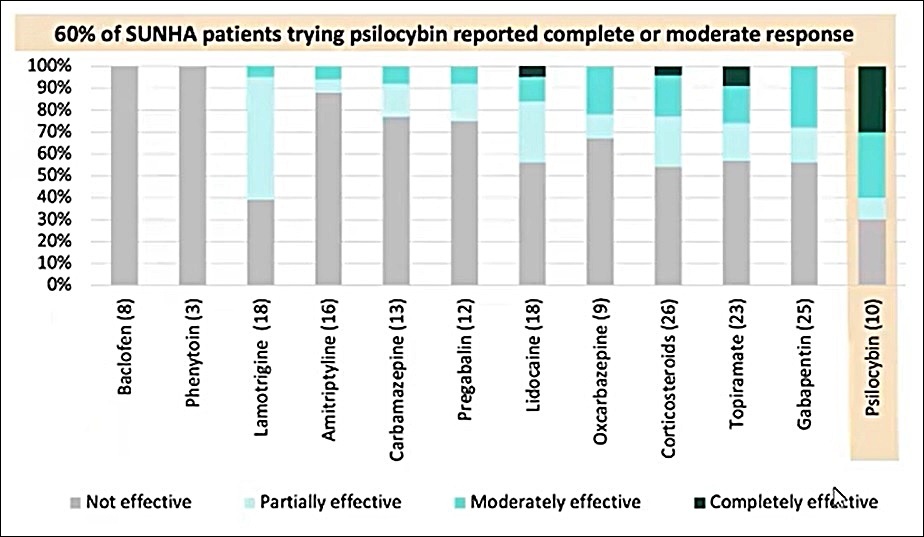 __________
3. Psychedelic Stocks Edge Higher As Broad Market Bounces Back
The biggest psychedelic stocks were mixed this past week, finishing inline with peer biopharma indexes. The Horizon Psychedelic Stock Index ETF (PSYK) climbed ↑1.09%, which was slightly stronger than the Nasdaq Junior Biotechnology Index (↓0.27%) but trailed the Nasdaq Biotechnology Ishares ETF (↑3.36%). After seven consecutive weeks of decline, both the NASDAQ 100 ↑7.40% and S&P 500 ↑6.89% pushed higher. Here's how the Health Care (Biotechnology) sector performed:
Weekly technical snapshot, PSYK ETF:
| | | | |
| --- | --- | --- | --- |
| OSCILLATORS | PSYK: 2.76 | MOVING AVERAGES | |
| Name | Value | | |
| Relative Strength Index (14) | 27.59 | Name | Value |
| Stochastic %K (14, 3, 3) | 28.92 | Exponential Moving Average (10) | 3.02 |
| Commodity Channel Index (20) | −122.48 | Simple Moving Average (10) | 3.06 |
| Average Directional Index (14) | 53.9 | Exponential Moving Average (20) | 3.58 |
| Awesome Oscillator | −1.78 | Simple Moving Average (20) | 3.43 |
| Momentum (10) | −0.79 | Exponential Moving Average (30) | 4.18 |
| MACD Level (12, 26) | −0.82 | Simple Moving Average (30) | 4.17 |
| Stochastic RSI Fast (3, 3, 14, 14) | 65 | Exponential Moving Average (50) | 5.35 |
| Williams Percent Range (14) | −62.77 | Simple Moving Average (50) | 5.61 |
| | | | | | |
| --- | --- | --- | --- | --- | --- |
| Company | Ticker | Price ($) | Weekly Change (%) | WoW Volume Trend | Market Cap (s/o) |
| ATAI Life Sciences | ATAI | 4.07 | 1.75 | ↔ | US$654.1M |
| GH Research | GHRS | 9.59 | -4.48 | ↓ | US$498.8M |
| COMPASS Pathways | CMPS | 8.41 | 0.59 | ↓ | US$357.5M |
| Mind Medicine | MNMD | 0.8743 | 13.53 | ↓ | US$369.4M |
| Cybin Inc. | CYBN | 0.647 | 9.56 | ↓ | US$106.7M |
| Revive Therapeutics | RVVTF | 0.328 | 9.33 | ↑ | US$104.8M |
| Numinus Wellness | NUMI | 0.375 | -3.84 | ↓ | C$78.1M |
| Field Trip Health | FTRP | 0.86 | -1.16 | ↔ | US$50.1M |
| Small Pharma | DMT | 0.15 | -11.76 | ↓ | C$47.6M |
| Mindset Pharma | MSET | 0.40 | -5.88 | ↓ | C$36.3M |
| Awakn Life Sciences | AWKN | 1.23 | -6.10 | ↔ | C$34.7M |
In the news…
Albert Labs International announced Dr. Sara Tai, Senior Lecturer in Clinical Psychology from Manchester University, as Principal Investigator for its upcoming trial. The trial will evaluate the safety and efficacy of KRN-101, a psilocybin-based medicine, for the treatment of cancer-related distress, an indication thought to affect some 15 million patients in Europe and North America.
Ceruvia Lifesciences announced the submission of an IND application to begin a Phase 2, multicenter, randomized, double blind, active placebo controlled clinical trial to to determine the efficacy and safety of a single oral dose of synthetic psilocybin (SYNP-101) in treating obsessive-compulsive disorder (OCD) symptoms up to 12 weeks after dosing. 
Clearmind Medicine has completed a highly constructive Pre-Investigational New Drug Application meeting with the U.S. Food and Drug Administration to discuss the development of the Company's MEAI-based proprietary compound CMND-100.
COMPASS Pathways psilocybin study shows a significant improvement in treatment-resistant depression symptoms.
Connecticut state budget bill recently signed into law by Gov. Ned Lamont includes an innovative carve out to explore the use of psychedelic drugs like MDMA and the mushroom-derived compound psilocybin.
East Lansing, Michigan City Council narrowly rejected a resolution to effectively decriminalize psychedelics in the jurisdiction on Tuesday, with the mayor and city attorney voicing concerns about possible legal ramifications of the reform proposal.
Mind Medicine announced the appointment of Schond L. Greenway as Chief Financial Officer. Mr. Greenway comes to MindMed with over 20 years of experience in investment banking, finance and corporate advisory, and investment analysis in the life sciences sector.
Mydecine Innovations Group announced that it has closed its previously announced best efforts overnight marketed offering of units through a syndicate of agents led by Stifel Nicolaus Canada Inc. and Roth Canada, Inc. Under the offering, the company issued 2,447,130 Units at a price per Unit of $1.15 for aggregate gross proceeds of $2,814,199.50.
Nirvana Life Sciences announced that its strategic partners Symeres are licensed to produce large quantities of controlled compounds required by Nirvana.
Optimi Health has entered into a supply agreement with Halucenex Life Sciences Inc., a wholly owned subsidiary of Creso Pharma of Australia.
PharmaTher Holdings and CC Biotechnology Corporation have entered into a development agreement to combine PharmaTher's ketamine formulation with CCBIO's Felice Dose wearable delivery device to create a proprietary wearable ketamine delivery solution for mental health, neurological and pain disorders. The Company expects to conduct clinical studies with its wearable ketamine delivery device in Q1-2023.
Psyched Wellness has received $226,500 CAD from the sale of two properties in Red Lake District, located in northwestern Ontario, Canada.
Red Light Holland announced Russell Peters, the company's Chief Creative Officer, currently in Amsterdam, has completed his first psychedelic journey.
Relmada Therapeutics announced that data related to REL-1017, the company's lead product candidate, will be presented virtually in two poster presentations at the American Society of Clinical Psychopharmacology 2022 Annual Meeting.
Small Pharma provided a business update ahead of its annual financial results for the fiscal year ended February 28, 2022. Cash position (unaudited): as of February 28, 2022 of approximately $40.7 million and working capital of approximately $38.5 million.
Tryp Therapeutics announced the appointment of Chris Ntoumenopoulos to the company's Board of Directors.
2. Cybin Inc. Phase Study To Determine The Safety And Tolerability Of Ascending Oral Doses Of CYB003 In Participants With Major Depressive Disorder Posted On CinicalTrials.gov
| | |
| --- | --- |
| Study Type   | Interventional  (Clinical Trial) |
| Estimated Enrollment : | 40 participants |
| Allocation: | Randomized |
| Intervention Model: | Parallel Assignment |
| Masking: | Quadruple (Participant, Care Provider, Investigator, Outcomes Assessor) |
| Primary Purpose: | Treatment |
| Official Title: | A Phase I/IIa, Randomized, Double-Blind, Placebo-Controlled Study to Assess Safety, Tolerability, Pharmacokinetics and Pharmacodynamics of Multiple Ascending Oral Doses of CYB003 in Participants With Major Depressive Disorder |
| Estimated Study Start Date : | July 19, 2022 |
| Estimated Primary Completion Date : | July 23, 2023 |
| Estimated Study Completion Date : | July 23, 2023 |
In multi-species preclinical studies, CYB003 has demonstrated significant advantages over classic psilocybin including, less variability in plasma levels, faster onset of action, shorter duration of effect and potentially better tolerability for an overall better outcome for patients. CYB003 will be the first psilocybin analog to be evaluated in Phase 1/2a development for the treatment of major depressive disorder.
1. Oregon Unveils Rules For New Psilocybin Therapy Program
Regulators in Oregon have released the first round of rules governing the state's new voter-approved psilocybin therapy program. The rules, released last week by the Oregon Health Authority, detail various manufacturing requirements and safety procedures, as well as the permissible types of psilocybin products.
According to The Oregonian, those are "just the first set of rules for a program set to go into effect in January 2023," while "rest of the rules will be considered in the fall and adopted by Dec. 31." Oregon Psilocybin Services, a division within the Oregon Health Authority Public Health Division's Center for Health Protection charged with implementing the new law, provide some context on the new rules in a letter to the public last week.
The agency said that it "received approximately 200 written and verbal comments during the public comment period that took place April 1-22, 2022 and relied on these comments to further refine the final rules."