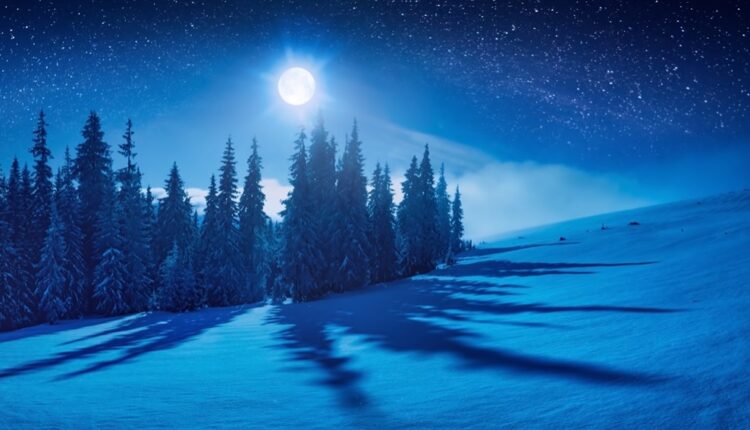 TDR's Top 5 Psychedelic Developments For The Week Of November 28
Welcome to TDR's review of the Top 5 Psychedelic Developments for the week of November 28. Aside from presenting a synopsis of events, we provide market commentary to summarize the week that was for publicly-listed companies.
5. Numinus Wellness Inc. Reports Q4 2022 And Annual Results
Numinus Wellness Inc. (TSX: NUMI) (OTCMKTS: NUMIF) announced its financial results for the three and twelve months ended August 31, 2022. Key quarterly highlight include:
Q4 2022 revenues grew 643% year-over-year to $4.2 million
Q4 2022 gross margin grew to 31.5%, generated $1.3 million of gross profit
Completed acquisition of Novamind, positioning Numinus as a leading, integrated mental healthcare company providing psychedelic-assisted therapies
Ended quarter with cash position of $33.0 million
TDR Coverage: Numinus Reports Strong Clinic Network Growth Following Novamind Consolidation
4. Berkeley Officials Consider Move To Decriminalize Hallucinogens
A project to decriminalize natural psychedelics that lingered for three years in the Berkeley City Council will come back to life in a few weeks. But unlike other jurisdictions that have taken steps to chip away at the national and state ban on psychedelics, Berkeley is about to consider an even broader proposal: one that could make it the first in the U.S. to decriminalize LSD.
Of the 15 U.S. cities that have softened restrictions on psychedelics, none has included this synthetic hallucinogen. Berkeley Community Health Commissioners Joseph Holcomb Adams and Karma Smart explained that the logic for decriminalizing LSD is that it meets the technical definition of psychedelics. And in their view, said Smart, "nobody deserves to go to jail for having a psychedelic experience."
Berkeley's resolution was initially drafted by the Oakland-based nonprofit Decriminalize Nature in 2019, and proposed decriminalizing only natural psychedelics, such as psilocybin mushrooms, ayahuasca, and mescaline cacti. The resolution spent two years in the hands of the city's Community Health Commission (CHC), one of 22 civil commissions advising the City Council.
__________
Projected Market Size Of Ketamine-Assisted Therapy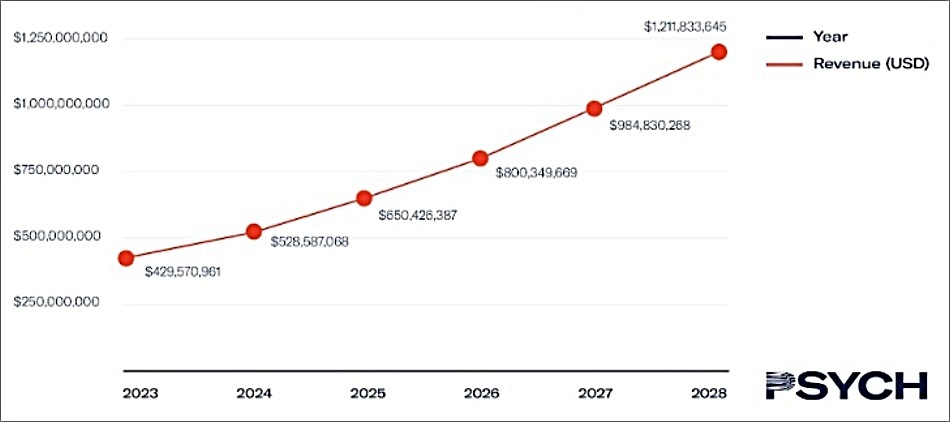 __________
3. Psychedelic Stocks Follow BioPharma Lead; Outperform Broad Market Indices
The psychedelic sector rose this past week, as reflected by the Horizon Psychedelic Stock Index (PSYK) ETF ↑3.29%. Volume remained subdued across across the ETF markets as the market veer towards holiday season. The Nasdaq Junior Biotechnology Index ↑4.30% and Nasdaq Biotechnology Ishares ETF ↑3.44% both increased and beat the broad indices, with the NASDAQ 100 ↑1.67%and S&P 500 ↑0.85% rising marginally for the week.
Here's how the Health Care (Biotechnology) sector performed:
Notable Gainers
In the news…
atai Life Sciences announced the appointment of Dr. Kirpekar to serve as the company's Chief Business Officer. In this newly created role, Dr. Kirpekar will be responsible for atai's pipeline strategy, building out its commercial and market access functions and leading its global business development efforts, including in- and out-licensing, M&A, and strategic investments.
Awakn Life Sciences announced the signing of a 5-year lease to open Awakn Clinics Trondheim. The new clinic is part of the second stage of Awakn's Nordic expansion plans, following on from last week's announcement of a move to a larger premises for its Oslo clinic.
BetterLife Pharma announced that one of its scientific collaborators, Dr. Argel Aguilar-Valles from Carleton University's Department of Neuroscience, will present on the anti-depressant activity of 2-bromo-LSD (BETR-001).
Braxia Scientific announced the filing of its financial statements and management discussion and analysis for the second quarter ended September 30, 2022.
Bright Minds Biosciences announced a non-brokered private placement of (i) pre-funded warrants of the company at a price of $1.249 per PFW, and (ii) units of the company at a price of $1.25 per Unit. The aggregate minimum gross proceeds of the Unit Offering and the PFW Offering, on a combined basis, is $1,000,000.
British neuropsychopharmacologist professor David Nutt is in Australia advocating for the use of regulatory-approved and evidence-based psychedelic-assisted therapies along with the nonprofit Mind Medicine Australia.
Central Intelligence Agency—otherwise known as the CIA—has hired a top executive from Johnson and Johnson, Jennifer Posa, to be the agency's first ever Chief Wellbeing Officer, a role they describe as expanding the "CIA's efforts to support its workforce's health and wellbeing."
Echelon Capital Markets analyst Stefan Quenneville kept a "Speculative Buy" rating on the stock in a Wednesday report to clients, saying Mindset Pharma remains undervalued.
Field Trip Health & Wellness provides a business update and reports fiscal second quarter 2023 results.
Filament Health has been issued two new patents for the extraction and standardization of natural psilocybin and associated psychedelic compounds.
Jackson County commissioners voted this week to block psychedelic mushroom retreat centers in rural parts of the county and allow businesses that administer mushrooms to customers in general commercial zones only.
Jamaican tourism is expected to change massively with the growing interest of psychedelic mushroom tourism that is already present in the country. The Caribbean island itself has seen a new group of resorts promoting "magic mushroom" tourism.
KGK Science, a wholly owned subsidiary of Wellbeing Digital Sciences, has entered into an agreement with Nova Mentis Life Science to conduct a Phase 2a clinical trial testing the efficacy of psilocybin as a potential treatment for fragile X syndrome.
Lobe Sciences announced an update for its clinical development plans for its proprietary Psilocin based compound L-130. Lobe has received regulatory clearance to conduct our Phase 1 study which is a combination of safety and pharmacokinetics evaluation of a fixed dose of L-130.
Meme Of The Week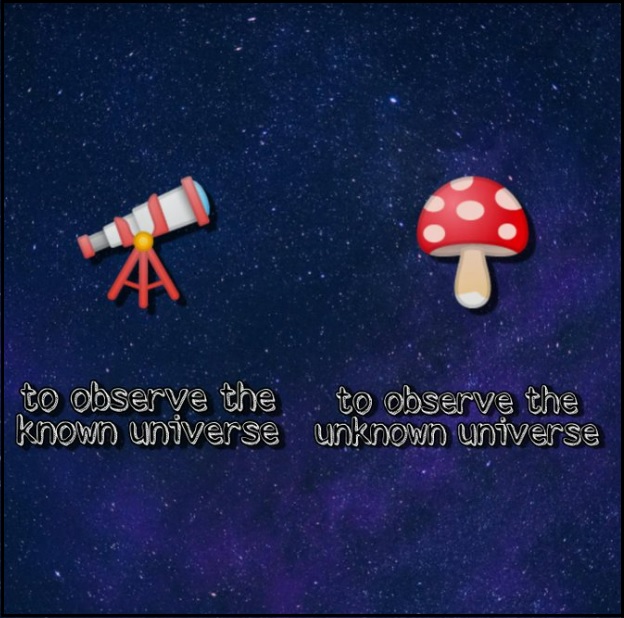 Mind Medicine announced that members of the Company's management team will participate in Canaccord Genuity's New Paradigms and Treatment Approaches in Mental Health Conference.
Mydecine Innovations Group announced a Common Share Subscription Agreement with a third-party investor dated August 26, 2022.
Psilocybin isn't legal in Oregon, but a Portland shop is doing it anyway.
PsyBio Therapeutics intends to complete a non-brokered private placement of up to 20,000,000 units of the company at an issue price of C$0.05 per Unit for gross proceeds of up to C$1,000,000.
Red Light Holland has filed its financial results for the second fiscal quarter of 2023 ended September 30, 2022.
Revive Therapeutics is arranging a private placement of a minimum of $3 million and up to $5 million of unit, at a price of $0.15 per Unit. The Offering is being led by EMD Financial Inc.
Silo Pharma issued a letter to shareholders highlighting the Company's progress and potential for its portfolio of novel, IP-protected technologies and assets developed in collaboration with world-class medical research partners. The letter, in its entirety, is reprinted below.
TheraPsil together with a group of patients and medical professionals from across Canada are headed to Ottawa to demand top health officials better access to medical psilocybin.
Toronto: The city says it has no plans to use its powers to shut down Toronto's only magic mushroom dispensary after a Toronto police raid earlier this month, leaving the shop still operating in a kind of grey area.
2. DEA Proposes Even Higher 2023 Production Quotas For Psychedelics Like MDMA And Psilocyn
The Drug Enforcement Administration (DEA) has released its final 2023 production quotas for drugs to be used in research—and the agency is now calling for even more manufacturing of psychedelic compounds like MDMA, psilocyn and 5-MeO-DMT than the existing significant increases it had initially proposed for next year.
DEA first listed the target 2023 production goals for controlled substances last month, with significant increases in the proposed quota for drugs like marijuana, psilocyn, LSD and mescaline compared to 2022. Now, following a public comment period, it's expanding certain quotas even further.
For psilocyn, for example, the agency originally set its 2023 goal at 8,000 grams, which already represented a doubling of the 2022 amount. DEA now says it's aiming for 12,000 grams of the psychedelic compound, which is found in so-called magic mushrooms.
1. Colorado Governor To Appoint Psychedelics Advisory Panel After Voters Approve Legalization Ballot Measure
Now that Colorado voters passed the Natural Medicine Health Act, the state has several steps to get through before Colorado will actually see a regulated industry for psychedelic mushrooms.
The measure allows for licensed "healing centers" to provide access to psilocybin and psilocyn, the psychoactive compounds found in many species of fungi, for therapeutic purposes. It also legalizes the "personal use" of the substances, allowing people to possess and grow psychedelic mushrooms in their own homes.
The first step on the itinerary is developing an advisory board, which will include appointees from Gov. Jared Polis (D) tasked with helping the Department of Regulatory Agencies implement the new program.