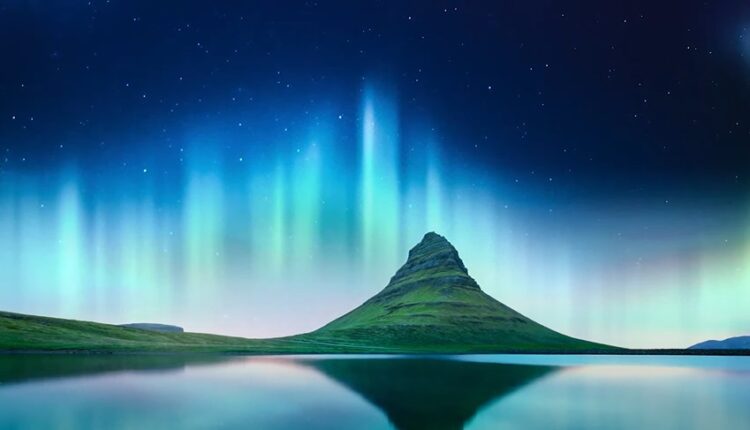 TDR's Top 5 Psychedelic Developments For The Week Of November 29
Welcome to TDR's review of the Top 5 Psychedelic developments for the week of November 29. Aside from presenting a synopsis of events, we provide market commentary to summarize the week that was for publicly-listed companies.
5. Tryp Therapeutics Receives Confirmation from FDA to Proceed with Phase 2a Study in Fibromyalgia
Tryp Therapeutics (CNSX: TRYP) (OTCMKTS: TRYPF) has submitted an Investigational New Drug (IND) application to the U.S. Food and Drug Administration to evaluate its clinical candidate, TRP-8802, in a Phase 2a clinical trial that investigates safety and preliminary effectiveness of psilocybin-assisted therapy among patients with fibromyalgia in collaboration with the University of Michigan.
Many fibromyalgia patients find insufficient relief from the currently available, FDA-approved treatments for the disease due to their limited efficacy and significant side effects. We have an opportunity with Tryp to conduct a Phase 2a study that evaluates the safety and clinical utility of psilocybin for fibromyalgia as we target the origins of the disease rather than simply treating patient symptoms.

Kevin Boehnke, Ph.D., University of Michigan
The trial is being conducted with Kevin Boehnke, Ph.D. from the University of Michigan and will evaluate the company's oral formulation of synthetic psilocybin, TRP-8802, in combination with psychotherapy. The application includes details regarding the trial protocol and safety information. Tryp expects to initiate the Phase 2a study in 2022 subject to a favorable review of the IND by the FDA.
4. COMPASS Pathways Announces Additional Positive Results From Its Phase IIb Trial of Investigational COMP360 Psilocybin Therapy for Treatment-Resistant Depression
COMPASS Pathways plc (NASDAQ: CMPS) announced further results from its groundbreaking phase IIb clinical trial of COMP360 psilocybin therapy for treatment-resistant depression (TRD). Additional analyses of primary and secondary endpoints validated topline findings and provided more insights into safety data.
Analyses of exploratory measures including anxiety, self-reported depression, positive and negative affect, and functioning, showed greater improvements for patients receiving a 25mg dose of COMP360 psilocybin compared with those receiving a 1mg dose after three weeks, both with psychological support. Further analysis is ongoing and full trial results will be submitted for publication in a peer-reviewed journal. The data will be reviewed with regulators early next year.
___________
MDMA Jumps Ahead of "Cannabis CBD" As World's 4th Most Consumed Drug, According to the 2021 Global Drug Survey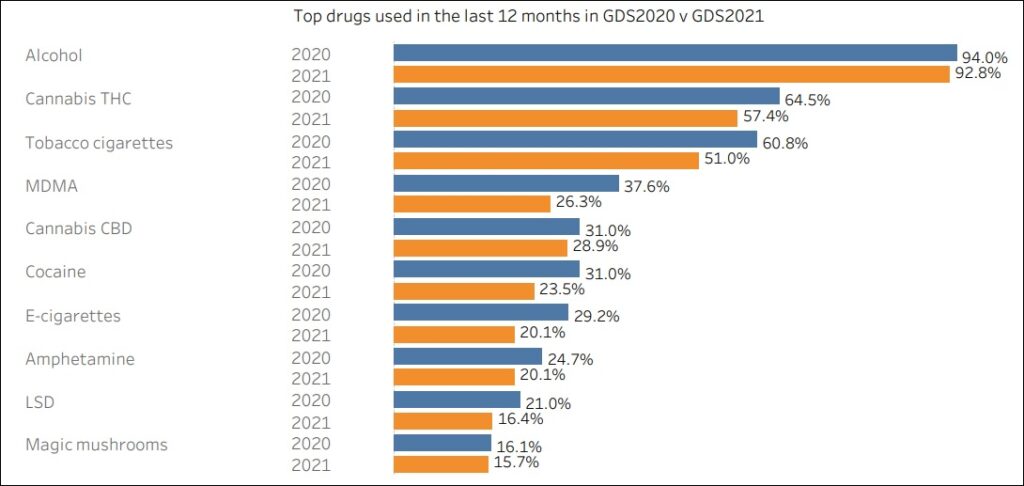 ___________
3. 4th Straight Decline In Psychedelic Stocks As Broad Market Risk Assets Come Under Pressure
The biggest psychedelic stocks were hammered again this past week, with the Horizon Psychedelic Stock Index ETF (PSYK) falling ↓5.62% on an 8-week volume low. The performance decline in PSYK was inline with weakness in BioPharma stocks in general, as the Nasdaq Junior Biotechnology Index (↓5.94%) and Nasdaq Biotechnology Ishares ETF (↓4.20%) retreated amid broad indexes that again came under pressure.
As we've mentioned in previous entries, psychedelic stocks are not the place to be going into tax loss season and with no galvanizing catalyst to close the year. This week was no exception—although most BioPharma indexes were hit as risk assets were sold off in most sectors. Friday was particularly harrowing, with companies like Field Trip Health falling as much as ↓15% before "recovering" to finish down "just" ↓9.74%. For the week, FTRP lost ↓23.91% after breaking through key support around the $4.10 level and through a defined head & shoulders technical setup.
A big part of this equation is that leadership stocks aren't leading. COMPASS Pathways forged a new 2021 low before finishing the week precariously over; MindMed retraced to level not seen since December 2020 and couldn't muster much rebound. ATAI Life Sciences has shared a similar fate. Buy volumes simply aren't there at the moment. With bidders so inactive right now, algorithmic-based sell programs can bully the bid and take down price, which they've done with impunity. Retail capitulation and tax loss sales pile-on sporadically, forcing bids lower in waves. The market is lacking a core buffer of backstop support.
In times like this, it's important to remember that the brutal price action we're seeing right now is endemic to all early-stage speculative markets. Bitcoin last over 80% of its value in 2018 after approaching $20,000 as is sitting at $53,000 today (even after the ongoing correction). Tier-1 Tech giants such as Apple and Amazon lost 90% of their value after the NASDAQ bubble crashed. Canadian cannabis had enormous valleys before legalization—and the year subsequent to it.
The deep troughs are par of the course with early-stage investing, so please adjust portfolio risk according.
| | | | | | |
| --- | --- | --- | --- | --- | --- |
| Company | Ticker | Price ($) | Weekly Change (%) | WoW Volume Trend | Market Cap (s/o) |
| ATAI LIfe Sciences | ATAI | 10.59 | -5.36 | ↓ | US$1.69B |
| COMPASS Pathways | CMPS | 29.60 | -9.64 | ↔ | US$1.25B |
| GH Research | GHRS | 19.26 | -13.20 | ↑ | US$1.00B |
| Mind Medicine | MNMD | 1.85 | -8.41 | ↔ | US$839.4M |
| Cybin Inc. | CYBN | 1.39 | 2.96 | ↑ | US$225.7M |
| Field Trip Health | FTRP | 3.15 | -23.91 | ↑ | US$182.0M |
| Revive Therapeutics | RVVTF | 0.389 | -0.25 | ↑ | US$124.0M |
| Numinus Wellness | NUMI | 0.55 | -12.69 | ↑ | C$112.1M |
| Awakn Life Sciences | AWKN | 2.54 | -13.01 | ↑ | C$63.4M |
| Mydecine Innovations | MYCOF | 0.144 | -12.19 | ↔ | US$37.5M |
In the news…
atai Life Sciences increased its ownership interest in COMPASS Pathways from 19.4% to 20.8%.
Braxia Scientific announced the filing of its fiscal second-quarter results for the three-month period ending September 30, 2021. Complete financial statements along with related management discussion and analysis can be found in the System for Electronic Document Analysis and Retrieval (SEDAR). Highlight in the link.
Bright Minds Biosciences provided a scientific update on the advancement of its novel 5-HT 2A psychedelic program for the treatment of mental diseases.
Cybin Inc. has announced that the FDA has authorized an investigator-initiated randomized, placebo-controlled Phase 2 clinical trial evaluating psychedelic-assisted psychotherapy with psilocybin for frontline clinicians experiencing COVID-related distress. The trial will be conducted at the University of Washington and will aim to treat symptoms of depression, anxiety, burnout and post-traumatic stress among frontline doctors, nurses and healthcare professionals.
Delic Holdings announced that its subsidiary Ketamine Wellness Centers (KWC) plans to open two new clinics in Salt Lake City, Utah , and Reno, Nevada , by February 2022 .
The Drug Enforcement Administration (DEA) has again increased its quota for the legal production of illegal controlled substances like psilocybin, MDMA and DMT for research purposes in 2022.
A Florida state lawmaker put forward a bill last week suggesting avenues for "seeking corrective equity on the impact of the 'war on drugs' and identifying real people-centered solutions" for the opioid crisis.
KetamineOne Capital Limited is entering into a collaborative partnership with Cognetivity Neurosciences to study and develop assessments for depression and post-traumatic stress disorder.
MindMed's brass is preparing to provide a much-anticipated update pertaining to its progress in the development of psychedelics for mental health at the upcoming Benzinga Global Small Cap Conference.
Novamind announced a strategic investment and advisory agreement with Bienstar Wellness, an early-stage Latin American mental health company-to assist in the development of Latin America's first network of integrative mental health clinics treating patients with psychedelic medicine and other innovative treatments.
Numinus Wellness has announced novel, proprietary methods for psychedelic mushroom compound screening. The testing, which was developed and validated in-house, will be available as part of its service offerings for third-party clients and used for evidence-based conversations with the regulators.
PharmaDrug has successfully completed its Type B pre-IND meeting with the FDA. The FDA has provided written responses to the company regarding its clinical development plan for PD-001—a patented enteric-coated formulation of cepharanthine—as a potential oral antiviral pill for COVID-19. PharmaDrug believes the written response provides a an overall clinical development plan to move PD-001 forward into a clinical trial.
Revitalist Lifestyle and Wellness formally announced it has signed a lease for its 8th psychedelic assisted psychotherapy clinic located at in Bethesda, Maryland. New interview with CEO Kathryn Walker,
Revive Therapeutics announced that the company has decided to expand research with Bucillamine, an oral drug shown to have promising anti-viral and anti-inflammatory capabilities and is being evaluated in a current Phase 3 clinical study for COVID-19, as a potential treatment for the Omicron variant (B.1.1.529).
2. Decriminalize Possession of Small Amounts of Illegal Drugs, Toronto's Top Doctor Recommends
Toronto should decriminalize the possession of small amounts of drugs as a response to the worsening opioid overdose crisis, recommends a new report from the city's medical officer of health. The report, signed by Dr. Eileen de Villa, was released publicly Monday and will go before the Toronto Board of Health at its next meeting on December 6.
If approved by the Board, it would direct de Villa to officially ask the federal government to exempt people within Toronto's geographical boundaries from criminal charges for possessing small amounts of drugs for personal use. Drug trafficking, including production and sale, would remain illegal.
Toronto would become the second major Canadian city, after Vancouver, to ask Health Canada for such an exemption from the Controlled Drugs and Substances Act, which regulates the possession, distribution and sale of unregulated drugs in Canada.
1. MAPS and Vine Ventures Pioneer Novel Regenerative Funding Structure to Infuse Psychedelic-Assisted Therapy Research and Access With Timely $70 Million
The Multidisciplinary Association for Psychedelic Studies (MAPS) and Vine Ventures have announced the creation of a novel, social impact Special Purpose Vehicle (SPV), called the Regenerative Financing Vine (RFV), that will infuse $70 million into patient access infrastructure and research for MDMA-assisted therapy for PTSD. This model fully maintains both MAPS' nonprofit mission and governance and MAPS Public Benefit Corporation's (MAPS PBC) public benefit drug development and post-approval activities.
Clinical research has been funded entirely through $130 million in philanthropic donations to MAPS over 35 years. In order to provide adequate access to meet the outstanding need, more funding is needed to research additional conditions and therapy modalities, train therapists, and build the patient access infrastructure to meet the existing need.
Regenerative Financing Vine Highlights:
Vine is creating a special purpose vehicle (SPV) which is raising the capital to purchase the rights to the revenue share
In return for the $70M, the SPV receives 6.1% of North America MDMA revenue for 8 years following initial drug sales
The SPV comes with a reciprocity payment mechanism: after paying back the principal, the SPV returns 15% of the revenue share back to MAPS. After hitting a 3x payback, the SPV returns 50% of the revenue share back to MAPS
Vine Ventures is not taking any carry or fees on the SPV, and is contributing significant capital to the SPV