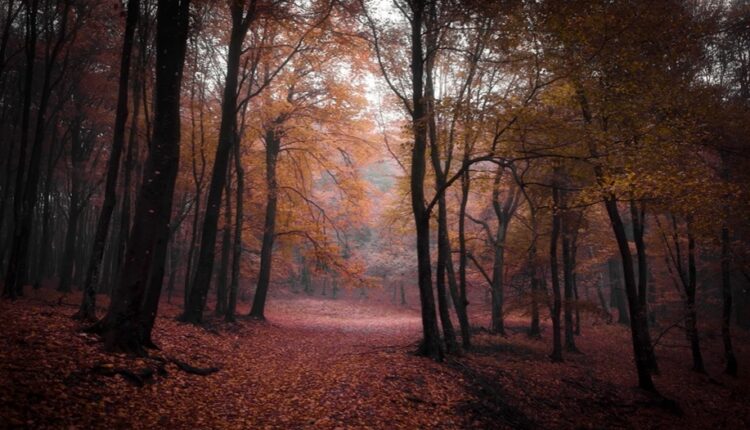 TDR's Top 5 Psychedelic Developments For The Week Of October 3
Welcome to TDR's review of the Top 5 Psychedelic Developments for the week of October 3. Aside from presenting a synopsis of events, we provide market commentary to summarize the week that was for publicly-listed companies.
5. Numinus Develops Mushroom Tea For Use In Psychedelic Research
Numinus Wellness Inc. announced that its research division, Numinus Bioscience, has developed a psilocybin-containing tea bag for use in clinical research and, if appropriate regulatory approvals are granted, eventual treatment of clients in psychedelic-assisted therapy.
The research behind the tea bag involved the development of processes and procedures to deliver 25mg per dose and the use of Numinus' validated strains of Psilocybe cubensis. The tea bag will be studied in a phase 1 trial of practitioners receiving experiential training for psilocybin-assisted therapy, with the goal to be used in Numinus' research, including trial partnerships at Cedar Clinical Research, Numinus' clinical trial management division.
4. Ketamine Injections Approved For Alberta's Community Facilities
The regulatory body for Alberta doctors has recently updated its regulations allowing non-hospital treatment centers to administer ketamine to treat serious depression and mental health conditions.
The College of Physicians and Surgeons of Alberta now approves community facilities with in-house anesthesiologists and psychiatrists to offer the dissociative or sedative psychedelic via IV (intravenous).
The ketatmine-assisted therapy can also be used to manage chronic pain disorders.
__________
Atai Life Sciences Highlights The Urgent Need For Mental Health Therapy Innovation
__________
3. Psychedelic Stocks Rise; Break 5-Week Losing Streak
The psychedelic sector rose for the first time in five weeks, as reflected by the Horizon Psychedelic Stock Index (PSYK) ETF (↑3.41%). The ETF notably moderately outperformed the Nasdaq Junior Biotechnology Index (↓0.28%) and Nasdaq Biotechnology Ishares ETF (↑1.59%), which kept more or less inline with the the broad indices. The NASDAQ 100 ↑0.55% and S&P 500 ↑1.37% rose slightly, clinging right at June intraday lows, although finishing lower in a closing basis.
Here's how the Health Care (Biotechnology) sector performed:
Notable gainers
In the news…
Atai Life Sciences has dosed the first subject in their Phase 1 single-ascending dose trial of VLS-01 with topline results expected in H1 2023.
Beckley Retreats has completed the first close of a seed round, earning a $1.5 million investment. The initiative was led by Iter Investments and joined by the Joe and Sandy Samberg Foundation and 5D World.
Braxia Scientific announced the expanded availability of treatments offered by KetaMD, Inc. in Florida. KetaMD is a wholly owned subsidiary providing access to at-home ketamine treatments for people suffering from depression.
COMPASS Pathways plc announced the agenda for its virtual Capital Markets Day on 12 October 2022 at 8:00 am ET. Topics to be covered at the event span the design of the Phase 3 program for COMP360 psilocybin therapy in treatment-resistant depression (TRD), TRD treatment landscape, commercial strategy, digital tools, and pipeline.
Creso Pharma's Canadian-based psychedelics company Halucenex Life Sciences has completed recruitment for its phase two clinical trial.
Cybin Inc. provided an update on its intellectual property progress in support of its research and development strategy.
Emerald Holding introduced reMind, a new media and events platform committed to building, connecting and educating diverse communities to responsibly grow the business of psychedelics.
Ladenburg Thalmann reiterates "Buy" Rating and $1.50 price target on Tryp Therapeutics.
Meme: *Insert psychedelic stock* (h/t: u/sterlingjames93)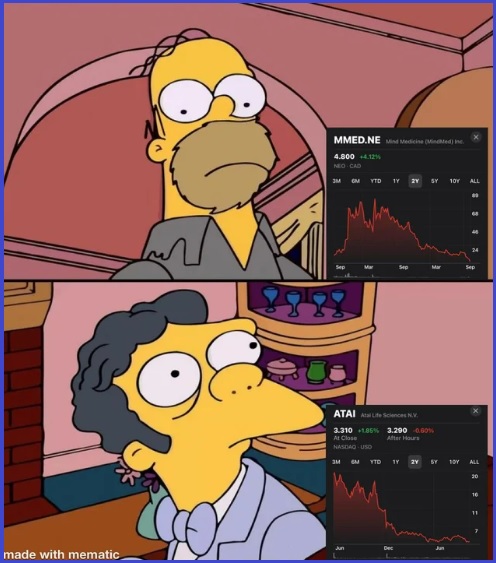 Mindset Pharma announced that after extensive preclinical screening studies, a lead psychedelic drug clinical candidate, MSP-2020, and a second back-up drug candidate, MSP-2003, have been selected from its Family 2 program in collaboration with The McQuade Center for Strategic Research and Development, LLC.
New York: A bill to legalize psychedelics has been significantly revised, with new provisions to allow for the possession, gifting and sanctioned use of natural plants and fungi in ceremonial and therapeutic settings for adults 21 and older.
PharmaTher Holdings announced that the United States Patent and Trademark Office granted US Patent No: 11,426,366, titled "Compositions and Methods for Treating Motor Disorders".
Pink Floyd "Their Mortal Remains" exhibition is coming to Montreal in November.
PsyCan, the trade association for the legal Canadian psychedelic medicine and therapy sector, is cautiously optimistic about recently announced rules governing the use of psychedelic drugs for people in therapy by the government of Alberta.
Red Light Holland announced that its wholly-owned subsidiary, RLH Netherlands B.V., a home grow mushroom farm, one of The Netherlands' premiere mushroom home grow kits businesses, offering a wide variety of quality and exotic mushrooms.
Revitalist Lifestyle And Wellness and Wake Network join forces with Tom Satterly, one of the most highly regarded Special Operations operators in American military history to address Veteran mental health.
Revitalist Lifestyle And Wellness has partnered with national non-profits Community Change Foundation, Stand4Kind, and Navigate360, receiving a $1M USD grant through the United States Department of Justice.
Revive Therapeutics has been in communication with the FDA to submit a revised protocol with a new primary efficacy endpoint, specifically, assessing the difference in the proportion of participants with at least two clinical improvements in symptoms of COVID-19 at Day 14 compared with baseline between Bucillamine versus placebo.
Stressed Wall Street execs flock to ketamine therapy sessions—New York Post.
Tryp Therapeutics announced that the World Intellectual Property Organization published their international patent application (PCT/IB2022/052347) covering the intravenous administration of psilocybin and psilocin.
Vancouver man used two false identities to conceal the fact that he owned nearly one-quarter of a publicly traded company's shares, Mydecine Innovations Group, according to the regulator of B.C.'s financial markets.
Wellbeing Digital Sciences announced that its wholly owned subsidiary KGK Sciences Inc. has completed the CMC package to be used in support of a phase 2A microdose psilocybin fragile X syndrome clinical trial for its client Nova Mentis Life Science Corp.
2. MindMed Collaborators Initiate Phase 1 Comparative PK/PD Trial Of R-, S- And Racemic MDMA
Mind Medicine Inc. (NASDAQ: MNMD) (NEO: MMED) announced the initiation of a Phase 1 investigator-initiated trial led by MindMed collaborator Prof. Dr. Matthias Liechti at University Hospital Basel (UHB). The study aims to compare acute responses to R-MDMA, S-MDMA, and MDMA in healthy subjects.
The Phase 1 trial is a randomized, placebo-controlled, double-blind, 5-period crossover study. The trial plans to enroll 24 healthy subjects, who will receive R-MDMA (125 and 250mg), S-MDMA (125mg), MDMA (125mg), and a placebo. The primary outcome measures for this trial will assess acute subjective effects using the Visual Analog Scales (VAS) and the 5 Dimensions of Altered States of Consciousness (5D-ASC).
1. Alberta To Be 1st Province To Regulate Psychedelics For Therapy, Government Says
Alberta will become the first Canadian jurisdiction to regulate the use of psychedelic drugs for people in therapy, the province announced Wednesday. Associate Minister of Mental Health and Addictions Mike Ellis also introduced new rules to limit who can prescribe high-potency drugs to people with difficult-to-treat opioid addictions.
The risk is much lower with a regulated psychologist who is registered with their college than someone who printed [a certificate] off the Internet, and then went on to the Internet to advertise, 'I'm a psychedelic therapist, come see me'.

Dr. Rob Tanguay, a psychiatrist who specializes in addiction medicine and pain medicine
The changes are aimed at protecting the public, ensuring that patients receive high standards of care and preventing risky drugs from inadvertently ending up on the streets.
Researchers are increasingly studying the use of psychedelic drugs like psilocybin (magic mushrooms), LSD and ketamine to help people with post-traumatic stress disorder, anxiety or depression resistant to conventional treatments.