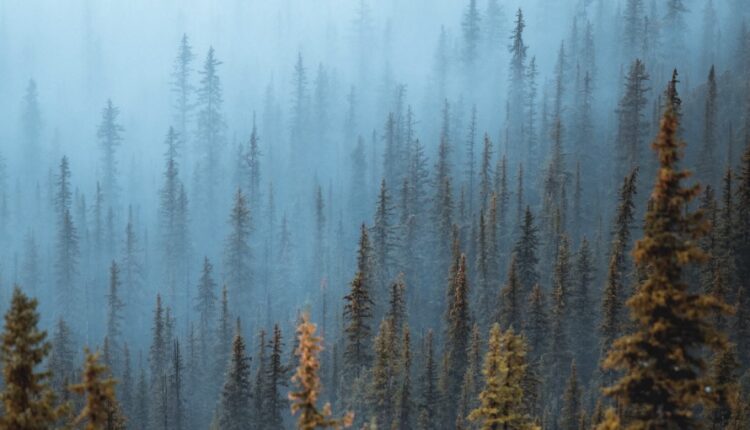 TDR's Top 5 Psychedelic Developments For The Week Of September 26
Welcome to TDR's review of the Top 5 Psychedelic Developments for the week of September 26. Aside from presenting a synopsis of events, we provide market commentary to summarize the week that was for publicly-listed companies.
5. Atai Life Sciences Announces Initiation Of Phase 1 Trial for its MDMA Derivative, EMP-01
Atai Life Sciences N.V. (NASDAQ: ATAI), which is developing EMP-01, a 3,4-methylenedioxy-methamphetamine (MDMA) derivative for the treatment of post-traumatic stress disorder (PTSD) and other indications, announced its Phase 1 study has received regulatory and ethics approvals required from Medsafe and HDEC, respectively, to initiate participant enrollment.
The Phase 1 randomized, double-blind, placebo-controlled study is designed to evaluate the safety and tolerability of single-ascending doses of EMP-01 in healthy adult participants, as well as assess the usability and acceptability of the IDEA-1 app in delivering "set and setting" content to participants in preparation for their EMP-01 administration. This study also includes a range of behavioral assessments that, in conjunction with the PK and safety readouts, are expected to inform the design of and doses tested in future Phase 2 clinical trials of EMP-01.
4. VA Says Psychedelic Therapy Not Part Of 'Standard Of Care' For Veterans, But Is Closely Following Research
An official with the U.S. Department of Veterans Affairs (VA) told Congress on Thursday that the government is monitoring research into the therapeutic potential of psychedelics "very, very closely," but that treatment involving the substances is not yet part of the "standard of care" for military veterans.
At a hearing before the House Veterans' Affairs Committee, Rep. Colin Allred (D-TX) reiterated his interest in "alternative treatments" for veterans with post-traumatic stress disorder "and other suicide risk factors," including MDMA and psilocybin.
Veterans service organizations like the Special Operations Association of America (SOAA) and Reason for Hope also submitted written testimony for the hearing touting research into psychedelic-assisted therapy and calling for administrative reform.
__________
Psychedelic Patent Applications In All Domains Soar Over The Past 5 Years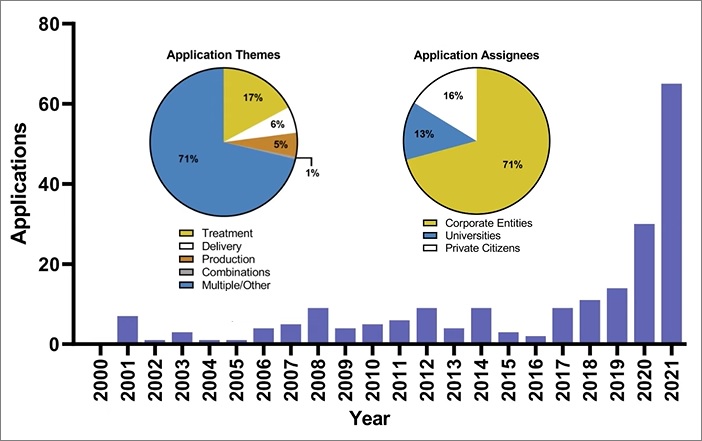 __________
3. Psychedelic Stocks Lag Broad BioPharma Sector
The psychedelic sector fell for a fifth consecutive week, as indicated by the Horizon Psychedelic Stock Index (PSYK) ETF (↓4.26%). The ETF notably underperformed the Nasdaq Junior Biotechnology Index (↑4.48%) and Nasdaq Biotechnology Ishares ETF (↑1.53%), which held up better than the broad indices. The NASDAQ 100 ↓2.69% and S&P 500 ↓2.69% fell moderately, as geopolitical tensions over Ukraine and a sluggish economy weighed on investor sentiment.
Here's how the Health Care (Biotechnology) sector performed:
Notable gainers
In the news…
Becket, MA selects Board member and candidate for state representative who wants to decriminalize ritual psychedelics.
BetterLife Pharma announced the filing of a PCT patent application along with a U.S. application for lysergic acid diethylamide (LSD) derivatives, including 2-bromo-LSD.
Biomind Labs announced the receipt of a Controlled Substances License and commencement of an eight-month project to produce and evaluate novel rapidly-dissolving and sustained-release hydrogel-forming microneedle arrays designed for the transdermal delivery of DMT, 5-MeO-DMT') and mescaline.
Choose Ketamine is changing that with at home ketamine treatments that are safe, affordable, effective and convenient. Novel new modalities have made it possible for patients to use at-home ketamine therapy without the need of an IV.
Colorado activists are divided over November's psychedelics ballot measure.
Cybin Inc. has entered into an agreement with Mindset Pharma Inc. to acquire an exclusive license to an extensive targeted class of tryptamine-based molecules from Mindset.
Echelon Partners continues to view Mindset Pharma as meaningfully undervalued and reiterate our Speculative Buy rating and $1.25 target price.
Ketamine Wellness Centers has become one of a few ketamine therapy providers in the U.S. to offer Medicare coverage to patients at eight KWC clinics across the country — Chicago, Denver, Houston, Jacksonville, Minneapolis, Tucson, Salt Lake City and Seattle.
NemaLife Inc. has received funding from the National Institute of Drug Abuse (NIDA). This new funding of $320,000 enables NemaLife to partner with companies in the growing psychedelic market by expanding the capabilities of its technology platform to screen for therapeutics for neurobehavioral disorders using a tractable biological model, the worm C. elegans.
New study published in the journal Frontiers in Space Technologies states that psychedelics could be useful to treat astronauts who have spent long durations in space. Researchers believe that due to the known physiological and psychological effects that astronauts experience while above our atmosphere, psychedelics could be beneficial.
Numinus Wellness will participate in the Cantor Neurology & Psychiatry Conference to be held at The Ritz-Carlton in San Francisco on October 6-7, 2022.
PharmaTher Holdings released business highlights and audited financial results for its fiscal year ended May 31, 2022.
Psyence Group has successfully exported medical grade psilocybin mushrooms to Psilo Pharma Inc., from its federally licensed ISO22000 certified production facility in Southern Africa, through its research partner in Portugal.
Seelos Therapeutics will collaborate with the Sean M. Healey & AMG Center for ALS in an Expanded Access Program that will be fully funded by a grant from the National Institute of Neurological Disorders and Stroke under the ACT for ALS.
Silo Wellness is acquiring 100% of Dyscovry Science Ltd. in exchange for 49% of the issued outstanding securities of Silo and a chair on its board.
Silo Pharma announced the closing of its underwritten public offering of 1,150,000 shares of its common stock, which included the full exercise of the underwriters' over-allotment option to purchase 150,000 additional shares of common stock, at a public offering price of $5.00 per share.
Tryp Therapeutics announced the filing of two new provisional patent applications. One patent application, #63/405,786, is for the use of psilocybin for the treatment of patients with fibromyalgia and the other application, #63/375,305, expands the IP related to the company's development of TRP-8803.
UNC-Chapel Hill lab creates trip-less psychedelic to treat depression. If the drug proves effective in humans, it could make psychedelic treatments palatable to a broader audience who don't necessarily want an out-of-body experience during medical treatment.
2. Significant Investor Calls For Termination Of Highly Dilutive MindMed Equity Offering
FCM MM HOLDINGS, LLC announced that it has sent a letter to the Board of Directors of Mind Medicine (MindMed) Inc. (NASDAQ: MNMD) informing the Board of FCM's vehement opposition to the company's public offering announced on September 27, 2022. In the Letter, FCM details how the Board's and management's actions, including the Dilutive Offering, have destroyed shareholder value, calls for the Board to immediately terminate the offering, and pledges to take action to hold the Board accountable.
"We are committed to taking whatever actions are necessary to protect the interest of shareholders. We are committed to taking whatever actions are necessary to protect the interest of shareholders, and we look forward to engaging in a zealous proxy campaign" said FCM Chief Executive Manager Jake Freeman.
Full letter text @ the link above.
1. MindMed Announces Proposed Public Offering Of Common Shares
Mind Medicine (NASDAQ: MNMD) (NEO: MMED) announced its intention to offer and sell, subject to market conditions, common shares with accompanying warrants to purchase common shares in an underwritten public offering. All of the securities to be sold in the offering will be offered by MindMed.
RBC Capital Markets and Cantor Fitzgerald are acting as lead joint book-running managers for the offering. Oppenheimer & Co. is acting as a joint book-running manager for the offering.
__________
TDR: Subsequent to the above offering, MindMed announced the pricing of 7,058,823 common shares, together with accompanying warrants to purchase 7,058,823 common shares. The combined offering price to the public of each common share and accompanying warrant is US$4.25, with the warrants exercisable up to five years from the date of issuance.