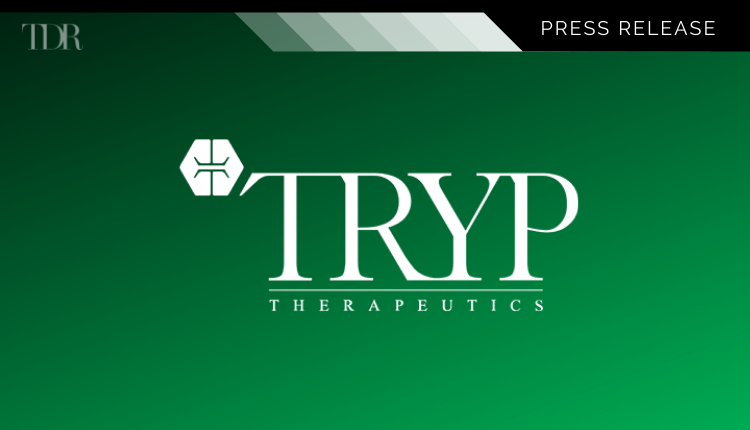 Tryp Therapeutics Announces Plans for Phase 2a Clinical Trial for Fibromyalgia with the University of Michigan
Tryp Therapeutics (CNSX: TRYP) (OTCMKTS: TRYPF), a pharmaceutical company focused on developing psilocybin-based compounds for diseases with unmet medical needs through accelerated regulatory pathways, announced today its plans to conduct a Phase 2a clinical trial with the Chronic Pain & Fatigue Research Center in the Department of Anesthesiology at the University of Michigan Medical School.
The open-label Phase 2a clinical trial will evaluate the efficacy of TRYP-8802, an oral formulation of synthetic psilocybin, in tandem with psychotherapy for treating fibromyalgia. The treatment is designed to target nociplastic pain originating in the central nervous system through the neuroplasticity benefits of psilocybin. The Principal Investigator for the trial will be Kevin Boehnke, Ph.D., Research Investigator, University of Michigan Department of Anesthesiology. Tryp will seek to identify a response in patients to the treatment to inform the design of a Phase 2b clinical trial for fibromyalgia that will use the company's proprietary, psilocybin-based drug product, TRP-8803, that includes a novel formulation and unique method of delivery.
"Existing treatment options for fibromyalgia are often ineffective and show significant side effects," said Daniel Clauw, M.D., Director of the Chronic Pain & Fatigue Research Center. "Kevin Boehnke and I are excited to be working with the team at Tryp Therapeutics, who have shown exceptional scientific rigor in their approach to evaluate a new treatment paradigm for the millions of patients suffering from fibromyalgia and other pain-related indications."
Fibromyalgia is a disease of the central nervous system that is estimated to affect as much as 2% to 8% of the population. The disease is characterized by widespread pain commonly accompanied by fatigue, memory problems, and sleep disturbances. With available treatment options often proving ineffective, nearly 30% of fibromyalgia patients alarmingly resort to opioid-based medications in an attempt to address symptoms of pain stemming from the disease. Tryp expects to submit the Investigational New Drug (IND) application to the FDA for the Phase 2a clinical trial in 3Q 2021.
We are thrilled to collaborate with such forward-looking clinicians and scientists to develop additional treatment options for fibromyalgia. The Chronic Pain & Fatigue Research Center at the University of Michigan brings incomparable experience with evaluating treatments for fibromyalgia and other chronic pain indications, and there is nothing more important to our collective team than creating therapies that will address the daily distress of these patients.

Jim Gilligan, Ph.D., President and Chief Science Officer at Tryp Therapeutics
To view the original press release in its entirety click here