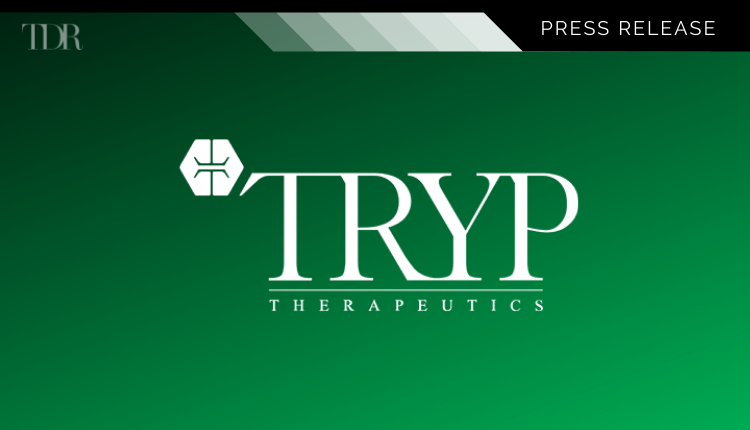 Tryp Therapeutics Completes Psychotherapy Training for Phase 2a Study at the University of Florida
Tryp Therapeutics (CNSX: TRYP) (OTCMKTS: TRYPF), a pharmaceutical company focused on developing psilocybin-based compounds for diseases with unmet medical needs, announced today it has completed the training of psychotherapists for its upcoming Phase 2a clinical trial using synthetic psilocybin in combination with psychotherapy for overeating disorders. The training was conducted by Fluence, which is led by researchers and psychotherapists with direct experience in psychedelic clinical trials and is the foremost provider of psychotherapeutic training for health professionals that are administering psychedelic compounds to patients.
Tryp believes that both pharmaceutical and psychological processes will play a synergistic role to determine outcomes for TRP-8802, an oral formulation of synthetic psilocybin. Psychotherapy is an integral part of Tryp's novel treatment methods to create the proper mindset for the neuroplasticity benefits of psilocybin to take full effect. Participants will undergo preparatory psychotherapy sessions with trained therapists leading to two dosing sessions in the upcoming Phase 2a clinical trial for eating disorders, conducted at the University of Florida with Jennifer Miller, M.D. Following the administration of the drug, patients will also benefit from multiple integration sessions with the therapists.
Commenting on the recent psychotherapy training, Jesse Dallery, Ph.D., Director of the Behavioral Health and Technology Research Clinic and professor in the Department of Psychology at the University of Florida, said, "Establishing definitive guidelines and training for the psychotherapy portion of psychedelic therapies is essential to minimizing variability and optimizing the patient experience. I was thoroughly impressed with the rigor and scientific basis of the training provided by Fluence for our upcoming study with Tryp Therapeutics and look forward to initiating our work with patients later this year."
Tryp Therapeutics, Fluence and the University of Florida have collaborated to create a comprehensive training manual for the psychotherapy portion of Tryp's psychedelic treatment regimen that will be adapted for subsequent clinical trials in fibromyalgia and other chronic pain indications.
We continue to be amazed by the complexity of neural networks and the array of biological and behavioral factors that influence the healthy functioning of the brain and body. Our partners at the University of Florida have shown tremendous commitment to the effective administration of psychotherapy for our upcoming Phase 2a clinical trial, and Fluence continues to be an exceptional partner for the design and implementation of this important component of our therapies. The completion of this psychotherapy training marks a significant milestone for Tryp, as it remains an integral part of our novel treatment.

Jim Gilligan, Ph.D., President and Chief Science Officer of Tryp Therapeutics
To view the original press release in its entirety click here