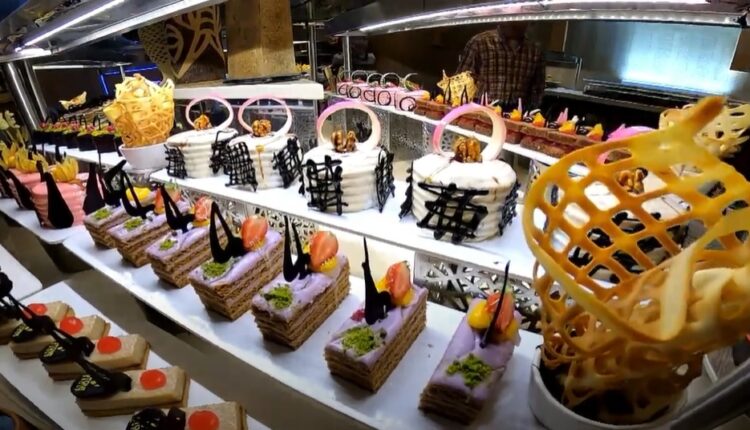 Tryp Therapeutics Submits IND To The FDA For Eating Disorders
After months of preparing the groundwork for Investigation New Drug (IND) submission to the U.S. Food and Drug Administration (FDA), a significant milestone has been achieved. Tryp Therapeutics (CNSX: TRYP) (OTCMKTS: TRYPF) has submitted an IND application to the FDA to evaluate its clinical candidate, TRP-8802, in a Phase 2a study for the treatment of patients with eating disorders. Assuming it is accepted, Tryp expects to kickstart its co-lead clinical study sometime in the fourth quarter of 2021.
Eating disorders are characterized by various disruptions to otherwise common and healthy eating patterns, which often include impulse control issues that ultimately lead to weight gain. Therefore, it is believed that a person's mental well-being is directly linked to the affliction.
Eating disorders are also associated with co-morbidities, such as, metabolic disorders, obesity, and psychiatric conditions. There are several types of eating disorders, but TRYP is focusing on binge eating disorder (BED), hypothalamic obesity (HO), and Prader-Willi syndrome (PWS).
Binge eating is characterized by frequent episodes of eating large quantities of food followed by excessive feelings of guilt and distress. Current standard of care is focused on psychotherapy, possibly including lisdexamfetamine
dimesylate (Vyvanse), which is the first FDA-approved medication to treat moderate to severe binge-eating disorder. Unfortunately, it is classified as an amphetamine with high potential for abuse. Long-term use of amphetamines also puts users at higher risk for overdose—which can be fatal—and nasty permanent or semi-permanent effects such as psychosis, high blood pressure, stroke and heart attacks.
Weight gain in patients with hypothalamic obesity may follow from an injury to the hypothalamus, a brain region with many important functions. Psilocybin is thought to promote neuro-plasticity in this area of the brain.
A Long Path To Get Here
The amount of preparation to get to this point has been significant—especially considering it is a psychotherapy-assisted trial, adding another layer of complication to the clinical trial process. Some of these milestone accomplishments leading up to the IND filing include:
• The initial collaboration with Dr. Jennifer Miller as the Principal Investigator. Dr. Miller is leading expert in treating patients with rare eating disorders and a Professor in the division of pediatric endocrinology at University of Florida.
• Tryp announced a master service agreement with Fluence to provide design and training for the psychotherapeutic portion of Tryp's clinical trial activities. Fluence is led by researchers and psychotherapists with direct experience in psychedelic clinical trials and is a provider of psychotherapeutic training for health professionals that administer psychedelic compounds to patients.
• The signing of a a master service agreement with Clinlogix, a Contract Research Organization (CRO), to support Tryp's clinical development of its Psilocybin-for-Neuropsychiatric Disorders program.
• The training of psychotherapists using synthetic psilocybin in combination with psychotherapy. The training was conducted by Fluence. Additional insight can be gleaned here.
• The signing of an agreement with the University of Michigan to perform research related to Tryp Therapeutics' Psilocybin-for-Neuropsychiatric Disorders (PFN) program.
• The appointment of Robin Carhart-Harris, Ph.D. as Chairman of its Scientific Advisory Board (SAB) and Daniel Clauw, M.D. as a new member of the SAB. The former is Director of the Neuroscape Psychedelic Division at the University of California, San Francisco as well as Founder and Head of the Centre for Psychedelic Research, Division of Brain Sciences, at Imperial College London.
The trial is being conducted with Jennifer Miller, M.D., from the University of Florida and will evaluate the Tryp's oral formulation of synthetic psilocybin, TRP-8802, in combination with psychotherapy. The IND application includes details regarding the safety of the drug product, study design, the informed consent information for patients, and other information. Tryp expects to initiate the Phase 2a study in Q4 of this year subject to a favorable review of the IND by the FDA.
This IND submission marks the most significant milestone to date for Tryp Therapeutics. This should be the first of several IND filings the company is expected to make in the coming quarters. Last month, investment bank Ladenburg Thalmann said that Tryp was "on track to test test 25mg psilocybin capsules in six Phase 2a, proof-of-concept trials, beginning in 2H'22, with data readouts from three programs in 1H'22."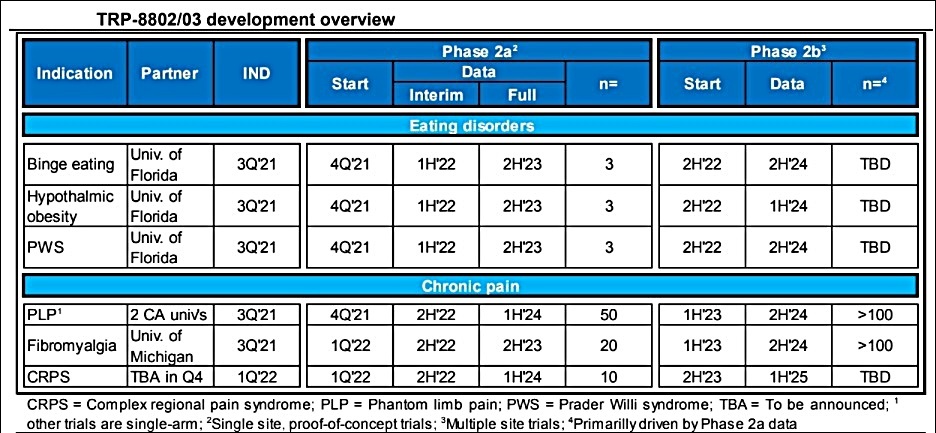 The Phase 2a study for the treatment of patients with eating disorders should be the first of Tryp's pre-clinical candidates to make it into phased clinic trials.
At publishing time, the market has responded to this milestone announcement. The company is currently higher by 9.59% to C$0.40, on almost double the average daily volume before midday.
TDR will have additional coverage as more detail about the trail unfold in the coming weeks.