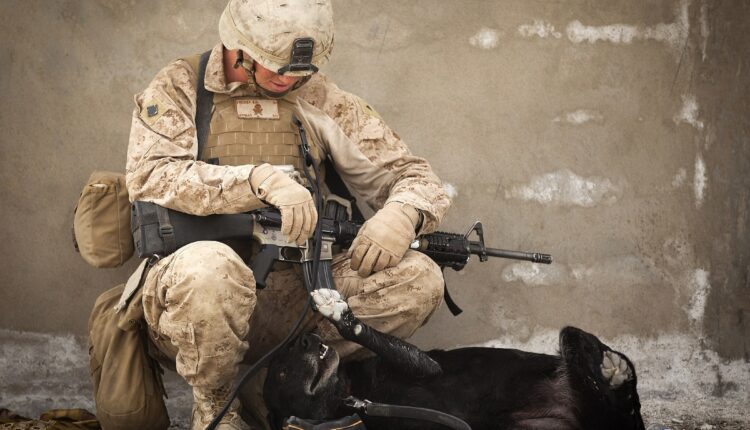 What the U.S. Military's $27M investment in psychedelic drugs could mean for veterans with PTSD
The effects of war on military personnel who travel overseas to defend their nations are broad, far-reaching, and more often than not, negative. It is estimated that among Americans who have served over the last 13 years, 500,000 have been diagnosed with PTSD, while in Canada, approximately 10 percent of all war-zone veterans also suffer from the condition. The Department of Veteran Affairs reported in 2018 that an average of 20 veterans commit suicide in the U.S. each day. 
The value of psychedelic plants and fungi in the context of mental health disorders cannot be overstated. As research continues to show that PTSD sufferers (and particularly war veterans with PTSD) could stand to benefit substantially from their use, the U.S. Military has invested in a cause that hopes to provide veterans with all the benefits of psychedelics, but without the hallucinogenic effects that come with a "trip".
The U.S. Department of Defense's Defense Advanced Research Projects Agency (DARPA) has invested nearly USD $27 million into a team of researchers led by professor of pharmacology Dr. Bryan L. Roth at the University of North Carolina School of Medicine. Their task? To develop a class of drugs that pack all the fast-acting effects of psychedelics, but lack the potentially negative effects that can keep people from considering their use.
"Depression, anxiety, and substance abuse affect large segments of the population," Roth said in a press release. "Rapidly acting drugs with antidepressant, anti-anxiety, and anti-addictive potential devoid of disabling side effects do not exist, not even as experimental compounds for use in animals. Creating such compounds would change the way we treat millions of people around the world suffering from these serious and life-threatening conditions."
The four-year investment will be used to build on Roth's existing work of trying to determine how certain drugs bind to and affect the activity of G protein-coupled receptors (GPCRs), molecules on the surface of cells that are targeted by nearly a third of all FDA-approved medications, including antidepressants.
According to Roth, side effects such as weight gain and dry mouth occur because such medications are not precise enough in binding to these receptors. The team has developed techniques to show the way drugs affect the operation of cells in the body, and how drugs might be more effective.
"Although drugs like ketamine and potentially psilocybin have rapid antidepressant actions, their hallucinogenic, addictive, and disorienting side effects make their clinical use limited. Our team has developed innovative methods and technologies to overcome these limitations with the goal of creating better medications to treat these neuropsychiatric conditions," Roth said in the release. (It is worth noting that, in fact, a 2017 study found psilocybin to be the safest and least addictive recreational drug based on a survey of global drug consumption.)
The investment is part of DARPA's Focused Pharma program, which was announced in September 2019 and is developing novel compounds to help treat neuropsychiatric conditions such as post-traumatic stress, depression, anxiety, and substance abuse, providing a great possible opportunity to treat veterans with PTSD among others.
According to DARPA, "the envisioned drugs would selectively target and bind to specific neurotransmitter receptors, and activate only specific neural signaling pathways that may impact the conditions of interest."
Other notable physicians involved in the program include Georgios Skiniotis, PhD, and Ron Dror, PhD, from Stanford University; Jian Jin, PhD, from Icahn School of Medicine at Mt. Sinai; Brian Shoichet, PhD, and Nevan Krogan, PhD, from UC-San Francisco; and William Wetsel, PhD, from Duke University.