TDR's Diamond Hands Podcast #4: The Three Scenarios That Could Signal Bottom In MSOS
In TDR's Diamond Hands Podcast #4, we speak exclusively with Lead Financial Writer Benjamin A. Smith with Anthony Varrell off this week. On the agenda: analysis of what it's going to take for the cannabis benchmark exchange traded fund, AdvisoShares Pure US Cannabis ETF (MSOS), to find bottom.
Now down 41.89% on weekly closing basis since the second week in February, the long descent down has been brutal. Despite a solid earnings season, continued strong fundamentals and persistent M&A action (both public and private) dotting the landscape, price has continually suffered. To exemplify the counter-intuitive nature of the decline, we highlight how strong sequential sales have performed over the past six quarters (ex-Canopy Growth).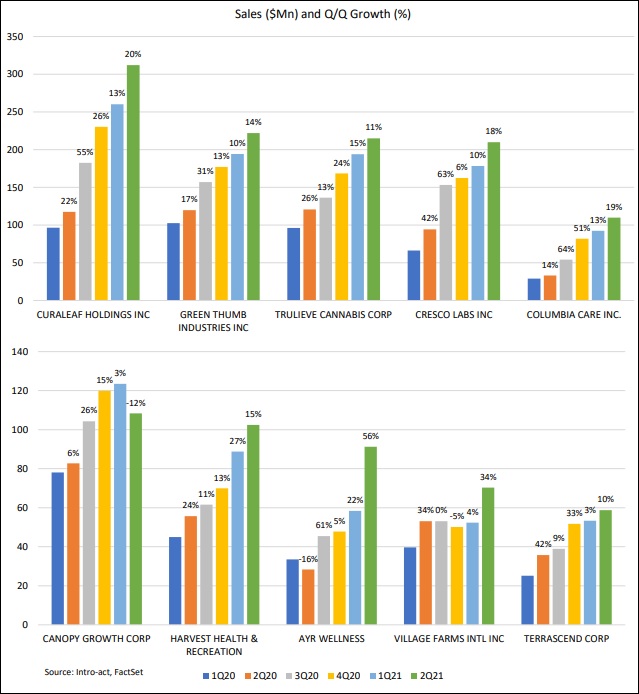 In many cases, growth is growing triple-digits year-over-year and many Tier-1/2 multi-state operators are EBITDA positive.
However, fundamentals have taken a back seat to other factors in recent times, as we discuss in further detail. We also discuss the three most likely scenarios that could bring about a near-term bottom. Building base support is the likely first step needed towards changing the overall trend.
Episode #4 CliffsNotes…
Cannabis
@ 1:31-4:51 The reason for the decline in MSOS has little to do with fundamentals, but rather, a negative feedback loop where negative performance begets forced selling.
@ 4:52-6:30 Talk about the low premium afforded to Gage Growth by TerrAscend and how this has adversely affected market sentiment.
@ 6:30-9:31 The three scenario which could signal the bottom of the market and set the stage for bottom base support. As well, the scenario in which the market could form a "V" bottom.
@ 9:32-12:15 The market is not trading on fundamentals right now. Negative sentiment created by analyst note and California oversupply news.
Psychedelics
@12:23-14:44 Slow start in the psychedelic market after Labor Day, however price action inline with peer and broad market price action. COMPASS Pathways demonstrating outperformance of late.
@14:45-18:15 Commentary of Revive Therapeutics, multi-faceted mode of action versus Big Pharma antival oral drugs. Lobbyist news moved stock ~23% last week.
For the weekly Diamond Hands Podcast stock picks, please tune in until the end.
To view Diamond Hands Podcast Episode #3, click here.