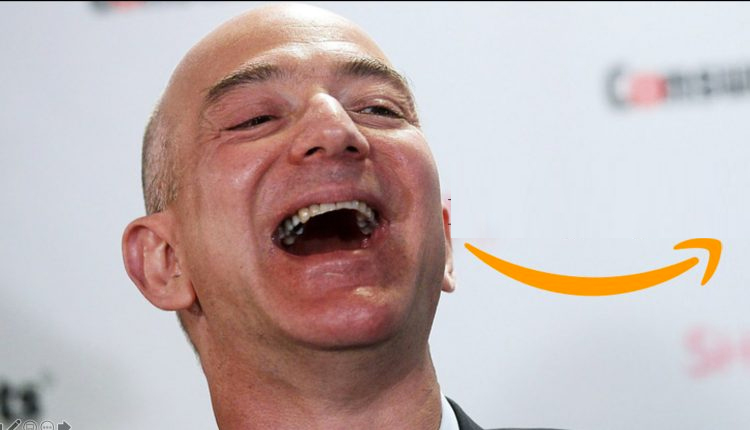 What's Next for Amazon? It Could Be Movie Theatres
Early this week, Cineworld acquired Cineplex to become the largest cinema chain in North America, and second largest in the world. Is Cineworld looking to dominate this sector or is their screen play end with them being acquired? I think it's the latter and my bet is that the acquirer will be a streaming service, and most likely Amazon. Here's why.
When the acquisition happened this week it signalled that United Kingdom's Cineworld Group plc is going all in. Cineworld is the world's second largest cinema chain, with 9518 screens, across 790 sites in 10 countries. This rapid growth has been paid for by leveraging debt and taking on massive lease commitments. Only days after Cineworld issued another monthly profit warning, and after an extended period where their stock has been punished, they announced a friendly takeover of Toronto based Cineplex. The deal values Cineplex, Canada's largest movie theatre chain-at $2.8 billion Canadian or $34 a share, a sizeable premium, but one reflecting Cineworld's desire to get the deal done and not to be challenged by rival bids.
North America is where Cineworld is putting its focus on. In 2018 they bought American operator Regal Entertainment for US $3.6. Combined with Cineplex, the UK group will now be the largest theatre operator in North America, and this region will generate over 70% of its revenue.
Why get into the movie screen business now? In a world where content creators like Netflix, Apple, Disney, HBO, Amazon, and Crave in Canada are bypassing the movie theatres and streaming straight to the consumer's exciting home and always accessible mobile theatres, can movie theatres continue to command the attention and earn the discretionary spend of consumers?
Here are the four reasons why Cineworld is making this move, and then my big prediction for what will happen next.
1. Innovation
Cineworld isn't just buying a dominant position in movie theatres. Cineplex is one of Canada's most innovative companies participating in the experience economy.
Yes, Cineplex operates 165 theatres under numerous brands, including Cineplex Cinemas, Cineplex Odeon, SilverCity, Galaxy Cinemas, Cinema City, Famous Players, Scotiabank Theatres and Cineplex VIP Cinemas. Multiple brands enable Cineplex to match experience to location and local demographics.
Cineplex also owns and operates multiple brands for entertainment, including Player One Amusement Group, Xscape Entertainment Centre, UltraAVX, and they are experimenting in restaurants with OutTakes and Poptopia that play to their movie audiences. They extended their inhouse media business expertise by acquiring digital screens across Canada.
And they have a joint venture with Scotiabank that owns Scene, one of Canada's most successful loyalty platforms that includes debit and profitable credit cards.
2. To debt do us part.
This deal plays an article I wrote last week for TDR where the low cost and availability of capital enables corporations to leverage debt at almost junk bond status to fuel their ambitions. To make this deal make financial sense, Cineworld needs to fold Cineplex into its operations, rapidly cut costs, and free up cash to pay down debt and reinvest in the theatres. For now, investors seem to be buying into this strategy as Cineworld shares are trading 5% higher since the deal was announced.
3. Size Matters
Who owns the customer – the content creator or the distributor? The power in this sector has always been with the content creators, the studios, who dictated terms and took the lions' share of box office revenue. Cineworld is hoping with their increased clout, as the largest chain in North America, they will be able to negotiate better deals. With studios they will focus on revenue share, prioritization of screens, competitive blocking to get exclusive content. In addition Cineworld will also use their clout to encourage the Streaming Services, who spend billions on original content, to use their screens to launch and season shows on their screens.
4. Experience economy
Another article I wrote for The Dales Report, talks about the five new economies that are populating our marketplace. One of them is the experience economy. Consumers are moving away from acquiring materialistic goods and spending more of their discretionary dollars seeking experiences. Many factors play here – including social media and the desire to see and be seen, the boomerang effect of people moving from 'facebook' to face to face, and the sensory impact of these new theatres that harness an array of technology to let the consumer immerse themselves into the content.
And every theatre is looking at the opportunity to stage e-sports and video gaming tournaments.
Here is my prediction.
HBO, Apple, Netflix, Disney, Amazon, and Crave are all streaming services who feed off of the subscription economy. Get the consumer to There isn't room for all. The war for subscribers is on, and to date, the weapon of choice is investing billions to create original and exclusive content. The reality is that it doesn't make long term economic sense as there is already too much content chasing a finite amount of time, and the cost of content is drowning any hope of profitability.

At best two will emerge as the dominant players and it will be based on who can offer the viewer must see shows like Games of Thrones, or Downton Abbey, which become part of the zeitgeist.
Here's a thought…
What if one of these streaming services buys Cineworld, and they use their theatres and all its splendid technological glory to launch their flagship content side to side with big studio releases?
What if through their acquisition of Cineworld they can offer the consumer a premium all access subscription for their content and movie visits?
And they create a series on the making of a e-sports or video gaming star, laddering up to a tournament staged in their theatres.
Now that is a tiebreaker for a consumer to get immersed.
Do you want to think even bigger?
'Amazon buys Cineworld and not just for their screens.'
Theatres require a lot of expensive real estate, but they are only in use for a few hours of the day. What if Amazon bought Cineworld? They would get access to the most screens in North America for their Amazon Prime Content, and a powerful platform to advertise all things Amazon on the screen. They could also use these big movie theatres to physically showcase their top Amazon products, open Amazon Go Stores, and also have collection depot for their consumers?
Amazon drowning another sector with its bank of ambitions.
Now that would be chatter that matters.
Tony Chapman hosts and writes for The Dales report and has a podcast called Chatter that Matters.