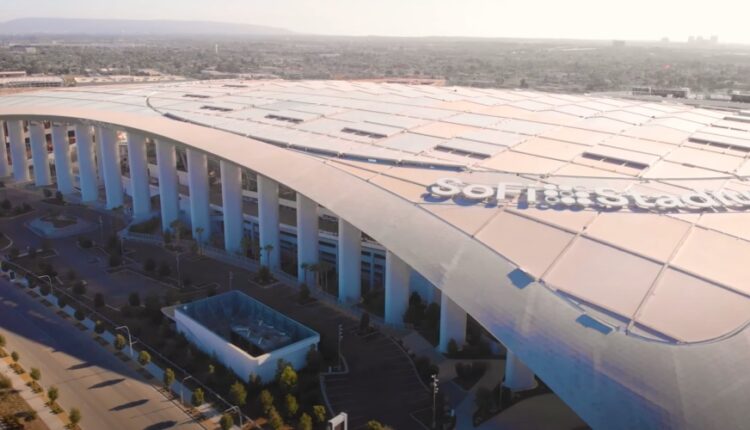 Expected Value: This Week's Top 5 Sports Betting Industry Developments
5. PokerStars and FanDuel Join Forces to Strike Major Partnership Deal with Maple Leaf Sports & Entertainment
PokerStars and FanDuel Sportsbook today announced their partnership together with Maple Leaf Sports & Entertainment (MLSE). The strategic partnership sees the FanDuel Sportsbook designated as an official sports betting partner, and PokerStars as an official gaming partner. The two will unite in this major deal to offer fans and gaming players in Ontario a powerful combination of entertainment through leading sports, poker and casino gaming experiences. The launch of PokerStars is subject to successful registration by the Alcohol and Gaming Commission of Ontario (AGCO) and execution of an Operating Agreement with iGaming Ontario.
This partnership, a first of its kind for Flutter Entertainment plc in North America, offers FanDuel and PokerStars an opportunity to showcase their brands to some of the most loyal sports fans in Canada. In addition to the use of MLSE team marks in advertising and marketing, FanDuel Sportsbook, PokerStars Casino and PokerStars will be featured prominently throughout Toronto Maple Leafs and Toronto Raptors games including rink board and on-court signage.
4. Back to The Drawing Board: Georgia Sports Betting Legislation Fails
The final push to legalize sports betting in Georgia came and went – the legislative session ended on April 4 and unfortunately sports betting didn't make the cut… again.
Georgia is a state with particularly strict rules on gambling as its Constitution bans most forms of gaming so lawmakers have historically struggled to attract proponents especially for new forms of gaming like sports betting. Georgia is also one of the few states with no casinos.
3. Blue Jays Announce 10-year Partnership With theScore's Betting Platform
The Toronto Blue Jays have struck a partnership with Score Media and Gaming that will see the locally-run sportsbook become the Major League Baseball team's exclusive gaming partner for the next 10 years.
Under the terms of the deal, theScore will receive exclusive national marketing rights from the team, spanning sports betting, physical and online casinos, and fantasy sports. According to a press release on Thursday, the collaboration also includes a branded sports bar and restaurant at Rogers Centre, as well as co-branding elements ranging from premium seating to special in-game features.
__________
Tiger Effectively Finished At The Masters, According To Oddsmakers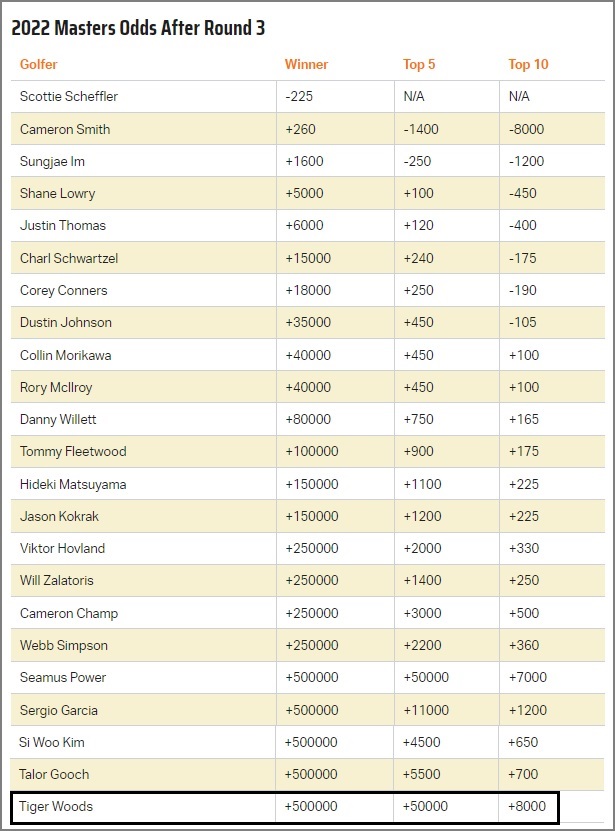 Guaranteed Money: Tiger Takes On The Masters
| | | | | |
| --- | --- | --- | --- | --- |
| Company | Ticker | Price ($) | Weekly Change (%) | Market Cap (s/o) |
| Evolution AB | EVVTY | 105.87 | 0.64 | US$22.5B |
| Flutter Entertainment Plc | FLTR.L | 8,396 | -4.00 | US$16.0B |
| DraftKings | DKNG | 16.38 | -14.01 | US$6.7B |
| Boyd Gaming | BYD | 61.97 | -5.17 | US$6.8B |
| Penn National Gaming | PENN | 36.96 | -12.02 | US$6.2B |
| Betsson AB | BETSB.S.DX | 56.76 | -2.94 | $7.4B |
| Genius Sports | GENI | 4.17 | -7.33 | US$808.7M |
| Rush Street Interactive | RSI | 7.08 | -2.61 | US$433.0M |
In the news…
Alabama lawmakers on April 6 formally killed sports betting and other gaming legislation that had been politically dead for a while; no sportsbook, casino or lottery approvals coming for at least another year.
Arizona Senate Appropriations Committee advanced a bill last week to change governing law. The bill would drop the AZ sports betting license capacity requirement for professional sports venues from 10,000 to 5,000.
Caesars Sportsbook and the New York Mets announced that Caesars is the team's official sports betting partner and a sportsbook lounge will be built within the confines of Citi Field later this season after the two sides agreed to a multi-year deal.
DraftKings and the Foxwoods Casino at the Fairmont El San Juan Hotel are partnering-up to develop a sports betting platform and experience the people in Puerto Rico who already are fans of several sports.
Dutch MP Mirijam Bikker has called on Minister Franc Weerwind to consider a ban on sports betting sponsorships in the country. This question came following reports that several Dutch Eredivisie football players were involved in the illegal betting website Edobet.
French gambling regulator l'Autorité Nationale des Jeux (ANJ) has released a campaign in conjunction with major league football governing body Ligue de Football (LFP) to bring awareness to the cyberbullying of professional football stars.
Genius Sports signed an augmentation agreement with Necaxa, a soccer club in the Liga MX league. Genius Sports will provide video augmentation and LATAM tracking to Nexaca.
Jack Entertainment teamed up with Kambi Group, a top-rated sports betting platform provider, and Shape Games, to create betJACK. The platform is free-to-play and can be played online via a web browser as well as a mobile app.
Kevin Garnett's sports betting media start-up Gaming Society has secured $3.5m in a seed funding round. The former NBA star's gamification and content platform aims to educate casual fans and potential bettors.
Minnesota sports betting bill has been formally referred to the House Ways & Means committee, (likely) its last stop before a vote on the House floor.
Missouri: Senate Appropriations Committee Chairman Dan Hegeman didn't specify what tax rate on sports wagering profits he would like to see. However, he did say he wanted it to be higher than the 8 percent approved in the House, noting the bill started with a 10 percent tax and legislation introduced in the Senate has set it as high as 21 percent.
Missouri: A bill to legalize sports betting in Missouri was heard April 6 in a Senate committee. On March 23, the Missouri House of Representatives approved the sports betting bill on a 115-35 vote.
Penn National Gaming announced that it will release its 2022 first quarter financial results at 7:00 a.m. ET on Thursday, May 5, 2022 followed by a conference call and simultaneous webcast at 9:00 a.m. ET.
Rivalry Corp: Eight Capital analyst Adhir Kadve is bullish on the stock, maintaining his "Buy" rating and $4.00 target price, which at the time of publication represented a projected one-year return of 154.8 per cent.
Rush Street Interactive announced the expanding role and reach of Canadian sports broadcasting icon Dan O'Toole following his signing of an exclusive brand and content deal with BetRivers.
__________
2. Michigan Greenlit for Multi-State Internet Gaming Agreement Entry
Michigan has received the green light for joining the Multi-State Internet Gaming Agreement. Thanks to this, Michigan's poker players who use one of the regulated operators will be allowed to play against competitors from other states that are part of the agreement.
The Multi-State Internet Gaming Agreement currently covers four states in total, those being Delaware, Nevada, New Jersey, and now Michigan. It was established in 2014, following the passing of a pair of Assembly Bills in Nevada. After that, Nevada and Delaware began sharing liquidity among online players.
With the Great Lake State now a part of the agreement, its poker players will now be able to freely play with competitors from Delaware, Nevada, and New Jersey. As of now, Michigan, just like Nevada, has opted to only share online poker, while New Jersey and Delaware's agreements include other online casino games as well.
1. Ontario's Fledgling Sports Betting Industry Is Now A Full Go In Province
Single-game sports betting has been legal in Canada since last summer but the industry didn't fully open in Ontario until 12:01 a.m. on Monday. PointsBet announced just 50 seconds into the launch its "first big wager" in the province was a $500 two-leg parlay of North Carolina over Kansas in the NCAA men's basketball final and Toronto Maple Leafs over the Tampa Bay Lightning, both on Monday night.
Ironically, for years parlays were the lone legal bets allowed in Ontario. But in August 2021, the Canadian Criminal Code was amended to allow single-event wagering.
On Monday, Ontariobets.com said 16 gaming operators were up and operating in the province. More have registered with the Alcohol and Gaming Commission of Ontario but haven't yet secured agreements with iGaming Ontario.