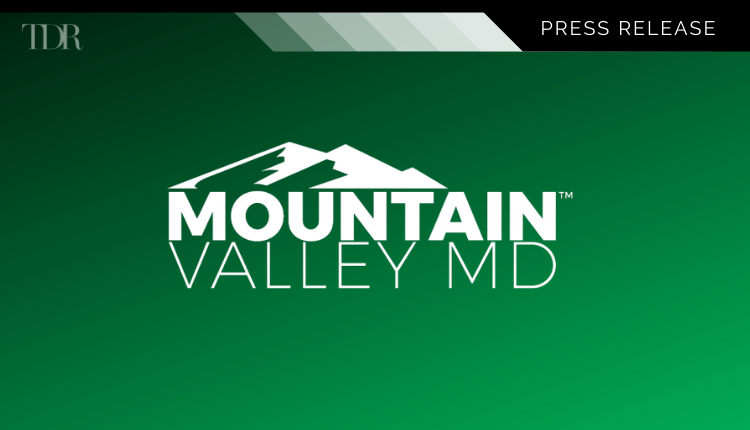 Mountain Valley MD Announces Appointment of Advisors, Stock Option Grant and Provides Uplisting Update
Mountain Valley MD Holdings Inc. (CNSX:MVMD) (OTCMKTS:MVMDF) is pleased to announce the appointment of Gokul Kannan and Mark Gelnaw as advisors to the Company as well as the grant of stock options. The Company also wishes to provide an update on its TSX-V listing application.
APPOINTMENT OF ADVISORS
The new advisory appointments come at a pivotal time for Mountain Valley MD, as the company actively advances its oncology work and broadens its commercial applications of its desiccated liposome and solubilization technology.
Gokul Kannan
Mr. Kannan is a partner at Zephyr Venture Partners and a rising star in bioengineering & chemical engineering research. He earned a Bachelor of Science from the University of California, Berkeley in Chemical Engineering with a minor in Bioengineering. He has had 7 years of research experience at UC Berkeley, Johns Hopkins, and Gilead, working with doctors Sanjay Kumar, Richard Saykally, Takanori Takebe, and Sapna Kudchadkar, among others.
Mr. Kannan's research thus far has focused on drug delivery, biomaterials, tissue engineering & regenerative medicine, and physical & medicinal chemistry/chemical engineering. Recently, his work has focused on studying using biomaterials and computational biology to study microglia, glioblastoma & cancer biology, and tissue engineering, with 8 publications in press or under review and multiple cover articles in prominent journals.
Mr. Kannan is an inventor on four pending patents including both therapeutic and device patents. His work has been featured in the New York Times, Science Magazine, The Economist, and more than 15 other major science news outlets. Mr. Kannan, at the young age of 21, has already received a number of major research awards from prominent societies including the American Academy of Neurology, and the Society for Biomaterials.
Mark Gelnaw
Mr. Gelnaw is an esteemed financial executive whose career spans more than 35 years in financial management, business leadership, and corporate strategy, including acting as CEO and CFO for Cynvec LLC, a research-based cancer entity that partnered with NYU in the development of a Sindbis virus for the treatment of ovarian and colon cancer.
Mr. Gelnaw's past executive roles include Chief Operating Officer of Deutsche Bank, Chief Operating and Financial Officer at Lehman Brothers, senior roles at Salomon Brothers and Arthur Andersen, and founder of Breakwater Ventures which manages a diverse array of investments and strategies across many industry platforms, including Medical Devices, FinTech, Cancer Research and Development, Health and Wellness, Covid 19 Testing and Collection, Real Estate, and financial enterprises.
I am extremely proud to welcome Gokul and Mark to our Advisory Board at Mountain Valley MD and look forward to their immediate contributions at this critical growth phase of our company. The collective knowledge and deep experience brought to our team from our new advisors will be invaluable as we advance our key oncology and technology projects, as well as contributing to our overall business maturation in the biotech space.

Dennis Hancock, President and CEO of Mountain Valley MD
Stock Exchange Listing
On April 20, 2021, the Company announced that it was proceeding with the application for the listing of its shares for trading on the TSX Venture Exchange ("TSXV"). While the Company has proceeded with such application, it is also considering the value proposition of listing on the NEO exchange to achieve its objective of enhanced exposure and liquidity. The NEO Exchange is a recognized Canadian exchange for senior public companies and investment products. Operating since mid-2015, NEO was launched with the stated purpose of providing Canadians with a stock exchange that puts the interest of capital-raising companies, investors and their dealers first.
The Company is reviewing options with its Board of Directors and anticipates making a broader uplisting decision by early August, 2021.
Stock Option Grant
The Company also announces that, pursuant to the Company's Stock Option Plan, an aggregate of 3,725,000 options have been granted to certain directors, officers, employees and consultants and advisors as incentive stock options at an exercise price of $0.27 per share. The options are exercisable for a period of five years, 20% vesting on the date of grant, 30% on the 6-month anniversary following the date of grant and the remaining 50% on the 12-month anniversary following the date of grant.
To view the original press release in its entirety click here