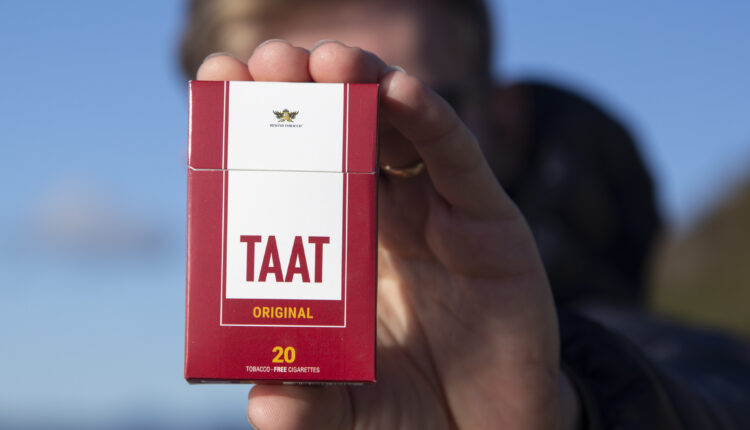 Despite bad press and the alternatives available, traditional tobacco cigarettes still overwhelmingly dominate the nicotine consumption market. It's an industry worth over $100bn a year in the United States alone, and Setti Coscarella, CEO of TAAT Lifestyle & Wellness Ltd (CSE: TAAT) (OTCMKTS: TOBAF) (FRANKFURT: 2TP2), feels that there's plenty of room for his company's hemp cigarettes at this table.
Coscarella makes a solid case: Share prices have doubled for TAAT Lifestyle & Wellness in the last couple of weeks since he has taken the helm.
Why choose a hemp-based cigarette?
TAAT's product is more than just a hemp cigarette, he says, it's a hemp-based substitute that mimics the experience of tobacco, delivering CBD to achieve the feeling of calm that smokers are subconsciously looking for. And unlike its competitors and vapes, the product looks, smells and tastes more like a tobacco-based cigarette, even right down to the box.
Coscarella claims that the biggest advantage of TAAT is that their product isn't addictive. "What we want to do is not have to rely on addiction and the withdrawal of addiction to give you satiation, but we want to be able to give you something that would have the ability to calm you down and give you that relaxation you're looking for without that crutch of addiction which is what tobacco keeps going towards," he says.
And feedback, he says, has been 'really positive.' To meet the 0.5% market share ($500m per year in sales for widescale distribution), only one out of every 200 smokers would need to enjoy TAAT's products, and this is a goal he feels is well within TAAT's reach.
Starting with ecommerce, filling in brick-and-mortar
Right now, TAAT is only available in the US, and currently found only in stores in Ohio, courtesy of a distribution with CROSSMARK, but TAAT launched an ecommerce platform to meet the demand of people who want to give it a try. And the first weekend of launch, over $100,000CDN of product has already been sold online.
If buying smokes online isn't ideal, don't worry; widespread brick-and-mortar distribution will still be in the works.
"Ecommerce is a big part of a lot of companies future distribution mix," Coscarella says, "and it will be for us as well, it really is a exercise in finding the right balance between ecommerce and brick and mortar, because for smokers, they're very much accustomed to walking into a convenience store and buying a pack of cigarettes. We want to make sure that we change as little about that ritual of smoking as possible so that the likelihood of people switching over is greater."
Watch the full interview here: