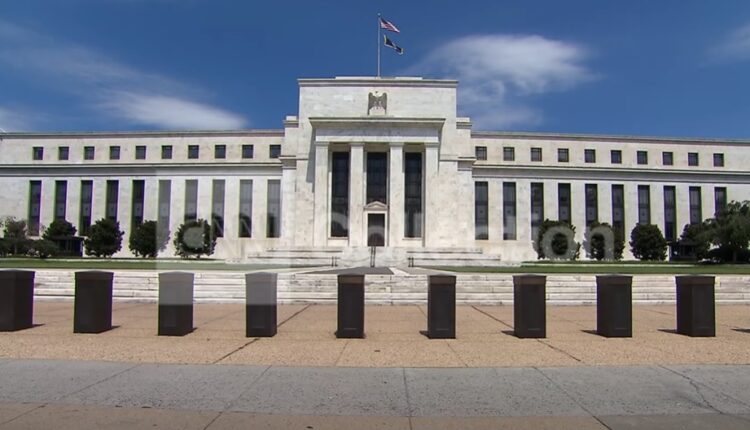 TDR's U.S. Stock Market Preview For The Week Of December 12, 2022
A weekly stock market preview and the data that will impact the tape.
Sunday Evening Futures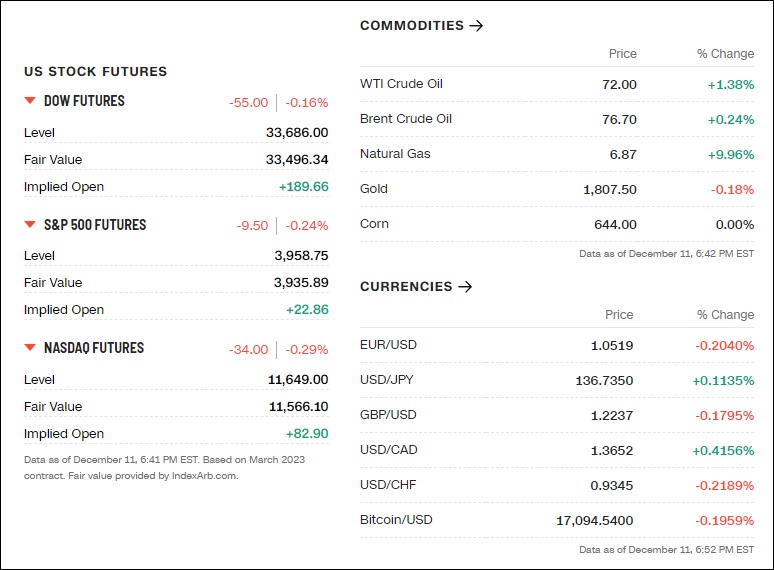 Weekend News And Developments
2 venture capital investors have made a $3 billion bid to buy the Phoenix Suns and Mercury basketball teams, the Wall Street Journal reported.
AlloVir, Inc. (NASDAQ:ALVR) announced final data from the Phase 2 study of posoleucel, an investigational, allogeneic, off-the-shelf, multi-virus specific T cell therapy, for the prevention of clinically significant infections or diseases from six common and devastating viruses.
Amgen Inc. is in talks to buy Horizon Therapeutics Plc in what would be its biggest-ever acquisition, according to people familiar with the matter, after Sanofi SA dropped out of the running.
Australia's gas industry lobby group on Sunday called for urgent talks with Prime Minister Anthony Albanese after learning that the government's plan to cap gas prices for one year, announced on Friday, includes long-term measures to limit profit margins.
Australian stock market is expected to open lower on Monday, tracking Wall Street's declines as
investors await a potential 50-basis point rate hike by the U.S. Federal Reserve this week.
Beijing's COVID-19 gloom deepened on Sunday with many shops and other businesses closed, and an expert warned of many thousands of new coronavirus cases as anger over China's previous COVID policies gave way to worry about coping with infection.
Brazil's Economy Ministry on Sunday rejected assertions by president-elect Luis Inacio Lula da Silva's transition team that the outgoing administration was leaving government finances "bankrupted."
Reporting by Nayara Figueiredo, writing by Tatiana Bautzer; editing by Grant McCool
British health unions have offered to suspend a wave of planned strikes in health services over Christmas and the New Year if the government agrees to open serious discussions over pay.
China stocks: The world's top fund managers are mostly bullish on Chinese stocks for 2023, predicting that equities will continue to rally as strict coronavirus measures are relaxed.
Czech Industry Minister Jozef Sikela called on European Union governments to break a deadlock over a proposed price cap for natural gas to help limit energy costs for households and busine
Coagulant Therapeutics announced data from pre-clinical studies on a novel llama-derived antibody (nanobody) library directed to the APC exosite.
Genentech, a member of the Roche Group (SIX: RO, ROG, OTCQX:RHHBY), announced interim results from the Phase III HAVEN 7 study. The study shows Hemlibra achieved meaningful bleed control with a favorable safety profile in infants (up to 12 months) with severe hemophilia.
Peru's new President Dina Boluarte named a US-educated economist who has spent most of his career at the central bank as economy minister, potentially soothing investor nerves after last week's political chaos. 
Pfizer Inc. (NYSE:PFE) announced 10.4 month follow-up data from the pivotal Phase 2 MagnetisMM-3 clinical trial suggesting elranatamab, a B-cell maturation antigen (BCMA)-CD3-targeted bispecific antibody. 
Russia launched what it calls a special military operation in Ukraine because its concerns around peace accords between Kyiv and Russian-backed separatists were ignored, Russian news agencies quoted the Kremlin spokesman as saying on Sunday.
Skoda Auto, part of Volkswagen (VOWG_p.DE), is considering withdrawing from China and will make a final decision next year, CEO Klaus Zellmer was quoted as saying by the weekly magazine Automobilwoche.
SpaceX launches lunar lander for Japanese venture ispace, which aims to create an economy around the moon.
Syndax Pharmaceuticals (NASDAQ:SNDX) presented updated positive data from the Phase 1 portion of the ongoing Phase 1/2 AUGMENT-101 trial of revumenib in patients with nucleophosmin mutant (mNPM1) and KMT2A rearranged (KMT2r) relapsed/refractory (R/R) acute myeloid or acute lymphoid leukemias. 
TC Energy said on Sunday it has not yet determined the cause of the Keystone oil pipeline leak last week in the United States, while also not giving a timeline as to when the pipeline will resume operation.
Telstra Corp (TLS.AX) said on Sunday that 132,000 customers were impacted by an internal error that led to disclosure of customer details.
Turkey's ballistic missile test has scared Athens, President Recep Tayyip Erdogan said on Sunday, adding that Ankara will not sit by idly if Greece continues to arm its islands in the Aegean.
Turkish President Recep Tayyip Erdogan discussed ways to expand an agreement to safeguard global grain shipments with his Russian counterpart Vladimir Putin, according to a statement from Turkey's presidency. 
UK power prices for Monday jumped to record levels as freezing temperatures are set to cause a surge in demand, just as a drop in wind generation causes a supply crunch.
Ukraine will take more deliveries of arms from Germany, the country's new ambassador to Berlin said in an interview.
Volvo Group Australia urged the government to progress law changes that would allow it to sell heavy-duty electric trucks to transport and distribution companies.
🏛️What The Analysts Are Saying…🏛️
"If CPI comes in north of expectations or even doesn't decline at all, that is not going to be market-positive". — Tom Hainlin, national investment strategist at U.S. Bank Wealth Management
"Mortgage interest rates have risen rapidly this year, raising the monthly payment by about 50%. We do expect some moderation in rates to go into next year. But even after accounting for that and the elevated prices overall, affordability is likely to remain a pretty strong constraint." — Redfin deputy chief economist Taylor Marr
"While there is significant uncertainty on the timing and severity of this downturn, we think that financial markets may react sooner and more violently than the economy itself". — JPMorgan chief global markets strategist Marko Kolanovic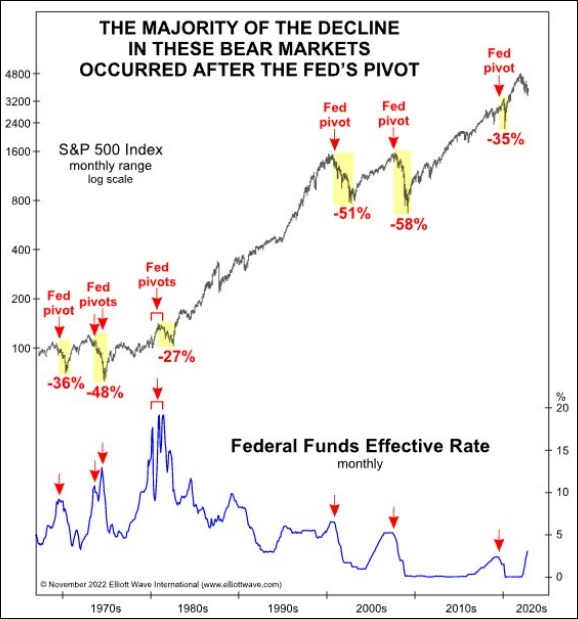 👀What We're Watching👀
The cannabis banking bill known as the SAFE Banking Act did not make it into the defense bill despite efforts by Sen. Chuck Schumer. Now attention is turning to possible inclusion in a government funding bill, but even that might not happen.
While some investment banks such as Cantor Fitzgerald ascribe decent odds (75% before last week's developments) that SAFE can be included on the year end government funding bill known as omnibus, we are more skeptical. Minority Senate Leader Mitch McConnell has been adamant about flushing reform at every opportunity, and it is hard to believe he will bend the knee here. 
The best opportunity for reform would be for Chuck Schumer to call for a standalone vote of SAFE, with reports that the bill has at least 60 votes for passage. However, he has failed to do that to date, despite describing cannabis reform as a "priority". With only 5 sessions left in the Congressional calendar before the Christmas holidays, time is running out for cannabis reform in the lame duck.
So heading into next week, we take a cautious tone towards the cannabis trade. There are reports that Democratic leaders are attempting to include SAFE Banking into the omnibus package, so hope does remain. But given the constant disappointments the sector has been given time & again regarding federal reform, we're taking an "expect the worst, hope for the best" position on the issue.
Should we get the latter, expect material price movement in AdvisorShares Pure US Cannabis ETF (NYSE: MSOS) and component companies, as well as Tier-1 Canadian LPs such as Canopy Growth and Tilray Brands.
U.S. Economic Calendar
| | | | | |
| --- | --- | --- | --- | --- |
| TIME (ET) | REPORT | PERIOD | MEDIAN FORECAST | PREVIOUS |
| Monday, Dec. 12 | | | | |
| 11:00 AM | NY Fed 1-year inflation expectations | Nov. | — | 5.90% |
| 11:00 AM | NY Fed 5-year inflation expectations | Nov. | — | 2.40% |
| 2:00 PM | Federal budget (compared with Nov. 2021) | Nov. | — | -$191 billion |
| Tuesday, Dec. 13 | FHFA U.S. home price index (SAAR) | Sept. | — | -7.60% |
| 6:00 AM | NFIB small-business index | Nov. | — | 91.3 |
| 8:30 AM | Consumer price index | Nov. | — | 0.40% |
| 8:30 AM | Core CPI | Nov. | — | 0.30% |
| 8:30 AM | CPI (year-on-year) | Nov. | — | 7.80% |
| 8:30 AM | Core CPI (year-on-year) | Nov. | — | 6.30% |
| 8:30 AM | CPI excluding shelter (3-month rolling annualized rate) | Nov. | — | 1.40% |
| Wednesday, Dec. 14 | Trade in goods deficit (advance) | Oct. | — | -$92.2 billion |
| 9:45 AM | Chicago PMI | Nov | 45.2 | |
| 8:30 AM | Import price index | Nov. | — | -0.20% |
| 2:00 PM | Federal funds rate announcement | | — | 3.75%-4.00% |
| 2:00 PM | SEP median federal funds rate for end of 2023 | | — | 4.50%-4.75% |
| 2:30 PM | Fed Chair Jerome Powell news conference | | | |
| | Beige Book | Nov. 12 | 225,000 | |
| Thursday, Dec. 15 | Continuing jobless claims | Nov. 5 | 1.49 million | |
| 8:30 AM | Initial jobless claims | Dec. 10 | — | N/A |
| 8:30 AM | Continuing jobless claims | Dec. 3 | — | N/A |
| 8:30 AM | Retail sales | Nov. | — | 1.30% |
| 8:30 AM | Retail sales excluding motor vehicles | Nov. | — | 1.30% |
| 8:30 AM | Empire state manufacturing index | Dec. | — | 4.5 |
| 8:30 AM | Philadelphia Fed manufacturing index | Dec. | — | -19.4 |
| 9:15 AM | Industrial production index | Nov. | — | -0.10% |
| 9:15 AM | Capacity utilization rate | Nov. | — | 79.90% |
| 10:00 AM | Business inventories | Nov. | — | 0.40% |
| Friday, December 16 | ISM manufacturing index | Nov. | 50.00% | 50.20% |
| 9:45 AM | S&P U.S. manufacturing PMI (flash) | Dec. | — | 47.7 |
| 9:45 AM | S&P U.S. services PMI (flash) | Dec. | — | xx |
😎Meme Of The Week😎
Key Earnings (US Markets)
| | | | |
| --- | --- | --- | --- |
| Date | Company | Symbol | EPS Estimate |
| Monday, Dec. 12 | Coupa Software | COUP | $0.10 per share |
| | Oracle | ORCL | $1.18 |
| Tuesday, Dec. 13 | ABM Industries | ABM | $0.88 |
| | Core & Main | CNM | $0.55 |
| | Photronics | PLAB | $0.48 |
| Wednesday, December 14 | Lennar | LEN | $4.91 |
| | Mitek Systems | MITK | $0.20 |
| | Nordson | NDSN | $2.33 |
| | REV Group | REVG | $0.26 |
| | Trip.com Group | TCOM | $1.29 |
| Thursday, December 15 | Jabil | JBL | $2.24 |
| Friday, Dec. 16 | Accenture | ACN | $2.93 |
| | Darden Restaurants | DRI | $1.43 |
| | Winnebago | WGO | $1.76 |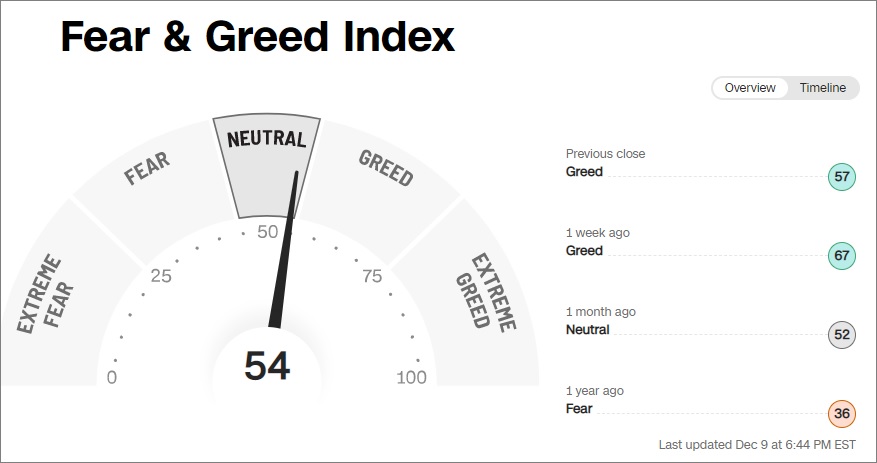 Past Week What's Hot… and What's Not
Top 12 High Short Interest Stocks
| | | | | | | |
| --- | --- | --- | --- | --- | --- | --- |
| Ticker | Company | Exchange | ShortInt | Float | S/O | Industry |
| BBBY | Bed Bath & Beyond Inc. | Nasdaq | 45.11% | 76.45M | 80.36M | Retail (Specialty Non-Apparel) |
| CVNA | Carvana Co | NYSE | 44.24% | 93.40M | 105.95M | Retail (Specialty Non-Apparel) |
| BYND | Beyond Meat Inc | Nasdaq | 42.75% | 57.25M | 63.74M | Food Processing |
| MSTR | MicroStrategy Inc | Nasdaq | 40.51% | 9.34M | 9.35M | Software & Programming |
| UPST | Upstart Holdings Inc | Nasdaq | 35.98% | 69.28M | 81.88M | Consumer Lending |
| NKLA | Nikola Corporation | Nasdaq | 32.49% | 311.65M | 478.85M | Auto & Truck Manufacturers |
| EVGO | Evgo Inc | Nasdaq | 32.13% | 67.87M | 69.36M | Utilities – Electric |
| W | Wayfair Inc | NYSE | 31.66% | 71.67M | 81.43M | Retailers – Department Stores |
| BLNK | Blink Charging Co | Nasdaq | 30.68% | 40.55M | 50.86M | Utilities – Electric |
| IBRX | Immunitybio Inc | Nasdaq | 29.06% | 82.87M | 400.30M | Biotechnology & Medical Research |
| FUV | Arcimoto Inc | Nasdaq | 28.37% | 42.45M | 51.19M | Auto & Truck Manufacturers |
| BIG | Big Lots, Inc. | NYSE | 27.87% | 27.94M | 28.94M | Retailers – Discount Stores |
Source: 
highshortinterest.com
 (data as of November 25) – TDR's stock market preview, Top 12 High Short Interest Stocks
Tags: stock market preview, stock market preview December 12, 2022