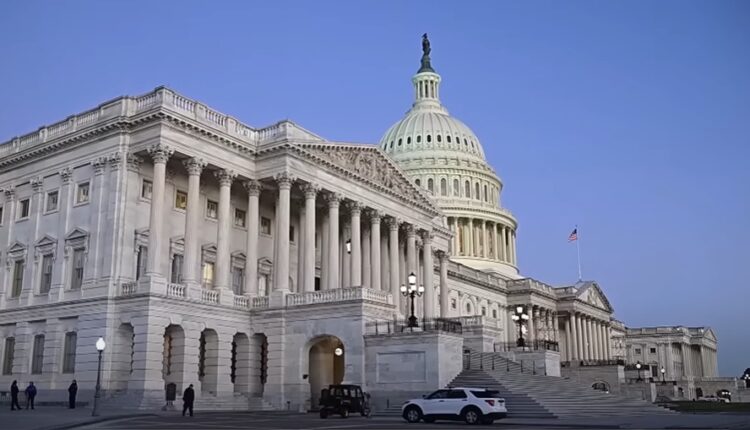 TDR's U.S. Stock Market Preview For The Week Of January 23, 2023
A weekly stock market preview and the data that will impact the tape.
Sunday Evening Futures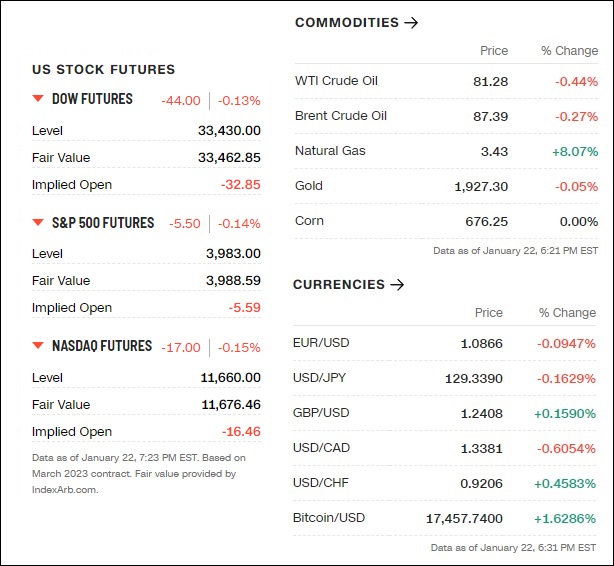 Weekend News And Developments
American lawmakers on Sunday pushed the U.S. government to export M1 Abrams main battle tanks to Ukraine, saying that even sending a symbolic number to Kyiv would be enough to push European allies to do the same.
Brazilian President Luiz Inacio Lula da Silva fired the army commander, General Julio Cesar de Arruda, on Saturday, a source with knowledge of the matter said.
China: Hundreds of millions of Chinese people are celebrating the 2023 Lunar New Year this weekend, after Beijing in December reversed the zero-Covid policy which kept most of its population close to home during the pandemic. Market-watchers, meanwhile, are hoping for an economic reversal of fortune, as China emerges from pandemic-induced slowdowns.
COVID-19 rebound in China over the next two or three months is remote as 80% of people have been infected, a prominent government scientist said on Saturday.
Debt ceiling breached in the U.S. government as standoff in Congress awaits. A bipartisan group of U.S. lawmakers is preparing a plan to defuse a looming crisis over the nation's debt ceiling by changing it from a fixed dollar amount a percentage of national economic output, the group's top Republican said on Sunday.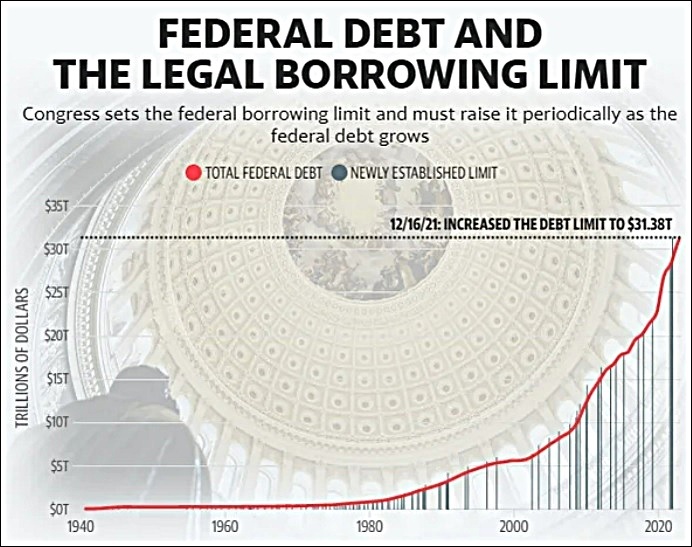 DNB Asset Management materially increased investments in EV maker Tesla and Plug Power, a hydrogen fuel-cell technology company, while slashing its stake in General Motors in the fourth quarter.
French arm of the Russian state-owned RT television network said on Saturday it was shutting down after authorities used European Union sanctions to freeze its bank accounts.
Genesis: Three former employees of the company claimed they had secured millions of dollars for a new crypto hedge fund, according to correspondence viewed by CNBC.
Google employees are scrambling for answers from leadership and from colleagues as the company undergoes a massive layoff.
Iran's currency fell to a record low against the U.S. dollar on Saturday amid the country's increasing isolation and possible Europe Union sanctions against Tehran's Revolutionary Guards or some of its members.
Juul Labs secured preliminary court approval of a $255 million settlement resolving claims by consumers that it deceptively marketed e-cigarettes, as the company seeks to resolve thousands of lawsuits.
Kotak Mahindra Bank on Saturday reported a 31% increase in standalone net profit for the October-December quarter, aided by a strong topline and healthy loan growth.
Nornickel has proposed slashing its annual dividend for 2022 to $1.5 billion from the $6.3 billion paid out for 2021, the economic news outlet RBC reported on Saturday, citing three sources close to the board of directors.
President Joe Biden's White House chief of staff, Ron Klain, plans to leave his post in the coming weeks, sources familiar with the matter said on Saturday.
Russian private military contractor Wagner published a short letter to the White House asking what crime his company was accused of, after Washington announced new sanctions on the group.
Ukraine: President Volodymyr Zelenskiy attended a memorial service on Saturday to commemorate seven senior officials killed in a helicopter crash, a fresh blow to a nation already grieving its many war dead.
U.S. existing home sales fall most on record on a month-over-month basis.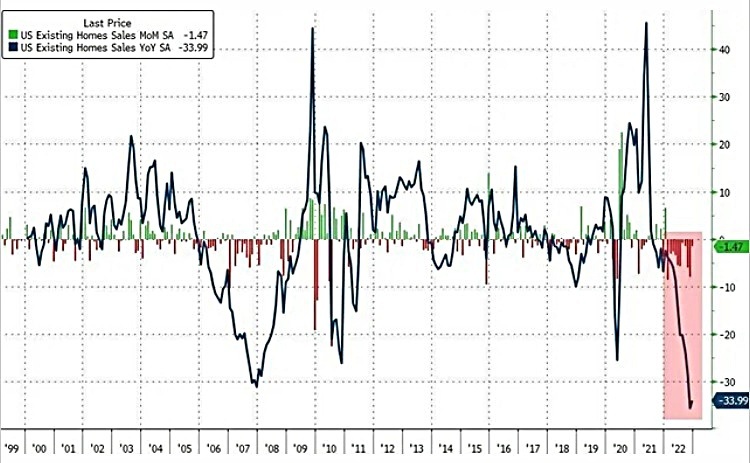 U.S. power chip maker Wolfspeed Inc (WOLF.N) is planning to build a factory in Germany for more than 2 billion euros, Handelsblatt reported on Saturday.
Yes Bank (YESB.NS) reported a surprise 80% plunge in quarterly profit on Saturday as provisions for bad loans increased.
🏛️What The Analysts Are Saying…🏛️
"I think inflation is going to get sticky in midyear at around 4%… This transition is particularly noteworthy because inflationary pressures are now less sensitive to central bank policy action. The result could well be more sticky inflation at around double the level of central banks' current inflation target." — Mohamed El-Erian, president of Queens' College at the University of Cambridge
"In bonds our kryptonite is inflation. Our thesis is that peak inflation is in the rear view mirror and we suspect by mid-year or later there will be evidence the economy is really weakening and inflation is melting. A lot of tightening is still set to hit the economy at a time when it is already slowing. At this point I don't see a reason to be bearish on bonds." — Jack McIntyre, portfolio manager at Brandywine
"Sell strength on any move back toward the August highs of 4300… I just don't want to pay an 18 P/E multiple for 0% expected earnings growth." — Goldman Sachs trader comments on short term market strategy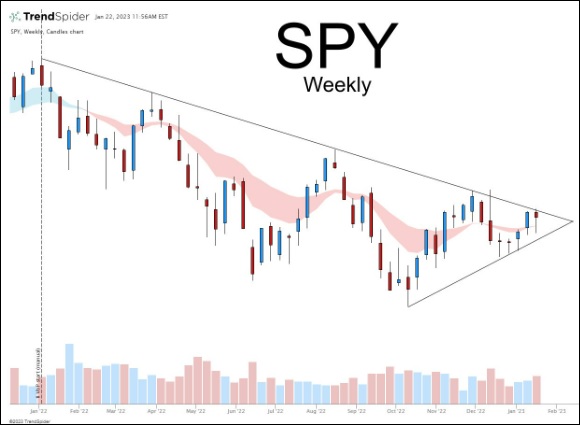 "We have the technologies we need. The International Energy Agency says, for a 50% reduction [in energy-related emissions], we have all we need with proven deployment models already available for us. The next 50%, after 2030, we have the technologies that are in development. We see the pathway to improve them. We know how to get there." — Al Gore, special U.S. envoy at Davos
📈Last Week's Best & Worst Performing Assets📉

👀The Week Ahead…👀
Earnings reports will dominate the conversation around stocks next week with Tesla (NASDAQ:TSLA), Microsoft (MSFT), Visa (V), Mastercard (MA), Johnson & Johnson (JNJ), and Boeing (BA) some of the heavyweights due to report. Federal Reserve speakers will be in a blackout period ahead of the February FOMC meeting, but economic reports will still pour in.
Updates on the S&P Case-Shiller Home Price Index, new home sales, durable goods orders, and consumer sentiment could reinforce the expectation for a recession in the U.S. and set the table for a 25-point rate increase from the Fed, instead of a 50-point hike.
Read the rest @ Seeking Alpha.
U.S. Economic Calendar
| | | | | |
| --- | --- | --- | --- | --- |
| TIME (ET) | REPORT | PERIOD | MEDIAN FORECAST | PREVIOUS |
| Monday, Jan. 23 | | | | |
| 10:00 AM | Leading economic indicators | Dec. | -0.70% | -1.00% |
| Tuesday, Jan. 24 | | | | |
| 9:45 AM | S&P U.S. manufacturing PMI (flash) | Jan. | 47 | 46.2 |
| 9:45 AM | S&P U.S. services PMI (flash) | Jan. | 45.3 | 44.7 |
| Wednesday, Jan. 25 | None scheduled | | | |
| Thursday, Jan. 26 | | | | |
| 8:30 AM | Initial jobless claims | Jan. 21 | 199,000 | 190,000 |
| 8:30 AM | Continuing jobless claims | Jan. 14 | — | 1.65 million |
| 8:30 AM | Real gross domestic product, first estimate (SAAR) | Q4 | 2.80% | 3.20% |
| 8:30 AM | Real final sales to domestic purchasers, first estimate (SAAR) | Q4 | — | 1.50% |
| 8:30 AM | Trade in goods (advance) | Dec. | — | -$83.3 billion |
| 8:30 AM | Durable goods orders | Dec. | 2.90% | -2.10% |
| 8:30 AM | Core capital goods orders | Dec. | — | -0.10% |
| 8:30 AM | Chicago Fed national activity index | Dec. | — | N/A |
| 10:00 AM | New home sales (SAAR) | Dec. | 615,000 | 640,000 |
| Friday, January 13 | | | | |
| 8:30 AM | Real disposable incomes (SAAR) | Dec. | — | 3.20% |
| 8:30 AM | Real consumer spending (SAAR) | Dec. | — | 0.10% |
| 8:30 AM | PCE price index | Dec. | — | 0.10% |
| 8:30 AM | Core PCE price index | Dec. | 0.30% | 0.20% |
| 8:30 AM | PCE price index, year-over-year | Dec. | — | 5.50% |
| 8:30 AM | Core PCE price index, year-over-year | Dec. | 4.40% | 4.70% |
| 10:00 AM | UMich consumer sentiment index (late) | Jan. | 64.6 | 64.6 |
| 10:00 AM | UMich 1-year inflation expectations (late) | Jan. | — | 4.00% |
| 10:00 AM | UMich 5-year inflation expectations (late) | Jan. | — | 3.00% |
| 10:00 AM | Pending home sales | Dec. | -1.50% | -4.00% |
U.S. Economic Calendar, TDR stock market preview
😎Meme Of The Week😎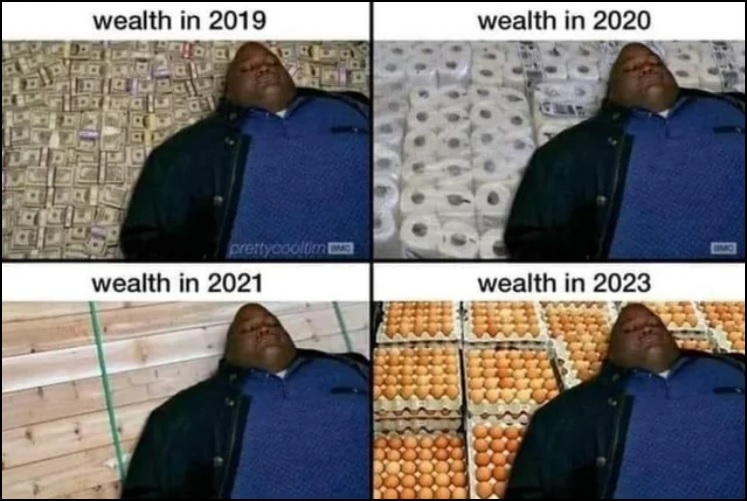 U.S Earnings Calendar
| | | | |
| --- | --- | --- | --- |
| Date | Company | Symbol | EPS Estimate |
| Monday, Jan. 23 | Baker Hughes | BKR | $0.40 per share |
| | Bank of Hawaii | BOH | $1.42 |
| | Brown & Brown | BRO | $0.46 |
| | F.N.B. | FNB | $0.42 |
| | Logitech International | LOGI | $1.03 |
| | Synchrony Financial | SYF | $1.13 |
| | Umpqua | UMPQ | $0.54 |
| | Zions Bancorp | ZION | $1.66 |
| Tuesday, Jan. 24 | Agilysys | AGYS | $0.21 |
| | Canadian National Railway | CNI | $2.09 |
| | Capital One Financial | COF | $3.86 |
| | D.R. Horton | DHI | $2.24 |
| | Danaher | DHR | $2.50 |
| | F5 Networks | FFIV | $2.33 |
| | General Electric | GE | $1.16 |
| | Halliburton | HAL | $0.67 |
| | Intuitive Surgical | ISRG | $1.25 |
| | Invesco | IVZ | $0.36 |
| | Johnson & Johnson | JNJ | $2.24 |
| | Lockheed Martin | LMT | $7.37 |
| | Microsoft | MSFT | $2.30 |
| | Navient | NAVI | $0.84 |
| | Old National Bancorp | ONB | $0.57 |
| | PACCAR | PCAR | $2.21 |
| | Raytheon Technologies | RTX | $1.25 |
| | Texas Instruments | TXN | $2.03 |
| | Travelers | TRV | $3.40 |
| | Union Pacific | UNP | $2.79 |
| | Veritex Holdings | VBTX | $0.88 |
| | Verizon | VZ | $1.19 |
| | WesBanco | WSBC | $0.83 |
| | Western Alliance Bancorp | WAL | $2.66 |
| Wednesday, January 25 | Abbott Labs | ABT | $0.93 per share |
| | ASML | ASML | $4.34 |
| | AT&T | T | $0.58 |
| | Automatic Data Processing | ADP | $1.94 |
| | Axalta Coating Systems | AXTA | $0.35 |
| | Boeing | BA | $0.29 |
| | Boot Barn Holdings | BOOT | $1.75 |
| | Crown Castle | CCI | $1.94 |
| | CSX | CSX | $0.47 |
| | Ethan Allen | ETD | $0.89 |
| | Flex | FLEX | $0.60 |
| | Freeport-McMoRan | FCX | $0.43 |
| | General Dynamics | GD | $3.54 |
| | Hess | HESS | $1.60 |
| | International Business Machines | IBM | $3.61 |
| | Kimberly-Clark | KMB | $1.51 |
| | Lam Research | LCRX | $9.94 |
| | Las Vegas Sands | LVS | -$0.10 |
| | Lending Club | LC | $0.22 |
| | Levi Strauss | LEVI | $0.30 |
| | NextEra Energy | NEE | $0.50 |
| | NextEra Energy Partners | NEP | $0.49 |
| | Norfolk Southern | NSC | $3.45 |
| | Packaging Corp | PKG | $2.23 |
| | Progressive | PGR | $1.45 |
| | Raymond James | RJF | $2.28 |
| | Seagate Technology | STX | $0.11 |
| | ServiceNow | NOW | $2.02 |
| | SL Green Realty | SLG | $1.48 |
| | Steel Dynamics | STLD | $3.67 |
| | Tesla | TSLA | $1.13 |
| | Textron | TXT | $1.07 |
| | U.S. Bancorp | USB | $1.14 |
| | United Rentals | URI | $10.29 |
| | West Fraser | WFG | $0.02 |
| | Wolfspeed | WOLF | -$0.14 |
| Thursday, January 26 | Alaska Air | ALK | $0.91 per share |
| | American Airlines | AAL | $1.07 |
| | Archer-Daniels-Midland | ADM | $1.65 |
| | Blackstone | BX | $0.97 |
| | CNX Resources | CNX | $0.62 |
| | Comcast | CMCSA | $0.77 |
| | Dow | DOW | $0.57 |
| | Eastman Chemical | EMN | $1.25 |
| | Federated Hermes | FHI | $0.73 |
| | Intel | INTC | $0.20 |
| | JetBlue Airways | JBLU | $0.20 |
| | KLA Corporation | KLAC | $7.03 |
| | L3Harris | LHX | $3.28 |
| | Marsh McLennan | MMC | $1.40 |
| | Mastercard | MA | $2.58 |
| | McCormick | MKC | $0.86 |
| | Nokia | NOK | $0.13 |
| | Northrop Grumman | NOC | $6.57 |
| | Nucor | NUE | $4.33 |
| | Olin | OLN | $1.37 |
| | Oshkosh | OSK | $1.73 |
| | Rockwell Automation | ROK | $1.87 |
| | SAP | SAP | $1.37 |
| | Sherwin-Williams | SHW | $1.86 |
| | Southwest Airlines | LUV | $0.06 |
| | STMicroelectronics | STM | $1.10 |
| | T. Rowe Price | TROW | $1.70 |
| | Tractor Supply | TSCO | $2.35 |
| | U.S. Steel | X | $0.63 |
| | Valero Energy | VLO | $6.96 |
| | Visa | V | $2.01 |
| | Weyerhaeuser | WY | $0.18 |
| | Xerox | XRX | $0.51 |
| Friday, Jan. 27 | American Express | AXP | $2.24 per share |
| | Booz Allen Hamilton | BAH | $1.04 |
| | Charter Communications | CHTR | $8.99 |
| | Chevron | CVX | $2.56 |
| | Charter Communications | CHTR | $0.77 |
| | Colgate-Palmolive | CL | $0.77 |
| | LyondellBasell | LYB | $1.26 |
| | WisdomTree | WT | $0.04 |
TDR stock market preview earnings calendar, week of January 23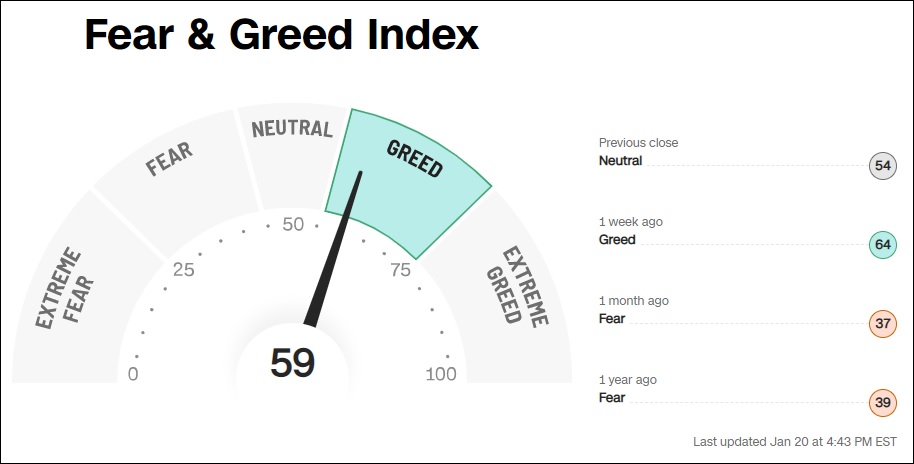 Past Week What's Hot… and What's Not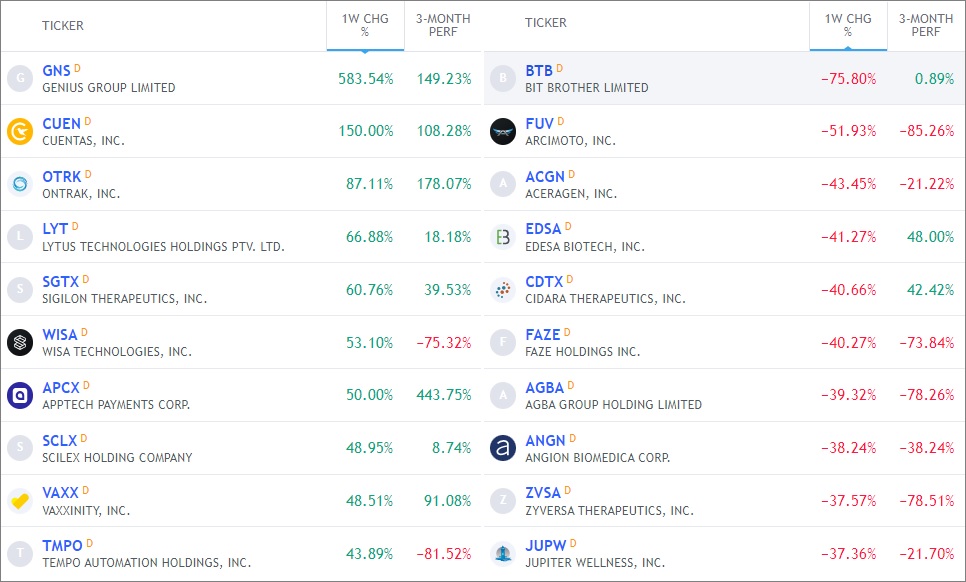 Top 12 High Short Interest Stocks
| | | | | | | |
| --- | --- | --- | --- | --- | --- | --- |
| Ticker | Company | Exchange | ShortInt | Float | S/O | Industry |
| PXMD | PaxMedica Inc | Nasdaq | 63.00% | 770K | 11.78M | Biotechnology & Medical Research |
| CVNA | Carvana Co | NYSE | 58.01% | 93.26M | 105.95M | Retail (Specialty Non-Apparel) |
| BBBY | Bed Bath & Beyond Inc. | Nasdaq | 50.28% | 76.67M | 80.36M | Retail (Specialty Non-Apparel) |
| GROM | Grom Social Enterprises Inc | Nasdaq | 44.63% | 660K | 760K | Online Services |
| BYND | Beyond Meat Inc | Nasdaq | 39.80% | 57.42M | 63.74M | Food Processing |
| UPST | Upstart Holdings Inc | Nasdaq | 39.14% | 68.62M | 81.88M | Consumer Lending |
| EVGO | Evgo Inc | Nasdaq | 36.71% | 67.73M | 69.36M | Utilities – Electric |
| MSTR | MicroStrategy Inc | Nasdaq | 36.47% | 9.34M | 9.35M | Software & Programming |
| NVAX | Novavax Inc | Nasdaq | 35.89% | 84.73M | 85.00M | Biotechnology & Medical Research |
| W | Wayfair Inc | NYSE | 34.86% | 71.74M | 81.43M | Retailers – Department Stores |
| BLNK | Blink Charging Co | Nasdaq | 32.33% | 40.37M | 50.86M | Utilities – Electric |
| PMVP | PMV Pharmaceuticals Inc | Nasdaq | 30.57% | 31.04M | 45.67M | Biotechnology & Medical Research |
Source:
highshortinterest.com
(data as of January 11, 2023) – TDR's stock market preview, Top 12 High Short Interest Stocks
Tags: stock market preview, stock market preview January 23, 2023