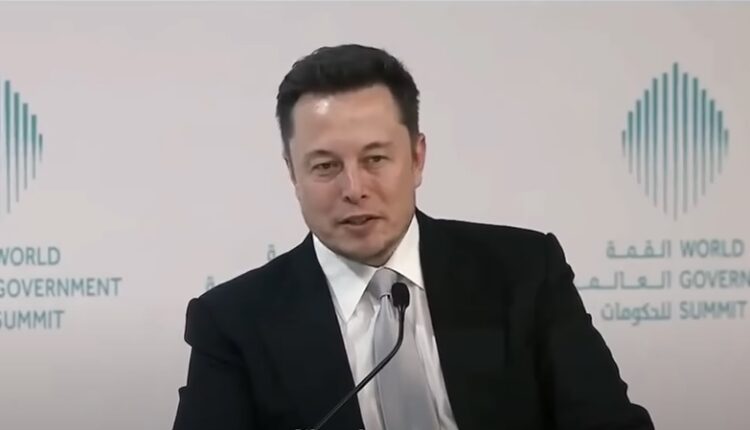 TDR's U.S. Stock Market Preview For The Week Of November 28, 2022
A weekly stock market preview and the data that will impact the tape.
Sunday Evening Futures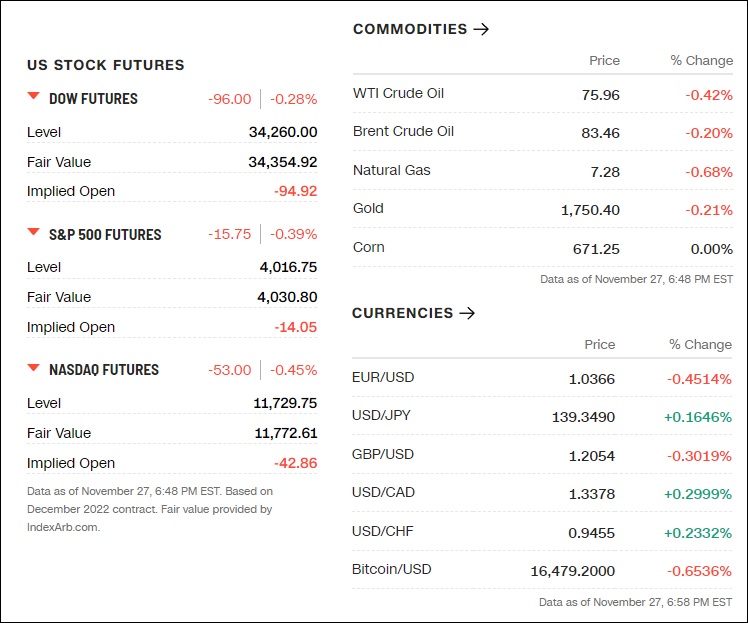 Weekend News And Developments
Apple: Zhengzhou — the capital of Henan province known as "iPhone City" — relocated 870 workers to a hub about 230 miles away in a neighboring province, without giving them any advance notice about the measure to curb Covid transmission.
Arab Monetary Fund has signed a $1 billion agreement to support Yemen's economic reform programme to its Saudi-backed government, Saudi state media said on Sunday.
Britain's government intends to make it illegal to encourage others to harm themselves online and will fine social media companies that fail to remove such material, as part of a revamp of legislation governing online behaviour.
Canada launched its long-awaited Indo-Pacific strategy on Sunday, outlining C$2.3 billion ($1.7 billion) in spending to boost military and cyber security in the region and vowed to deal with a "disruptive" China while working with it on climate change and trade issues.
Chevron Corp on Saturday received a U.S. license allowing the second-largest U.S. oil company to expand its production in Venezuela and bring the South American country's crude oil to the United States.
China's response to its worst Covid surge is raising hurdles for local and foreign businesses, denting consumption, and driving citizens to vent frustrations in a country known for crushing dissent.
Coinbase: 100,000 Bitcoin, or about 5% of the company's 'reserves', exited the platform between November 24-25.
Crypto's brutal slump has finally caught up with bitcoin ATMs.
Disney's "Strange World" boasted a budget of $180 million, as the disappointing results – over a five-day period — totaled just $24 million, according to Variety.
Elon Musk said Friday night that he would support Ron DeSantis, the Republican governor of Florida, if he ran for president in 2024.
Emerging Asian bonds have trailed their developing-nation peers this year, but a turning point looks to be just around the corner.
GlobeTopper and Knox Wire announce global payment partnership. The collaboration will power payout capabilities world-wide.
Hedge funds are amassing short bets on the winning stocks, according to Goldman Sachs
Italian Prime Minister Giorgia Meloni has given one of her top aides powers to oversee Rome's strategy on ultra-fast broadband networks as the new right-wing government reviews plans for the country's biggest telecoms company Telecom Italia (TIM) (TLIT.MI)
M23 rebels fighting in the eastern Democratic Republic of Congo have agreed to a ceasefire deal after a summit of African leaders gave the group an ultimatum to stop fighting or face attack.
Macau's government said on Saturday its six incumbent casino operators would be given new licences to operate in the world's biggest gambling hub from January, with Malaysian operator Genting missing out on a spot.
North Korea: Chinese President Xi Jinping said he valued his relationship with North Korea, the recluse nation's state media said in its latest communication amid heightened military threats in the region.
Parking lots at many retail stores were empty Thursday evening for Black Friday, and nobody was standing in lines awaiting the deals.
Russia's Gazprom said it will ship 42.6 million cubic metres (mcm) of gas to Europe via Ukraine on Saturday, a similar level to recent days.
SEC Chair Gensler is preparing to unveil plans for the biggest changes in about two decades to the way stocks are routed from buyers to sellers. If Gensler's timing holds, he will announce (possibly this week) an open meeting for mid-December that will detail his plan to remake the nation's $46 trillion stock market.
South African laboratory study using Covid-19 samples from an immunosupressed individual over six months showed that the virus evolved to become more pathogenic, indicating that a new variant could cause more illness than the current predominant omicron strain.
Taiwan President Tsai Ing-wen resigned as head of the ruling Democratic Progressive Party (DPP) on Saturday after her strategy to frame local elections as showing defiance to China's rising bellicosity failed to pay off and win public support.
Ukraine said six million people remained without power on Saturday as it worked overtime to repair critical infrastructure damaged by Russian strikes in recent days and bolster the spirits of residents who are struggling without water and electricity as temperatures drop.
U.S. Black Friday online sales hit a record $9 billion despite high inflation and record high credit card debt, according to Adobe Analytics.
Wynn Resorts (NASDAQ:WYNN) announced that Wynn Resorts Macau received a provisional award of a gaming concession from the Macau government. The ultimate award of the gaming concession contract remains subject to the final documentation of its exact terms and conditions with the Macau government.
🏛️What The Analysts Are Saying…🏛️
"I think it's a sign of the way the world is going. Virtual learning, virtual buying, everybody just wants to be able to sit on their couch and order what they want." — Retail worker Jeremy Pritchett, on the lack of customers on location at a Target store on Black Friday
"My preference for the 2024 presidency is someone sensible and centrist. I had hoped that would the case for the Biden administration, but have been disappointed so far." — Elon Musk throws his support behind Florida Governor Ron DeSantis in 2024
"The question this year is will the Fed raise by 75 or 50 basis points, and whether there will be any dovish commentary that suggests that the Fed will raise rates one or two more times next year and then call it quits." — Sam Stovall, chief investment strategist at CFRA Research
👀What We're Watching👀
• MSOS: SAFE Banking coming down to the wire
With AdvisorShares Pure US Cannabis ETF (NYSE: MSOS) looking technically sound and coming off of its 4th consecutive weekly gain, investors appear to be frontrunning the benchmark ETF in anticipation of lame duck regulatory reform. While the prospects of this action remain complicated, a plurality of investors seem to coalescing on the fact that Congress may actually get something done. Or at the very least, the politicians are giving more than lip service by trying to address the problem.
The SAFE Banking Act seeks to harmonize federal and state law by prohibiting federal regulators from taking punitive measures against depository institutions that provide banking services to legitimate cannabis-related businesses and ancillary businesses that serve them. The bill establishes a safe harbor for any depository institution that chooses to provide banking services to a cannabis-related legitimate businesses which holds and maintains a license from a state or local government to engage in manufacturing, growing, or producing, as well as any business who handles, sells, transports, displays or distributes cannabis or cannabis products.
And optimism of SAFE Banking passage in on the upswing. Just this past week, Cowen analyst Jaret Seiberg said in an analyst note that: "We are increasingly optimistic that Congress will enact the SAFE Act on cannabis banking by the year-end. We now set a 75% probability for passage".
Progress on cannabis banking reform is paramount because SAFE is the industry's best chance at major reform until at least 2025, in the aftermath of the next presidential election. With total Senate disinterest in advancing the Chuck Schumer-sponsored Cannabis Administration and Opportunity Act this summer, it has become obvious that incrementalism is the way forward.
To that end, the SAFE Banking Act—which is a banking bill and not legalization focuses—provides the incremental progress needed to normalize the cannabis industry and get it to the next stage of reform.
The new Congress will sit on January 3, 2023. Should SAFE Banking not pass before then, renewed legislative priorities may mean that federal cannabis will take a back seat until further notice.
• Santa Claus rally coming to town?
US stocks have rebounded from 2022 lows, and combined with historical strength in the month of December (since 1896, the average annual gain on the Dow is 3.35% measured from post-Thanksgiving until Christmas), has some investors hoping for a Santa Claus rally in stocks.
December is typically a good month for the stock market as fund managers use end-of-year inflows to buy outperforming stocks to "window dress" portfolios and maximize fund returns and yearend bonuses. Low liquidity during holiday-shortened weeks is supportive to price action and keeps the short sellers grounded. Momentum appears to be on the bulls side as well. The past 4 years have seen the major indices melt-up in unison.
However, it's quite possible that this year could be an outlier, as the focus has largely shifted to the Fed and the pace at which it will continue raising interest rates. Another 50bps are expected at the December meeting, and major Wall. St. investment banks do not necessarily expect the Fed Funds rate to decrease anytime soon in 2023.
So while the Santa Claus rally could happen, we feel this year any prospective rally is a red/ black bet at the roulette wheel. As long as the Fed's restrictive monetary policy remains in place and in-focus, investors are just as likely to get a lump of coal in their stocking as a box of chocolates. Caveat emptor.
U.S. Economic Calendar
| | | | | |
| --- | --- | --- | --- | --- |
| TIME (ET) | REPORT | PERIOD | MEDIAN FORECAST | PREVIOUS |
| Monday, Nov. 28 | | | | |
| 12 noon | MarketWatch interviews St. Louis Fed President James Bullard | | | |
| Tuesday, Nov. 29 | NY Fed 5-year inflation expectations | | | |
| 9:00 AM | S&P Case-Shiller U.S. home price index (SAAR) | Sept. | — | -9.80% |
| 9:00 AM | FHFA U.S. home price index (SAAR) | Sept. | — | -7.60% |
| 10:00 AM | Consumer confidence index | Nov. | 100 | 102.5 |
| Wednesday, Nov. 30 | Real household debt (SAAR) | Q3 | — | 0.80% |
| 8:15 AM | ADP employment report | Nov. | 200,000 | 239,000 |
| 8:30 AM | Real GDP (SAAR) revision | Q3 | 2.70% | 2.60% |
| 8:30 AM | Real gross domestic income (SAAR) | Q3 | — | 0.10% |
| 8:30 AM | Real domestic final sales (SAAR) revision | Q3 | — | 3.30% |
| 8:30 AM | Trade in goods deficit (advance) | Oct. | — | -$92.2 billion |
| 9:45 AM | Chicago PMI | Nov | 47.3 | 45.2 |
| 10:00 AM | Job openings | Oct. | — | 10.7 million |
| 10:00 AM | Quits | Oct. | — | 4.1 million |
| 10:00 AM | Pending home sales index | Oct. | — | -10.20% |
| 1:30 PM | Fed Chair Jerome Powell speaks at the Brookings Institution | | | |
| 2:00 PM | Beige Book | Nov. 12 | 225,000 | |
| Thursday, Dec. 1 | Continuing jobless claims | Nov. 5 | 1.49 million | |
| 8:30 AM | Initial jobless claims | Nov. 26 | 230,000 | 240,000 |
| 8:30 AM | Continuing jobless claims | Nov. 19 | — | 1.55 million |
| 8:30 AM | PCE price index | Oct. | — | 0.30% |
| 8:30 AM | Core PCE price index | Oct. | 0.30% | 0.50% |
| 8:30 AM | PCE price index (year-on-year) | Oct. | — | 6.20% |
| 8:30 AM | Core PCE price index (year-on-year) | Oct. | 5.00% | 5.10% |
| 8:30 AM | Real disposable income | Oct. | — | 0.00% |
| 8:30 AM | Real consumer spending | Oct. | — | 0.30% |
| 9:45 AM | S&P U.S. manufacturing PMI (final) | Nov. | — | 50.4 |
| 10:00 AM | ISM manufacturing index | Nov. | 50.00% | 50.20% |
| 10:00 AM | Construction spending | Oct. | 0.20% | 0.20% |
| Friday, December 2 | Motor vehicle sales (SAAR) | Nov. | — | 14.9 million |
| 8:30 AM | Nonfarm payrolls (level change) | Nov. | 200,000 | 261,000 |
| 8:30 AM | Unemployment rate | Nov. | 3.70% | 3.70% |
| 8:30 AM | Average hourly earnings | Nov. | 0.30% | 0.40% |
| 8:30 AM | Labor-force participation rate, 25 to 54-year-olds | Nov. | — | 82.50% |
😎Meme Of The Week😎
Key Earnings (US Markets)
| | | | |
| --- | --- | --- | --- |
| Date | Company | Symbol | EPS Estimate |
| Monday, Nov. 28 | Arrowhead | ARWR | -$0.12 per share |
| | AZEK | AZEK | $0.18 |
| Tuesday, Nov. 29 | Baozun | BZUN | $0.55 |
| | Bilibili | BILI | -$4.66 |
| | Compass Minerals | CMP | -$0.24 |
| | CrowdStrike | CRWD | $0.32 |
| | Hewlett Packard Enterprise | HPE | $0.52 |
| | Hibbett | HIBB | $2.49 |
| | Intuit | INTU | $1.20 |
| | NetApp | NTAP | $1.33 |
| | Workday | WDAY | $0.84 |
| Wednesday, November 30 | Donaldson | DCI | $0.70 |
| | Five Below | FIVE | $0.14 |
| | Frontline | FRO | $0.38 |
| | Hormel Foods | HRL | $0.50 |
| | La-Z-Boy | LZB | $0.85 |
| | Nutanix | NTNX | -$0.12 |
| | Okta | OKTA | -$0.24 |
| | Petco Health and Wellness | WOOF | $0.16 |
| | Pure Storage | PSTG | $0.26 |
| | PVH | PVH | $2.17 |
| | Royal Bank of Canada | RY | $2.66 |
| | Salesforce | CRM | $1.22 |
| | Snowflake | SNOW | $0.05 |
| | Splunk | SPLK | $0.25 |
| | Synopsys | SNPS | $1.84 |
| | Titan Machinery | TITN | $1.16 |
| | Victoria's Secret | VSCO | $0.23 |
| Thursday, December 1 | Ambarella | AMBA | $0.20 |
| | American Outdoor Brands | AOUT | $0.18 |
| | Big Lots | BIG | -$3.05 |
| | ChargePoint | CHPT | -$0.18 |
| | Designer Brands | DBI | $0.72 |
| | Dollar General | DG | $2.54 |
| | G-III Apparel | GIII | $1.84 |
| | Kroger | KR | $0.81 |
| | Li Auto | LI | -$0.06 |
| | Manchester United | MANU | -$0.11 |
| | Marvell Technology | MRVL | $0.59 |
| | Patterson Companies | PDCO | $0.57 |
| | Toronto-Dominion Bank | TD | $2.04 |
| | Ulta Beauty | ULTA | $4.11 |
| | Veeva Systems | VEEV | $1.07 |
| | Weber | WEBR | -$0.35 |
| | Zscaler | ZS | $0.26 |
| Friday, Dec. 2 | Cracker Barrel | CBRL | $1.23 |
| | Genesco | GCO | $1.57 |
Past Week What's Hot… and What's Not
Top 12 High Short Interest Stocks
| | | | | | | |
| --- | --- | --- | --- | --- | --- | --- |
| Ticker | Company | Exchange | ShortInt | Float | S/O | Industry |
| BBBY | Bed Bath & Beyond Inc. | Nasdaq | 45.11% | 76.45M | 80.36M | Retail (Specialty Non-Apparel) |
| CVNA | Carvana Co | NYSE | 44.24% | 93.40M | 105.95M | Retail (Specialty Non-Apparel) |
| BYND | Beyond Meat Inc | Nasdaq | 42.75% | 57.25M | 63.74M | Food Processing |
| MSTR | MicroStrategy Inc | Nasdaq | 40.51% | 9.34M | 9.35M | Software & Programming |
| UPST | Upstart Holdings Inc | Nasdaq | 35.98% | 69.28M | 81.88M | Consumer Lending |
| NKLA | Nikola Corporation | Nasdaq | 32.49% | 311.65M | 478.85M | Auto & Truck Manufacturers |
| EVGO | Evgo Inc | Nasdaq | 32.13% | 67.87M | 69.36M | Utilities – Electric |
| W | Wayfair Inc | NYSE | 31.66% | 71.67M | 81.43M | Retailers – Department Stores |
| BLNK | Blink Charging Co | Nasdaq | 30.68% | 40.55M | 50.86M | Utilities – Electric |
| IBRX | Immunitybio Inc | Nasdaq | 29.06% | 82.87M | 400.30M | Biotechnology & Medical Research |
| FUV | Arcimoto Inc | Nasdaq | 28.37% | 42.45M | 51.19M | Auto & Truck Manufacturers |
| BIG | Big Lots, Inc. | NYSE | 27.87% | 27.94M | 28.94M | Retailers – Discount Stores |
Source:
highshortinterest.com
(data as of November 25) – TDR's stock market preview, Top 12 High Short Interest Stocks
Tags: stock market preview, stock market preview November 28, 2022