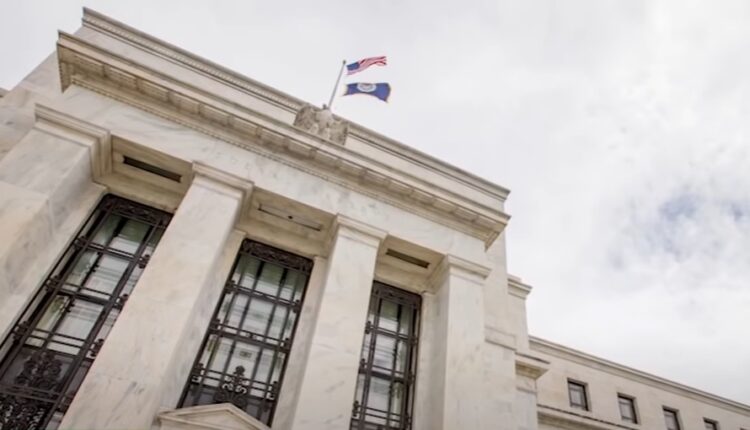 TDR's U.S. Stock Market Preview For The Week Of January 9, 2023
Sunday Evening Futures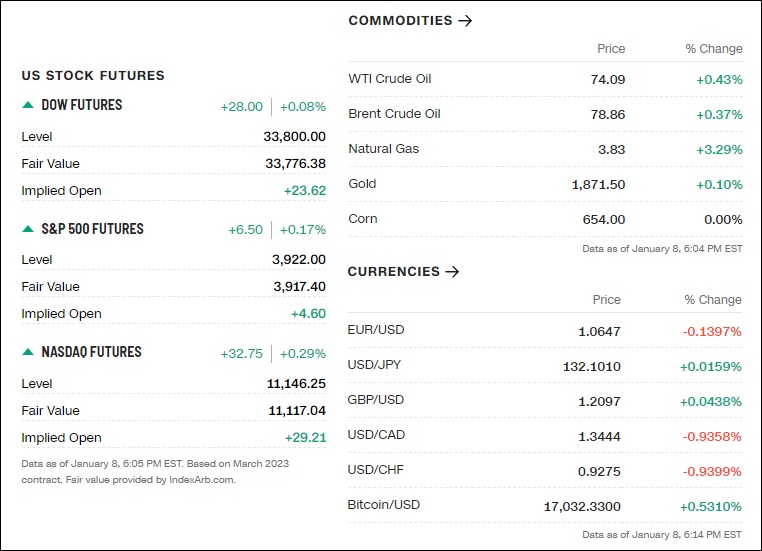 Weekend News And Developments
Akoya Biosciences, Inc. (NASDAQ:AKYA) announced preliminary unaudited revenue for the fourth quarter and full year ended December 31, 2022. Revenue for the fourth quarter of 2022 is expected to be between $20.7 million and $21.2 million, as compared to $16.2 million for the corresponding quarter of last year.
Alibaba Group Holding Ltd is planning a logistics hub at Istanbul Airport and a data centre near the Turkish capital Ankara with an investment of more than $1 billion, its president, Michael Evans, was cited as saying.
Ant Group has no plans to initiate a stock market initial public offering (IPO), it said on Sunday in an emailed statement to Reuters.
Bank of America unveils the most 'attractive' must-own stocks for 2023.
Bond-market bulls are getting an early taste of what they expect to be a winning trade of 2023.
California: An atmospheric river pounded the state on Monday with rain and mountain snow – the fifth of the weather phenomenon since Christmas – even as the state was being pummeled by storms this weekend, forecasters said.
Chick-fil-A, Inc. informed customers of suspected "fraudulent activity" on some customers' mobile app accounts and has announced an investigation to determine the source.
Chinese tech billionaire Jack Ma loses his controlling stake in the e-commerce giant Ant Group as Beijing tightens its regulations on tech companies.
CNH Industrial factories members in Wisconsin and Iowa on Saturday voted down a tentative labor contract, the United Auto Workers union said.
Colombian President Gustavo Petro and his Venezuelan counterpart Nicolas Maduro discussed binational investment and trade at a meeting in Caracas on Saturday, the Colombian government said.
CymaBay Therapeutics, Inc. entered into a collaboration and license agreement with Kaken Pharmaceutical Co., Ltd. for the development and commercialization in Japan of CymaBay's investigational drug seladelpar for the treatment of primary biliary cholangitis.
Deere & Co (DE.N) signed a memorandum of understanding on Sunday that ensures farmers have the right to repair their own farm equipment or go to an independent technician.
Deutsche Bank expects much lower GDP growth in major industrialized nations in 2023.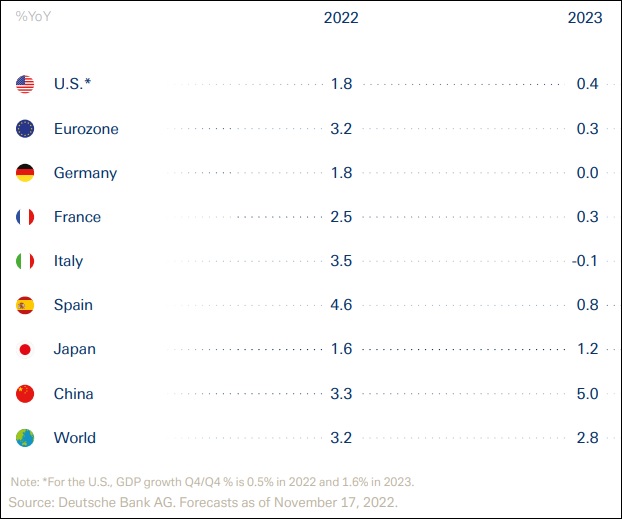 Eskom Holdings SOC Ltd. outgoing Chief Executive Officer Andre de Ruyter has told South African police he recently survived an attempt on his life.
Exelixis, Inc. announced its preliminary unaudited financial results for the fourth quarter and full year 2022, provided financial guidance for full year 2023, and delivered an update on its business.
Federal Reserve's effort to shock the economy back to lower inflation is in its early days, making it tough for the U.S. central bank to avoid overdoing it with higher-than-needed interest rates, a top economic adviser in the Obama White House said after a fresh review of Fed policy since World War Two.
Fosun Pharma has recently entered into an exclusive license agreement with Shanghai Henlius Biotech, Inc. for the commercialization of Henlius independently developed anti-PD-1 monoclonal antibody (mAb) serplulimab in the United States (US).
FTX: A U.S. Trustee filed an objection on Saturday to plans by bankrupt crypto exchange FTX to sell its digital currency futures and clearinghouse LedgerX, as well as units in Japan and Europe, according to a court filing.
Goldman Sachs: Forecasts core personal consumption expenditures to decrease to 2.9% by year end 2023.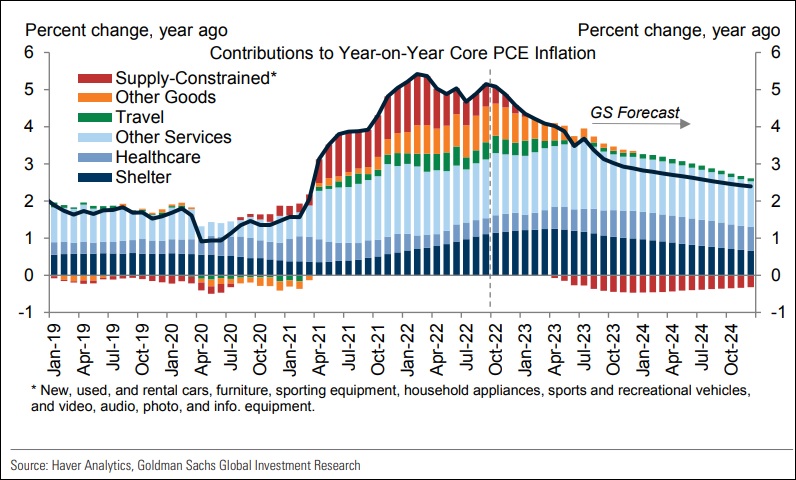 Google has filed a legal challenge in India's Supreme Court to block a ruling by the country's antitrust watchdog that will force the U.S. company to change how it markets its Android platform, court records showed on Saturday.
Hologic, Inc. (NASDAQ:HOLX) announced preliminary revenue results for its first fiscal quarter ended December 31, 2022. The company expects to report total revenues of approximately $1,074.2 million, a decrease of (27.0%) compared to the prior year period, or (25.1%) in constant currency.
Honduran government extended a state of emergency declaration for 45 days, expanding it to additional areas of the country in an effort to fight criminal gangs amid high levels of violence.
House Speaker Kevin McCarthy sought to rally Republicans with pledges to champion federal spending cuts, strengthen border security and counter "woke indoctrination," hinting at his dependence on a small group of populist conservatives over the next two years.
Italy's Chiesi Farmaceutici said on Sunday it will acquire drugmaker Amryt Plc in a deal valued at $1.48 billion.
Kevin McCarthy agreed to major concessions to secure a role that is second in line to the Oval Office behind Democratic Vice President Kamala Harris, including a rule that means that any of the 435 members of the House could force a vote for his removal at any time.
President Joe Biden visited the U.S.-Mexico border on Sunday for the first time since taking office, tackling one of the most politically charged issues in the country as he prepares for a re-election bid.
Qatari IT services firm MEEZA will be the first company in the country to use book building to carry out an initial public offering, it said in a statement on Sunday, as Qatar aligns itself with international practices.
Russia's overnight bombing of regions in eastern Ukraine killed at least one, local officials said on Sunday, after Moscow ended a self-declared Christmas ceasefire and vowed to push on with combat until it reaches a victory over its neighbor.
Tanzania's President Samia Suluhu Hassan appointed Emmanuel Tutuba the nation's central bank governor, as she moves to tackle the rising cost of living.
Tesla reported delivering about 1.25 million Model Y and Model 3 vehicles globally in 2022. The Model 3 ranked 13th in sales at 211,641 units, according to Motor Intelligence.
Twitter Inc. made further staff cuts in the trust and safety team handling global content moderation and in the unit related to hate speech and harassment, Bloomberg news reported on Saturday.
U.S. Federal Aviation Administration (FAA) said on Saturday it had agreed to partner with the Korea Office of Civil Aviation (KOCA) future Advanced Air Mobility aircraft development and operations.
U.S. inflation data in the coming week are expected to stay consistent with a gradual step-down in cost pressures, and will help determine the size of the Federal Reserve's next interest-rate increase.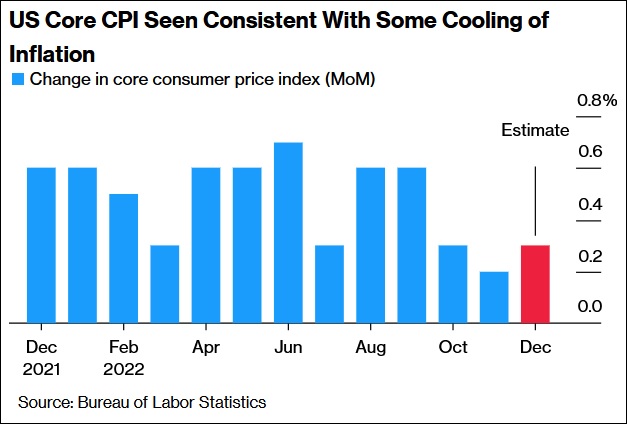 Wells Fargo: Indian police on Saturday arrested a former top banking executive over allegations that he urinated on a passenger during an incident aboard an Air India plane in November.
🏛️What The Analysts Are Saying…🏛️
"Homebuyers are waiting for rates to decrease more significantly, and when they do, a strong job market and a large demographic tailwind of millennial renters will provide support to the purchase market." — Sam Khater, Freddie Mac chief economist
"Inflation rose sharply throughout 2022 across both advanced economies and emerging markets. Structural trends suggest that the problem will be secular rather than transitory." — Nouriel Roubini, economics professor
"Our models seem ill equipped to handle a fundamentally different source of inflation, specifically, in this case, surge pricing inflation." — Minneapolis Fed president Neel Kashkari
👀The Week Ahead…👀
All eyes over the coming week were expected to be on U.S. consumer price data for December, as investors tried to anticipate whether inflation was in fact headed "sustainably" – to use the Federal Reserve's own wording – down to the Fed's 2.0% target.
Ahead of that key report, on Tuesday Fed chief, Jerome Powell, would participate on two panels alongside his peers at the Riksbank. Read the rest…
U.S. Economic Calendar
| | | | | |
| --- | --- | --- | --- | --- |
| TIME (ET) | REPORT | PERIOD | MEDIAN FORECAST | PREVIOUS |
| Monday, Jan. 9 | | | | |
| 11:00 AM | NY Fed 1-year inflation expectations | Dec. | — | 5.20% |
| 11:00 AM | NY Fed 5-year inflation expectations | Dec. | — | 2.30% |
| 12:30 PM | Atlanta Fed President Raphael Bostic speaks | | | |
| 3:00 PM | Consumer credit | Nov | $26 billion | $27 billion |
| Tuesday, Jan. 10 | | | | |
| 6:00 AM | NFIB small-business index | Dec. | 91.5 | 91.3 |
| 9:00 AM | Fed Chair Jerome Powell speaks in Sweden | | | |
| 10:00 AM | Wholesale inventories (revision) | Nov. | 1.00% | 1.00% |
| Wednesday, Jan. 11 | | | | |
| | None scheduled | | | |
| Thursday, Jan. 12 | | | | |
| 7:30 AM | Philadelphia Fed President Patrick Harker speaks | | | |
| 8:00 AM | St. Louis Fed President James Bullard speaks | | | |
| 8:30 AM | Consumer price index | Dec. | 0.00% | 0.10% |
| 8:30 AM | Core CPI | Dec. | 0.30% | 0.20% |
| 8:30 AM | CPI (year-over-year) | Dec. | 6.60% | 7.10% |
| 8:30 AM | Core CPI (year-over-year) | Dec. | 5.70% | 6.00% |
| 8:30 AM | CPI excluding shelter (3-month SAAR) | Dec. | — | 1.30% |
| 8:30 AM | Initial jobless claims | Jan. 7 | 210,000 | 204,000 |
| 8:30 AM | Continuing jobless claims | Dec. 31 | — | 1.69 million |
| 2:00 PM | Federal budget | Dec. | -$69 billion | -$21 billion |
| Friday, January 13 | | | | |
| 8:30 AM | Import price index | Dec. | -0.90% | -0.60% |
| 10:00 AM | UMich consumer sentiment index (early) | Jan. | 60.5 | 59.7 |
| 10:00 AM | UMich 1-year consumer inflation expectations | Jan. | — | 4.40% |
| 10:00 AM | UMich 5-year consumer inflation expectations | Jan. | — | 2.90% |
😎Meme Of The Week😎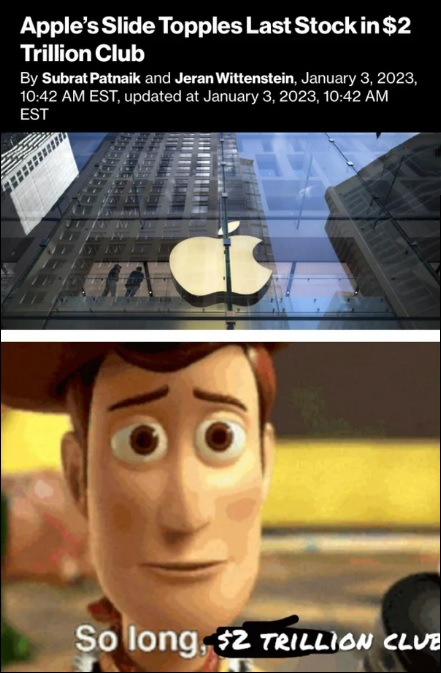 Key Earnings (US Markets)
| | | | |
| --- | --- | --- | --- |
| Date | Company | Symbol | EPS Estimate |
| Monday, Jan. 9 | Acuity Brands | AYI | $3.02 per share |
| | AZZ | AZZ | $0.79 |
| | Commercial Metals | CMC | $1.96 |
| | PriceSmart | PSMT | $0.89 |
| | Tilray | TLRY | -$0.05 |
| | WD-40 | WDFC | $0.98 |
| Tuesday, Jan. 10 | Albertsons | ACI | $0.67 |
| | Bed Bath & Beyond | BBBY | -$1.89 |
| Wednesday, January 11 | KB Home | KBH | $$2.85 |
| | Shaw Communications | SJR | $0.38 |
| Thursday, January 12 | Taiwan Semiconductor Manufacturing | TSM | $11.13 |
| Friday, Jan. 13 | Bank of America | BAC | $0.81 |
| | BlackRock | BLK | $7.87 |
| | BNY Mellon | BK | $1.20 |
| | Citigroup | C | $1.22 |
| | Delta Air Lines | DAL | $1.36 |
| | First Republic Bank | FRC | $1.80 |
| | Greenbrier | GBX | $0.49 |
| | JPMorgan Chase | JPM | $3.13 |
| | UnitedHealth Group | UNH | $5.17 |
| | Wells Fargo | WFC | $1.01 |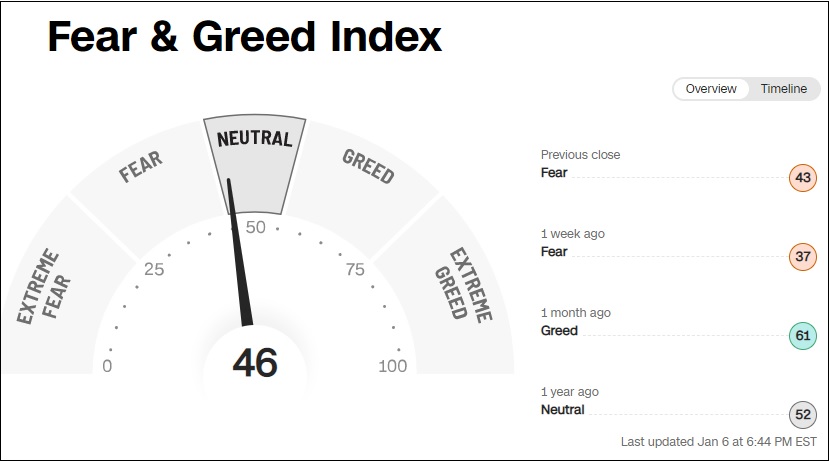 Past Week What's Hot… and What's Not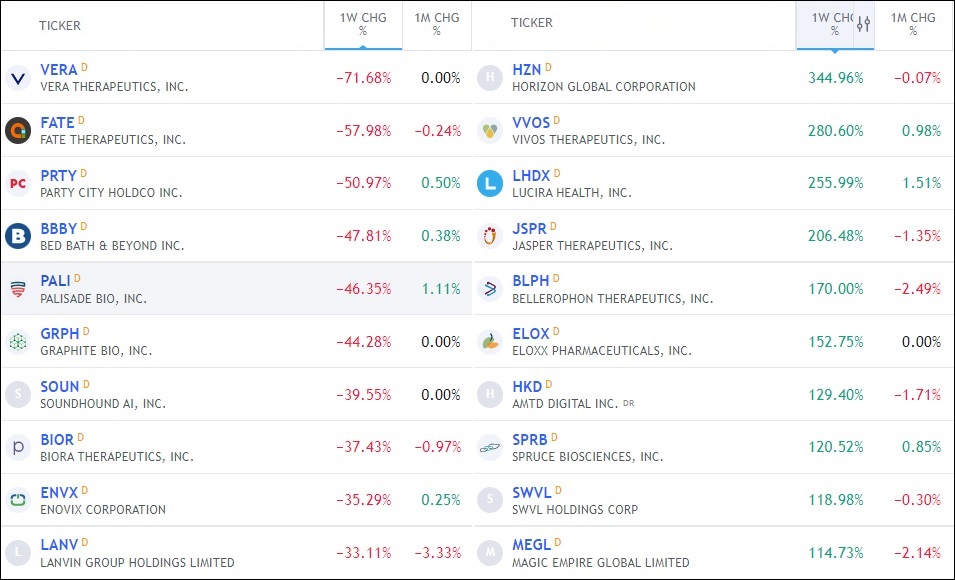 Top 12 High Short Interest Stocks
| | | | | | | |
| --- | --- | --- | --- | --- | --- | --- |
| Ticker | Company | Exchange | ShortInt | Float | S/O | Industry |
| CVNA | Carvana Co | NYSE | 53.76% | 93.25M | 105.95M | Retail (Specialty Non-Apparel) |
| BBBY | Bed Bath & Beyond Inc. | Nasdaq | 48.88% | 76.67M | 80.36M | Retail (Specialty Non-Apparel) |
| BYND | Beyond Meat Inc | Nasdaq | 39.53% | 57.42M | 63.74M | Food Processing |
| UPST | Upstart Holdings Inc | Nasdaq | 39.43% | 68.82M | 81.88M | Consumer Lending |
| MSTR | MicroStrategy Inc | Nasdaq | 36.31% | 9.34M | 9.35M | Software & Programming |
| EVGO | Evgo Inc | Nasdaq | 33.36% | 67.87M | 69.36M | Utilities – Electric |
| W | Wayfair Inc | NYSE | 33.35% | 71.74M | 81.43M | Retailers – Department Stores |
| IBRX | Immunitybio Inc | Nasdaq | 31.84% | 74.54M | 400.30M | Biotechnology & Medical Research |
| BLNK | Blink Charging Co | Nasdaq | 31.57% | 40.37M | 50.86M | Utilities – Electric |
| SFT | Shift Technologies Inc | Nasdaq | 29.91% | 47.04M | 169.98M | Retailers – Auto Vehicles, Parts & Service |
| BIG | Big Lots, Inc. | NYSE | 29.74% | 27.96M | 28.96M | Retailers – Discount Stores |
| NVAX | Novavax Inc | Nasdaq | 28.89% | 84.71M | 85.00M | Biotechnology & Medical Research |
Source:
highshortinterest.com
(data as of January 3) – TDR's stock market preview, Top 12 High Short Interest Stocks
Tags: stock market preview, stock market preview January 9, 2023