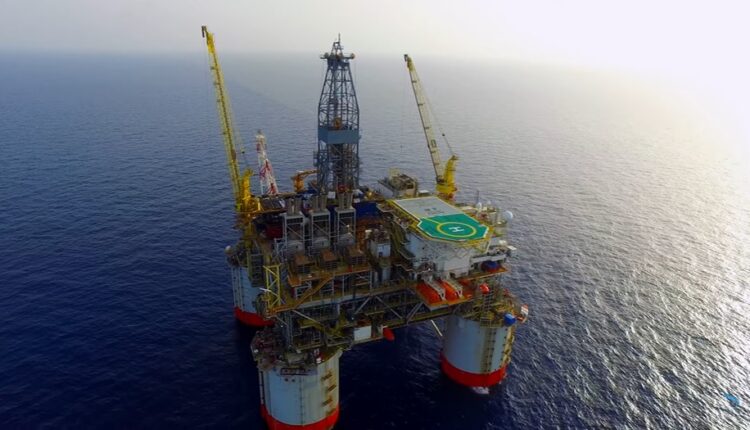 TDR's U.S. Stock Market Preview For The Week Of September 26, 2022
A weekly stock market preview and the data that will impact the tape.
Sunday Evening Futures – Stock Market Preview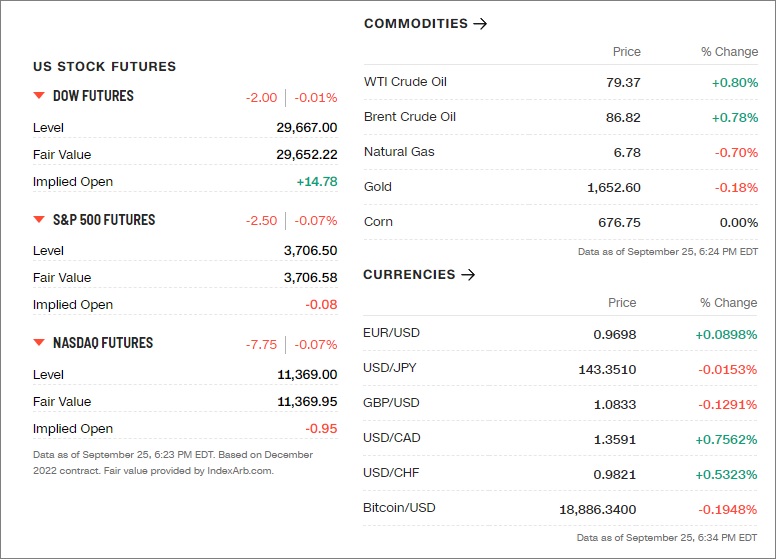 Weekend News And Developments
3,000 ETFs trading simultaneously for the first time ever this month — a 30% increase since December 2020, according to Morningstar.
Brazilians' views on the economy are improving amid stronger-than-expected activity and easing inflationary pressures.
Chinese electric vehicle (EV) maker Zhejiang Leapmotor Technology is set to raise $800 million by pricing its shares at HK$48 ($6.12) each in its Hong Kong initial public offering (IPO), said two sources with direct knowledge of the matter.
Czechoslovakia: The main Czech opposition group won in most large cities in weekend municipal elections, mobilizing protest votes against the government's handling of the energy crisis.
Florida Gov. Ron DeSantis has declared a state of emergency for 24 counties as Tropical Storm Ian gathers strength over the Caribbean and is expected to bring heavy rain and hurricane-force winds to the state next week. Tropical storm Ian in currently projected to strike the Tampa Bay region on Thursday as a Category 2 hurricane.
Gasoline: The average price for a gallon of regular gasoline in the U.S. started rising again in the past week, after declining for nearly 100 days in a row during the summer driving season.
German Chancellor Olaf Scholz secured just one shipment of liquefied natural gas from the United Arab Emirates, with a non-binding agreement for more, as Europe's biggest economy struggles to replace Russian supplies.
Groupe M6: French media mogul Stephane Courbit and his investor partners are said to have offered 20 euros ($19) a share for Bertelsmann SE & Co.'s stake in television company Groupe M6, Bloomberg News reported on Sunday.
Inflation: According to a recent survey conducted by Bankrate, two out of five (40%) survey respondents said inflation will change the way they shop for the holidays this year.
Italians head to the polls Sunday in a nationwide vote that could return the country's first female prime minister and the first government led by the far-right since the end of World War II.
K92 Mining Inc. has filed a technical report containing a maiden resource estimate on the Blue Lake gold-copper porphyry deposit in Papua New Guinea.
North Korea fired a ballistic missile off its east coast on Sunday, ahead of military drills by South Korean and U.S. forces and a visit by Kamala Harris.
Poland expects to raise 13.5 billion zlotys ($2.75 billion) from a windfall tax on energy companies, the state assets minister said late on Saturday, with the money used to offset the impact of rising bills on households.
Russian men and their families flooded to the border over the weekend as speculation grew that the Kremlin may bar mobilization-eligible men from leaving the country.OpinionLara Williams
Russia/Ukraine war: Joe Biden's administration has privately told the Kremlin that any use of nuclear weapons in the war in Ukraine would have "catastrophic consequences" for Russia, White House National Security Adviser Jake Sullivan said.
S&P 500 chart showing eerie similarities and price action between 2006-2008 and current.

S&P 500 could test the June lows in the next couple of sessions, and some technical strategists see a much lower low before the market bounces.
Shell Plc will exit its two offshore wind projects in Ireland, leaving Simply Blue Group in search of a new partner.
SiriusXM has put Hall of Fame quarterback Brett Favre's NFL show on hold due to his involvement in an alleged welfare-fraud scheme in Mississippi, according to reports.
Trulieve Cannabis announced the grand opening of its newest West Virginia dispensaries in Milton at 5 Perry Morris Square and in Belle at 2700 Dupont Ave.
XRP: Not all doom & gloom in asset markets, as Ripple (XRP) breaks out this past week.
🏛️What The Analysts Are Saying…🏛️
"M&A activity… could see an uptick as struggling fintechs look to sell rather than holding a downround, corporate and PE investors move to take advantage of better pricing, and well-capitalized fintechs look to take out the competition." — Anton Ruddenklau, KPMG International's global head of financial services innovation and fintech
"Our analysis underscores the very real rental affordability challenges that many Americans face today. Rents are significantly higher than in previous years and are taking up a substantial portion of incomes, which are growing at a slower pace than inflation." —Realtor.com Chief Economist Danielle Hale
"We're of the view that 2023 earnings estimates have to continue to decline. We have our 2023 recession odds at about 50% right now, and in a recession, earnings decline by an average of around 30%. Even with some extreme scenarios–like the 2008 financial crisis when earnings fell 90% — the median decline is still 24%." — Ryan Grabinski, investment strategist at Strategas
👀What We're Watching👀


Bitcoin remains in a technically precarious state
Although the equities and bonds tanked, Bitcoin held above the post FOMC weekly low circa $18,000, so that was positive. But no matter how you cut it, Bitcoin remains in a technically vulnerable state. This past week, Bitcoin was unable to hold the key psychological level at $20,000 and retreated back into the recent range between $18,400-19,700. The chatter all week was that Bitcoin was destined to go to at least $15,000.

And we believe it, since the patriarchal cryptocurrency has looked less like a 'store of value' and more like a speculative equity risk asset. We don't expect the $18,000s to hold if the S&P 500 can't hold its June lows and USD continues to outperform. We have no position.

U.S. Bureau of Economic Analysis (BEA) releases Personal Consumer Expenditures number on Friday
As Barron's reports, the BEA will release the personal-consumption expenditures price index, a key measure of inflation that the Fed watches closely. That index rose 6.8% year over year in June—its highest level since 1982—and moderated to 6.3% in July. The core PCE index, taking out food and energy, was up 4.6%. Analysts expect the core PCE to rise 4.7% in August.

Although it's unlikely that there will be enough clarity in the coming week about the path of rate hikes to determine where the stock market will head for the rest of the year, a number below expectations should give the FED pause that the current rate hike cycle is working. Lower PCE means consumers are cutting back, and that's an important consideration to allow the FED to pull of the gas.

Is the bear market trade becoming crowded, at least in the short term? 
On Thursday, the American Association of Individual Investors' Stock Sentiment Survey, a widely-followed market sentiment canary, had one of the five highest bearish sentiment readings in history (going back to 1987) at 60.9%. Retail traders spent $18 billion buying put option protection last week, a record. CNN's Fear & Greed Index just went into 'extreme fear' territory for the first time in forever. Credible talk of the possibility of nuclear exchange due to the Ukraine/Russia conflict is hitting the newswires for the time since the Cold War…

We could go on with the negatives anecdotes, but we're sure you get the picture. Bearish sentiment is at a fever pitch currently. But with the S&P 500 dropping almost 10% in the last two weeks and testing the June lows, panicking in the very short term might be unwarranted. 

We expect the June lows to eventually give way, but the question is 'how long'? It wouldn't surprise us if the extreme negative sentiment is setting up for a tradeable (albeit transitory) counter-rally in the interim. We note though, that sentiment indication in isolation are poor market timing predictors. Until the overarching daily/weekly technicals change, we're selling non-core positions into any meaningful strength.
U.S. Economic Calendar
| | | | | |
| --- | --- | --- | --- | --- |
| TIME (ET) | REPORT | PERIOD | MEDIAN FORECAST | PREVIOUS |
| Monday, September 26 | | | | |
| 8:30 AM | Chicago Fed national activity index | Aug. | | 0.27 |
| Tuesday, Sep. 27 | | | | |
| 8:30 AM | Durable goods orders | Aug. | — | -0.10% |
| 8:30 AM | Core capital goods orders | Aug. | — | 0.30% |
| 9:00 AM | S&P Case Shiller U.S. home price index (SAAR) | July | — | 7.30% |
| 9:00 AM | FHFA U.S. home price index (SAAR) | July | — | 1.00% |
| 10:00 AM | Consumer confidence index | Sept. | — | 103.2 |
| 10:00 AM | New home sales (SAAR) | Aug. | — | 511,000 |
| Wednesday, Sep. 28 | | | | |
| 8:30 AM | Trade in goods, advance report | Aug. | — | -$89.1 billion |
| 10:00 AM | Pending home sales index | Aug. | — | -1.00% |
| Thursday, Sep. 29 | | | | |
| 8:30 AM | Initial jobless claims | Sept. 24 | — | N/A |
| 8:30 AM | Continuing jobless claims | Sept. 17 | — | N/A |
| 8:30 AM | Real gross domestic product revision (SAAR) | Q2 | — | -0.60% |
| 8:30 AM | Real gross domestic income revision (SAAR) | Q2 | — | 1.40% |
| 8:30 AM | Real final sales to domestic purchasers (SAAR) | Q2 | — | -0.20% |
| Friday, Sep. 30 | | | | |
| 8:30 AM | PCE price index | Aug. | — | -0.10% |
| 8:30 AM | Core PCE price index | Aug. | — | 0.10% |
| 8:30 AM | PCE price index (year-on-year) | Aug. | — | 6.30% |
| 8:30 AM | Core PCE price index (year-on-year) | Aug. | — | 4.60% |
| 8:30 AM | Real consumer spending | Aug. | — | 0.20% |
| 8:30 AM | Real disposable incomes | Aug. | — | 0.30% |
| 9:45 AM | Chicago PMI | Sept. | — | 52.2 |
| 10:00 AM | UMich consumer sentiment index (late) | Aug. | — | 59.2 |
| 10:00 AM | UMich 5-year expected inflation (late) | Aug. | — | 2.80% |
😎Meme Of The Week😎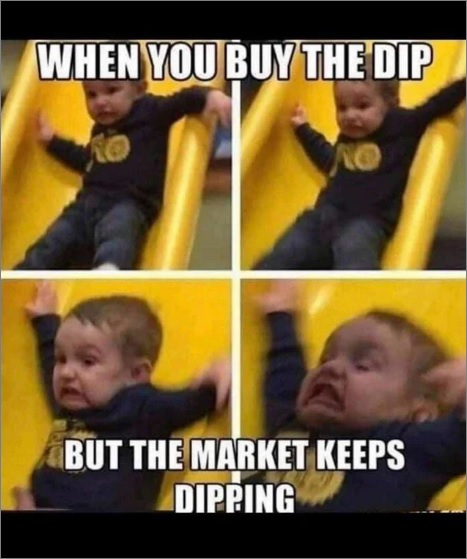 Key Earnings (US Markets)
| | | | |
| --- | --- | --- | --- |
| | Company | Symbol | Earnings estimate |
| Monday, September 19 | No noteworthy earnings | | |
| Tuesday, Sep. 20 | BlackBerry | BB | -$0.07 per share |
| | Cal-Maine Foods | CALM | $2.55 |
| | Cracker Barrel | CBRL | $1.39 |
| | Jabil | JBL | $2.14 |
| | Neogen | NEOG | $0.15 |
| | Progress Software | PRGS | $0.97 |
| | United Natural Foods | UNFI | $1.26 |
| Wednesday, September 21 | Cintas | CTAS | $3.14 |
| | Jefferies | JEF | $0.72 |
| | MillerKnoll | MLKN | $0.33 |
| | Paychex | PAYX | $0.97 |
| | Thor Industries | THO | $3.84 |
| | Vail Resorts | MTN | -$2.88 |
| Thursday, September 22 | Bed Bath & Beyond | BBBY | -$1.80 |
| | CarMax | KMX | $1.42 |
| | Micron Technology | | $1.30 |
| | Nike | NKE | $0.93 |
| | Rite Aid | RAD | -$0.46 |
| | Worthington Industries | WOR | $1.58 |
| Friday, Sep. 23 | Carnival | CL | -$0.15 |
Past Week What's Hot… and What's Not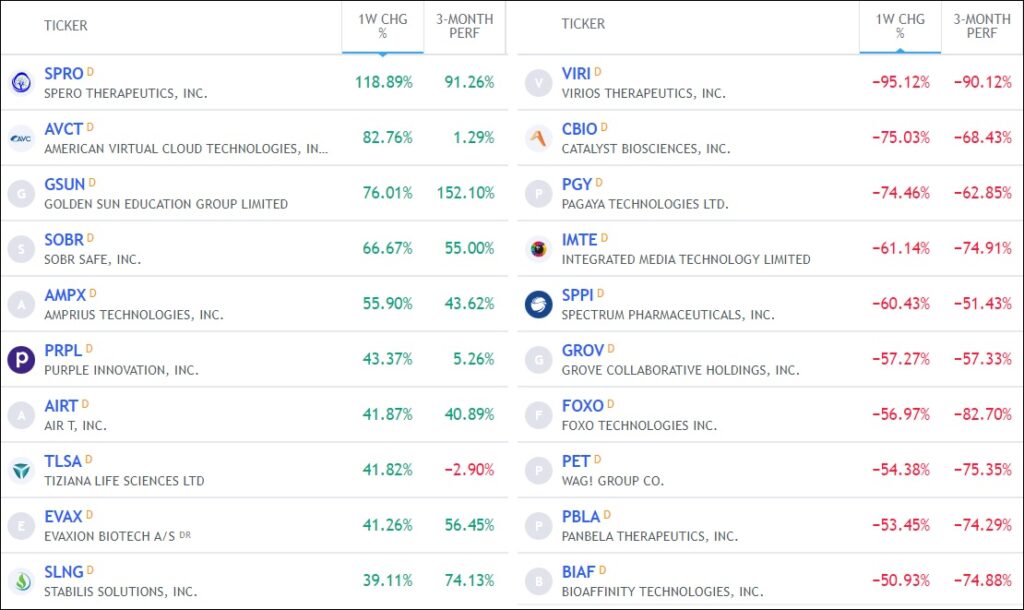 Top 12 High Short Interest Stocks
| | | | | | | |
| --- | --- | --- | --- | --- | --- | --- |
| Ticker | Company | Exchange | ShortInt | Float | S/O | Industry |
| BBBY | Bed Bath & Beyond Inc. | Nasdaq | 40.26% | 76.05M | 79.96M | Retail (Specialty Non-Apparel) |
| UPST | Upstart Holdings Inc | Nasdaq | 37.85% | 68.88M | 81.35M | Consumer Lending |
| BIG | Big Lots, Inc. | NYSE | 37.59% | 26.51M | 28.94M | Retailers – Discount Stores |
| MSTR | MicroStrategy Inc | Nasdaq | 34.02% | 9.33M | 9.34M | Software & Programming |
| BYND | Beyond Meat Inc | Nasdaq | 33.83% | 56.88M | 63.67M | Food Processing |
| HRTX | Heron Therapeutics Inc | Nasdaq | 31.87% | 102.42M | 102.14M | Biotechnology & Medical Research |
| EVGO | Evgo Inc | Nasdaq | 31.58% | 67.69M | 69.08M | Utilities – Electric |
| BGFV | Big 5 Sporting Goods Corp | Nasdaq | 31.32% | 20.71M | 22.18M | Retailers – Miscellaneous Specialty |
| FUBO | Fubotv Inc | NYSE | 28.40% | 166.55M | 185.30M | Online Services |
| CVNA | Carvana Co | NYSE | 28.21% | 95.19M | 105.80M | Retail (Specialty Non-Apparel) |
| NKLA | Nikola Corporation | Nasdaq | 27.26% | 274.25M | 433.48M | Auto & Truck Manufacturers |
| W | Wayfair Inc | NYSE | 26.74% | 70.80M | 80.51M | Retailers – Department Stores |
Source:
highshortinterest.com
(data as of September 12) – TDR' stock market preview, Top 12 High Short Interest Stocks
Tags: stock market preview, stock market preview September 26, 2022