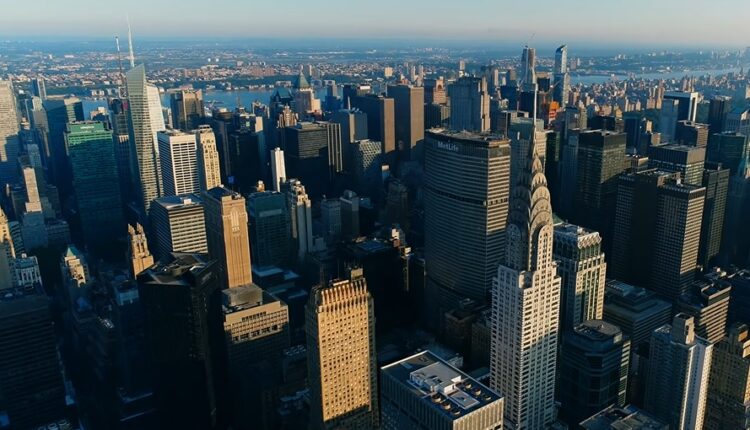 TDR's Top 7 Cannabis Developments For The Week Of November 13
Welcome to TDR's review of the Top 7 Cannabis Developments for the week of November 13. Aside from presenting a synopsis of news events, interviews and closing market prices for publicly-listed companies.
7. SNDL Inc. Reports Positive Net Cash And Overall Operational Performance
SNDL Inc. released its financial and operational results for the third quarter ended September 30, 2023. The company reported notable achievements across various key indicators, demonstrating positive momentum and strategic advancements.
Net cash provided by operating activities reached $27.5 million in Q3 2023, a substantial increase compared to $8.6 million in the same quarter of 2022. The company also reported positive free cash flow of $16.5 million, a significant turnaround from the negative $67.1 million in Q3 2022. SNDL's unrestricted cash as of September 30, 2023, stood at an impressive $202.0 million, marking an 8.9% sequential increase attributed to effective cash-generating initiatives and operational efficiencies, particularly in working capital management.
6. Cresco Labs Reports Third Quarter 2023 Financial Results
Cresco Labs unveiled their third quarter 2023 financial results on Tuesday. Despite the sizable net loss caused by a large impairment, the company realized substantial improvements in both margin and operating cash flow.
In the third quarter of the year, the company reported a revenue of $191 million, experiencing growth in the retail sector and strong performance in core markets. Despite purposeful attrition from divested assets, the financials showed resilience. Adjusted gross margin increased by over 480 basis points, adjusted SG&A decreased by $40 million annually, and adjusted EBITDA margin rose by over 1000 basis points compared to the first quarter.
5. Study Links Medical Marijuana Legalization to Reduced Opioid Use
A recent study in the International Journal of Mental Health and Addiction suggests that the legalization of medical marijuana is linked to a modest reduction in the use of nonprescribed opioids. Conducted by researchers from Rutgers and Columbia universities and the University of Arizona, the study indicates a potential substitution effect, where cannabis partially replaces opioids for some users.
Analyzing national survey data from 2004 to 2014, the study focused on nonmedical prescription opioid (NMPO) use, identifying a decrease in regular and frequent opioid usage post-medical cannabis legalization (MCL). However, it also noted a slight increase in occasional NMPO use.
_____________________
Chart Of The Week—Growth In Canadian Cannabis GDP Since Inception Of Legalization In October 2018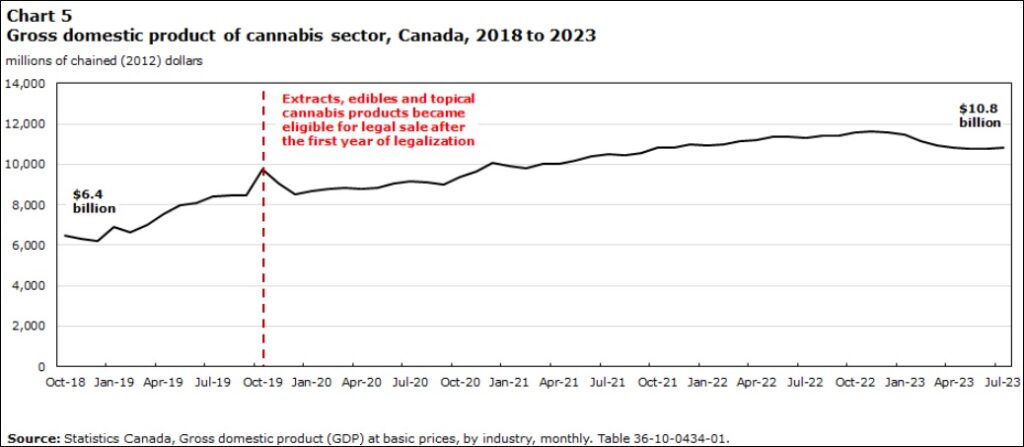 • • •
Podcast Of The Week—TDR Speaks With The Cannabist CEO Nicholas Vita
• • •
Widely Held MSOs & LP Weekly Performance
| | | | | |
| --- | --- | --- | --- | --- |
| Company | Symbol | Previous Week Close | End Of Week Close | % Change On Week |
| AdvisorShares Pure Cannabis ETF | MSOS | 6.55 | 6.91 | 5.49 |
| Aurora Cannabis | ACB | 0.47 | 0.4623 | -1.63 |
| Ayr Wellness | AYRWF | 1.70 | 2.15 | 26.47 |
| Canopy Growth | CGC | 0.5210 | 0.5495  | 5.47 |
| Cresco Labs | CRLBF | 1.46 | 1.78 | 21.91 |
| Curaleaf Holdings | CURLF | 3.28 | 3.63 | 10.67 |
| Green Thumb Industries | GTBIF | 9.79 | 9.67 | -1.22 |
| High Tide Inc. | HITI | 1.28 | 1.19 | -7.03 |
| Marimed Inc. | MRMD | 0.3280 | 0.29 | -11.58 |
| TerrAscend Corp. | TSNDF | 1.72 | 1.575 | -8.43 |
| Tilray Brands | TLRY | 1.67 | 1.83 | 9.58 |
| Trulieve Cannabis | TCNNF | 5.40 | 5.61 | 3.88 |
| Verano Holdings | VRNOF | 4.55 | 4.46 | -1.97 |
_____________________
4. Canopy Growth Announces that BioSteel Obtains Court Approval of Successful Bids in Sale and Investment Solicitation Process
Canopy Growth Corporation provided an update that pursuant to the proceedings under the Companies' Creditors Arrangement Act involving BioSteel Sports Nutrition Inc., the Ontario Superior Court of Justice has approved two transactions to sell all or substantially all of the assets of BioSteel Canada and BioSteel Manufacturing, LLC and that pending the closing of the transactions, Canopy Growth expects to realize proceeds which will improve the Company's balance sheet.
The CCAA Court has approved the Successful Bids and granted authority to consummate the transactions contemplated therein pursuant to the terms of approval and vestings order issued by the CCAA Court in respect of each of the Sale Transactions.
In the news…
4Front Ventures Corp. is rescheduling the release of its third quarter 2023 results and conference call due to delays related to the Company's audit. The company will host a conference call to discuss the results and provide an update on current business trends on the revised date of November 20, 2023, at 5:00 p.m. Eastern Time.
Auxly Cannabis Group released its financial results for the three and nine months ended September 30, 2023.
Avicanna Inc. announced the results of its Q3 2023.
AYR Wellness reported financial results for the third quarter ended September 30, 2023.
AYR Wellness announced that the Ontario Superior Court of Justice has granted an interim order authorizing various matters in connection with the company's previously announced plan of arrangement.
Body and Mind announced financial results for the fiscal year ended July 31, 2023 and to provide shareholders with an operational update.
Cardiol Therapeutics announced that study results demonstrated an experimental model of pericarditis induces mesothelial to mesenchymal transition and that this process is inhibited by cannabidiol treatment, the active pharmaceutical ingredient in CardiolRx.
CLS Holdings USA announced its expansion into the New Mexico market via a strategic Licensing Agreement. CLS owns Serenity Wellness Products LLC, a licensed Nevada company, which does business as City Trees.
Decibel Cannabis Company announced its interim financial results for the three and nine month periods ending September 30, 2023.
Delta 9 Cannabis announced financial and operating results for the three-month and nine-month period ending September 30, 2023.
Federal health agency has released its latest annual survey on drug use trends. And for this latest round, it made a series of notable changes to the national questionnaire's marijuana section that are meant to account for the evolving cannabis policy landscape.
Florida Supreme Court expressed skepticism over Attorney General Ashley Moody's argument that an initiative to legalize recreational marijuana should not be put to voters.
Germany: The originally planned for the turn of the year legalization of cannabis is expected to shift, as the rollout of adult-use cannabis is likely to be delayed.
Glass House Brands announced its financial results for the third quarter ending September 30, 2023.
Gold Flora Corporation reported robust financial results for the third quarter ending September 30, 2023, showcasing substantial growth and financial strength.
Goodness Growth Holdings reported financial results for its third quarter ended September 30, 2023.
Jushi Holdings announced its financial results for the third quarter ended September 30, 2023.
Jushi Holdings announced that an independent committee of its board of directors has approved an option re-pricing program with respect to certain options issued to seven senior management employees and three independent directors under the Company's 2019 Equity Incentive Plan.
Khiron Life Sciences announced that the company and 2518542 Alberta Ltd., a company controlled by Avonlea Drewry Holdings Inc., have entered into an amended and restated share purchase agreement dated November 15, 2023
Lowell Farms announced unaudited revenue and operating results for the third quarter ended September 30, 2023.
Medicine Man Technologies, operating as Schwazze, announced financial and operational results for the third quarter ended September 30, 2023.
MediPharm Labs announced its financial results for the three months ended September 30, 2023.
MedMen Enterprises bi-weekly default status report in accordance with National Policy 12-203 – Management Cease Trade Orders.
Michigan: Sales of legal marijuana contributed $266.2 million in tax revenue to the government during the most recent fiscal year, according to a new report from the legislature's nonpartisan House Fiscal Agency. That's more than the state made from the sale of beer, wine and liquor combined.
New Hampshire commission is due to put forward a plan for how to legalize adult-use marijuana sales through a system of state-controlled stores, members were visibly frustrated at a Thursday meeting with the group's slow, meandering progress through a draft bill circulated last month by the group's chair, Sen. Daryl Abbas (R).
New York legislature has officially sent legislation to the governor that would provide tax relief to New York City marijuana businesses that are currently blocked from making federal deductions under an Internal Revenue Service (IRS) code known as 280E.
Planet 13 Holdings: One of the company's accounts managed by El Capitan was held at BridgeBank, a division of Western Alliance Bank. Pursuant to a dispute unrelated to the company, Casa Verde Capital, L.P. and Casa Verde Capital EF, L.P. obtained a US$35.0 million default judgment against El Capitan. 
Planet 13 Holdings entered into a settlement agreement on November 14, 2023 with certain individuals with respect to certain claims advanced by the SDC Parties against Next Green Wave Holdings, Inc., a subsidiary of NGW and the company.
Rep. Earl Blumenauer (D-OR) might be retiring at the end of this Congress, but he's still got boxes he wants to check off on an ambitious agenda to reform federal marijuana laws before his final bike ride from Capitol Hill.
SHF Holdings, Inc., d/b/a/ Safe Harbor Financial has facilitated the funding of a $3 million loan for a multi-tenant cannabis industrial building in California.
Study published in the Journal of Clinical Medicine, researchers reviewed available literature on cannabis as a self-management strategy in the treatment of pain arising due to endometriosis. 
TerrAscend Corp. Executive Chair, Jason Wild, back again purchasing company stock after a lull in buying in the month of October…
The Cannabist Company Holdings Board of Directors has authorized a normal course issuer bid (NCIB) to purchase up to 15,000,000 of its common shares, representing approximately 3.6% of its issued and outstanding common shares.
The Cannabist Company Holdings reported its financial and operating results for the third quarter ended September 30, 2023.
Verano Holdings announced the opening of MÜV North Miami-Biscayne on Friday, November 17th, the Company's 73rd Florida dispensary and 136th location nationwide.
Vext Science has completed the previously announced sale of its cultivation facility located in Prescott Valley, Arizona to affiliates of Elevate Cannabis Co. for $6.5 million in cash.
Vivek Ramaswamy, Republican presidential candidate who famously said he did not approve of Ohio's cannabis initititive last week despite expressing support for federal legalization, is now saying that if elected he will remove federal restrictions on marijuana and psychedelics.
3. Top Federal Health Official Touts Science-Based Drug Scheduling Process Amid Marijuana Review
As the Biden administration's marijuana scheduling review continues, the head of the U.S. Department of Health and Human Services (HHS) says his agency is uniquely positioned to "update the science" to ensure that drugs are "properly" classified under federal law.
During a hearing before the Senate Appropriations Committee on Wednesday, Sen. Martin Heinrich (D-NM) asked HHS Secretary Xavier Becerra about his agency's role in the "scheduling process" under the Controlled Substances Act (CSA) as compared to that of the Drug Enforcement Administration (DEA), which is now considering HHS's recommendation to move cannabis to Schedule III.
2. Congressional Lawmakers Want Updated Marijuana Banking Guidance To Stop Punishing Business Owners For Prior Cannabis Convictions
A coalition of 20 congressional Democrats is urging Treasury Department officials to update federal guidance to prevent financial institutions from discriminating against marijuana business owners over prior cannabis-related activity that's since been made legal at the state level.
In a letter sent to Treasury Secretary Janet Yellen and Financial Crimes Enforcement Network (FinCEN) Director Andrea Gacki on Tuesday, the bicameral lawmakers said that the existing Obama-era guidance "predates action by many states to legalize marijuana possession and sales, and it unnecessarily red-flags businesses whose owners have been engaged in marijuana activities that are no longer criminalized at the state level."
1. Bloomberg Op-Ed: The Biden Campaign Needs to Pivot to Marijuana
As President Joe Biden looks to boost his reelection campaign and lousy poll numbers, there's one policy position that is popular with voters, could help unite Democrats and would leave Republicans scrambling to respond. It's time he come out in support of legalizing recreational use of marijuana.
There's even a ready-made playbook for rolling out the new position. In 2012, then-Vice President Biden provided the initial public push that helped President Barack Obama off the fence on the issue of marriage equality — whose views changed and evolved over two decades, like much of America.