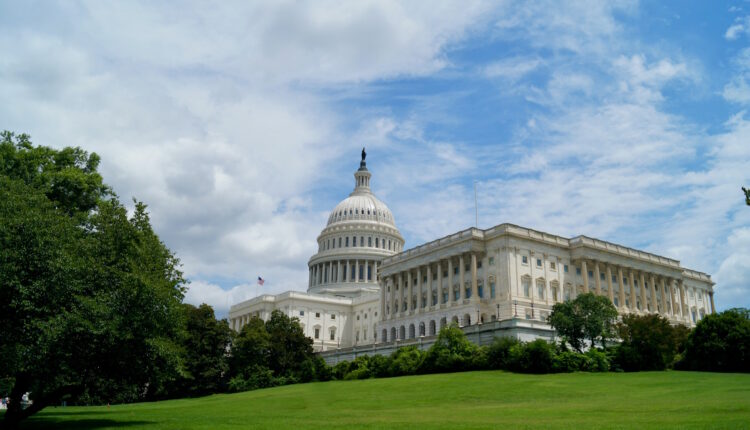 TDR's Top 7 Cannabis Developments For The Week Of October 9
Welcome to TDR's review of the Top 7 Cannabis Developments for the week of October 9. Aside from presenting a synopsis of news events, interviews and closing market prices for publicly-listed companies.
7. Trulieve Announces Filing of Amended Federal Tax Returns Claiming $143 Million Refund
Trulieve Cannabis announced the filing of amended federal tax returns with refund claims for several of the company's business entities for the years 2019, 2020, and 2021. In total, the company is claiming a refund of $143 million from taxes paid which the company believes it does not owe, although there is no guarantee of receipt.
Trulieve believes its determination is supported by legal interpretations that challenge the company's tax liability under Section 280E of the Internal Revenue Code.
6. The Cannabist Company Pays Down $25 Million of Debt
The Cannabist Company Holdings has delivered a notice of partial redemption to the holders of the company's outstanding 13% senior secured notes due May 14, 2024. The Notice provides that the company will, on October 23, 2023, redeem US$25 million of the total US$38.2 million principal amount of the Notes currently outstanding.
On the Redemption Date, Holders of Notes will have a portion of their 13% Notes, in denominations of $1,000, redeemed effective as of the Redemption Date on a pro rata basis in accordance with the terms of the trust indenture between the company and Odyssey Trust Company dated May 14, 2020, as amended and supplemented.
5. Marijuana Consumers Who Caught COVID Had 'Better Outcomes And Mortality' Than Nonusers, Study Finds
Cannabis consumers who caught COVID-19 had significantly lower rates of intubation, respiratory failure and death than people who do not use marijuana, according a new study based on hospital data that was presented this week at the annual conference of The American College of Chest Physicians (CHEST) in Honolulu.
Authors analyzed records from 322,214 patients from the National Inpatient Sample, a government database that tracks hospital utilization and outcomes. Of those patients, 2,603—less than 1 percent—said they consumed cannabis.
__________
Chart Of The Week—Select MSOs Net Cash Flows After Interest Expense, CAPEX, Taxes And Debt Maturities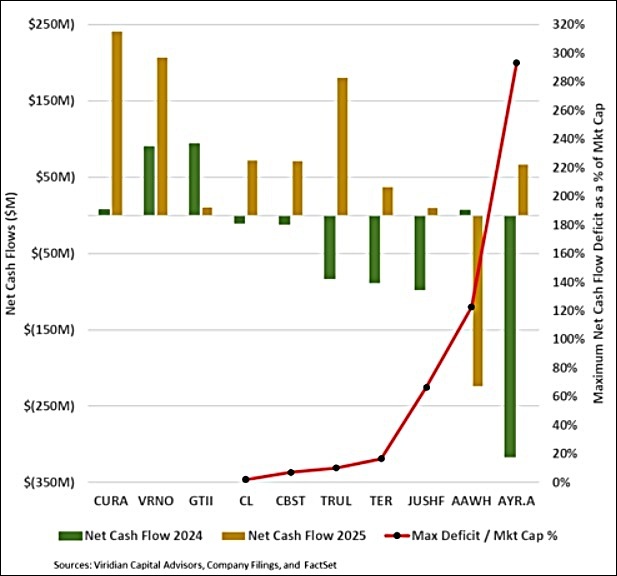 •
Interview Of The Week: Jason Wild Speaks On The Eve Of TerrAscend's Investor Day
•
Georgia To Become First State Selling Medical Marijuana In Pharmacies
•
Widely Held MSOs & LP Weekly Performance
| | | | | |
| --- | --- | --- | --- | --- |
| Company | Symbol | Previous Week Close | End Of Week Close | % Change On Week |
| AdvisorShares Pure Cannabis ETF | MSOS | 7.08 | 7.04 | -0.56 |
| Aurora Cannabis | ACB | 0.5672 | 0.5039 | -11.16 |
| Ayr Wellness | AYRWF | 1.82 | 1.70 | -6.59 |
| Canopy Growth | CGC | 0.7048 | 0.70 | -0.68 |
| Cresco Labs | CRLBF | 1.66 | 1.67 | 0.60 |
| Curaleaf Holdings | CURLF | 4.22 | 4.06 | -3.79 |
| Green Thumb Industries | GTBIF | 10.12 | 9.75 | -3.65 |
| High Tide Inc. | HITI | 1.65 | 1.54 | -6.66 |
| Marimed Inc. | MRMD | 0.3904 | 0.382 | -2.15 |
| TerrAscend Corp. | TSNDF | 1.84 | 1.90 | 3.26 |
| Tilray Brands | TLRY | 2.06 | 2.01 | -2.42 |
| Trulieve Cannabis | TCNNF | 5.15 | 5.04 | -2.13 |
| Verano Holdings | VRNOF | 4.08 | 4.31 | 5.63 |
__________
4. States Made More Than $5.7 Billion In Marijuana Tax Revenue Over 18-Month Period, New Federal Census Bureau Report Shows
The U.S. Census Bureau has released its first report on state-level marijuana tax revenue data following what the agency calls "a complete canvass of all state agencies" going back to July 2021. In the 18-month period between then and the end of 2022, the data show, states collected more than $5.7 billion from licensed cannabis sales.
The launch of the report, which the agency plans to update on a quarterly basis going forward, signals that at least some parts of the federal government are now beginning to treat the cannabis industry as a legitimate sector of the economy. The Census Bureau first announced in January 2021 that it would begin collecting marijuana tax figures for its quarterly summary of state and local government tax revenue. It also said it wants states to submit cannabis revenue data as part of annual reports as well.
In the news…
4Front Ventures has agreed to issue 1,283,425 subordinate voting share purchase warrants pursuant to an amendment to a previously entered promissory note purchase agreement. Pursuant to the Agreement, the lender has agreed to extend the maturity date of its loan, which has a principal amount of US$2,000,000, with a payment of an extension fee of C$65,000, which is payable in Warrants.
Aleafia Health announced that Red White & Bloom Brands Inc. has been selected as the successful bidder pursuant to the court-approved sale and investment solicitation process in connection with the previously announced proceedings of Aleafia and certain of its subsidiaries under the companies' Creditors Arrangement Act.
BioHarvest Sciences announced that VINIA, its flagship nutraceutical product derived from red grape cells, has received its Canadian product license from Health Canada's Natural and Non-Prescription Health Products Directorate.
California Governor vetoes cannabis cafe and marijuana labeling bills…
Canopy Growth has received EU GMP certification from RP Tuebingen, Regional Health Inspectorate of Baden-Wuerttemberg for the company's cannabis cultivation facility in Kincardine, Ontario.
Cardiol Therapeutics announced positive study results from one of its international collaborating research centers demonstrating that subcutaneously administered cannabidiol, the active pharmaceutical ingredient in Cardiol's novel CRD-38 subcutaneous formulation prevented increases in key cardiac inflammatory and remodelling markers in a model of heart failure.
Charlotte's Web Holdings announced the appointment of Angela McElwee to its Board of Directors.
CLS Holdings USA announced its financial results for the fiscal quarter ended August 31, 2023.
Colorado cannabis sales surpassed the $15 billion mark in August – a milestone since legal adult-use sales launched in the state in 2014.
Connecticut cannabis sales hit $25.2M in September 2023…
Cresco Labs announced the launch of its Good News brand in the Commonwealth of Pennsylvania.
Curaleaf Holdings will report its financial and operating results for the third quarter ended September 30, 2023 after market close on November 9, 2023.
Curaleaf Holdings has filed its application to list the Company's subordinate voting shares on the Toronto Stock Exchange.
Eurofins CDMO Alphora Inc. announced that it has received its Health Canada Cannabis Drug License issued within the Cannabis Act and Cannabis Regulations for its Oakville, Ontario operations in September 2023.
German lawmakers say that initial consideration of a bill to legalize marijuana will be delayed until at least next week due to the ongoing conflict in Israel that's shifted international attention
Goodness Growth Holdings and Grown Rogue International, Inc. have completed the issuance of warrants to purchase listed shares as previously announced on May 25, 2023.
Heritage Cannabis Holdings announced the procurement of an EU GMP certified extraction machine to be added to the existing fleet of extractors which will double the company's hydrocarbon processing capacity.
iAnthus Capital Holdings announces that Robert Galvin will transition out of his role as Interim Chief Operating Officer of the Company, effective immediately.
IM Cannabis, a medical cannabis company with operations in Israel and Germany, releases message from the CEO about the Israel-Hamas War and announces the company, through its wholly-owned subsidiaries, IMC Holdings Ltd. and Rosen High Way Ltd., has secured C$1,390,000 in short-term debt.
IM Cannabis announced that Uri Birenberg will join the company's leadership team as Chief Financial Officer effective October 10, 2023.
Lead GOP Senate cosponsor of a bipartisan marijuana banking bill says a planned floor vote is on pause until he can ensure the legislation will later pass the Republican-controlled House, according to a cannabis financing executive who spoke with the senator this week.
Legislative Review of the Cannabis Act: What We Heard Report
Letter to Attorney General Garland and DEA Administrator Milgram urging halt to rescheduling process.
MariMed, Inc announced "Small Batch Exclusives," a unique, limited-time program that gives customers the opportunity to purchase legendary flower strains.
MariMed Inc. retail footprint has once again expanded, as the company officially unveiled an adult-use Thrive dispensary in Casey, Illinois. This marks the fifth dispensary in operation within the state of Illinois and the 12th dispensary in MariMed's expanding portfolio across five states.
Organigram Holdings has obtained a receipt for a final short form base shelf prospectus filed with the securities commissions in each of the provinces and territories of Canada. A corresponding shelf registration statement on Form F-10 has been filed with the United States Securities and Exchange Commission (SEC File No. 333-274686) but is not yet effective.
RISE Dispensaries owned by Green Thumb Industries Inc. announced that RISE Dispensary Brandon, the Company's 9th retail location in Florida, will open on October 14th.
SAFE Banking now with 84 co-sponsors…
SunStream Bancorp announced a receivership court order granting the sale of certain assets of Greenpeak Industries Inc. and certain affiliated entities d.b.a. Skymint to Skymint Acquisition Co., a newly formed designee entity of Tropics LP. Tropics is a limited partnership fully owned by an affiliate of Sunstream, a joint venture sponsored by SNDL Inc.
Texas activists say they have secured enough signatures to put a local marijuana decriminalization initiative on the ballot in the city of Lubbock if lawmakers there do not enact the reform legislatively.
The Cannabist Company Holdings will report its financial results for the third quarter ended September 30, 2023 before U.S. financial markets open on Tuesday, November 14, 2023.
The Cannabist Company to report third quarter 2023 results on November 14, 2023 before U.S. financial markets open.
Trulieve Cannabis announced the relocation of a medical cannabis dispensary in Melbourne, Florida.
Trulieve Cannabis has added $500,000 to a ballot initiative aimed at legalizing the recreational use of marijuana, bringing its total contributions to $39.55 million, according to a newly filed finance report.
Verano Holdings announced the opening of Zen Leaf Newington, the company's second social equity joint venture location in Connecticut and fourth cannabis dispensary statewide, on October 13, following a ceremonial ribbon cutting at 9 a.m. local time.
Vext Science has completed the previously announced non-brokered private placement of $11.5 million through the issuance of 67,647,058 common shares at a price of $0.17 per Common Share, including the full exercise of a $1.5 million over-allotment option.
3. TerrAscend Corp. Raises Full Year 2023 Guidance Prior To Investor Day Presentations At The TSX
Tier-1 cannabis multistate operator TerrAscend Corp. has made a notable splash in advance of Investor Day presentations at the Toronto Stock Exchange. The company has elevated forward-looking forecasts for net revenue and Adjusted EBITDA from ongoing operations for the entirety of 2023, signaling that business operations are exceeding previously-stated expectations.
For its full fiscal 2023, TerrAscend now expects net revenue and Adjusted EBITDA to register a minimum of $317 million and $63 million, respectively, versus previous a previous forecast of $305 million and $58 million. This represents year-over-year growth of 28% in net revenue and 62% in Adjusted EBITDA from continuing operations—both well above Tier-1 industry averages.
Furthermore, TerrAscend anticipates that its gross margin will surpass the 50% mark, and generate positive free cash flow from ongoing operations during the latter half of the year.
2. Cannabis Adversary Steve Scalise Drops Out Of Speaker Race
The House GOP's pick for speaker, Steve Scalise, announced Thursday he will no longer seek the gavel as he confronted a likely insurmountable vote shortage. While Scalise had won a majority of votes in an internal GOP ballot a day earlier, he faced an ever-growing list of Republicans who vowed to support only his opponent, Rep. Jim Jordan, on the floor. The Ohio Republican is now expected to make another run for the position.
Scalise announced his decision on Thursday evening, following a conference meeting in which it became clear that he had no path to winning the 217 votes needed to ascend to the speakership.
1. Jim Jordan Wins Nomination In GOP's Chaotic House Speaker Battle
House Republicans voted Friday to nominate conservative firebrand Jim Jordan for speaker of the House — the latest twist in a chaotic battle for speakership. Jordan, the chairman of the Judiciary Committee, received 124 votes — still more than 90 votes shy of the 217 he will need to grab the gavel in a vote on the House floor, according to members and aides who were the room. That floor vote has not yet been scheduled.
Jordan had an opponent in the conference vote for speaker: Rep. Austin Scott, who filed to run for the top spot shortly before the vote went down. Scott received 81 votes in the candidate forum.
Jordan had earlier backed out of the speaker race, saying he would cast a vote for Rep. Steve Scalise after the majority leader earned the nomination is a similar closed-door session Wednesday. Scalise backed out Thursday night after he failed to secure the votes needed to become speaker.