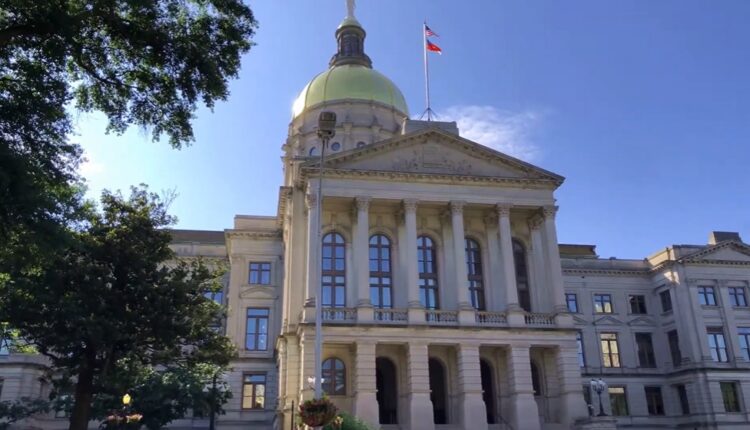 It's been an exceptionally volatile year in U.S. cannabis MSOs on the capital markets front, as judged by the AdvisorShares Pure US Cannabis ETF (MSOS), After a torrid start to 2021, which saw MSOS soar to new highs following hope that federal legislative change was near, the market sagged as sales growth and legislative momentum stalled-out throughout the year. Thus, TDR takes a look at 5 highlights & lowlights for the industry from an investment perspective, as we get ready to usher in a new year.
Highlights
5. Impending German Legalization Marks An Exciting New Phase Of International Growth
In a pleasant surprise for many, the new German government intend to legalize cannabis next year. The parties in the new coalition have agreed to legalize the sale of cannabis in licensed establishments. If Germany does legalize recreational marijuana, it will become the first major European country to do so, after Canada and certain U.S. states, opening a significant market for legal cannabis growers and dealers. This should also promote other fence-sitter European nations, such as France, to become more amenable to the idea of legalization.
While few cannabis MSOs—save for Curaleaf Holdings—operate in Europe, German legalization, we believe, will prompt the larger Tier-1s to think about deploying capital abroad. Look for M&A activity to pick up overseas in 2022.
4. Cost Of Debt Keeps Decreasing For The Top Companies
As the industry expands, a large and continuous influx of capital is required by the top cannabis MSOs in order to facilitate M&A and expand into new markets. Fortunately, the inordinately high cost of capital took a major step forward in 2021 as cannabis debt yields plunged throughout the year. This is a telltale sign that lending institutions are becoming more comfortable with cannabis MSOs credit worthiness and ability to pay back capital.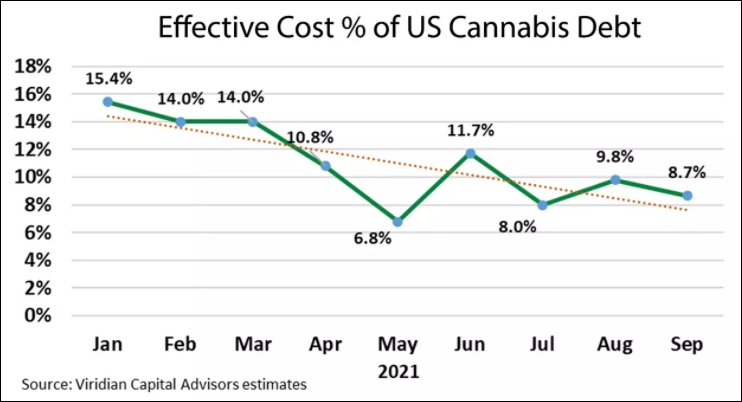 The momentum favoring lower debt costs remained in play through Q4 as Curaleaf Holdings said it has received commitments for a privately placed debt raise of $425 million—the largest yet for a U.S. cannabis company. The five-year senior secured notes have an 8% annual interest rate, which is among the lowest in the industry.
Watch for the trend of lower debt yields and bigger deals to continue in 2022.
3. Tier-1 MSOS Revenue Growth Remains Stellar
Tier-1 revenue growth remained stellar in 2021, as many cannabis MSOs reported triple-digit YoY gains and strong double-digit sequential growth. This is mainly attributed to a mix of organic growth (rising dispensary counts), additional states allowing adult-use cannabis sales (see below) and accretive M&A activity. Adjusted EBITDA—a non GAAP way of measuring operating cash flow adjusting for non-recurring, irregular and one-time items—keeps rising substantially. A sampling of recent 2021 quarterly financial results paints a compelling picture:
• Ayr Wellness: Q3 Revenue up 111% YoY to $96.2 Million, up 5% sequentially; Q3 Adjusted EBITDA of $26.0 million, up 40% YoY
• Jushi Holdings: Q3 2021 revenue increased 116.7% to $54.0 million over Q3 2020; Adjusted EBITDA rose124.9% to $6.4 million as compared to Q3 2020
• Trulieve Cannabis: Net revenue increased 64% year-over-year to $224.1 million; Adjusted EBITDA of $98.0 million, or 43.7% of revenue
2. Multiple New States Legalize Adult-Use Cannabis Sales
Four new states passed cannabis initiatives in 2021 to allow the sales of recreational cannabis—Connecticut, New Mexico, New York and Virginia (population: approx. 33.4 million). This is in addition to three states (Arizona, Montana, New Jersey) that passed legislation on Election Day 2020 to legalize adult-use cannabis after ballot initiatives received overwhelming support from their respective constituencies. The total addressable market grew rapidly in 2021, although the introduction of adult-use sales will be gradual and will extend beyond 2022 in Virginia.
1. Democrats Sweep Georgia Senate Run-off Election
The Democrat sweep in the Georgia Senate runoff elections were the single most catalyzing force for the AdvisorShares Pure US Cannabis ETF in 2022. The runoff, held January 5, 2021 as no winner received a majority of the vote during the November 3, 2020 general election, saw both Democrats Raphael Warnock and Jon Ossoff take office. More importantly, the sweep allowed the Democrats to split the Senate 50-50, with Vice President Kamala Harris holding the decisive vote in any tie between Senate Republicans. The win also allowed Chuck Schumer—a noted pro-cannabis reformist—to become the Senate Majority Leaders and control the legislative agenda.
The chart in MSOS above clearly shows the profound effect the runoff win had with investors. With Democrats in control and former Senate Majority Leader Mitch McConnell banished from a leadership position, investment sentiment soared. The win marked a clear demarcation point for MSOS winter leg higher, on then record volume.
Lowlights
5. Sagging Retail Pricing And High Inflation Becomes Apparent In 2H 2021
Wholesale cannabis prices have been on the downswing in the second half of 2021, likely leading to in-store price compression, according to analyst Pablo Zuanic. Wholesale prices have dropped in excess on 10% since September nationally, but much more steeply in some places. Even if cannabis MSOs can retain profit margins—with lower input costs cancelling out dispensary price competition—high inflation is a current headwind for the industry.
In November, The producer price index for final demand increased 9.6% over the previous 12 months after rising another 0.8% in November—the fastest pace in U.S. history. Final demand energy prices jumped another 2.6% in November, which should sting energy-intensive indoor cultivators unless they have existing power supply pricing contracts in place.
4. California Cannabis Market Remains A Mess
California's cannabis market is booming nearly five years after voters legalized recreational weed. Unfortunately, the vast majority of sales are still generated in the illicit market, with 70% of municipalities still shunning adult-use sales and high taxes stifling legal operators. California has just 823 licensed brick-and-mortar cannabis shops, but close to 3,000 retailers and delivery services operate in the state without a permit (Marijuana Business Daily, February 2020). Criminal organization still own a large swath of cannabis cultivation grows in Humboldt County.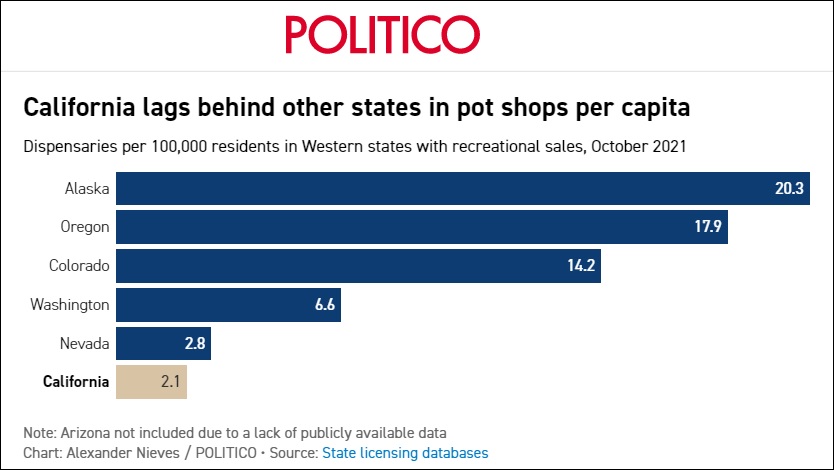 This is not the way things are suppose to be five years into a legal market.
3. Cannabis Sales Stall-Out In Mature and Semi-Mature Markets
After cannabis sales steadily gained ground in 2019 and 2020, the market pulled back this year. While slower growth is natural in mature and semi-mature markets, it is nonetheless a wake up call that sales growth may be peaking in some key states. Whether this is a transitory phenomenon (see #5, incrementally increasing sales but reduced pricing power) or something more endemic (go-forward sales growth more or less mimics growth in consumer staples) remains to be seen. A narrative to watch into 2022.
2. SAFE Banking Amendment Denied By Senate Democrats
From a federal regulatory standpoint, it's been a tough year for the U.S. cannabis MSOs. On December 6, the industry received another gut-punch when the SAFE Banking amendment—which sponsors attached to a mainline bill called the National Defense Authorization Act (NDAA)—was denied for inclusion. Annual ratification of the NDAA is a slam dunk in political terms, having passed each year for the past fifty. Had SAFE Banking been included, it would have been a transformative event for the industry.
Perhaps the most disappointing part is that Senate Democrats purportedly battled House Democrats to have SAFE Banking removed from the final NDAA. This, despite the fact that House Democrats voted almost unanimously to pass SAFE Banking in September (5 times in total). The reason: powerful Senate Democrats lead by Chuck Schumer, Corey Booker and Ron Wyden prefer more comprehensive reform that includes criminal expungements and federal legalization measures.
AdvisorShares Pure US Cannabis ETF (MSOS) has continued to diverge with broad indexes ever since, losing approximately 2.16% while the S&P 500 (SPY) has increased 3.86% post facto.
1. Democrats Sweep Georgia Senate Run-off Election
The same force that allowed cannabis MSOS to explode higher following the January 5, 2021 runoff election was also a bane for the industry. As the year evolved and it became increasingly apparent that Senate Democrats would not expeditiously pass federal cannabis reform, market luster and investor sentiment both dissipated. The year's early promise eroded as bureaucratic red tape dominated again (see above). Had the Democrats not swept the Georgia Senate runoff election, market performance would have likely been more tempered—with less "boom or bust" proclivity—with Republicans leading the Senate.
In the end, the AdvisorShares Pure US Cannabis ETF will end up underperforming the S&P 500 by some 6000 basis points in 2021. This was a year in which Q1 profit takers were rewarded.