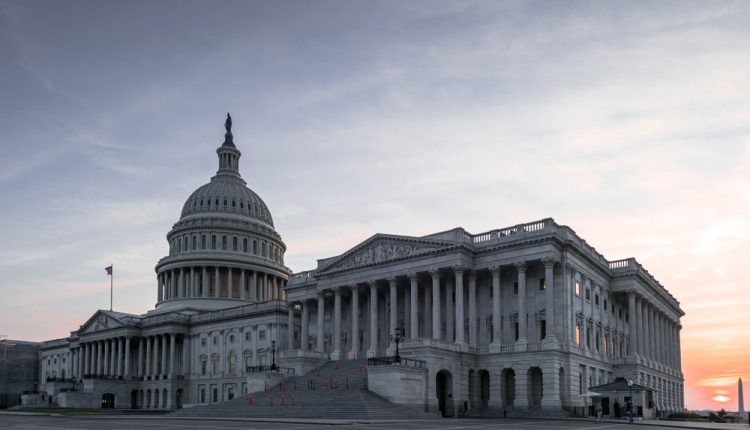 What We Learned In Cannabis This Week, 9/26: Are The Winds Of Change Finally Here?
After a bearish 2021 so far, pot stocks finally catch a significant break thanks to good news about potential legislative and regulatory changes.
SAFE banking added to NDAA
The House of Representatives passed an amendment adding the Secure and Fair Enforcement (SAFE) Banking Act to the National Defense Authorization Act (NDAA) earlier this week. This reform will allow state-legal cannabis businesses to participate in banking systems without being penalized by any federal entities.
If it feels like we've been here before, it's because we have. SAFE has passed the House five times before only to stall in the Senate, but just about everyone in the wider cannabis world is hoping this time might be different since it is attached to must-pass legislation. Lawmakers are hesitant to block the 1,700 page NDAA for a simple banking bill with bipartisan support, so CEOs, investors, and anyone in the cannabis industry with a banking account are hoping the sixth time's the charm.
"This will strengthen the security of our financial system in our country by keeping bad actors like foreign cartels out of the cannabis industry. But most importantly, this amendment will reduce the risk of violent crime in our communities," Rep. Ed Perlmutter (D-CO) said on the House floor Tuesday. "By dealing in all cash, these businesses and their employees become targets for robberies, assaults, burglaries and more."
Perlmutter has introduced the SAFE Banking Act in every Congress since 2013, both as a standalone bill as well as attached to broader legislation. Let's see if it sticks.
As for the resulting market rally, "The conditional elements for a rally have been in place — super-oversold, heavy shorts, broken charts, terrible sentiment; just needed a spark in the dark,' said Todd Harrison of CB1 Capital.
"Perlmutter adding SAFE to the NDAA was that spark. By going to the Senate, it will elevate an issue that already has broad bipartisan support and it would force Schumer to deny his constituents and social justice applicants functional banking," he said.
House committee will vote on federal cannabis legalization bill next week
A bill to federally legalize marijuana will be voted on by the House Judiciary Committee next week, Marijuana Moment reported on Friday. This news comes just days after banking reform advances to the Senate as part of a larger defense spending bill.
There has been significant contention between activists and advocates, who disagree that banking reform should come before federal legalization, and those who want banking reform passed as soon as possible, regardless of any broader legalization schedule.
Judiciary Committee Chairman Jerrold Nadler's (D-NY) Marijuana Opportunity, Reinvestment and Expungement (MORE) Act will see air in committee on Wednesday. The proposed bill is intended to "decriminalize marijuana federally and invest in communities that have been disproportionately harmed by the War on Drugs," Nadler said.
Nadler's cannabis legislation passed the House last year but died in the GOP-controlled Senate. With the wind from several state legalization efforts on its back and a Democratic-controlled federal government, advocates are hoping this time it'll stick.
The legislation would remove could from the Controlled Substances Act (CSA), allow people with cannabis convictions to have their records expunged and create a federal tax on marijuana with the revenue going to support community reinvestment and other programs.
Additionally, there is language creating a pathway for resentencing for those incarcerated for cannabis offenses, protecting immigrants from being denied citizenship over cannabis, and preventing federal agencies from denying public benefits or security clearance due to its use.
Celebrity Rappers and Pro Athletes Appeal for Cannabis Offenders' Clemency
NBA players Al Harrington and John Wall, boxer Badou Jack, and NFL football star Julio Jones have joined rappers Drake, Killer Mike, and Meek Mill for a joint appeal on cannabis clemency.
The group united to appeal to President Joe Biden, advocating for an unprecedented and sweeping pardon to "all persons subject to federal criminal or civil enforcement on the basis of a nonviolent marijuana offense."
These artists and athletes were among the most well-known people making the request, but more than 150 other people added their signatures to a letter sent to President Biden.
The individuals joined together to share their concerns about the punishments that nonviolent marijuana offenders have historically faced. To alleviate what the group feels are past wrongs, they've asked for clemency for nonviolent offenders both present and past.
A drug offense can cripple job prospects and have a lingering negative effect on offenders' opportunities and wellbeing long after they've finished their sentence. It can affect a person's ability to obtain affordable housing, loans, and opportunities for work.
Clemency can essentially wipe a record clean and provide people with a fresh start.
The initiative was initially led by Weldon Angelos, known for the Weldon Project/Mission Green, and Erik Luna, director for Academy for Justice. The appeal took the form of a letter and a live-streamed event, which included performances by some of the musical artists involved.
More than half a million people are arrested each year for marijuana offenses, despite changing state laws and increasing understanding about the consequences of criminalizing cannabis.
Three-quarters of states in the U.S. are opting to implement regulated marijuana programs, but that does not mean that arrests and criminalization have stopped.
Some of the people currently serving time were arrested for operating legal medical dispensaries or holding small amounts of recreational cannabis.
It's noted that President Biden included cannabis leniency in his campaign promises, going so far as to promise that he would release marijuana offenders from prison and remove the felony records of those with nonviolent offenses.
Rapper Ralo, who is facing a nonviolent marijuana offense, is a friend of rappers Drake, Lil Baby, Meek Mill, Killer Mike, and dozens of other musical artists who signed the letter. They signed in support of their friend and in support of all individuals affected by marijuana charges.
The letter of appeal was meant to remind the president of his campaign platform and to urge him to continue to push the idea through. With the celebrity influence and the community-organizing power of the additional signees, incarcerated individuals, such as Ralo, are hopeful that they will receive news of clemency in the near future.
Ohio Medical Marijuana Dispensary Numbers Set to Skyrocket
It's been five years since Ohio legalized medical marijuana, and now, the state is ready to expand its number of dispensaries.
In 2016, a bill was passed to authorize marijuana for medical treatments, but it took time for dispensaries to open. In fact, the first one didn't until three years later, as Ohio continued to revise and update the law.
Now, Ohio is getting ready to double the number of cannabis dispensaries. The state received the green light for plans presented to a regulatory panel. There are currently 58 license dispensaries, and the approval allows additional licenses to be distributed through the state.
The Ohio Board of Pharmacy is the voting body that awarded approval. There were previous requirements that 15 percent of cannabis licenses in the state go to groups considered to be economically disadvantaged, but that stipulation was removed for the upcoming licenses.
Like in many states, laws in Ohio change regularly. The Ohio State Medical Board recently updated the list of diseases that qualify for use of medical marijuana, bringing in Huntington's disease for the first time, but continuing to reject other conditions such as autism and panic disorders.
Potency caps are another subject of continuing revision, including levels of Delta-8, Delta-9, and any other THC isomer or analog. Right now, the maximum threshold for total THC content is set at 70 percent.
Mike Dewine, Ohio's governor, is a Republican electee and a long-time opponent of marijuana legalization. However, two House Representatives for the state – Casey Weinstein and Terrence Upchurch – recently brought forth a bill written to help legalize marijuana cultivation and sales in Ohio.
If the bill passes, people 21 years of age and older would be able to legally purchase and hold a maximum of five ounces of recreational marijuana. They would also be able to own plants for their personal use (up to 12 plants).
Since 2016, the economic benefits to the state are becoming more apparent, and harder for opponents to argue. As other state laws change and grant continued leniency toward both medical and recreational marijuana use, as well as cultivation, state-to-state competition is heating up. Rep. Weinstein noted they did not want to fall behind as a state.
Multi-state operators, such as Body and Mind, Inc. have arrangements that include California manufacturing and Ohio production facilities. Advocates within Ohio state are aiming to expand its ability to cultivate, manage, and distribute marijuana on its own as well.
The effort to legalize recreational use gathered additional steam this month after proponents received approval to begin gathering petition signatures. If their success continues, they may be able to bring the new bill to a vote.
Rhode Island Is Next on the List for Potential Legalization
Cannabis proponents are getting ready to welcome Rhode Island to the land of legalized marijuana. Lawmakers are nearing a deal on a bill that may head for review in an upcoming special session, Marijuana Moment reported.
Senate President Dominick Ruggerio is optimistic that legalization will be official by the end of 2021.
A special session would need to be called, which has not happened yet, but Ruggerio believes an agreement will be reached in time to move forward with the session.
While some states are struggling to pass even a single proposal, Rhode Island negotiators have multiple proposals to sort through.
The House, Senate, and the governor, Daniel McKee, all have competing bills that they are looking to move forward. The bills vary in components such as cannabis criminalization, the future of dispensaries, and more.
Rep. Scott Slater spoke about the ongoing "bill competition." He said lawmakers were still spending time digging into the differences between the bills presented.
Nearby states, including Massachusetts and Connecticut, have recently passed legislation, creating indirect pressure on Rhode Island lawmakers to resolve the bills and reach an agreement. Meetings were held throughout the summer, but there is still work ahead.
In terms of criminalization, an organization known as Reclaim Rhode Island is watching the bills closely to assess their effects on marijuana offenses. The group claims the bills are not sufficient to solve the legacy of a failed "War on Drugs."
Record expungement, court fees and fines, and even related debt are all on Reclaim Rhode Island's radar. Ruggerio noted that there were "very strong social justice provisions" in the bill he helped to oversee. Regarding expungements, he did not say that they would be fully automatic, but that they would be "as close to" automatic as they could be.
There are numerous advocacy groups pushing lawmakers, reviewing proposed bills, and spreading awareness of the status of marijuana reform. The ACLU and NAACP have Rhode Island chapters, and these national organizations have actively been involved.
Another open item is whether local municipalities will have the option to opt out of hosting businesses such as marijuana dispensaries in their local area, even if these businesses are legalized across the state.
Senate Majority Leader Mick McCaffrey said that all forms of legalization will have some type of provision for opt-outs.