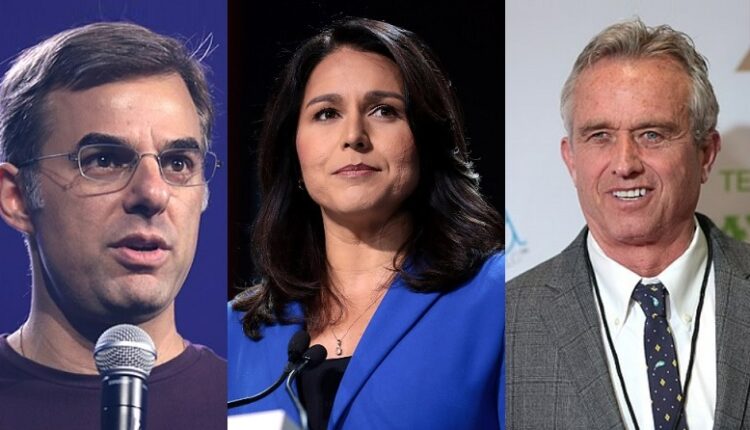 3 Prominent Liberals Banding Together Against The Perceived Threat Of CBDCs
The perceived threat of central bank digital currencies, otherwise known as CBDCs, appears to be transcending party lines. While many dissenters throughout the world are known to have conservative affiliations, prominent liberals are increasingly speaking out. In the month of April alone, three high-profile political detractor have spoken up against the threat.
We highlight three prominent liberals banding together against the perceived threat of CBDCs, as the new form of digital money rapidly enters the public spotlight.
Justin Amash
Justin Amash is not a true liberal in the classic sense, but has considerable classic liberal-leaning views. For instance, former Chief GOP strategist under the George W. Bush administration, Carl Rove, once called Justin Amash "The most liberal Republican" of Michigan, "far more liberal than any other Republican."
On January 18, 2021, Justin Amash proclaimed on Twitter: "I hereby reclaim the word 'liberal' for classical liberalism. This serves as an official notice." Prior to the proclamation, Amash joined the Libertarian Party in April 2020 and ran for reelection as a Libertarian that year, though he ultimately lost his bid for a sixth term in Congress.
Although Amash was a Republican Party member of the U.S. House of Representatives from Michigan from 2011 to 2021, he left the Republican Party in 2019, citing several reasons for his decision. One of the main reasons cited was his disagreement with the direction the party was taking under President Donald Trump, and in May 2019, became the first Republican member of Congress to call for Trump's impeachment.
In announcing his decision to leave the party, Amash wrote in a Washington Post op-ed, "I'm declaring my independence and leaving the Republican Party. We need to return to a government that represents the people, not the petty interests of politicians and bureaucrats."
Classical liberalism is a political tradition and a branch of liberalism that advocates free market and laissez-faire economics; civil liberties under the rule of law with especial emphasis on individual autonomy, limited government, economic freedom, political freedom and freedom of speech.
Robert F. Kennedy Jr.
A longtime member of the Democratic Party, Robert F. Kennedy Jr. (RFK Jr.) is considered a liberal due to his political views and advocacy for progressive causes. In recent times, that has included vocal dissent of CBDCs.
RFK Jr. is an environmental lawyer and activist who has been a vocal proponent of issues such as environmental protection, renewable energy, and climate change. He has also been a strong advocate for social justice, civil rights, and campaign finance reform—all classic liberal policy issues. He was also a leading advocate for environmental protection during the Obama administration and has been a vocal critic of many policies of the Trump administration.
Furthermore, Kennedy comes from a prominent Democratic family and has been active in Democratic politics throughout his career. His father, Robert F. Kennedy, brother of former 35th American president John F. Kennedy, bore "a distinctive liberalism that was shaped by his origins in a family", according to the Smithsonian Magazine.
In the piece titled 'Why Robert Kennedy Transformed From a Conservative Into a Liberal Champion of Civil Rights', Smithsonian Magazine goes on to describe how RFK, assassinated 50 years ago (week of June 5, 2018), was an improbable hero to the left.
On August 7, 2022, Simon and Schuster published a book by Robert F. Kennedy Jr. titled A Letter to Liberals, a challenge to "lockdown liberalism's" embrace of policies that are an affront to once cherished liberal precepts.
Tulsi Gabbard
Tulsi Gabbard is generally considered a progressive Democrat with liberal views, although she broke away from the Democratic Party in 2022, calling it an 'elitist cabal of warmongers'.
Gabbard has been known for her anti-interventionist foreign policy and past stances on LGBTQ+ rights, which are more in line with libertarian or conservative positions. However, on issues such as healthcare, environmental protection, and social justice, Gabbard has typically aligned with liberal positions. This is borne out by her voting record in Congress, which reflects something other than conservatism.
According to the Washington Examiner, in the area of gun control, Gabbard has a 0% rating from both the National Rifle Association and National Shooting Sports Foundation. In recent years, she has publicly supported bans on assault weapons, among other legislation supported by the gun control lobby.
Regarding abortion, Gabbard received a 100% rating from the Planned Parenthood Action Fund and 90% from NARAL Pro-Choice America, both in 2020. She received a 0% rating from both the National Right to Life and Susan B. Anthony list in the same year.
When it comes to fiscal conservatism, she received an 11% rating from Americans for Prosperity, 7% from Heritage Action for America, and 9% from the Club For Growth, all in 2020.