AdvisorShares Managed Bitcoin Strategy ETF (CRYP): Capturing The Volatility Of Bitcoin
Bitcoin's recent strong gains have crypto investors excited once again. To capitalize on the price movement, a relatively new sector-focused exchange traded fund—Advisorshares Managed Bitcoin Strategy ETF (CRYP)—is helping investors capitalize on the upside of Bitcoin in a convenient structured product—without having to deal with tricky decentralized exchanges or initializing digital wallets.
Advisorshares Managed Bitcoin Strategy ETF is an investment vehicle that seeks to achieve its performance objective by investing in Funds that invest in Bitcoin ETFs and futures contracts. To the extent that CRYP invests a significant portion of its assets in Bitcoin ETFs, it operates as a "fund of funds" as opposed to investing directly into Bitcoin itself.
A Fund of Funds (FOF) refers to a pooled investment vehicle in which investor capital is allocated to a predetermined number of funds with different strategies.
Conceptually, the FOF investment strategy can be thought of as a "portfolio" comprised of multiple different funds. This generally acts to reduce overall volatility relative to investing in the asset directly. Diversification may also reduce risk itself by holding investments across a broad set of asset classes and investment strategies.
CRYP ETF also holds non-correlated asset such as U.S. government securities, money market funds, fixed income funds and cash, although such holdings can vary materially based on market conditions. In normal times, CRYP expects to maintain a target exposure of between 50% and 100% in Bitcoin-related securities—although "the Fund may reduce its exposure significantly" during periods of extreme volatility, according to the prospectus.
It is important to note that since CRYP ETF is actively managed, it will not necessarily replicate the performance of a specified passive index of securities. Depending on the discretion of the portfolio manager within his defined asset allocation range, performance can deviate from the underlying asset.
The standard risks in investing in CRYP are comparable to what would be expected from alternative Bitcoin ETFs. See the prospectus for details.
A Competitive Marketplace
According to etf.com, there are at least eight ETFs that trade on the U.S. markets today, making it a competitive marketplace. The largest Cryptocurrency ETF is the ProShares Bitcoin Strategy ETF (BITO) with approximately $780 million in exposure value. The most recent ETF launched in the cryptocurrency space was the Simplify Bitcoin Strategy PLUS Income ETF (MAXI) on September 29, 2022.
With several first-mover competitors dominating trading volume—all while CRYP came to market in the heart of Bitcoin's brutal spring decline—attracting volume has been a challenge. However, we note that Advisorshares has a history of managing industry-leading ETF issues in the alternative investing space.
AdvisorShares Pure US Cannabis ETF (NYSE: MSOS)—which debuted on the New York Stock Exchange on September 2, 2020—quickly became the benchmark ETF in the North American cannabis space. Its average 3-month daily volume registers at just under 3 million shares daily, making it the clear ETF of choice in the sector.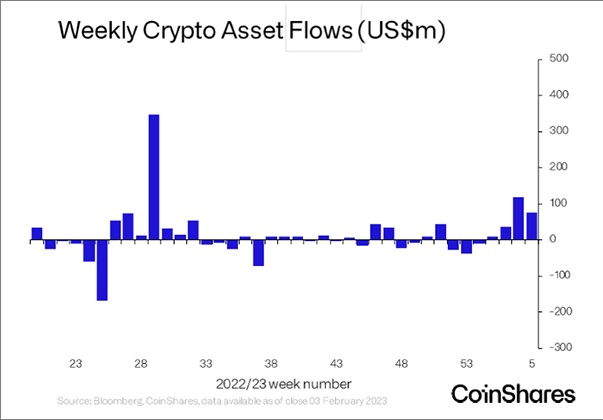 In fact, MSOS popularity is so far ahead of the pack that there is no real competition, as far as comparative active trading volume goes. It's ticker symbol has itself become synonymous with the sector; a clever acronym to the industry standard descriptor multi-state operator.
Whether CRYP can ever replicate the trading volumes of MSOS remains an open question. However, Advisorshares is a respected and trust manager within the space. As the demand for correlated Bitcoin securities grows, the ETF should be inline to generate higher demand as investors become increasingly aware of the offering.