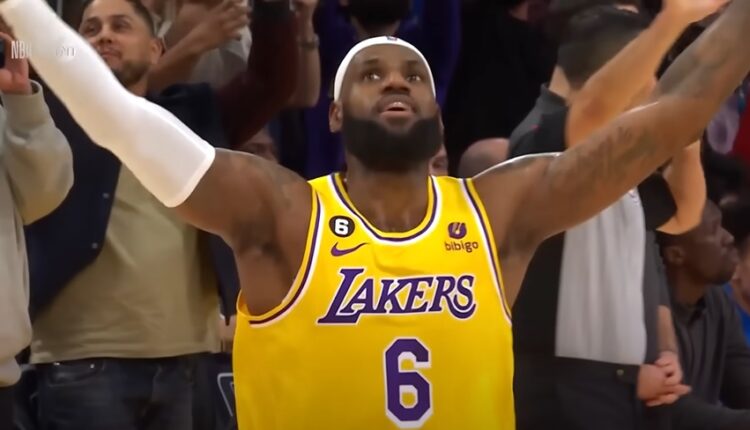 Interest In LeBron James NFTs Soar After Becoming The All-Time NBA Scoring Leader
On February, future hall of fame NBA player LeBron James made history by scoring his 38,388th point, surpassing Kareem Abdul-Jabbar's record set in 1983. Since then, fans have been eager to purchase LeBron James NFTs via Top Shot on Dapper Labs, with the hope of winning an NFT of the record-breaking shot.
Dapper Labs reports to Decrypt that LeBron James NFTs sales have skyrocketed since Sunday, February 5, as the long-awaited moment drew closer. The platform recorded nearly $234,000 worth of LeBron NFT sales through its secondary marketplace from Sunday through Friday morning.
James has had an impressive 2,500 individual NBA Top Shot sales since May 2022, the most of any Los Angeles Lakers player. One even sold for a whopping $13,500, making it his biggest sale ever on Top Shot, according to recent data from DappRadar. LeBron's impact has been evident in more than just secondary market sales.
On Friday, Dapper Labs released 100,000 packs of NFTs for $9 each. Starting February 23rd, any buyers will get a free additional bundle that includes a single NFT, of which some may contain FTs from the record breaking moment.
Ninety-nine (99) editions of LeBron's shot will be minted in NBA Top Shot, 25 of which have been saved for the highest scoring collectors on the platform. These scores are calculated from trading NFTs and completing tasks within the game. The other 24 remaining shots will be given to those who purchased this past week's bundle.
NBA Top Shot was created in 2020 and has been a significant factor in the recent NFT market boom. Nevertheless, sales and prices have dropped dramatically since then, with approximately $1.05 billion in market trades made on the Flow blockchain based platform, according to CryptoSlam.
And this past week alone, CryptoSlam reported that the transactions surpassed one million over the last seven days, representing a 35% increase compared to the week prior.
This renewed enthusiasm around LeBron James NFTs and others could be spreading to other platforms also. For instance, Sorare NBA—an officially licensed NFT fantasy basketball game on Ethereum—is currently holding an auction for a single-issue James trading card, with the highest bid standing at 5 ETH (roughly $7,600) and almost four days left in the auction.
Last weekend saw an all-time record in NFT sales when a unique Giannis Antetokounmpo NFT was auctioned for 113.9 ETH (roughly $187,000). This tripled Sorare NBA's highest price point yet, in Ethereum.
For comparison, the most expensive NBA Top Shot moment, a LeBron James NFT was purchased off-chain for a staggering $388,000 during the market peak in April 2021.