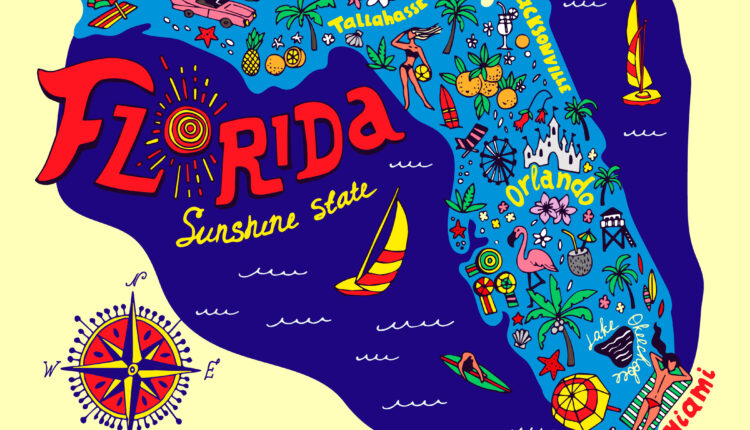 Could Florida Be The Next Oregon? Lawmakers File Twin Bills To Study The Benefits of Psychedelics
Could Florida be the next state to change the way it regulates psychedelics? While it might seem unlikely, an increasing number of politicians in the Sunshine State have shown interest in their medical potential.
The latest politician to join the call for consideration is the state's top Senate Democrat, Lauren Book. She and Florida House Rep. Michael Grieco are working together on the matter and last week filed twin bills that take a much safer approach to the subject of psychedelics than Grieco's previously introduced bill.
In late January, Grieco introduced a bill to legalize the use of psilocybin for mental health treatments, one that called for state-sponsored clinics. It was modeled after legislation that passed in Oregon in November 2020. Although the far-reaching bill received much attention in the media, it died in the Professions & Public Health subcommittee.
This time around, the simpler bill—one that is just two pages in length, rather than a whopping 59—calls for research rather than a lofty regulatory framework.
Last Friday, Florida Senate minority leader Book filed SB-348, a bill modeled after an existing piece of legislation that was enacted in Texas in June. Grieco filed a twin bill, HB-193 calling for a study on "alternative therapies in treatment of mental health & other medical conditions."
If the bills are enacted, the state's health department would be directed to conduct a study of the therapeutic potential of drugs like psilocybin, ketamine, and MDMA, in the treatment of mental health conditions like depression, anxiety, post-traumatic stress disorder, and bipolar disorder, as well as other medical conditions including chronic pain and migraines.
As the bill is currently written, the study would compare the efficacy of alternative treatments to that of first-line treatments currently offered for the above-mentioned disorders.
The body of evidence to show that psychedelic drugs like psilocybin, MDMA, and ketamine are effective in treating mental health conditions including depression and PTSD continues to grow, with psilocybin and MDMA in particular making headlines for recent studies that found them to be effective treatments for people suffering from depression and PTSD, respectively.
There is also research to show that, when administered in a clinical setting, ketamine has the potential to help with treatment-resistant depression, as well as chronic pain. There are currently several companies operating ketamine clinics in the state of Florida, including Delic Corp. (CSE:DELC) (OTC:DELFC) and Revitalist (CSE: CALM).