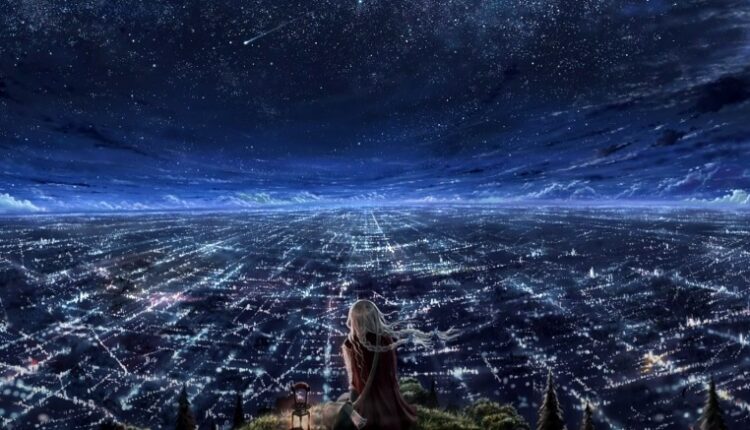 TDR's Top 5 Psychedelic Developments For The Week Of April 19
5. PharmaDrug Advances Product and Clinical Development of Cepharanthine to Treat Rare Cancers and Infectious Diseases
PharmaDrug Inc. (CSE: BUZZ) (OTCMKTS: LMLLF) has entered into an agreement with Southwest Research Institute (SwRI), to initiate non-clinical and clinical manufacturing of Cepharanthine for the company's rare cancer and infectious diseases programs.
In connection with the recent acquisition of Sairiyo Therapeutics Inc., PharmaDrug has secured an exclusive license from SwRI to develop and commercialize a novel oral formulation of Cepharanthine for all fields of use as well as exclusive rights to U.S. Patent: 10,576,077 "Pharmaceutical Salt forms of Cepharanthine and Tetrandrine". Formalization of the current relationship will allow PharmaDrug to expedite development timelines by leveraging SwRI's existing Cepharanthine preclinical data sets and considerable manufacturing knowhow.
4. Champignon Brands Announces Revocation of Cease Trade Orders
Champignon Brands Inc. (CSE: SHRM) (OTCMKTS: SHRMF) announced that the British Columbia Securities Commission and Ontario Securities Commission have revoked their cease trade orders (CTO) against the Company effective April 22, 2021. Following the revocation of the CTOs and Canadian Securities Exchange's acceptance of the Listing Statement, Champignon common shares re-listed on the CSE April 23, 2021. This was the first time Champignon Brands had traded on a Canadian Exchange in ten months.
Previously, the company's common shares were cease traded by the Commissions for (i) content deficiency in the Champignon's material change report dated April 30, 2020; (ii) failure to provide periodic disclosure for the interim period ended June 30, 2020. The Commission's reinstatement follows several filing and disclosure actions by Champignon Brands to get its house in order.
__________
Over Half Of Lower/Middle Class Wage Earners Have Experienced "Minor" Or "Major" Negative Mental Health Impact Due to COVID-19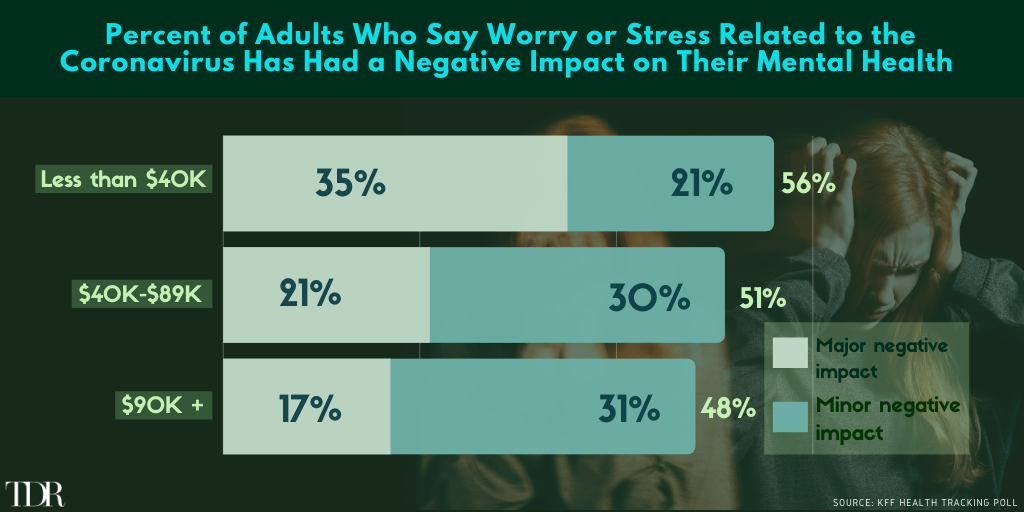 __________
3. Big Surge In Psychedelic Stocks As Duo Catalysts Help Propel Market Higher
The biggest psychedelic stocks were mostly higher this week, tracking a moderate pickup in volume. The benchmark Horizon Life Sciences Stock Index ETF (PSYK) finished higher (↑9.77%), of course catalyzed by MindMed's NASDAQ listing date being finalized and Atai Life Sciences filing for an initial public offering. This percentage increase was outsized compared to Nasdaq Biotechnology Ishares ETF (↑1.33%) and Nasdaq Junior Biotechnology Index (↑2.30%), which both finished modestly higher.
From a technical standpoint, sector price action resembled the classic bear market rally. With prices compressed and deeply oversold, a plethora of catalysts colluded to shift sentiment on a dime and recover some recent lost ground. While powerful and welcome, these moves are only reversals within respective ranges—at least for now. This includes MindMed, which is trading back to base February levels—although this move has shattered the paradigm of lower-high closes on the daily, with confirmatory volume to boot. The basis for backfill higher-low price action dynamics has been set.
| | | | | | |
| --- | --- | --- | --- | --- | --- |
| Company | Ticker | Price ($) | Weekly Change (%) | WoW Volume Trend | Market Cap (s/o) |
| Mind Medicine | MMED | 4.42 | 32.33 | ↑ | C$1.91B |
| Compass Pathways | CMPS | 34.35 | 2.76 | ↓ | US$1.29B |
| Seelos Therapeutics | SEEL | 6.25 | 18.82 | ↑ | US$489.2M |
| Cybin Inc. | CYBN | 1.59 | -8.09 | ↓ | C$235.1M |
| Field Trip Health | FTRP | 5.55 | -7.80 | ↑ | C$234.0M |
| Numinus Wellness | NUMI | 1.08 | 20.00 | ↑ | C$216.8M |
| Revive Therapeutics | RVV | 0.45 | 4.65 | ↑ | C$138.8M |
| Mydecine Innovations | MYCO | 0.41 | 20.58 | ↑ | C$96.8M |
Cybin Inc. has successfully demonstrated Proof of Concept for its deuterated tryptamine programs, CYB003 and CYB004, for the treatment of depression and addiction. According to CEO Doug Drysdale, "This Proof-of-Concept data provides strong support for progressing Cybin's drug development candidates towards investigational new drug filings with the FDA."
Mind Cure Health announced a partnership with LUCID Inc. LUCID's mission is to help people optimize their mental wellness through music, and they will be designing custom psychedelic music experiences for its iSTRYM platform. The goal is to take into consideration the therapeutic targets and mechanisms of action associated with each psychedelic compound and leverage iSTRYM's machine learning systems to optimize the music experiences for personalization and efficacy.
Mindset Pharma announced that based on data derived from Mindset's in vivo testing program carried out by InterVivo Solutions Inc., the majority of its patent pending compounds across four families of chemical scaffolds are exhibiting favorable effects in vivo in models established as having a high correlation to psychedelic effects in humans. Still early days, but the confirmation will help the company to select its lead drug candidates to move to investigational new drug-enabling studies.
PharmaTher Holdings submitted an Investigational New Drug application with the U.S. Food and Drug Administration for the initiation of a Phase 2 clinical trial to evaluate the safety, efficacy and pharmacokinetics of low-dose ketamine in the treatment of levodopa-induced dyskinesia in patients with Parkinson's disease. It was an important milestone in the advancement of PharmaTher's ambitions to commercialize ketamine for potential therapeutic uses.
And finally, Revive Therapeutics announced the successful completion of the research results and filing of a U.S. provisional patent application with The United States Patent and Trademark Office on an oral thin-film delivery system with psilocybin developed under a research partnership agreement with Reed Research Group at the University of Wisconsin-Madison. This novel OTF offers a unique delivery of psilocybin as a potential treatment option for mental illness, neurological and substance abuse disorders.
2. MindMed To Commence Trading on Nasdaq
Mind Medicine (NEO: MMED) (OTCMKTS: MMEDF) subordinate voting shares have been approved for listing on the Nasdaq Capital Market. Trading is expected to begin on Tuesday, April 27, 2021, under the symbol "MNMD". MindMed will retain its listing on the Neo Exchange under the symbol "MMED" and the company's subordinate voting shares will continue to trade on the OTCQB under the symbol "MMEDF" until trading on the Nasdaq commences.
"The listing of our stock on the Nasdaq represents a significant milestone in our growth as a publicly-traded company. We believe this listing will increase our visibility in the marketplace, improve liquidity, broaden and diversify our shareholder base, and ultimately enhance long-term shareholder value."

J.R. Rahn, CEO and Co-Founder of MindMed
TDR: Seven months after submitting an application to list its subordinate voting shares on NASDAQ, the company secured its listing approval. An incredible groundswell of buying ensued, delivering a 65.54% gain on Friday alone. For the first time ever, MindMed was worth more than Compass Pathways on an undiluted basis in U.S. dollars. Obviously, the listing news has a tremendous impact.
A big component to Friday's move was undoubtedly the increase in access to investor capital the uplist represents. Not only will it foster institutional ownership opportunities, but it should allow Robinhood platform access which precludes all forms of OTC investing. With MindMed churning out some of the largest notional dollar basis volumes in the space, MindMed should be popular investing vehicle with Robinhood traders.
1. Atai Life Sciences IPO Seeks To Raise $100 Million
Atai Life Sciences, which supports psychedelic drug developers seeking new ways to treat mental illness, hopes to raise $100 million in an initial public offering. The company disclosed the target amount in a filing on Tuesday. Atai, which was founded in 2018 and is backed by billionaire investor Peter Thiel, would trade on the Nasdaq Global Market under the ticker symbol "ATAI."
Credit Suisse, Citigroup, Cowen, Berenberg, Cantor Fitzgerald and RBC were bookrunners for the deal. Also Canaccord Genuity — a prominent deal maker for the cannabis industry.
Atai, in the filing, said it had raised an aggregate $362.3 million from investors to date. In November, the company announced that it had closed $125 million in its last Series C funding round.