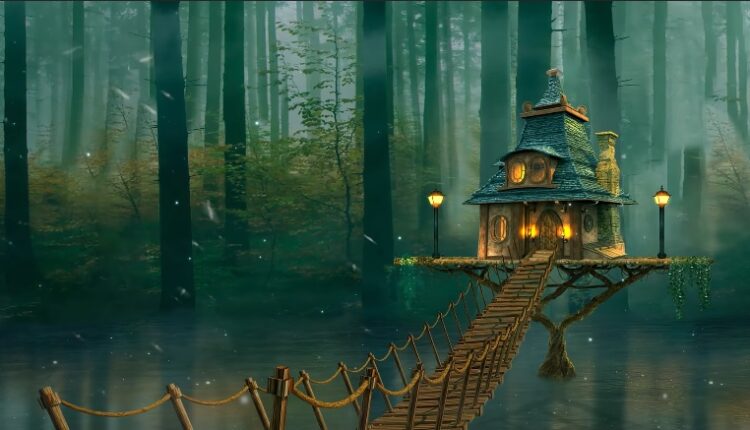 TDR's Top 5 Psychedelic Developments For The Week Of May 10
Welcome to TDR's review of the Top 5 Psychedelic developments for the week of May 10. Aside from presenting a synopsis of events, we provide market commentary to summarize the week that was for publicly-listed companies.
5. Wake Network Receives Approval for Phase 2b Psilocybin Microdosing Trial
Wake Network Inc., a global leader in psilocybin and medicinal mushroom production and developer of genomics-based integration therapies, announced it has received conditional ethics board approval from the Ministry of Health and Wellness in Jamaica to conduct a Phase 2b psilocybin microdosing clinical trial together with the University of the West Indies. The receipt of this ethics board approval marks the completion of the final step towards receiving conditional approval to begin the study.
Once enacted, the trial will mark commencement of the world's first psilocybin microdosing trial to be conducted using a randomized, placebo-controlled, double-blind method with mushroom-based psilocybin. This study aims to provide the psychedelic research community with insights into the effects of psilocybin microdosing on anxiety and depression. Most psilocybin trials to date are studying major depressive disorders and comorbidities in a clinical context.
4. Numinus Wellness and Optimi Health Submit All-Natural Psilocybin Extract to Health Canada for Pre-Clinical Trial Application
Numinus Wellness Inc. (CVE:NUMI) and Optimi Health Corp., developers of a vertically integrated functional mushroom brand focused on the health and wellness sector, have met another early milestone in the development of an initial all natural psilocybin extract.
Optimi and Numinus, through Impact Clinical Trials Accelerator at the University of Calgary, have submitted a pre-clinical trial application to Health Canada for review and comment. Meanwhile, cultivation, research, formulation and continuous validation studies to produce the investigational psilocybin extract for trial continue at the Health Canada-licensed Numinus lab in British Columbia, Canada.
Key information submitted in the information package provided to Health Canada includes the investigational product's chemical constituents, genotype, and formulation as well as procedures and processes to produce a consistent dosage from Psilocybe mushrooms.
__________
Top Activities Of Canadians Attempting To Deal With The COVID-19 Pandemic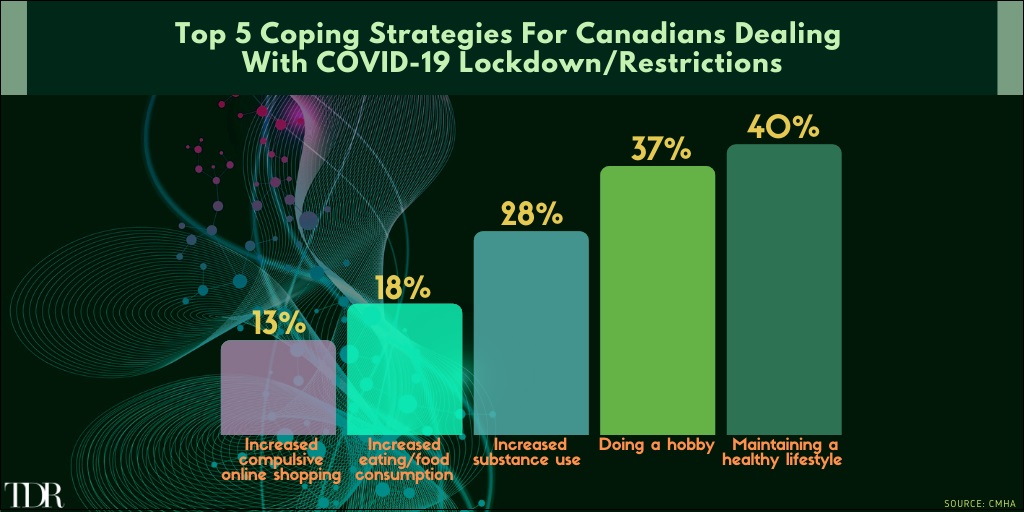 __________
3. Psychedelic Stocks Edge Lower As Inflation Fears Put A Damper On Growth, Speculative Stocks
The biggest psychedelic stocks were mostly lower this week on mixed volume. The benchmark Horizon Psychedelic Stock Index ETF (PSYK) fell ↓2.68% as the sector traded in context to the Nasdaq Junior Biotechnology Index, which declined ↓2.28%. More senior biotech stocks as represented in the Nasdaq Biotechnology Ishares ETF were collectively flat on the week (↓0.02%).
All-in-all, it was a week that again defined by inflation fears that hit growth stocks after April's CPI number showed the fastest jump in consumer prices since 2008. Naturally, this spooked the market as risk assets sold off along the curve due to the possibility of earlier-than-anticipated Fed action on rates. Friday's moribund retail sales number helped calm nerves, leading to a broad market rebound to close the week.
From a psychedelic sector technical perspective, we're seeing mixed charts among the top stocks. Compass Pathways is still mired in a lower-high dynamic on the daily, and until it can do so, we're on the sidelines. Several other companies are entrenched a similar lower-high dynamic, so patient entries play as the market trend grinds lower. However, companies such as Cybin Inc. and MindMed have demonstrated higher-low price action patterns on the daily, so there's reason for optimism that the market, collectively, may be turning around.
Overall, we remain patient on entries as we await the critical mass of great industry research news (see #1) to galvanize sentiment and leadership stocks to set up technically.
| | | | | | |
| --- | --- | --- | --- | --- | --- |
| Company | Ticker | Price ($) | Weekly Change (%) | WoW Volume Trend | Market Cap (s/o) |
| Compass Pathways | CMPS | 34.39 | 0.93 | ↑ | US$1.41B |
| Mind Medicine | MNMD | 3.23 | -1.52 | ↓ | US$1.11B |
| Seelos Therapeutics | SEEL | 5.19 | -3.17 | ↔ | US$407.8M |
| Cybin Inc. | CYBN | 1.92 | -4.00 | ↓ | C$284.3M |
| Field Trip Health | FTRP | 5.97 | 4.92 | ↑ | C$251.7M |
| Numinus Wellness | NUMI | 0.90 | flat | ↓ | C$180.8M |
| Revive Therapeutics | RVV | 0.41 | -13.68 | ↓ | C$126.4M |
| Mydecine Innovations | MYCO | 0.335 | -9.45 | ↓ | C$79.5M |
In the news…
Compass Pathways announced financial results and business highlights for the Q1 2021. The big story here was the timeline in regards to the release of Phase IIb clinical trial results of their study using COMP360 psilocybin therapy for treatment resistant depression. Compass reaffirmed that it was "On track to report top-line data by end of 2021." Canaccord reaffirmed the same in a research update released last month.
Havn Life Sciences entered into a supply agreement with ATMA Journey Centers Inc.—an Alberta-based company focused on delivering innovative psychedelic-assisted therapies internationally—to be their exclusive supplier of naturally derived psilocybin.
MindMed appointed Peter Mack PhD as Vice President of Pharmaceutical Development. Mr. Mack has Big Pharma experience, having previous been the Director of Manufacturing for Inhalation Product Development at global conglomerate AstraZeneca. He will be primarily in charge of shaping the future of psychedelic medicine from discovery to delivery.
PsyBio Therapeutics announced a new provisional patent application with the U.S. Patent and Trademark Office entitled Optimized Methods for the Production of Psilocybin and its Intermediates or Side Products. This filing increases the Company's licensed patent portfolio to four pending provisional patents and one pending non-provisional patent with the USPTO as the company builds its platform around bacterial-based synthesis of therapeutic tryptamines.
Tryp Therapeutics announced a master service agreement with Clinlogix, a Contract Research Organization to support Tryp's clinical development of its Psilocybin-for-Neuropsychiatric Disorders (PFN) program. Tryp's collaboration with Clinlogix will initially focus on supporting its upcoming Phase 2a clinical trials for eating disorders and fibromyalgia.
Wesana Health commence trading on the Canadian Securities Exchange on Monday, May 10, 2021 under the ticker symbol "WESA." The company which counts former NHL enforcer and defacto traumatic brain injury spokesperson Daniel Carcillo as its CEO is committed to its mission to develop alternative treatment solutions for TBI.
2. FDA Clears Researchers To Study MDMA Use By Therapists Being Trained In Psychedelic Medicine
The Food and Drug Administration (FDA) has already authorized clinical trials into the therapeutic potential of MDMA for patients with post-traumatic stress disorders—but now it's given the green light to a psychedelics research institute to expand its studies by administering the substance to certain therapists.
Volunteer therapists currently undergoing training to treat people with PTSD will be able to participate in the Phase 1 trials to gain personal experience with the treatment option. This is a complementary research project that comes as the Multidisciplinary Association for Psychedelic Studies (MAPS) is in the process of conducting Phase 3 trials involving people with the disorder.
The development comes months after Canadian regulators announced that certain therapists would be allowed to take psilocybin in order to gain a better understanding of the psychedelic when treating patients.
1. MDMA-Assisted Therapy For Severe PTSD: A Randomized, Double-Blind, Placebo-Controlled Phase 3 Study
Post-traumatic stress disorder (PTSD) presents a major public health problem for which currently available treatments are modestly effective. Nature Medicine published the findings of a randomized, double-blind, placebo-controlled, multi-site phase 3 clinical trial to test the efficacy and safety of 3,4-methylenedioxymethamphetamine (MDMA)-assisted therapy for the treatment of patients with severe PTSD. Ninety (90) participants were involved, including those with common comorbidities such as dissociation, depression, a history of alcohol and substance use disorders, and childhood trauma.
The efficacy and safety of MDMA-assisted therapy in individuals with severe PTSD was assesses. Participants were given three doses of MDMA or placebo in a controlled clinical environment and in the presence of a trained therapy team. Primary and secondary outcome measures (CAPS-5 and SDS, respectively) were assessed by a centralized pool of blinded, independent diagnostic assessors. MDMA-assisted therapy for PTSD was granted an FDA Breakthrough Therapy designation, and the protocol and statistical analysis plan (SAP) were developed in conjunction with the FDA.
The results were very material, even for a small study. In the end, evidence found that patients who underwent MDMA reported greater symptomatic relief than the placebo group, and two months after the therapy concluded, 67 percent no longer matched the medical criterion for PTSD, while only 32 percent of the placebo group showed this degree of recovery.