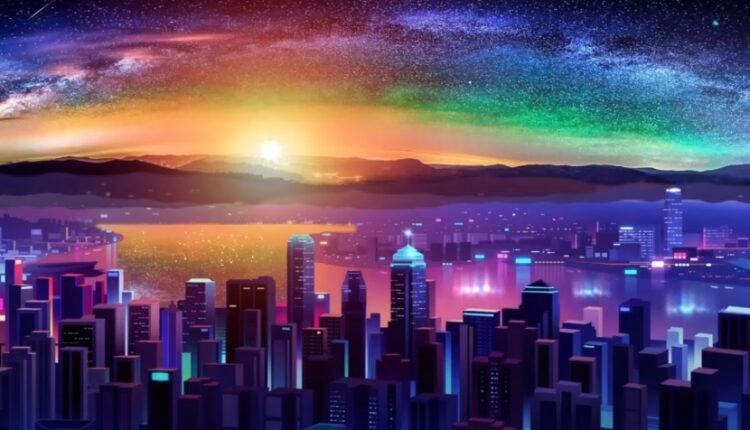 TDR's Top 5 Psychedelic Developments For The Week Of September 6
Welcome to TDR's review of the Top 5 Psychedelic developments for the week of September 6. Aside from presenting a synopsis of events, we provide market commentary to summarize the week that was for publicly-listed companies.
5. Field Trip Health Ltd. to Pursue Treatment Resistant Depression and Postpartum Depression as Indications for FT-104
Field Trip Health Ltd. (CNSX: FTRP; OTCMKTS: FTRPF) announced today the lead indications for FT-104, its novel psychedelic compound in development, will be Treatment Resistant Depression (TRD) and Postpartum Depression (PPD). Field Trip also announced that Anita H. Clayton, MD, Chair of Psychiatry and Neurobehavioral Sciences at the School of Medicine at the University of Virginia, has joined its Scientific Advisory board.
Through Field Trip Discovery, its drug development division, Field Trip is developing next-generation psychedelic molecules. Its first molecule in development, FT-104, a prodrug, is a synthetic serotonin-2A (5HT2A) agonist whose active component has serotonin-2A potency similar to psilocybin.
Preclinical activities that will enable commencement of Phase I clinical trials in calendar Q1 2022 are ongoing and expected to continue through to the end of calendar 2021. After completion of the Phase 1 and opening of a US-IND, Field Trip intends to initiate Phase IIA studies in TRD, following which Phase II studies in TRD and PPD are expected to be conducted substantially in parallel.
4. Mydecine Innovations Group Announces MYCO-001 Seamless Phase 2/3 Smoking Cessation Clinical Trial
Mydecine Innovations Group (NEO: MYCO)(OTCMKTS: MYCOF) has partnered with Principal Investigator Dr. Matthew Johnson of Johns Hopkins University on a study evaluating the administration of MYCO-001 with a structured smoking cessation treatment program in nicotine dependent individuals.
The planned placebo-controlled study, based with the Johns Hopkins psychedelic research group, will study the science and efficacy of MYCO-001 to treat nicotine dependence. Dr. Matthew Johnson, a globally recognized leader in this field who has published extensively on the science of psychedelics, has been contracted by Mydecine to complete this Phase 2/3 clinical trial of his ongoing research and develop methodologies to better advance future-controlled studies and clinical trials of psychedelics.
The proposed study is projected to launch in Q1 2022 and will be looking at primary endpoints of three and six months. This study could be completed as early as Q4 2022.
__________
Legal Status Of Psychedelic Drugs In Various Jurisdictions Throughout The World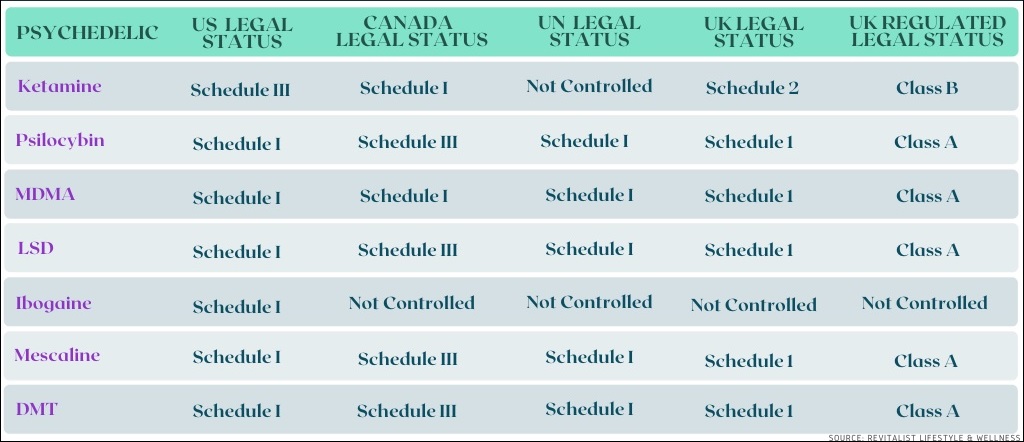 __________

Numinus CEO Payton Nyquvest Answers Reader-Submitted Questions On Topics Pertaining To Potential U.S. Uplisting, IB Coverage, MAPS Study Timelines And More
__________
3. Psych Stocks Retreat In-Line With Sagging Broad Market, Biotech Peers
The biggest psychedelic stocks were mixed, nonetheless the Horizon Psychedelic Stock Index ETF (PSYK) finished lower by ↓2.04% as post-Labor Day weekend volumes remained light. The performance in PSYK fell in lockstep with its junior and blue chip biotech peers, with the Nasdaq Junior Biotechnology Index declining (↓1.83%) and Nasdaq Biotechnology Ishares ETF (↓1.46%) retreating from all-time closing highs the week previous. The broad indexes also struggled, with the Dow Jones Industrial Average retreating all four days (↓2.15%) and five days overall heading back to last Friday. It was the first 5-day losing streak for the DJIA since mid-June. The NASDAQ slid ↓1.30%.
Not much in the takeaway column this week in the sector. Investors hoping to see more robust volumes after a quiet summer did not get their wish, as volumes were mixed across the board. And what pickup in volumes that did occur were generally non-descript. But it's important to note that while Labor Day weekend is the "unofficial" end of summer for some, it doesn't magically ensure that investors/traders are back and ready to deploy capital right away. Easing back after Labor Day is always more of a process than an event, and mild but persistent weakness in biotech and broad market indexes kept price action at bay.
The one significant takeaway was something TDR noted last week. That is, COMPASS Pathways appeared to shifting away from prolonged bearish price action into a buy-the-dips dynamic as key Phase 2b endpoint results approach in Q4. That again played out this week, with COMPASS notching its 4th consecutive positive weekly close—the first time that's ever happened. CMPS even saw two separate gap-up opens, which have been a rare occurrence in recent times. Although its modest strength did not rub off on the rest, it's nonetheless a positive signal that capital is being deployed in some leadership names up top.
From a technical perspective, overall industry price action (as viewed through PSYK ETF) remains uninspiring. So we remain defensive on most issues short term, as we await for signs of galvanizing movement in the ETF. Until then—as has been the case for most of spring/summer—we remain in a stock picker's market.
| | | | | | |
| --- | --- | --- | --- | --- | --- |
| Company | Ticker | Price ($) | Weekly Change (%) | WoW Volume Trend | Market Cap (s/o) |
| ATAI LIfe Sciences | ATAI | 16.46 | -4.07 | ↑ | US$2.54B |
| COMPASS Pathways | CMPS | 34.41 | 3.51 | ↑ | US$1.43B |
| GH Research | GHRS | 23.20 | 5.40 | ↑ | US$1.17B |
| Mind Medicine | MNMD | 2.52 | -11.57 | ↓ | US$1.14B |
| Cybin Inc. | CYBN | 2.42 | -8.33 | ↓ | US$386.4M |
| Field Trip Health | FTRP | 5.07 | -2.68 | ↓ | US$292.5M |
| Numinus Wellness | NUMI | 0.82 | -3.52 | ↑ | C$166.4M |
| Revive Therapeutics | RVVTF | 0.403 | 23.24 | ↑ | US$127.7M |
| Small Pharma | DMT | 0.40 | 2.56 | ↔ | C$127.1M |
| Mydecine Innovations | MYCOF | 0.318 | -14.28 | ↑ | US$76.4M |
In the news…
Algernon Pharmaceuticals has confirmed in its own preclinical study, that N,N-Dimethyltryptamine (DMT) based AP-188 increased the growth of cortical neurons by 40% with statistical significance in one arm of the study, when compared to control. Algernon also reports that the increased growth was achieved with a sub hallucinogenic dose.
atai Life Sciences announced a usability study of Introspect's digital therapeutic app technology in support of standard of care ketamine therapy for patients with treatment resistant depression in collaboration with Kadima Neuropsychiatry.
CaaMTech, Inc., a leading psychedelic drug discovery company, announced the completion of a $22 million Series A financing round, led by Noetic Fund. The oversubscribed round of funding will be deployed to support CaaMTech's cross-disciplinary science program, expand the company's leadership team, and advance drug development candidates into human trials.
COMPASS Pathways plc (NASDAQ: CMPS) has engaged Hamilton Morris, the research scientist and film-maker, as a full-time consultant, who will be working primarily at the COMPASS Discovery Center, based at University of the Sciences in Philadelphia in the United States.
Filament Health has received notification from the Financial Regulatory Authority that its shares are qualified to commence trading on the OTC Pink Market in the United States under the symbol "FLHLF". The company has also submitted an application for uplisting shares to the OTCQB Venture Market.
Levitee Labs has commenced trading in the United States on the OTC Pink marketplace under the ticker symbol "LVTTF". Levitee continues to trade on the Canadian Securities Exchange under the ticker symbol "LVT".
Mind Cure Health Inc. announced its presence at the 2021 SANA Symposium as a Platinum Sponsor and host of the Innovation Theater. MINDCURE will be engaging with clinicians around the world who have an interest in learning more about psychedelic-assisted psychotherapy, and specifically in adopting novel protocols and practice standards around psychedelics.
MYND Life Sciences announced the closing of its non-brokered private placement offering under which it sold $3,000,000 aggregate principal amount of convertible debenture units for gross proceeds of $2,700,000. Proceeds of the Offering to advance its novel drug discovery platform, commercialize its diagnostic business unit and for general working capital.
Nova Mentis Life Science announced that it is expanding its psilocybin research and development program to target obesity and diabetes.
Wesana Health Holdings announced the closing on September 8, 2021 of its acquisition of Psychedelitech Inc., also known as PsyTec. The acquisition of PsyTech as a wholly owned subsidiary of Wesana will add three major components that will expand and enhance Wesana's current business.
2. AdvisorShares Psychedelics ETF Ready To List Next Week
The Fund is an actively managed exchange-traded fund (ETF) that seeks to achieve its investment objective by investing, under normal circumstances, at least 80% of its net assets (plus any borrowings for investment purposes) in:
• securities of companies that derive at least 50% of their net revenue from or devote 50% of their assets to psychedelic drugs and
• derivatives that have economic characteristics similar to such securities.
The Fund primarily invests in publicly listed life sciences companies focused on psychedelic medicines as well as other companies with activities in the psychedelics business. The Fund invests in exchange-listed equity securities, including common and preferred stock of U.S. and foreign mid, small and micro-capitalization companies, and in total return swaps intended to provide exposure to such companies.
TDR: Although there are a few psychedelic-focuses ETF currently listed on major exchanges—most notably the Horizons Psychedelic Stock Index ETF and Defiance Next Gen Altered Experience ETF—the new AdvisorShares Psychedelics ETF (NYSE Arca) has a chance of becoming the de facto industry standard, depending on structure. AdvisorShares Pure US Cannabis ETF (MSOS) quickly became the gold standard among cannabis ETFs upon listing in September 2020, by prioritizing holdings of the leading Tier-1/2 multi-state U.S. operators, and de-emphasizing peripheral cannabis companies. This strategy struck a chord with investors, as pure-play multi-state operators became the preferred cannabis investments among investors. It will be interesting to see whether they emphasize the same top-down approach here, as well as overcome liquidity issues facing its competitors.
Of note: At least 25% of its investments in the Pharmaceuticals, Biotechnology & Life Sciences industry group within the health care sector.
1. In Observance Of World Suicide Prevention Day, September 10, 2021