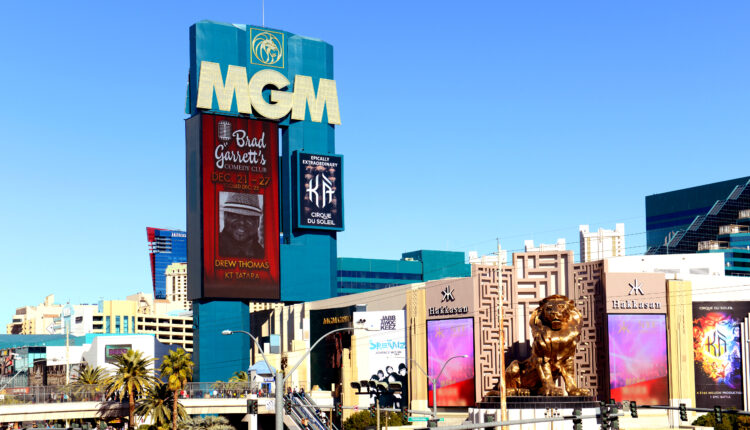 MGM Resorts Intl. Stock Poised For Run As BetMGM Gains Sports Betting Market Share
The COVID-19 pandemic was detrimental to the Las Vegas casino industry, as forced closures and travel restrictions saw occupancy rates and casino activity come to a standstill. Now, with Las Vegas casinos up and running at 100% once again, investors are banking on growth to drive up share prices for some of the strip's most notorious names.
MGM Entertainment (MGM), the group behind the popular BetMGM app, currently leads the pack when it comes to Las Vegas sports betting stocks. Owning nearly half of the strip's casinos, along with properties in Maryland, Michigan, and New Jersey, MGM is poised to be a breakout performer as the travel and entertainment sectors continue to regain life.
Rather than rely solely on the reemergence of tourism to the area, MGM Resorts is opting to be a player in the acquisition market as well in an attempt to increase the group's holdings.
MGM Resorts inked an $2.125 billion agreement with Infinity World Development Corp.'s late last week to to purchase its 50% stake in CityCenter Holdings. The deal, which is expected to finalized in Q3, effectively sees MGM become the full owner of the Las Vegas Strip's CityCenter, which includes both the Aria and Vdara hotels and casinos.
Once finalized, MGM Resorts plans to sell the the CityCenter's properties, the Aria and Vdara hotels in this case, to the Blackstone Group for $3.89 billion, only to lease them once again for an annual price of $215 million.
Online Sports Betting To Drive MGM Stocks Up?
While built on the back of hotels and land-based casinos, the group is clearly focused on the development of their BetMGM app. WIth estimates projecting that the AMerican online gambling market could be worth more than $127 billion annually by 2027, MGM is poised to cash in if they can maintain their position as a top online platform for US bettors.
With more than 160 million registered clients, the BetMGM sports betting app continues to gain steam. After seeing a $178 million rake in 2020, BetMGM is on pace to push that number up to $1 billion by 2022.
Boasting 18% market share, including over 25% in New Jersey, the BetMGM app aims to be live in at least 20 total markets by the end of 2021. While the market share lags behind that of competitors DraftKings and FanDuel, BetMGM has managed to earn their share at much more impressive margins. As recent financial reports have shown, DraftKings is required to spend ferviously on marketing and acquisition to secure their favorability with players.
Now live in eight states and with hundreds of sports betting kiosks placed across MGM's Vegas properties, BetMGM continues to further establish themselves as a true force in the space.
This push for market share extends north of the border as well, as BetMGM recently signed a multiyear deal with Wayne Gretzky in hopes of speaking directly to a Canadian audience.
"As we look toward potential expansion into Canada and elsewhere throughout the United States," commented BetMGM's CRO Matt Prevost. "Wayne will bring a unique ability to tell our brand story."
That same week BetMGM partnered with The Hockey News to become the official sports betting partner of the publication.
Expansion efforts are also focused on the emerging New York online betting space. While New York continues to stumble through the path towards an operational online betting market, BetMGM has made it clear that they will participate in the bidding process whenever that starts.
Expansion obviously benefits all sportsbook operators, and all investing in sports betting stocks are sure to feel that new markets hold the potential to drive up share prices. Yet while many smaller brands like Bally's, Caesars and Penn are all in the running to take over as the third largest operator in the space, all signals do suggest that BetMGM has an upperhand over the competition.