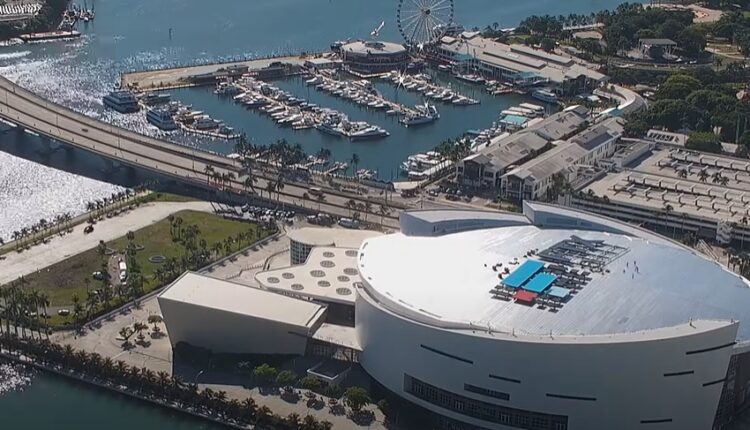 TDR's U.S. Stock Market Preview For The Week Of November 14, 2022
A weekly stock market preview and the data that will impact the tape.
Sunday Evening Futures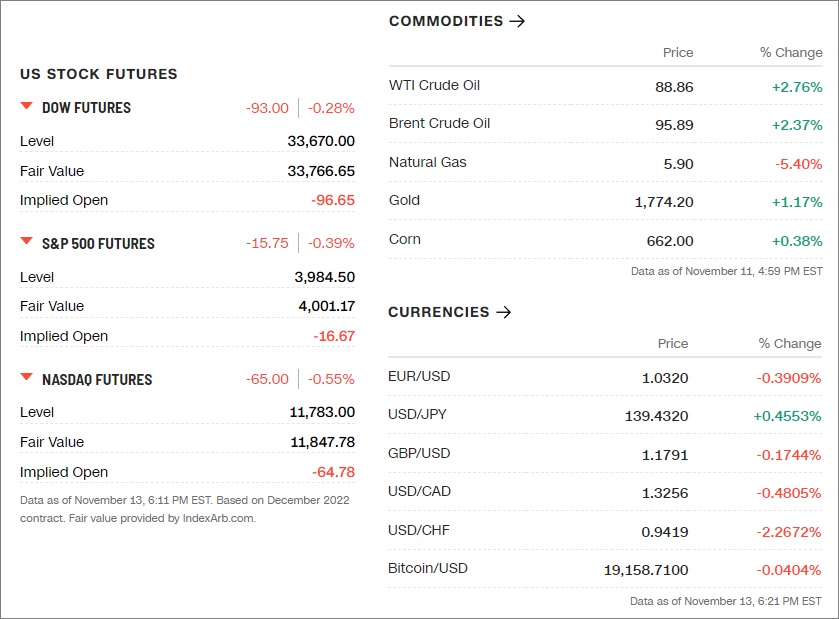 Weekend News And Developments
Ark Invest's Cathie Wood on Friday picked up a chunk of shares in legacy automaker General Motors Corp.
Binance US and Coinbase are among the bidders for the BlockFi credit card program and its approximately 87,500 BlockFi accounts, per Blockworks.
British finance minister Jeremy Hunt is considering a big increase in a windfall tax on oil and gas firms and extending it to power generation firms as he tries to find ways to repair the country's public finances, sources said on Saturday.
Debt levels among low and middle-income countries rose sharply in 2021, with China accounting for 66% of lending by official bilateral creditors, World Bank President David Malpass said, underscoring the need to reduce the debt of poorer countries.
Democrats retain control of the U.S. Senate
Democratic Senator Mark Kelly of Arizona has won re-election, according to the Associated Press and two networks, defeating Republican Blake Masters and helping Democrats keep open the possibility of retaining control of the Senate.
FTX collapse is going to get complicated.
FTX confirms 'unauthorized transactions' as $1B in crypto reportedly vanishes.
FTX is the subject of scrutiny from investigators in the Bahamas, who are looking at whether any "criminal misconduct occurred," the Royal Bahamas Police said on Sunday.
Governments from Latin America and the Caribbean, together with the US and Canada, are set to consider five candidates next week as they move forward to select a new chief for the Inter-American Development Bank, a key financial institution for the region and one of its most coveted jobs.
Intellia Therapeutics, Inc. (NASDAQ:NTLA) announced updated data from an ongoing Phase 1/2 clinical study of NTLA-2002 for the treatment of hereditary angioedema.
Ionis Pharmaceuticals, Inc. (NASDAQ:IONS) presented positive results from a Phase 2 open-label extension study evaluating the safety and efficacy of its investigational antisense medicine, donidalorsen, in patients with hereditary angioedema, a rare and devastating inflammatory disease.
Iraq, OPEC's second-largest producer, seeks to keep oil prices near current levels to ensure market stability as the country rebuilds, according to new Prime Minister Mohammed Shia Al-Sudani.
Marvel Studios adventure "Black Panther: Wakanda Forever" sold $330 million in tickets worldwide over its opening weekend and set a box office record in the United States and Canada, according to estimates from distributor Walt Disney Co on Sunday.
New FTX CEO says the bankrupt exchange is "in the process of removing trading and withdrawal functionality" and moving digital assets to cold storage.
Russian fertilizer producer Uralchem-Uralkali has agreed with the Netherlands, Estonia and Belgium to supply cargoes of fertilizers stranded in those countries to Africa, TASS news agency reported on Saturday.
U.S. Treasury Secretary Janet Yellen said the implosion of Sam Bankman-Fried's FTX crypto empire reinforced her view that the market for digital assets required "very careful regulation."
Walt Disney Co. is planning to freeze hiring and cut some jobs ahead of the winter holidays following a disappointing quarter, according to a report.
🏛️What The Analysts Are Saying…🏛️
"Any meaningful relief for household budgets is still somewhere over the horizon. The areas posting declines are for the most part either irregular or more discretionary in nature: airfare, used cars, and apparel." — Greg McBride, chief financial analyst at Bankrate on perceived relief from lower CPI print
"Inflation slowing to its lowest annual rate since January is news that both the Fed and investors can get behind. But remember that even as we see a slowdown, prices remain elevated and have a long way to go before normalizing." — Mike Loewengart, the head of model portfolio construction at Morgan Stanley
"The way that these assets have been moved is highly suspicious. Very similar transaction patterns have been seen with large-scale thefts in the past — whereby the stolen assets are quickly swapped at decentralized exchanges, in order to avoid seizure." — Tom Robinson, Elliptic chief scientist on FTX post hoc hacks draining over $1 billion from the platform
👀What We're Watching👀
• Did investors jump the gun by plowing back into stocks after a lower-than-expected October CPI?
October Consumer Price Index (CPI) inflation was beat expectations by 200bp, but still came in elevated at an annual rate of 7.7% through October. The 7.7% reading also represents a possible deceleration trend from earlier in the year when the CPI was running well above 8%. With the official inflation rate now heading down a little bit, it is hoped that the Federal Reserve will start scaling back its interest rate hikes intentions, which in turn helped drive the U.S. Dollar Index down to a two-month low.
But are assumptions that the Fed finally slaying inflation truly reality? Should investors expect progressively lower CPI readings to fall precipitously in the months ahead towards the long term baseline? Not so fast, according to former Fed Treasury Secretary Janet Yellen.
Despite the positive report, Yellen was hesitant to declare that the fight against inflation had reached a turning point, according to an exclusive interview with Reuters. In fact, she characterized October CPI as "just one data point" and that she personally would not "read too much into one month.". Although it was acknowledged that core inflation came in much lower than expectations and that improvement of the supply chain had helped out significantly.
In turn, the NASDAQ 100 jumped↑8.69% while the S&P 500 rose↑5.82%. In a reflection of the frothy sentiment, the put/call ratio fell to its lowest levels of the year.
So while we may have witnessed peak inflation, it doesn't mean the economy is out of the woods. The economy is officially in recession (even if the Biden administration won't call it that), credit card debt is higher than it was in 2008, real wages dropped for a 19-consecutive month and the average American's savings down 72% this year. The consumer is still running on fumes while inflation remains elevated.
We enjoyed the rally. But we also know the economy is far from being on a healthy footing. We're along for the ride, but selling non-core positions into strength as the foundation for this rally remains on shaky ground.
• U.S. cannabis constructive price action continues
Among the biggest winners of lower-than-expected October CPI were retail stocks, which saw SPDR S&P Retail ETF (XRT) jump 7.81%—its biggest daily jump in nearly 22 months. While AdvisorShares Pure US Cannabis ETF (MSOS) component companies are not a pure consumer retail play, it is a beneficiary of improving retail spending conditions.
Recent price action for the benchmark ETF are encouraging. MSOS touched 1-month highs at $11.82/share (6.29%) on Thursday, before consolidating gains and finishing at $11.45/share. MSOS tacked-on another 0.97% gains on Friday ($0.09) to close the week +4.90%, which was slightly below the aggregate gain of the S&P 500.
While current momentum is far from scintillating, it has been a notable deviation from the last several quarters, in which U.S. cannabis has been among the worst performing sectors around.
During the lame duck session of Congress, U.S. cannabis has the potential to make material advances depending one whether much sought after reform comes to pass. The SAFE Banking Act—legislation that seeks to harmonize federal and state law by prohibiting federal regulators from taking punitive measures against depository institutions that provide banking services to legitimate cannabis-related businesses—could obtain passage in the lame duck session of Congress. SAFE has also been attached to the must-pass annual National Defense Authorization Act, where it should receive consideration in conference.
The lame duck session of Congress will last until the 118th United States Congress meets in Washington, D.C., on January 3, 2023. Expect U.S. cannabis to rise, or fall, passed on the whims of politicians through to the new year. For now, it appears to be a tepid grind up while the market remains hopeful that something can get done.
U.S. Economic Calendar
| | | | | |
| --- | --- | --- | --- | --- |
| TIME (ET) | REPORT | PERIOD | MEDIAN FORECAST | PREVIOUS |
| Monday, Nov. 14 | | | | |
| 11:00 AM | NY Fed 1-year inflation expectations | Oct. | — | 5.70% |
| 11:00 AM | NY Fed 5-year inflation expectations | Oct. | — | 2.20% |
| Tuesday, Nov. 15 | | | | |
| 8:30 AM | Producer price index, final demand | Oct. | 0.40% | 0.40% |
| 8:30 AM | Empire state manufacturing index | Nov. | -5 | -9.1 |
| 11:00 AM | Real household debt (SAAR) | Q3 | — | 0.80% |
| 11:00 AM | Real mortgage debt (SAAR) | Q3 | — | 0.30% |
| Wednesday, Nov. 16 | | | | |
| 8:30 AM | Retail sales | Oct. | 1.20% | 0.00% |
| 8:30 AM | Retail sales excluding vehicles | Oct. | 0.60% | 0.10% |
| 8:30 AM | Import price index | Oct. | -0.50% | -1.20% |
| 9:15 AM | Industrial production | Oct. | 0.20% | 0.40% |
| 9:15 AM | Capacity utilization rate | Oct. | 80.40% | 80.30% |
| 10:00 AM | Business inventories (revision) | Sept. | 0.50% | 0.50% |
| 10:00 AM | NAHB home builders' index | Nov. | 36 | 38 |
| Thursday, Nov. 17 | | | | |
| 8:30 AM | Initial jobless claims | Nov. 12 | 229,000 | 225,000 |
| 8:30 AM | Continuing jobless claims | Nov. 5 | — | 1.49 million |
| 8:30 AM | Building permits (SAAR) | Oct. | 1.50 million | 1.56 million |
| 8:30 AM | Housing starts (SAAR) | Oct. | 1.41 million | 1.44 million |
| 8:30 AM | Philadelphia Fed manufacturing index | Nov. | -6 | -8.7 |
| Friday, Nov, 18 | | | | |
| 10:00 AM | Existing home sales (SAAR) | Oct. | 4.32 million | 4.71 million |
| 10:00 AM | Leading economic indicators | Oct. | -0.40% | -0.40% |
😎Meme Of The Week😎
Key Earnings (US Markets)
| | | | |
| --- | --- | --- | --- |
| Date | Company | Symbol | EPS Estimate |
| Monday, November 14 | Aecom Tech | ACM | $0.83 per share |
| | Li Auto | LI | -$0.09 |
| | J&J Snack Foods | JJSF | $0.91 |
| | Oatly Group | OTLY | -$0.11 |
| | Tower Semiconductor | TSEM | $0.61 |
| | Tyson Foods | TSN | $1.72 |
| | Valvoline | VVV | $0.56 |
| | Weber | WEBR | -$0.35 |
| Tuesday, Nov. 15 | Aramark | ARMK | $0.49 |
| | Advance Auto Parts | AAP | $3.33 |
| | Energizer | ENR | $0.79 |
| | Evoqua Water | AQUA | $0.32 |
| | Home Depot | HD | $4.11 |
| | HUYA | HUYA | -$0.10 |
| | Krispy Kreme | DNUT | $0.04 |
| | Sea Ltd. | SE | -$0.95 |
| | Tencent Music | TME | $0.72 |
| | Walmart | WMT | $1.32 |
| Wednesday, Nov. 16 | Bath & Body Works | BBWI | $0.20 |
| | Cisco Systems | CSCO | $0.84 |
| | Helmerich & Payne | HP | $0.48 |
| | Kulicke & Soffa | KLIC | $0.98 |
| | Lowe's | LOW | $3.08 |
| | Manchester United | MANU | -$0.11 |
| | Nvidia | NVDA | $0.71 |
| | Sonos | SONO | -$0.30 |
| | Target | TGT | $2.18 |
| | TJX Companies | TJX | $0.80 |
| | Victoria's Secret | VSCO | $0.23 |
| | Williams-Sonoma | WSM | $3.71 |
| Thursday, November 17 | Alibaba Group Holding | BABA | $11.60 |
| | Applied Materials | AMAT | $1.75 |
| | BJ's Wholesale | BJ | $0.83 |
| | Dole | DOLE | $0.10 |
| | Farfetch | FTCH | -$0.20 |
| | Gap | GPS | $0.00 |
| | Kohl's | KSS | $0.63 |
| | Macy's | M | $0.19 |
| | NetEase | NTES | $7.46 |
| | Palo Alto Networks | PANW | $0.69 |
| | Ross Stores | ROST | $0.80 |
| | StoneCo | STNE | $0.32 |
| | The Children's Place | PLCE | $3.80 |
| | UGI Corp | UGI | -$0.05 |
| | Vipshop | VIPS | $1.76 |
| | Weibo | WB | $0.52 |
| Friday, November 18 | Buckle | BKE | $1.24 |
| | Foot Locker | FL | $1.15 |
| | JD.com | JD | $4.47 |
Key Eargnings for the week of November 14-18, TDR' stock market preview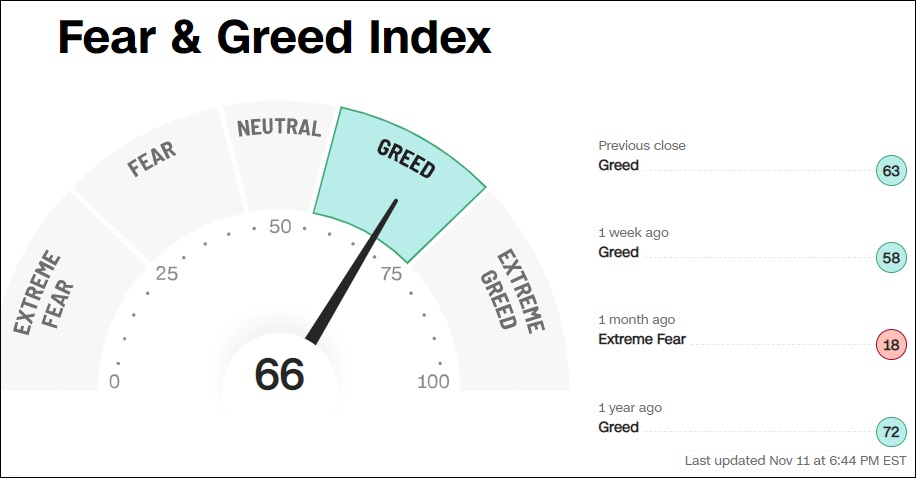 Past Week What's Hot… and What's Not
Top 12 High Short Interest Stocks
| | | | | | | |
| --- | --- | --- | --- | --- | --- | --- |
| Ticker | Company | Exchange | ShortInt | Float | S/O | Industry |
| BYND | Beyond Meat Inc | Nasdaq | 40.88% | 57.35M | 63.67M | Food Processing |
| BBBY | Bed Bath & Beyond Inc. | Nasdaq | 40.32% | 76.43M | 80.36M | Retail (Specialty Non-Apparel) |
| CVNA | Carvana Co | NYSE | 39.40% | 95.34M | 105.95M | Retail (Specialty Non-Apparel) |
| UPST | Upstart Holdings Inc | Nasdaq | 35.89% | 68.88M | 81.88M | Consumer Lending |
| MSTR | MicroStrategy Inc | Nasdaq | 35.13% | 9.34M | 9.35M | Software & Programming |
| NKLA | Nikola Corporation | Nasdaq | 32.15% | 311.65M | 478.85M | Auto & Truck Manufacturers |
| EVGO | Evgo Inc | Nasdaq | 31.73% | 67.87M | 69.36M | Utilities – Electric |
| W | Wayfair Inc | NYSE | 31.26% | 71.00M | 80.65M | Retailers – Department Stores |
| FUV | Arcimoto Inc | Nasdaq | 31.14% | 38.00M | 46.09M | Auto & Truck Manufacturers |
| FFIE | Faraday Future Intelligent Ele | Nasdaq | 29.03% | 168.93M | 270.18M | Auto & Truck Manufacturers |
| IBRX | Immunitybio Inc | Nasdaq | 28.64% | 82.87M | 400.30M | Biotechnology & Medical Research |
| BLNK | Blink Charging Co | Nasdaq | 28.08% | 40.54M | 50.86M | Utilities – Electric |
| BIG | Big Lots, Inc. | NYSE | 27.79% | 27.94M | 28.94M | Retailers – Discount Stores |
Source:
highshortinterest.com
(data as of November 10) – TDR's stock market preview, Top 12 High Short Interest Stocks
Tags: stock market preview, stock market preview November 14, 2022