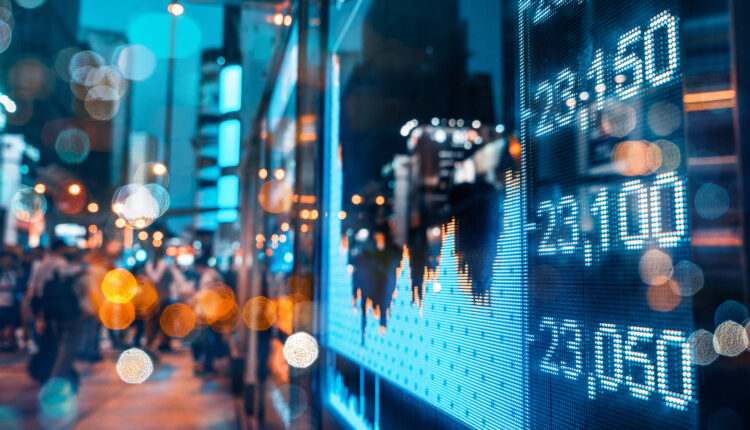 TDR's U.S. Stock Market Preview For The Week Of October 31, 2022
A weekly stock market preview and the data that will impact the tape.
Sunday Evening Futures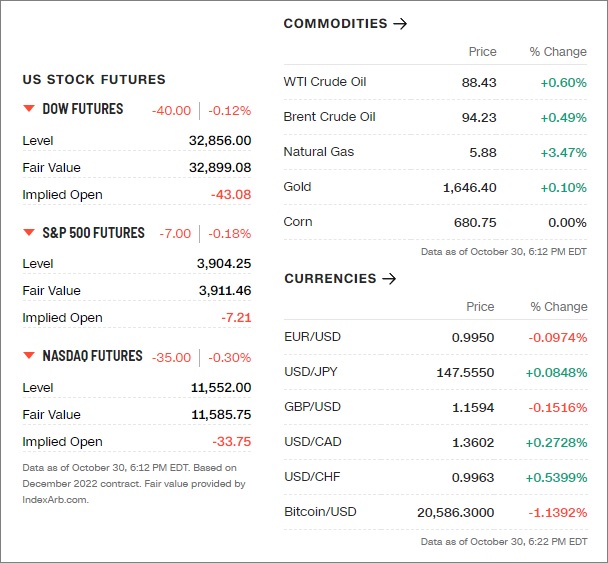 Weekend News And Developments
Apple's next group of Macs probably won't launch until early next year, which means it will have fewer new devices to sell in the holiday quarter.
Big Tech companies lost more than $255 billion in market capitalization in the past week, lead by the FAANGs minus Apple, which bucked the post-earnings carnage.
Bitcoin's break above $20,000 has investors wondering if the crypto bottom is finally in.
Black Adam, the Dwayne Johnson-fronted DC superhero film, kept its hold on the No. 1 spot at the North American box office in its second weekend in theaters. This brings its domestic total to $111.1 million, according to studio estimates Sunday.
Britain's economy is shuddering to a halt under the weight of the biggest increases in borrowing costs in more than three decades, with concern mounting that rates are headed higher still.
Cathay Pacific Airways will resume using Russian airspace on some flights, the Hong Kong-based airline said on Sunday, restarting flights it had stopped after Moscow invaded Ukraine in February.
China's central bank will step up credit support for the real economy while keeping the yuan basically steady, Governor Yi Gang said in comments published on Sunday, reaffirming the bank's existing policy objectives.
Diesel prices are surging with supply at a level not seen since the 1950s and a ban on Russian refined products will lead to greater competition for the fuel.
Dogecoin surged more than 70% on Saturday, extending this week's gains after Elon Musk sealed a $44-billion deal to take over Twitter last week.
Egypt's pound extended its losses to depreciate as far as 24 to the US dollar for the first time, as speculation whirled over where the currency will level out after the North African country declared a landmark shift to a flexible exchange rate.
Egypt sovereign wealth fund signaled on Sunday that army-owned companies Safi and Wataniya would not be seeking stock exchange listings this year.
Elon Musk has begun laying the groundwork for a round of layoffs at Twitter Inc. days after taking ownership of the social media platform.
European proposals to set limits on the price paid for natural gas are "hypocritical," Qatar's energy minister Saad Al Kaabi said in an interview with Bloomberg TV.
Fresenius Medical Care revised down its forecast for 2022, expecting net income to decline this year, dragged down by rising labor costs and a slower than expected recovery in North America business.
Germany's biggest labor union began a series of walkouts that will continue in the coming week, as metals and electronics workers seek an 8% wage increase amid soaring inflation.
HSBC Holdings Plc: National Bank of Canada and Canadian Imperial Bank of Commerce have dropped out as bidders for HSBC Holdings business in Canada, while Bank of Montreal is still pursuing the deal.
Inflation and the economy are top-of-mind for US voters heading into the midterm elections, with a majority of registered Republicans prioritizing economic issues, according to an ABC News/Ipsos poll.
Michael Gove has suggested capital investment for HS2 will be reviewed as he warned the Government has to make "painful" decisions.
Nancy Pelosi was a target of the home invasion on the Pelosi home last week.
Rider University has announced Transforming Students – Transforming Lives: The Campaign for Rider University, a comprehensive fundraising effort with a goal of $80 million. It is the largest fundraising campaign in the University's 157-year history.
Russia said one of the drones launched on Saturday may have come from a grain ship that was part of the Black Sea initiative. It also said underwater drones had been launched from Ukraine's Odesa region, some 300 kilometers from Sevastopol in annexed Crimea.
Saudi Arabia's net foreign assets rose to 1.69 trillion riyals ($448.8 billion) in September, the most in nearly two years, as high crude prices boosted the coffers of the world's largest oil exporter.
Saudi Basic Industries Corp (SABIC) said on Sunday it expected margins to be under pressure in the fourth quarter as its third quarter net profit fell 67% year-on-year on higher costs and an impairment charge.
Senate Republicans want the SEC to explain why staff are leaving the nation's corporate watchdog at the highest rate in 10 years amid a flurry of proposed rules, according to a letter seen by Reuters on Sunday.
Southern Airlines Co Ltd has cancelled plans for two Boeing Co 737 MAX flights on Sunday that would have represented the model's return to passenger flying in China after more than three years, according to the airline's website.
UK's Communication Workers Union has postponed strikes involving over 115,000 postal workers after Royal Mail challenged strike ballots.
VillageMD, which is majority owned by Walgreens Boots Alliance Inc., is exploring a deal to merge with Warburg Pincus-backed Summit Health, according to people familiar with the matter.
🏛️What The Analysts Are Saying…🏛️
"It is critical that policymakers…prepare for a slowdown in demand as the lagged impact of rising interest rates and inflation begins to exert a powerful downward pull on economic activity." — Joseph Brusuelas, chief economist at RSM US
"Trulieve, like other MSOs, is pointing to Sep qtr trends running below what may have been highlighted in the 2Q call in early August." — Cantor Fitzgerald analyst Pablo Zuanic
"We've been told time and again that the Fed would continue to raise rates aggressively until it sees 'compelling' evidence that inflation is slowing down. I don't think the data so far meets that standard." — Nancy Vanden Houten, US economist at Oxford Economics
👀What We're Watching👀
• The Federal Reserve will meet on November 1-2 to determine interest rate policy. Goldman Sachs Group economists said the Fed could raise the Fed Funds rate by 75 basis points this week, followed by another 50 basis points in December and 25 basis points in February and March.
At this point, there's no reason to believe that the Fed will ratchet down the hawkish post-decision commentary. The Fed has not indicated any ease-up in rate hiking intentions yet. Although stocks have repeatedly rebounded from lows on anticipation the Fed will slam on the brakes, it has yet to do so. Therefore, we expect the market to show possible short-term upside is the Fed goes dovish on the commentary.
• U.S, cannabis earnings season fires up once more. With revenue growth expected to remain flat—or even slightly down for select tier-1 MSOS—we don't expect an upside surprise this week. Most of interesting takeaways will come from forward guidance, post-ER calls and where they see the consumer at after inflation and lagging wage growth has crimped spending. All eyes remain on potential regulatory reform in the lame duck session of Congress post-midterms, which take place November 8, 2022.
TDR will have further coverage on the midterms impact on U.S. cannabis stock in the coming days.
U.S. Economic Calendar
| | | | | | |
| --- | --- | --- | --- | --- | --- |
| TIME (ET) | REPORT | PERIOD | MEDIAN FORECAST | PREVIOUS | |
| Monday, October 31 | | | | | |
| 9:45 AM | Chicago PMI | Oct. | — | 45.7 | |
| Tuesday, Nov. 1 | | | | | |
| 9:45 AM | S&P U.S. manufacturing PMI (final) | Oct. | — | 52 | |
| 10:00 AM | ISM manufacturing index | Oct. | — | 50.90% | |
| 10:00 AM | Jobs openings | Sept. | — | 10.1 million | |
| 10:00 AM | Quits | Sept. | — | 4.2 million | |
| 10:00 AM | Construction spending | Sept. | — | -0.70% | |
| Varies | Motor vehicle sales (SAAR) | Oct. | — | 13.7 million | |
| Wednesday, Nov. 2 | | | | | |
| 10:00 AM | | | | | |
| 8:15 AM | ADP employment report (level change) | Oct. | — | 208,000 | |
| 10:00 AM | Rental vacancy rate | Q3 | — | 5.60% | |
| 2:00 PM | FOMC announcement | | — | 3%-3.25% | |
| 2:30 PM | Fed Chair Jerome Powell press conference | | | | |
| | Continuing jobless claims | Oct. 15 | — | 1.39 million | |
| 8:30 AM | Durable goods orders | Sept. | 0.00% | -0.20% | |
| Thursday, Nov. 3 | Core capital equipment orders | Sept. | — | 1.40% | |
| 8:30 AM | Initial jobless claims | Oct. 29 | — | N/A | |
| 8:30 AM | Continuing jobless claims | Oct. 22 | — | N/A | |
| 8:30 AM | Foreign trade deficit | Sept. | — | -$67.4 billion | |
| 8:30 AM | Productivity (SAAR) | Q3 | — | -4.10% | |
| 8:30 AM | Unit labor costs (SAAR) | Q3 | — | 10.20% | |
| Friday, Nov. 4 | | | | | |
| 8:30 AM | Nonfarm payrolls (level change) | Oct. | | — | 263,000 |
| 8:30 AM | Unemployment rate | Oct. | | — | 3.50% |
| 8:30 AM | Average hourly earnings | Oct. | | — | 0.30% |
| 8:30 AM | Labor-force participation rate, ages 25-54 | Oct. | | — | 82.70% |
😎Meme Of The Week😎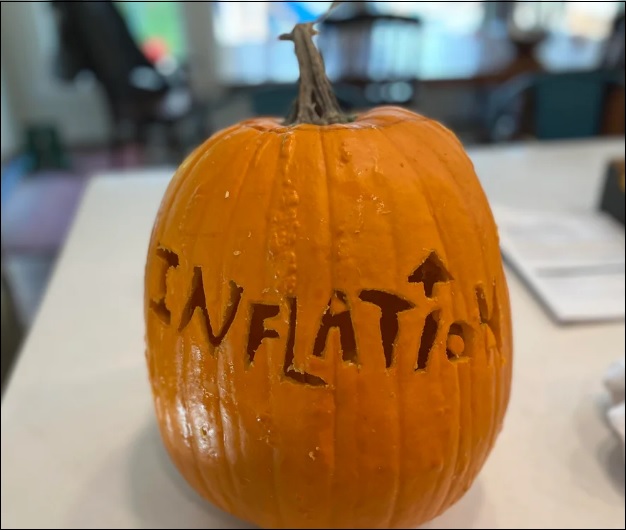 Key Earnings (US Markets)
Past Week What's Hot… and What's Not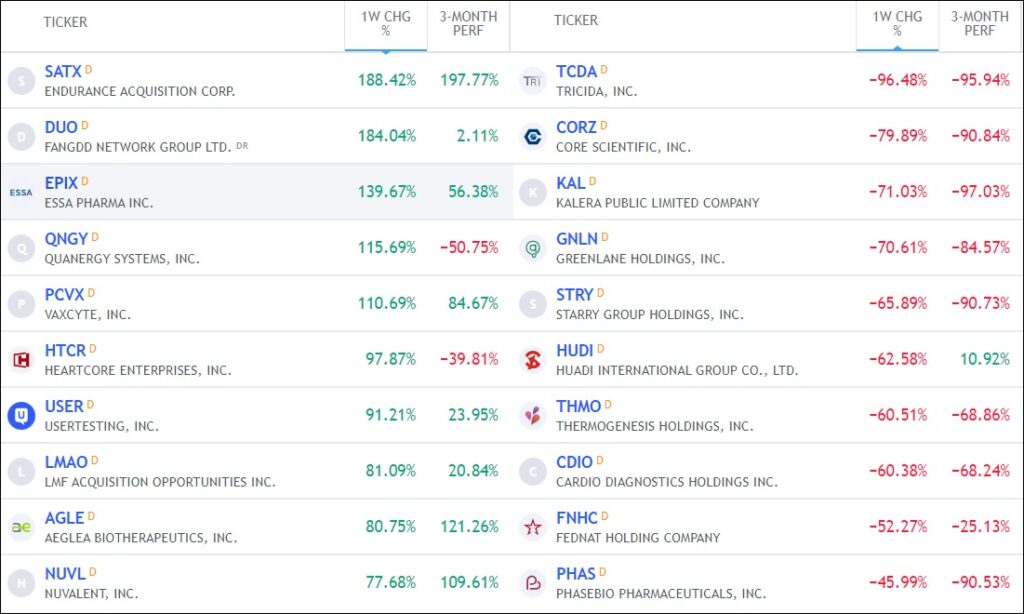 Top 12 High Short Interest Stocks
| | | | | | | |
| --- | --- | --- | --- | --- | --- | --- |
| Ticker | Company | Exchange | ShortInt | Float | S/O | Industry |
| BYND | Beyond Meat Inc | Nasdaq | 41.40% | 57.35M | 63.67M | Food Processing |
| BBBY | Bed Bath & Beyond Inc. | Nasdaq | 39.25% | 76.43M | 80.36M | Retail (Specialty Non-Apparel) |
| UPST | Upstart Holdings Inc | Nasdaq | 38.13% | 68.88M | 81.35M | Consumer Lending |
| CVNA | Carvana Co | NYSE | 36.31% | 95.21M | 105.80M | Retail (Specialty Non-Apparel) |
| MSTR | MicroStrategy Inc | Nasdaq | 34.40% | 9.33M | 9.34M | Software & Programming |
| NKLA | Nikola Corporation | Nasdaq | 33.79% | 288.40M | 455.52M | Auto & Truck Manufacturers |
| BIG | Big Lots, Inc. | NYSE | 32.48% | 26.52M | 28.94M | Retailers – Discount Stores |
| EVGO | Evgo Inc | Nasdaq | 31.19% | 67.70M | 69.08M | Utilities – Electric |
| FUV | Arcimoto Inc | Nasdaq | 30.06% | 37.65M | 45.66M | Auto & Truck Manufacturers |
| W | Wayfair Inc | NYSE | 29.90% | 71.03M | 80.65M | Retailers – Department Stores |
| FFIE | Faraday Future Intelligent Ele | Nasdaq | 29.47% | 147.98M | 270.18M | Auto & Truck Manufacturers |
| BGFV | Big 5 Sporting Goods Corp | Nasdaq | 29.19% | 20.74M | 22.18M | Retailers – Miscellaneous Specialty |
Source:
highshortinterest.com
(data as of October 25) – TDR's stock market preview, Top 12 High Short Interest Stocks
Tags: stock market preview, stock market preview October 31, 2022